Everyone knows that in the heat it is very important to make up for the loss of fluid in the body in time. Our body needs liquid, it provides us with energy to maintain a comfortable summer mood. 10 Best recipes for summer refreshing drinks.
Of course, it's best to quench your thirst with ordinary drinking water, but how nice it is to drink something delicious and really refreshing. We offer you a selection of recipes for drinks, healthy and pleasant: fruit drinks, compotes, smoothies, cocktails, and lemonades. They will save you from thirst and from the heat!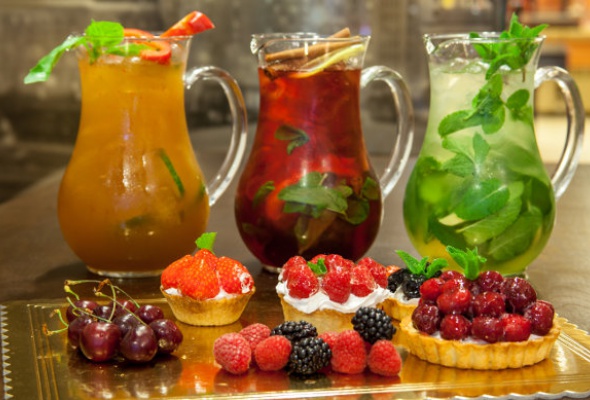 What to drink — fresh juice or smoothies? The answer is obvious: both! For example, juices are indispensable in case of illness, when there is not much appetite, and the body needs help urgently. Here it will be most convenient to drink juice.
For prevention, it is better to drink smoothies. They will successfully replace breakfast, and they contain so much fiber, greens, and vegetables that after drinking half a liter of such a drink according to the correct formula, you provide yourself with a good half of the vitamins, vegetables, and greens you need per day.
#1.Strawberry smoothie with carrots and mint
. 10 Best recipes for summer refreshing drinks.
A smoothie is a nutritious drink that can easily replace a full meal. Carrots, strawberries, and turmeric give the drink a bright color. A healthy and vitamin smoothie made of strawberries, carrots, mango, and mint is a great option for a light snack. Such a drink can be prepared together with children, and be sure that very soon there will not be a drop left of it!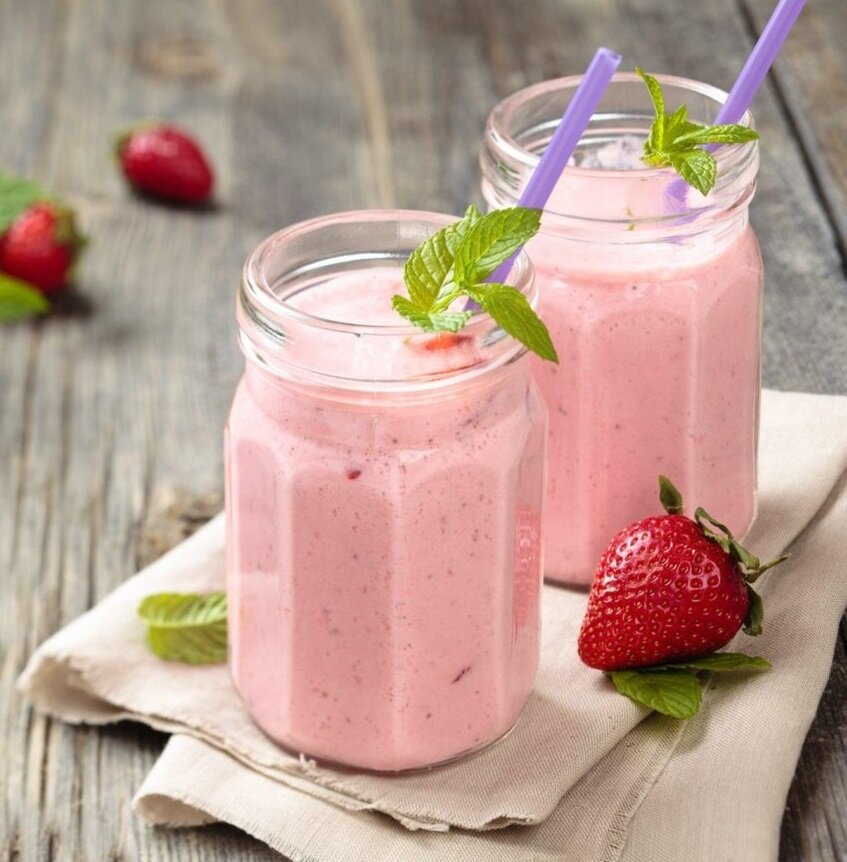 Ingredients for 4 servings:
Frozen mango (or fresh pulp) 1 cup
Strawberries 7.0oz
Medium carrots 3 pcs
Mint leaves 2 tablespoons
Turmeric root crushed 2 teaspoons
Sesame seeds 2 tablespoons
Water 2 cups
Instruction:
Cooking time 10 minutes
How to make healthy smoothies: beat all the ingredients for smoothies with a blender until smooth and healthy.
The advantages of such a smoothie:
A healthy smoothie based on these ingredients protects the skin from aging and from sunlight, has an anti-inflammatory and wound-healing effect, and is rich in calcium (especially important for those who have given up dairy products).
#2.Smoothies with blueberries, avocado, and broccoli
Vegetable smoothies form the basis of detox diets. Their benefits are not only in saturating the body with healthy vitamins and minerals. The composition of such cocktails includes fiber. A necessary element of proper digestion.
Broccoli is a valuable source of nutrients for the body. In addition to vitamins and minerals, this vegetable contains compounds that help get rid of excess weight and toxins.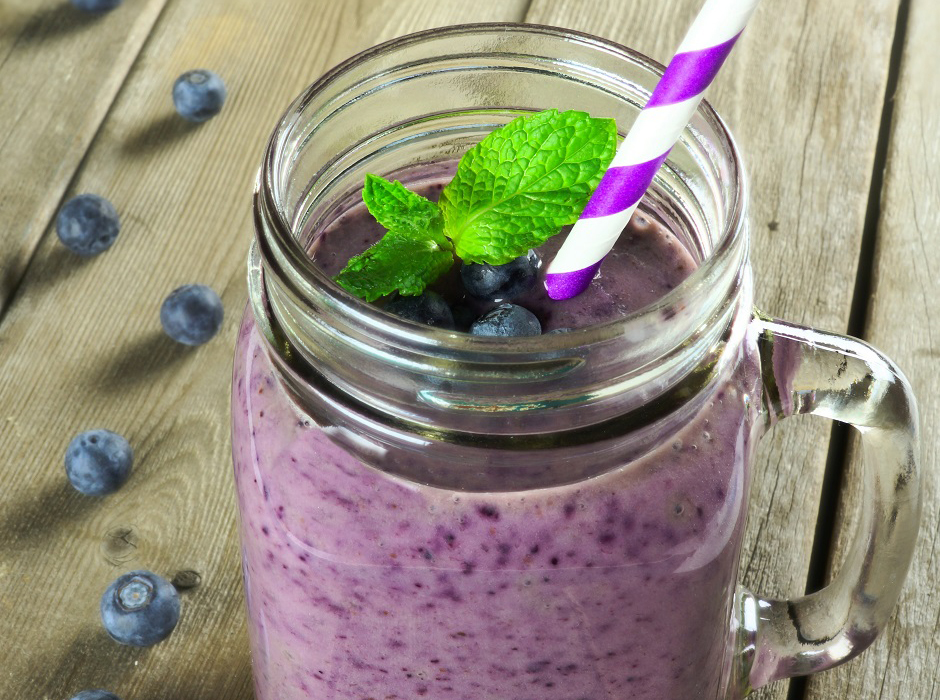 Ingredients for 4 servings:
Blueberries 10.58oz
Banana 1 piece
Avocado 1 piece
Broccoli (fresh or frozen, cut into medium pieces) 10.58
Any vegetable milk (rice, soy, oatmeal, almond) 2 cups
Chia seeds 1 tablespoon
Instruction:
Cooking time 10 minutes
Prepare the products. Wash the avocado and blueberries. Slightly rinse the broccoli inflorescences in warm water.
Cut the avocado fruit into two equal parts. Peel one part (without a bone), cut it into cubes, and throw it into a blender container. Add the broccoli and blueberries to the avocado as it is.
Mix and whisk. Start the device for no more than one minute. You should get a homogeneous vegetable mass. Add the chia at the very end and stir at a slow speed.
We serve it to the table. Pour a ready, cool smoothie into glasses and start a pleasant taste.
Add the chia at the very end and stir at a slow speed.
The benefits of such an anti-aging smoothie:
this healthy smoothie based on wild berries, avocado, and broccoli protects cells from aging, stimulates the production of glutathione, which helps in liver function, and also fights age, prevents cancer and fights eczema, and reduces age spots.
#3. Smoothie with carrot, orange, and ginger
. 10 Best recipes for summer refreshing drinks.
A bright orange smoothie with a generous dose of vitamin C for those who lack vigor in the morning.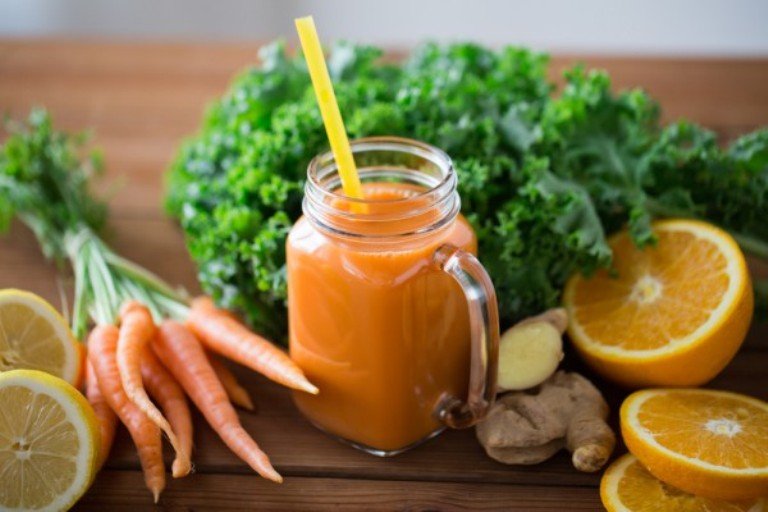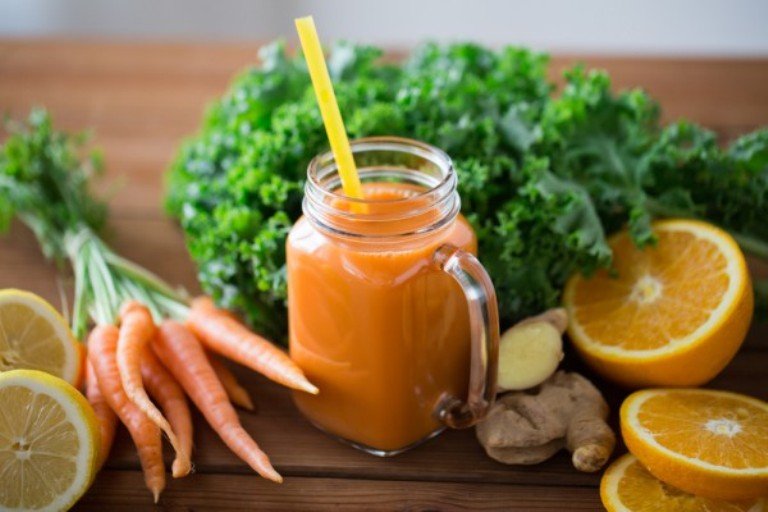 Ingredients for 4 servings:
Carrots 3 pieces
Orange (without peel) 1/2 piece
Ginger root 1 tablespoon
Grapefruit (without peel) 1 pc.
Red or yellow bell pepper 1 pc.
Flax seeds 2 tablespoons
Water 2 cups
Instruction:
Cooking time 10 minutes
Squeeze the juice of an orange and the juice of half a grapefruit. Coarsely chop the carrots.
In a blender, add orange and grapefruit juice, grated ginger, carrots, pepper, flax seeds, cold water, and a little hot water. Grind everything until smooth.
Pour the smoothie into a cup and add the rest of the hot water.
The advantages of such a smoothie:
a healthy smoothie with carrots, oranges,s and ginger contains antioxidants and carotenoids that protect against age spots and wrinkles. It is also rich in OMEGA-3 and has an anti-inflammatory effect, preventing colds. It stimulates the production of collagen and promotes rapid healing of damage to the skin.
#4. Melon, apple, celery smoothie
We suggest making a smoothie with melon, a delicious, invigorating, and very satisfying drink with incomparable qualities. When you want to quench your thirst with something tasty and healthy, then this smoothie is the best option. In just a few minutes you can get a fragrant and divinely delicious smoothie.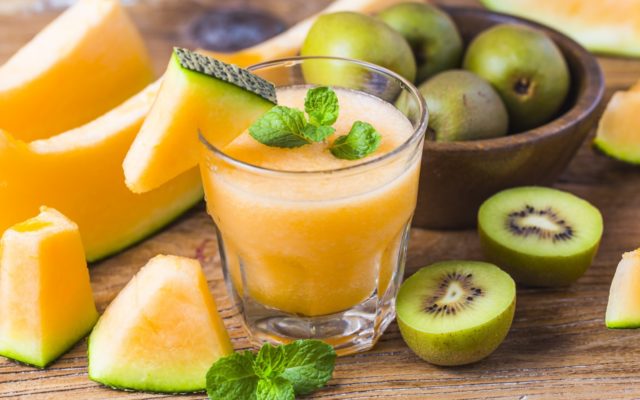 Ingredients for 2 servings:
Chilled or frozen melon slices 10.58oz
Apples, peeled and sliced 1 pc
Chopped celery ½ cup
Tofu diced 1.76oz
Chia seeds 1 tablespoon
Instruction:
Cooking time 8 minutes
To begin with, we need to make a glass of melon into which we will place a ready-made smoothie. To do this, cut off the bottom of the melon so that it is stable. Cut off the top, i.e. 1/3 of the melon (if desired, you can leave 1/4 of the top). Then cut out all the pulp and remove the bones.
Place the melon, apple, celery, and tofu in a blender and stir until smooth. Stir in the chia seeds and serve immediately. Bon appetit to everyone!
#5. Watermelon slash
. 10 Best recipes for summer refreshing drinks.
A refreshing drink made of watermelon, lemon juice, maple syrup, and ice. A quick recipe for a deliciously refreshing drink – watermelon slash.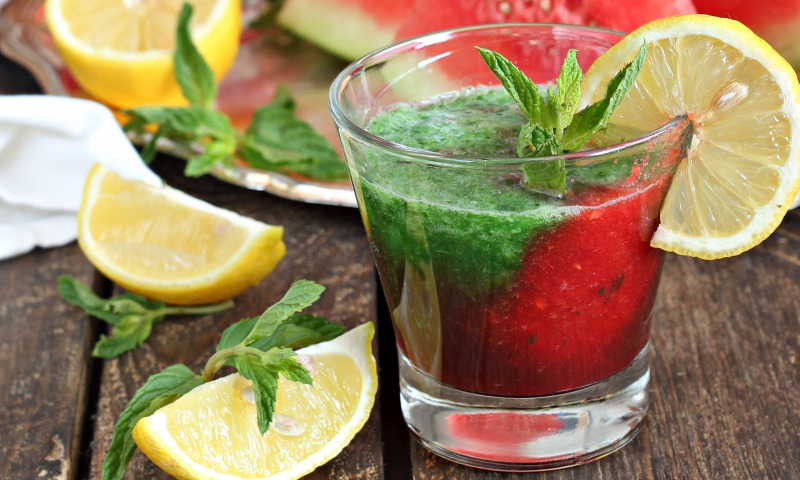 Ingredients for 4 servings:
lemon juice 2 pcs
Sliced watermelon pulp 28.22oz
Ice cubes 2 cups
Maple syrup or agave syrup 3 tablespoons
Instruction:
Cooking time 10 minutes
Cut the peel from the watermelon slices and remove the bones from the pulp.
We send watermelon, lemon juice, and syrup to the blender bowl. We interrupt with a blender.
The edges of the glass in which we will serve the drink are lubricated with lemon inside and out. We lower it into sugar. Carefully pour the watermelon drink into a glass.
Decorate with lemon and serve to the table. Enjoy your meal!
#6. Kiwi, pineapple, and almond milk smoothie
Smoothie made of kiwi, spinach, pineapple, banana, almond milk, and orange juice. A fruit smoothie made of pineapple, kiwi, and banana is a vitamin drink that will energize you and delight you with an exotic taste. Pineapple slices are crushed in a blender with banana pulp and freshly squeezed orange juice. The smoothie has a homogeneous silky consistency, a very pleasant aroma, and an interesting taste, reminiscent of multifruit nectar.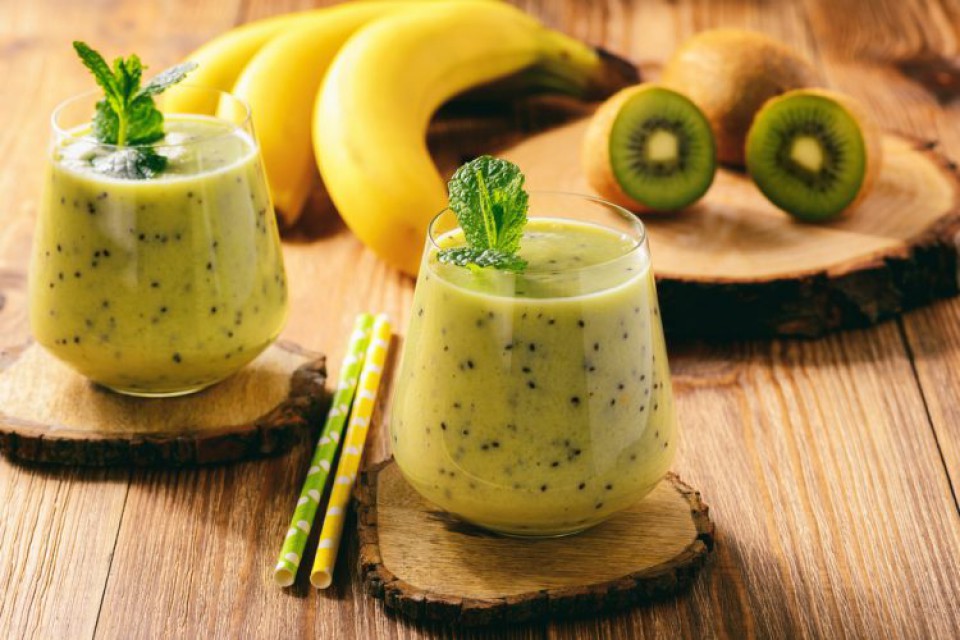 Ingredients for 4 servings:
Spinach 2 cups
Almond milk 1 cup
Orange juice 1 cup
Ripe banana 1 piece
Frozen pineapple 1 cup
Kiwi, peeled and chopped 2 pcs
Baobab powder (optional) 1 tablespoon
2 tsp vegan protein (optional)
Instruction:
Cooking time 15 minutes
Cut the pineapple rings into small pieces.
Peel the banana and cut it into thin slices. Roll the orange on the table, then cut it in half and squeeze out the juice. It's okay if orange fibers or pieces of pulp come across in the juice. Transfer pineapple, spinach, and banana to the blender bowl, and pour orange juice here. As well as other ingredients.
Whisk the combined ingredients at high speed for 1 minute, until a smooth and airy drink is obtained.
Put ice in glasses. Pour smoothies into glasses. Serving without ice also takes place. Enjoy your meal!
#7. Green smoothie with strawberries
Green smoothie with kale cabbage, dates, banana, and strawberries.
Ingredients for 4 servings:
Large leaves of cabbage kale 5 pcs
Water 3 cups
Dates pitted 6 pcs
Banana 3 pieces
Berries of fresh or frozen strawberries 10 pcs
Instruction:
Cooking time 15 minutes
Using a blender, mix herbs, water, dates, bananas, and strawberries. Add more water to get the desired consistency.
#8. Acai berry latte with basil
. 10 Best recipes for summer refreshing drinks.
A drink based on acai berries rich in antioxidants, containing fiber and vegetable fatty acids omega-3, -6, and -9.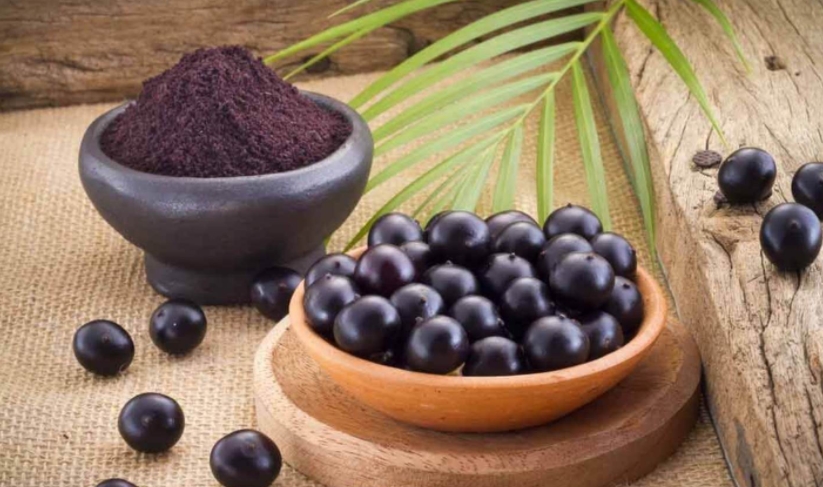 Ingredients for 1 serving:
Acai berry powder 2 tablespoons
Basil leaves 4pcs
Unsweetened soy or almond milk 1 cup
Agave syrup 1 tablespoon
Instruction:
Cooking time 10 minutes
In a blender, add ¼ cup of boiling water, acai berry powder, and basil, and mix until smooth. Strain into a serving cup.
In a small saucepan over medium heat, bring the milk and agave syrup to a boil. Pour the hot milk into a mug and mix well.
#9. Spicy green tea with berries
A warming drink made of green tea, spices, frozen berries, dried rose petals, and oranges.
Ingredients for 4 servings:
Dried rose petals 1 tablespoon
Carnations 5 pcs
Bay leaf 1 piece
Cinnamon stick 1 pc
Mixtures of frozen berries 3 tablespoons
Cranberry sauce 1 teaspoon
Orange, chopped 1/2 piece
A portion of leafy green tea
Instruction:
Cooking time 15 minutes
Pour water 31.75oz into a large saucepan, and add dried rose petals, cloves, bay leaf, cinnamon, frozen berries, cranberry sauce, and orange. Bring the mixture to a boil, stirring occasionally, then remove from heat. Add the tea and leave to infuse for 2-3 minutes. Strain.
#10. Green tea with grapefruit
. 10 Best recipes for summer refreshing drinks.
Fragrant green tea with grapefruit and rosemary.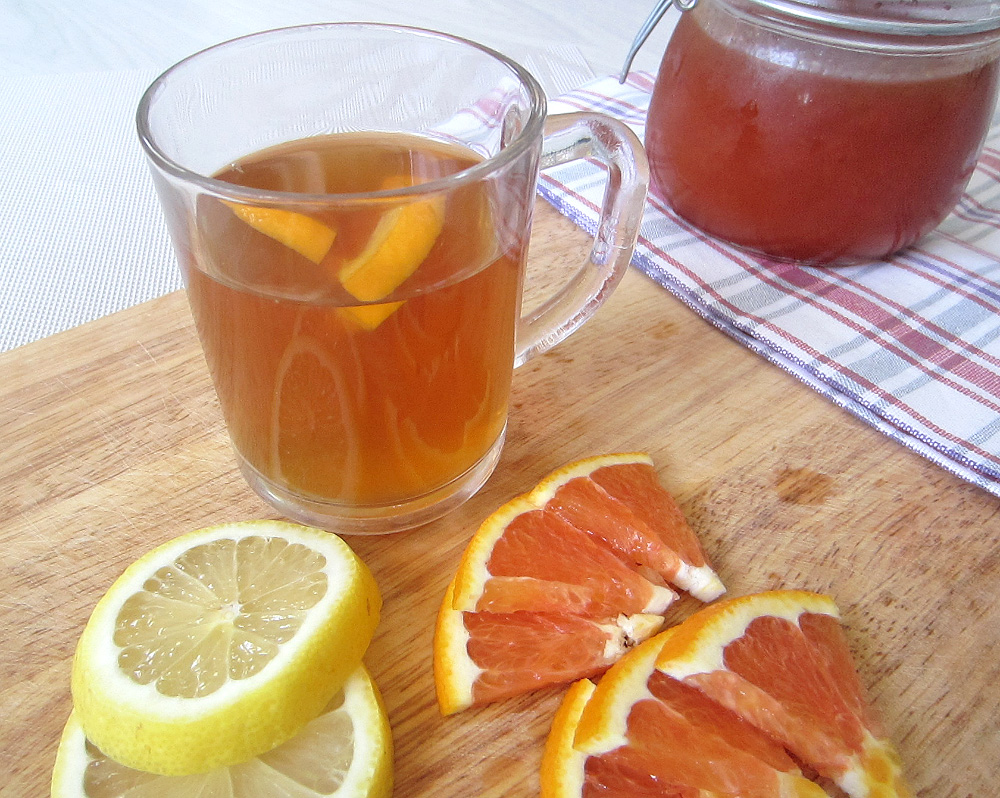 Ingredients for 1 serving:
Green tea 2 teaspoons
Grapefruit chopped 1/4 pc
A sprig of rosemary
Honey or agave syrup to taste
Instruction:
Cooking time 18 minutes
Pour 1/2 cup of cold water into a large heat-resistant jug, then add 2 cups of boiling water. Add the tea leaves and leave for 5 minutes.
Meanwhile, heat the teapot with boiling water. Put grapefruit and rosemary in there. Pour green tea without leaves. Do not throw away the leaves, on the day of cooking, you can brew them again for 3-4 minutes.
Let the grapefruit and rosemary infuse a little, and then serve. Add honey or agave syrup to sweeten the tea. Enjoy your meal!