Rosehip strengthens the immune system, slows down the aging of the body, and effectively fights inflammation. Its decoction has a refreshing sour-fruity taste and sweet aroma. Healthy recipes and ways of using rosehip in cooking.
The benefit of the product is given by a rich vitamin composition. This is vitamin C, P, and PP. Also, vitamins of group B. Trace elements: potassium, sodium, iron, magnesium. Also in the composition of the berry, there are tannins and peptides.
Rosehip is used in cooking, medicine, and cosmetology. It is used to prepare oil for external and internal use, tinctures, teas, decoctions, and other healthy drinks. Mid-autumn is the time when the concentration of vitamins in rosehip fruits is maximum.
Rosehip fruits are appreciated in cooking. Syrup, juice, wine, liqueurs, marmalade, jam, candied fruits, and pie fillings are prepared from them, and tea is brewed.
( 1) – "Our present research has underlined the promising future of rose hip as a functional food, given its potential therapeutic role against a wide variety of diseases. The phytochemical composition of the different members of the Rose gender might promote the eradication of some of the most pressing world epidemics, as well as improve the quality of life of even healthy people. Moreover, single bioactive compounds of rose hip constitute a great source for new drugs which might overcome resistance-derived problems in some current drugs or even treat incurable diseases."
#1.Rosehip jam
. Healthy recipes and ways of using rosehip in cooking.
Jam is a delicious and healthy addition to a tea party. The fragrant delicacy will turn out sweet and sour, similar to homemade caramel. When making jam, use fresh fruits.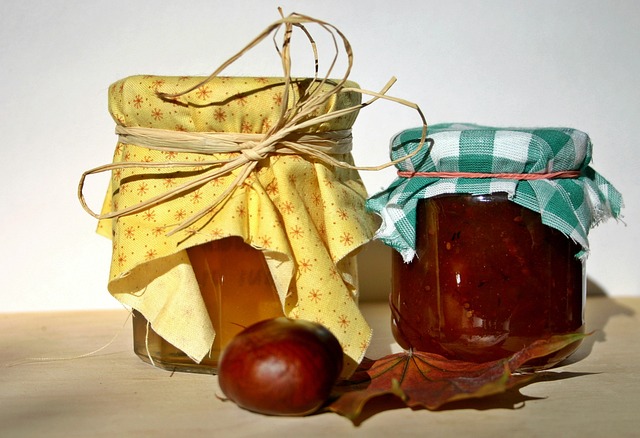 Ingredients:
Rosehip 35.24oz
Sugar 15.87oz
Water 3 cups
Cooking method:
Cooking time one hour 30 minutes
Rinse the rosehip well. Cut off all the tails. Put the fruits in a saucepan, and fill it with water.
Cook over medium heat until soft. It will take about 1 hour. At the end of cooking, the water should cover the rosehip.
Remove the pan from the stove. Mash the rosehip with a tablespoon.
Rub the mass through a fine sieve.
Put sugar in the mashed rosehip. Mix well, and return to the stove.
Bring the billet to a boil, and simmer for 20 minutes.
Pour into glass jars, and close with screw caps.
If you want the jam to last until winter, use a sterilized container. Store the treat in a dark and cool place.
#2.Rosehip jelly with lime
Rosehip jelly is a huge contribution to your immunity. This bright, fragrant, and delicious drink made from dried rosehip fruits will warm you on cold evenings. If you use such jelly regularly, you will not be afraid of any cold.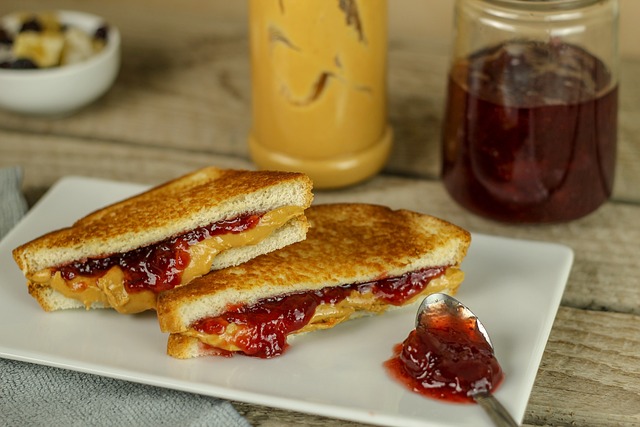 Ingredients for 3 servings:
Dried rosehip berries 7.0oz
Lime 1 pc.
Star anise 3 pcs.
Sugar 2 tablespoons
Starch – 2 tablespoons
Water 3 cups
Instruction:
Cooking time 40 minutes
We prepare the necessary products. Before you start cooking jelly, dry rosehip fruits should be soaked in cold water for 3 hours. Rosehip berries are ground into the puree.
In a convenient saucepan, put the berry puree, and add 3 cups of cold water. We put the pan on heating and cook for 10-15 minutes after boiling.
The decoction of rosehip is filtered through a sieve. And the remaining rosehip pulp is squeezed out using gauze or cotton cloth.
The resulting broth is poured back into the pan. We put the stars of the star anise.
Add lime juice and sugar to the pan. Put on heating and boil for 15 minutes. Then we remove the stars of the star anise.
Stir the starch in cold water and pour it into a saucepan with a decoction of rosehip, stirring constantly. Cook the rosehip jelly for 4 minutes, stirring. Turn off the heating. Rosehip jelly with lime is ready!
#3.Rosehip sugar syrup
. Healthy recipes and ways of using rosehip in cooking.
Rosehip syrup is especially in demand in the cold season. A healthy thick syrup can be served with tea, used to impregnate pies, and added to cottage cheese and porridge. They can also be watered with cheesecakes, ice cream, and pancakes. The syrup diluted with water will make a delicious drink.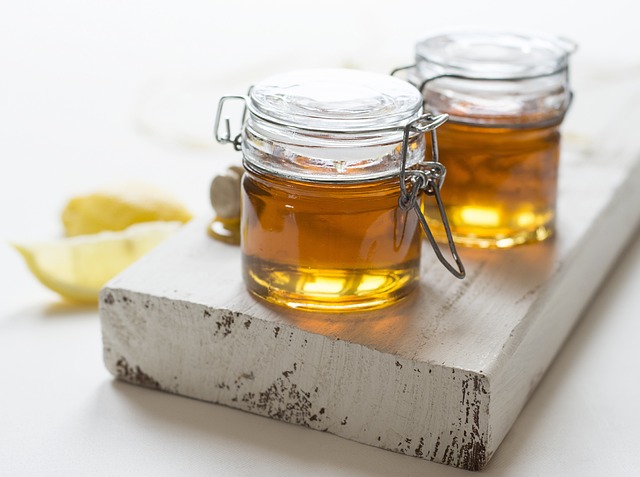 Ingredients:
Rosehip 88.18oz
Water 2 cups
Sugar 52.91oz
Instruction:
Clean the rosehip from the litter, and rinse well under the tap. Put it in a saucepan. Pour water so that it covers the berries.
Cook over medium heat until the broth turns brownish (1 hour). Strain the broth through a sieve. Let it brew for 30 minutes.
Return the broth to the fire. Add sugar at the rate of 1:1. From the specified amount of rosehip and water, you will get about 6 glasses of broth. Put the same amount of sugar.
Mix well so that the sugar dissolves. Put on the stove and bring to a boil. Simmer for 3 hours over low heat. During this time, the syrup should decrease significantly in volume. After turning off the stove, let it cool to room temperature. Remove the foam formed with a spoon.
Pour the cooled syrup into glass jars or bottles, and close them with screw lids. Store in a cool place.
#4.A drink made from rosehip petals and lemon
Such a healing vitamin drink is indispensable for the prevention of vitamin deficiency and strengthening immunity.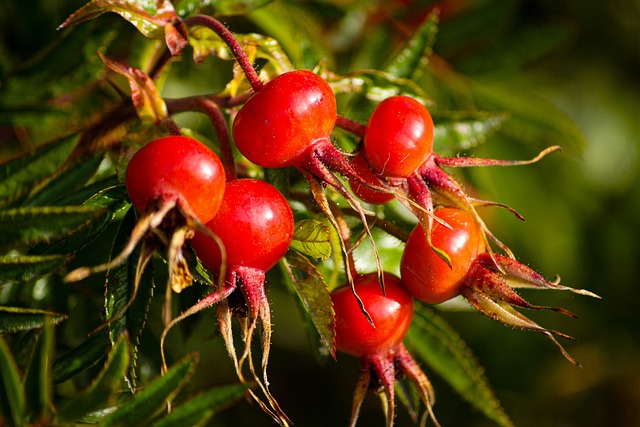 Ingredients:
Rosehip (petals) 8.82oz
Rosehip syrup 2 tablespoons
Sugar 1 tablespoon
Lemon 1/2 pc.
Instruction:
Cooking time 30 minutes
Rinse the rose petals with cold water, put them in a saucepan, pour water over them, and close the lid tightly. Bring to a boil over low heat and immediately remove from heat. Let cool under the lid. The strain put sugar and put on fire. Heat until the sugar dissolves, without bringing it to a boil. Cool under the lid. Pour in the pink syrup and lemon juice, and stir.
#5. Rosehip seed oil
. Healthy recipes and ways of using rosehip in cooking.
Rosehip seeds are rich in vitamins and valuable substances. We recommend making aromatic oil from the seeds, which can also be used as a dressing for a vegetable salad.
As a therapeutic agent, it will accelerate the healing of wounds and abrasions, and help to cope with small inflammations on the skin. We use whole rosehip seeds in the recipe. You can grind them in a coffee grinder, then the time of infusing healthy oil will be reduced by half.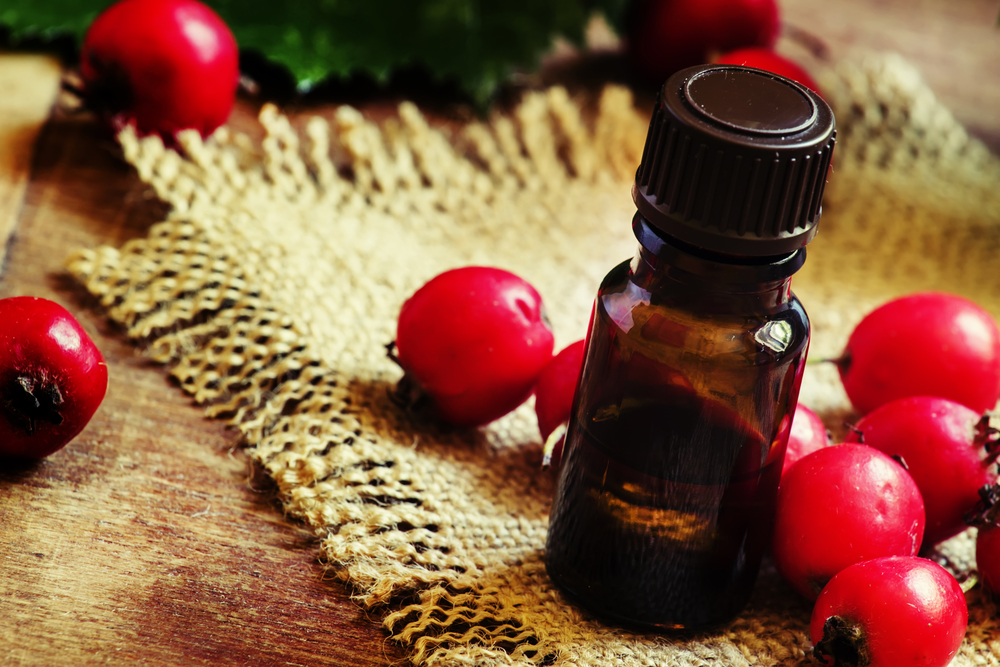 Ingredients:
Rosehip seeds 5.29oz
Refined vegetable oil 4 cups
Instruction:
To quickly extract the bones, send the rosehip into boiling water.
Cook the fruits until soft, then rub them through a sieve. From the resulting pulp, we recommend making a morse or tea. And use the bones to make butter. Also, the bones can be extracted manually by cutting a fresh rosehip in half.
Put the bones in a deep bowl, and fill it with water so that the excess particles settle to the bottom. Carefully collect the bones from the surface and place them in a sieve to drain excess liquid.
Transfer the bones to a dry towel in one layer, and let dry. After that, send them to a clean glass jar.
Fill with oil. Instead of sunflowers, you can take olive or sea buckthorn.
Put the jar in a dark, cool place for 15 days. To protect the oil from sunlight, cover the container with a dark cloth. If you use crushed rosehip seeds, infuse them for 8 days.
After the specified time, pour the oil together with the bones into a saucepan. Simmer for 20 minutes.
Remove the pan from the heat, and cover it with a clean towel. Leave at room temperature for 7 hours. After that, strain the oil through several layers of gauze. Pour into glass jars.
It is better to store oil with rosehip seeds in the refrigerator. You can use it right away, but we recommend letting it infuse for a few more days, so the oil will become more fragrant. Bon appetit!
How to drink rosehip correctly?
No matter what valuable properties it has, its use should not be excessive! Decoction and infusion have approximately the same properties, which are also equally expressed in them.
There are more minerals in the broth, and vitamins in the infusion. For a tonic effect and prevention of most ailments — 1 cup of drink per day is the optimal norm. But not every day. Preferably in 1-2 days.
To achieve a therapeutic effect, the dose is selected individually. You can add honey or milk to the drink.
(1) -Therapeutic Applications of Rose Hips from Different Rosa Species. nés Mármol, Cristina Sánchez-de-Diego, Nerea Jiménez-Moreno, Carmen Ancín-Azpilicueta, and María Jesús Rodríguez-Yoldi,
Lorenza Speranza, Academic Editor, José L. Quiles, Academic Editor, and Sara Franceschelli, Academic Editor.