After a working day, few people will want to spend the evening near the stove. Some housewives prepare dinner for the future, but even the most favorite dish will get boring if you eat it for several days in a row. And of course, the taste of a freshly cooked treat does not compare with a warmed-up one. Quick and easy recipes.
We offer to make a delicious dinner, spending no more than half an hour on it. That's how long it will take to create full-fledged dishes from 5 recipes.
(1) – Healthy diets, arising either by tradition or design, share many common features and generally align with the WHO Global Action Plan for the Prevention and Control of Noncommunicable Diseases. In comparison with a Western diet, these healthier alternatives are higher in plant-based foods, including fresh fruits and vegetables, whole grains, legumes, seeds, and nuts and lower in animal-based foods, particularly fatty and processed meats. Evidence from epidemiologic studies and clinical trials indicates that these types of dietary patterns reduce risks of NCDs ranging from cardiovascular disease to cancer. Further endeavors are needed to integrate these healthy dietary and lifestyle choices into daily living in communities throughout the world and to make healthy eating accessible, achievable, and sustainable.
#1.Salad with chickpeas, tomatoes, spinach, and lettuce
. Quick and easy recipes.
The main healthy product in this recipe is sprouts.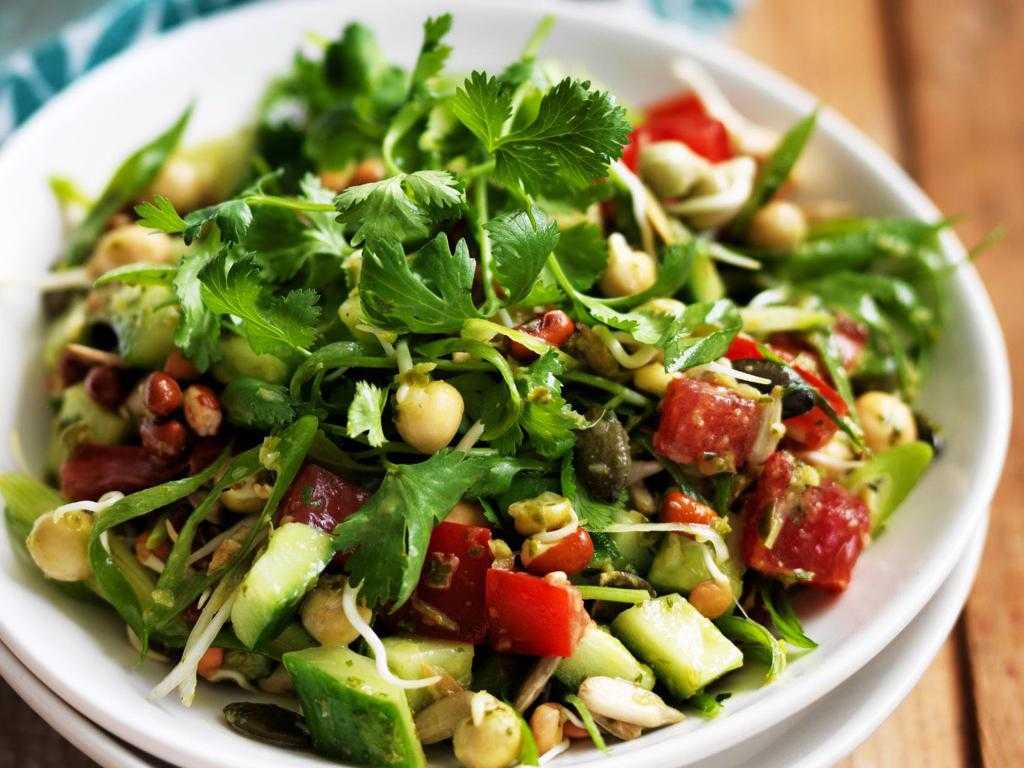 Ingredients for 2 servings:
Any lettuce 3.53oz
Spinach 2 tablespoons
Tomatoes 2 pcs
Sprouts from any grains (look at the supermarket) 3 tablespoons
Boiled chickpeas 8.82oz
Parsley with stalks (chopped) 5 tablespoons
Juice of 1/2 lemon
Olive oil 2 tablespoons
Sea salt to taste
Instruction:
Cooking time 10 minutes
Soak the chickpeas overnight and boil them in salted water according to the instructions on the package. Rinse the salad and, if necessary, cut it. Tomatoes and parsley are also finely chopped. Mix the salad with the rest of the ingredients, season with oil and lemon juice, salt.
#2.lentils with vegetables
Parsley is a powerful source of vitamin C and chlorophyll, which fight cancer and support the health of our liver. The amount of parsley can be increased, focus on your taste. But keep in mind: the more parsley, the more vitamins your body will get.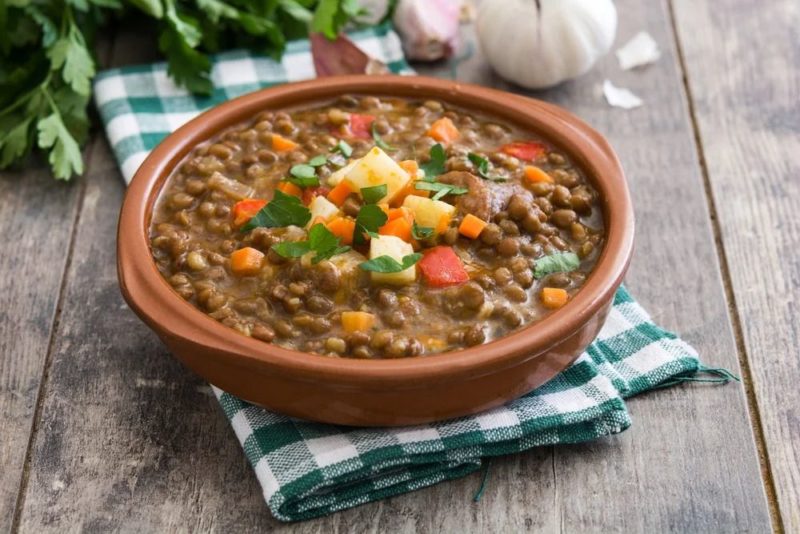 Ingredients for 4 servings:
Dry green lentils 10.58oz
Leek 1 stalk
Fennel 1 piece
Parsley with stalks 1 medium bunch
Dry basil 1/2 tablespoon
Chicken egg 2 pieces
Olive oil 3 tablespoons
Apple cider vinegar 1 tablespoon
Sea salt to taste
Instructions:
Cooking time 20 minutes
Wash the lentils and boil them in lightly salted water with the addition of dried basil. Finely chop the leek, fennel, and parsley. Mix the vegetables with boiled lentils and season with vinegar, olive oil, and salt. Enjoy your meal!
#3.Bruschetta with green olive paste with basil
. Quick and easy recipes.
The beloved bruschetta snack rarely goes without olives. It is best to make a paste of them. Both green and black olives are suitable. Pasta can be supplemented with dried tomatoes or anchovies.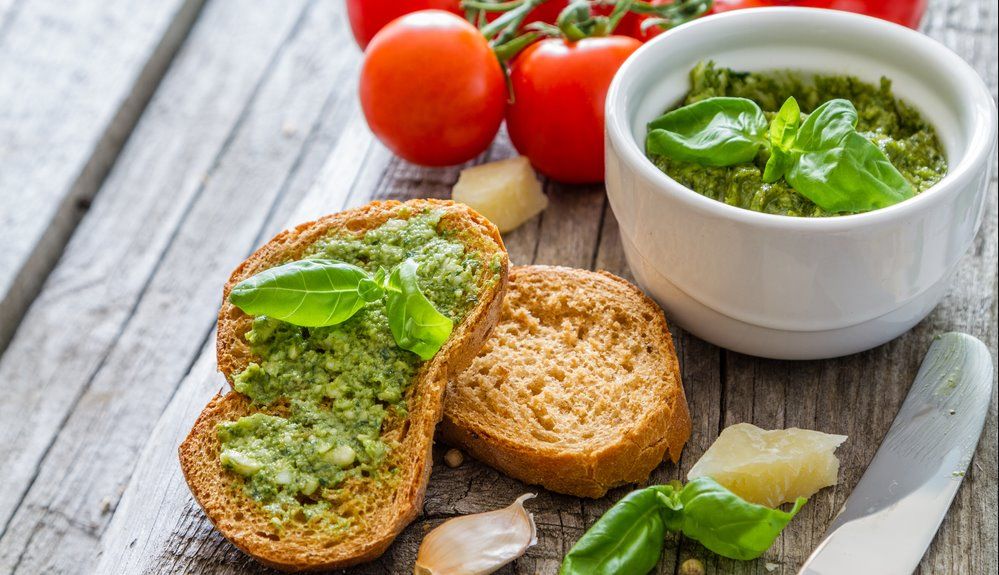 Ingredients:
White bread 1 pc.
Green pitted olives 14.11oz
Pine nuts 2 tablespoons
Fresh basil 2 sprigs
Lemon juice 1 tablespoon
Olive oil 4 tablespoons
Garlic 2 cloves
Instructions:
Cooking time 15 minutes
Toast slices of bread in a dry grill pan until golden stripes. In a blender bowl, put green olives, basil leaves without a stem, pine nuts. Pour in olive oil, lemon juice.
Punch with a blender until smooth, taste, and add salt and pepper to taste. Stir again.
Rub the slices of bread dried in a frying pan with garlic and smear with olive paste.
Garnish with rosemary — the original cold bruschetta dinner is ready.
#4. Salmon fillet baked in coconut sauce
. Quick and easy recipes.
The combination of fish and vegetable coconut drink is a nutritious dinner. It turns out not only very tasty but also beautiful. You can serve directly in the same form in which you bake in the oven.
In this dish, redfish plays the role of an ingredient saturated with healthy fats, so it definitely does not need classic cream. A light vegetable coconut drink is perfect.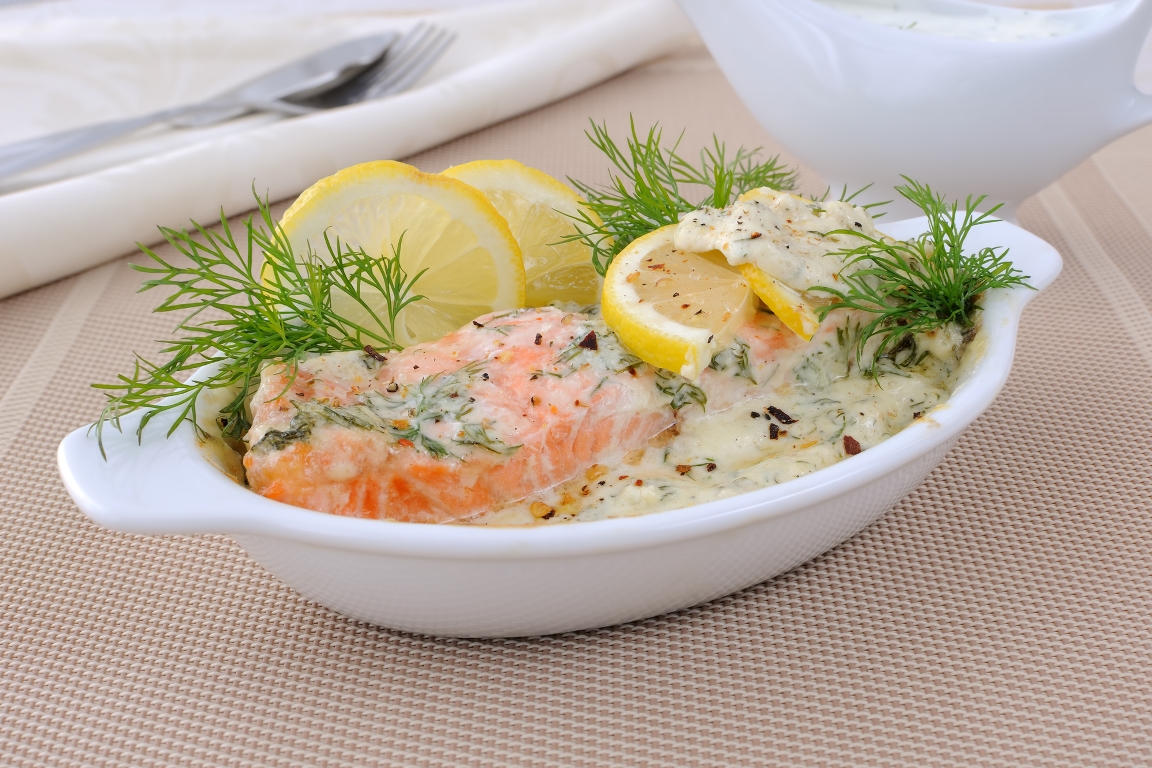 Ingredients for 2 servings:
Salmon fillet 15.87oz
Vegetable coconut drink 1 cup
Lime 1 pc.
Red pepper 1/2 pcs
Tomato paste 1 tablespoon
Parsley 4 sprigs
Green onion 1 tablespoon
Garlic 2 cloves
Salt to taste
Freshly ground black pepper to taste
Instructions:
Cooking time 35 minutes
Chop the red pepper, garlic, and green onion, and remove the zest from the lime.
Combine vegetable coconut drink, tomato paste, and crushed ingredients in a container. Season with salt and pepper.
In a frying pan with a removable handle, put pieces of salmon fillet, and pour the sauce.
Cut the lime into slices and put them on top of the fish, also put sprigs of parsley.
Cover the pan with a lid, put on medium heat, and cook for 5 minutes.
Then move the pan into the oven and bake the salmon for 15-20 minutes at 356F, pour the sauce over the fish in the process.
#5.Buckwheat noodles with beef and vegetable stir-fry
. Quick and easy recipes.
Buckwheat noodles have a pleasant taste. It goes well with meat or seafood, perfectly complements vegetables, and sets off nut dressing or sesame oil well.
The secret of the dish is in the stir—fry technique – slicing into thin strips and quickly frying in hot oil. At the same time, do not forget to constantly stir the ingredients. All vegetables must be prepared in advance, as there will be no time left for this during the cooking process. And you can save time and effort by buying a ready-made frozen mixture in the Asian style.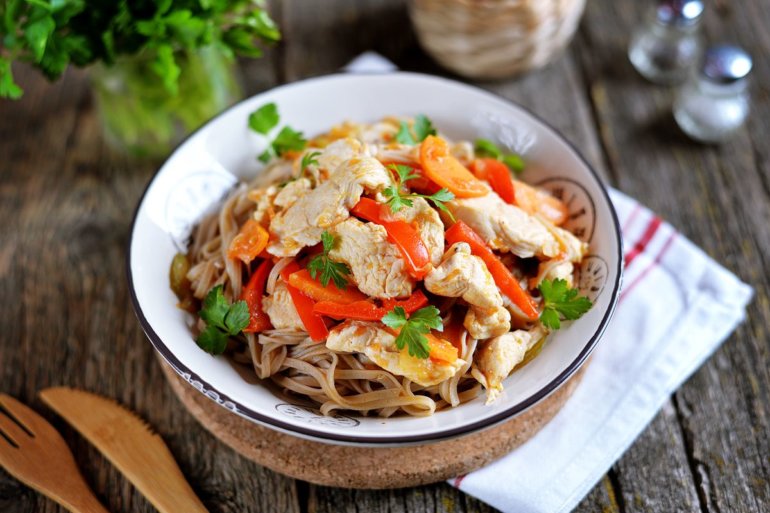 Ingredients for 4 servings:
Buckwheat noodles 14.11oz
Beef 15.87oz
Vegetable mixture 17.64oz
Soy sauce 1 cup
Starch 2 teaspoons
Olive oil 2 tablespoons
Black pepper to taste
Instructions:
Cooking time 25 minutes
Cut the beef into thin strips, pour 3 tablespoons of soy sauce, and leave for 5-7 minutes.
In another bowl, mix the remaining soy sauce and starch.
Prepare the noodles. Cook it in boiling water for no more than 3 minutes. The product already contains salt, so you do not need to add spice to the water.
Put the noodles in a sieve and cool with ice water. This way you will stop the cooking process.
Heat the pan well, pour in the olive oil, and wait for it to heat up.
Fry the beef over high heat until golden brown. It is better to lay the meat in portions so that it is fried, and not stewed in its own juice.
Also, fry the vegetables in portions. It is advisable to keep their crispy core.
Mix meat and vegetables in a frying pan, pour soy sauce with starch, add pepper, and simmer for 1 minute.
Add the noodles, mix well, and simmer the dish for another 1 minute. During this time, the noodles will absorb the sauce and become even more tender and delicious.
(1) – Defining a Healthy Diet: Evidence for the Role of Contemporary Dietary Patterns in Health and Disease. Hellas Cena and Philip C. Calder