The personality of the individual is more clearly manifested in the issue of arranging their home. Creating an original and expressive environment around you, a person is looking for original interior items that help you cope with this task. One of the actions on the way to the solution may be the purchase of a lamp in the style of Tiffany, made of multicolored glass. Stained glass lamps in the style of Tiffany.
Tiffany lamps are known all over the world. They are luxurious, striking in their beauty and grace. This product was created out of a great love for art. Becoming a part of the interior of your home, this thing will transform it, give you warmth and comfort.
Stained glass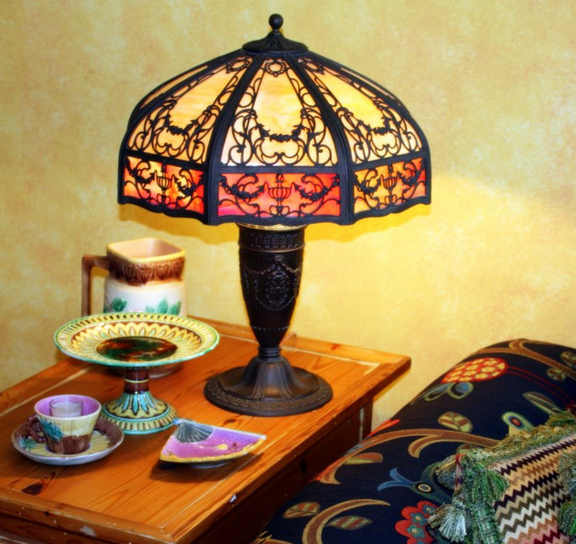 Currently, there are many different lighting devices, but there is no limit to perfection. Stained glass lamps are becoming increasingly popular. There are several types of techniques for making them:
– the glasses are soldered together;
– they are heated, melted and glued together;
– the forged form is filled with a lot of small pieces of glass, the product is created manually,
– the contour of the ornament applied to the glass is finished with a special material, after which the pattern itself is painted with paints of different colors;
– on the film, the drawing is printed and glued to the glass cloth, resulting in a photo stained glass window;
– the glass sheet is treated with sand (under the pressure of the air flow), before that it is covered with a protective film, leaving only the places where the pattern will be free – after using this method, the stained glass becomes a matte shade;
Tiffany tech.
History of creation
The era of the origin of Tiffany lamps falls on the end of the XIX-early XX centuries, when the art nouveau style reigned around. The brand got its unique name thanks to its author, American artist Lewis Comfort Tiffany, the son of the founder of the famous jewelry company Tiffany & Co. Raised in an aristocratic family and educated in Paris, Lewis was used to an atmosphere of luxury and wealth, which was reflected in his future creations.
Art historians consider him a cult designer of his time and a great master in the manufacture of stained glass. Lighting devices created using his own technology have gained unprecedented popularity and worldwide recognition.
Original chandeliers and lampshades made of stained glass, produced by a famous artist, are still of interest to collectors.
Manufacturing technique
The technology of manufacturing stained glass products "Tiffany" belongs to the master himself. Before his invention, such a technique did not exist. Its essence is as follows: each element of colored glass is wrapped in metal foil, then glued together with tin solder. This technique allows you to create patterns and ornaments of any complexity, and most importantly-it is now possible to obtain three-dimensional products with bends.
Thanks to the design talent and hard work of the great master, we can enjoy lamps with mosaic glass plafonds of various shapes and styles.
Kinds
Stained glass lamps, like any other can be divided into 4 categories.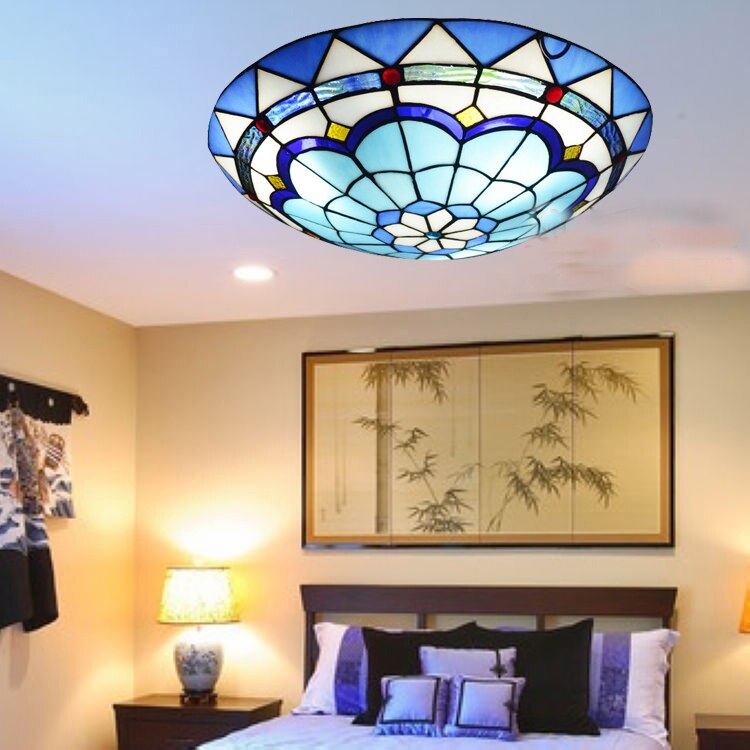 Overhead
.Stained glass lamps in the style of Tiffany.
Most often serve as the main source of lighting. This chandelier will look great against the background of a solid light ceiling, and certainly will not go unnoticed in any interior. Colored glass on a snow-white background instantly attracts the eye of everyone who enters the room.
The advantage of this lamp is that even when turned off, it supports the style of the room and looks expressive. And when you turn on the whole room lights up with bright colors, resembling a toy kaleidoscope and as if returning us to our childhood.
It is worth noting that this chandelier, along with the color, will add dynamism to the interior.
If the room is used as a place of rest and relaxation, it is better to give preference to models of lamps with calmer shades of glass, which will create a peaceful atmosphere of the room.
Wall lamp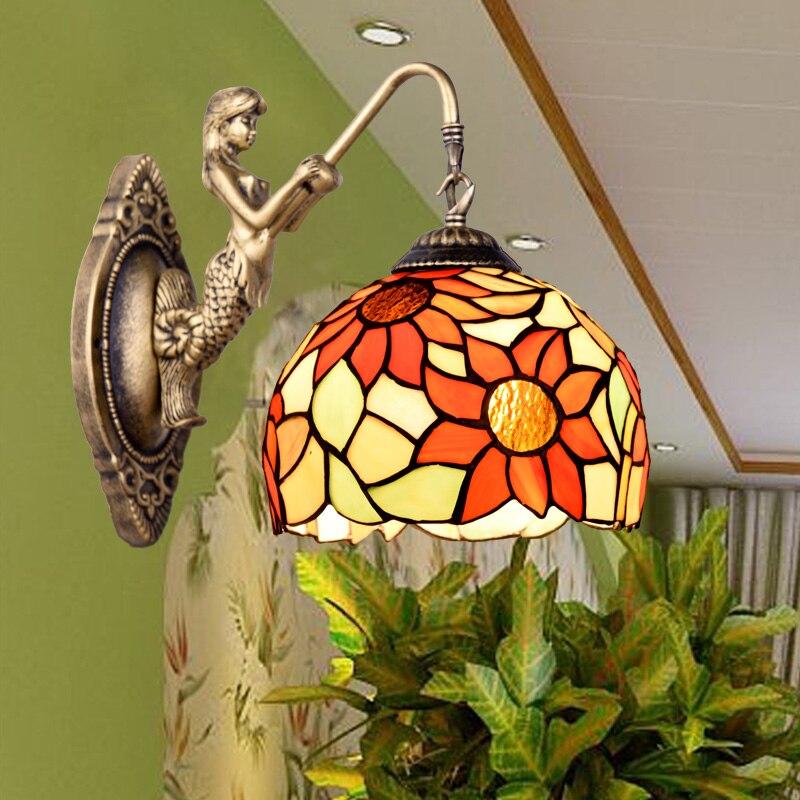 In tandem with a stained-glass chandelier, they will create their own stylistic unity in the interior. Such models of lamps have a protruding ceiling, resemble a flashlight or sconce in shape. They are used for zoning a room.
In the spacious living room, a product with a protruding ceiling and bold color solutions will be appropriate. For the bedroom, the ideal solution is a lampshade-sconce with harmonious shades and soft light. This will create an intimate boudoir atmosphere.
Table lamp
. Stained glass lamps in the style of Tiffany.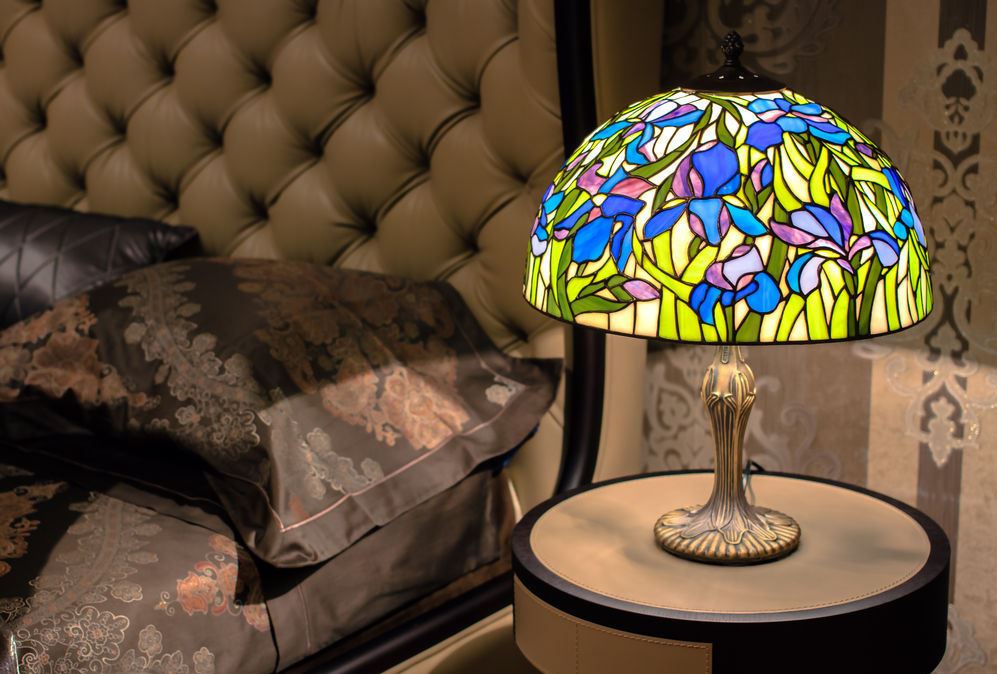 Light sources will become a winning accent of any interior. The standard version of the table lamp is a stable solid base and a stained glass lampshade. This light source will perfectly complement the ceiling chandelier in the style of "Tiffany".
Outdoor
They will bring harmony and comfort to any room. The lamp is a type of floor lamp with a colored shade. Depending on the style of the room, the shape of the lampshade is chosen round or faceted.
A nice bonus of such lighting is its mobility – the floor lamp can be moved at will to any point in the room. Located in the recreation area, it will create a warm atmosphere for a friendly conversation or allow you to retire with a book in a rocking chair.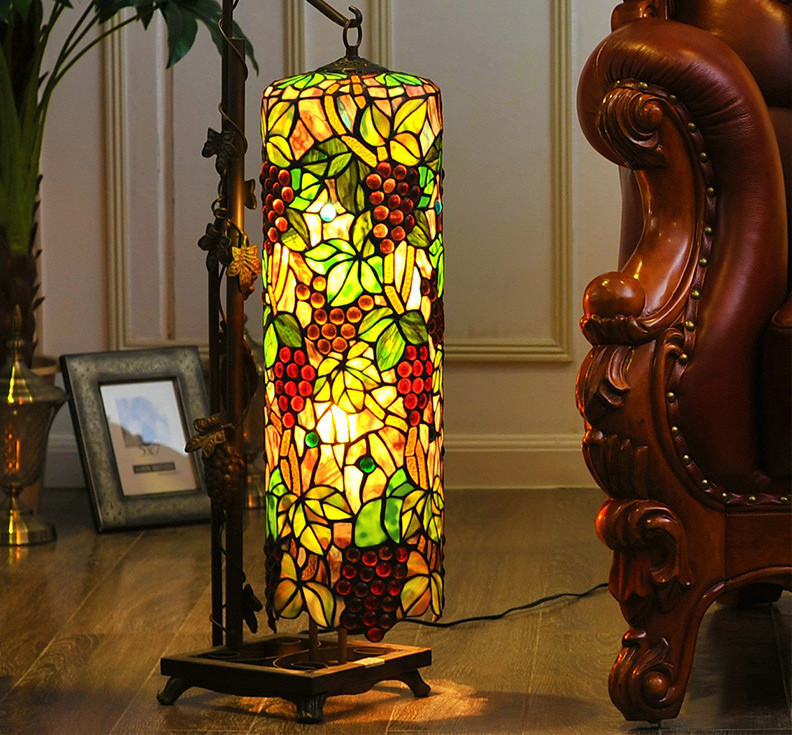 In different interior styles
. Stained glass lamps in the style of Tiffany.
In addition to the "Tiffany" style, stained glass lamps look organically in other interiors. They will suit the ethnic atmosphere of country and provence, comprehensive eclecticism and intricate art deco. The approach when choosing a Tiffany chandelier, floor lamp or sconce for a residential space depends on its functional purpose.
Tiffany style lamps have a wide range of models. These products will fit perfectly into any interior:
Gothic. A favorite style for using stained glass in the interior decor. Representing the middle ages, it requires as much luxury and grandeur as possible. The gothic style of the interior is characterized by up-stretched windows, peak arches, stained glass and unusual lighting solutions.
For this design, it is better to choose models with gold and bold color combinations: red, green, blue, bright yellow glass. Products with hand-forged elements will fit perfectly into this design. This can be a table lamp in the form of a tulip with a forged stem or a wall sconce in the form of a gothic castle with forged elements.
Baroque. Aristocratic style is characterized by pomp and pretentiousness. This design is designed to deliberately demonstrate wealth and power, so the interior design uses elements such as gold, stucco, velvet and tapestry. Stained-glass lamps should emphasize financial viability, it is more appropriate to choose products with gilt or forged stand.
Classic. In contrast to previous styles, in this decor it is better to avoid bold color solutions and pretentiousness, the classics do not accept this. For rooms, you should choose products with stained glass windows in pastel shades, neutral geometric or floral patterns that emphasize restraint and elegance.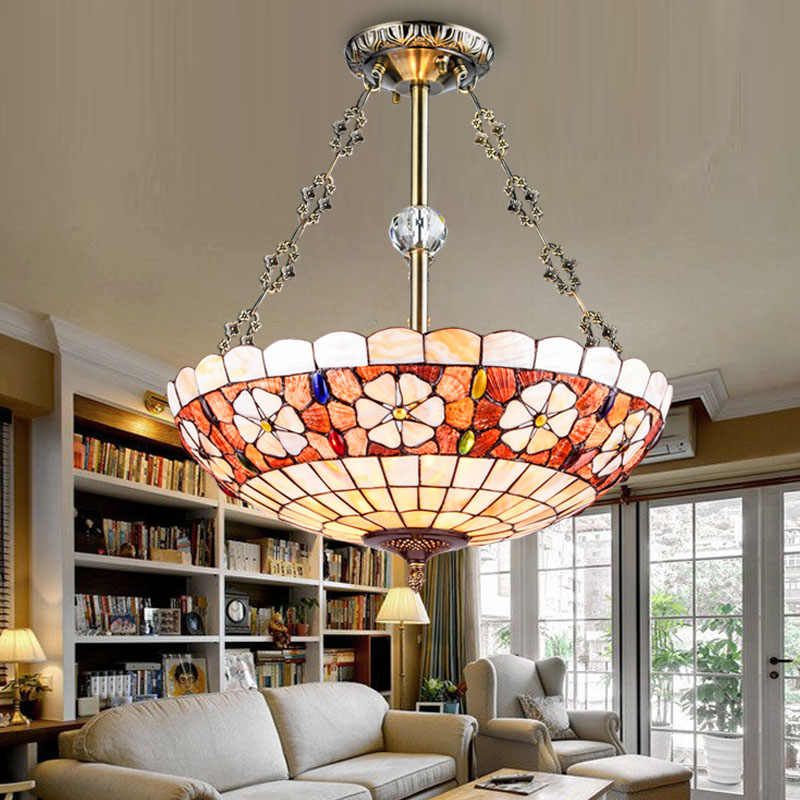 Oriental style. Its originality and riot of colors attract citizens of many countries, especially Europeans. To convey oriental chic in the decor, use lamps with a floral or animalistic pattern, the lines of the drawing should be ornate and smooth. Typical colors for the style are yellow, brown, and orange.
Country. It is designed to embody the warmth and comfort of village houses, the connection with nature and national peculiarities. This design is characterized by the use of natural materials and fabrics, natural shades, and the absence of fashionable things. Here, lamps made in the old days will fit perfectly. For this purpose, the products are artificially aged by patination. From colors it is better to choose green, brown, beige.
High tech. Ultra-modern style, which is characterized by dynamism and minimalism in detail. Lamps should be light and transparent. As few lines as possible, only simple geometry in the pattern and monotony in the color scheme.
To this day, Tiffany's creations are admired for their sophistication. The art nouveau style in which he created aristocratic interiors was named after him. Also called chandeliers and other lighting devices created from stained glass. Each chandelier model is unique and beautiful in its own way. Traditional stained glass technique involves applying colored pieces to the base surface. Tiffany chandeliers are made by soldering the pieces with a thin metal frame.