Zucchini with parmesan in the oven is one of the greatest culinary joys of summer. In this recipe, crunchy, bright bread crumbs make up for the sweet, soft zucchini in the most delicious way. Fresh summer food. This recipe can be easily prepared for the company, if you have a huge crop of zucchini. A dietary breakfast is the basis of a proper diet. It should be both nutritious and contain a small amount of calories to keep fit or lose weight favorably. Healthy Breakfast Zucchini with Parmesan.
The lessons can be read here: Lesson 1, Lesson 2, Lesson 3.
Many nutrition systems and diets for weight loss suggest that breakfast must be rich, nutritious and low-calorie. The morning meal should be present in any diet — it is mandatory even when losing weight. To prepare a delicious and low-calorie fitness breakfast, you don't have to wake up very early every morning to prepare it — there are many quick and simple, and most importantly useful low-calorie recipes.
It is necessary to include water in your morning diet — it helps to awaken your metabolism and prepare your body for a busy day.
A proper breakfast should consist mostly of carbohydrates. Porridge, cereals, and fruit are the perfect foods to include in your morning menu.
By choosing the right diet meals in the morning, you will feel great for the whole day. Therefore, do not miss the first meal, and you can always find recipes for dietary, healthy and delicious dishes on our website.
Ingredients:
. Healthy Breakfast Zucchini with Parmesan.
Olive oil 3 tablespoons
Garlic minced 2 cloves
Red pepper 1/2 teaspoon
Breadcrumbs 1/2 Cup
Parmesan cheese 3.53 oz
Fresh thyme leaves to taste
Lemon zest 2 teaspoons
salts to taste
2 large zucchini, cut lengthwise
Instruction:
Cooking time 25 minutes
Calculated 4 servings
Mix the oil, garlic, and crushed red pepper in a small skillet over a low heat. Cook, stirring frequently, until the garlic is soft and golden, 3-4 minutes. Remove from heat; allow to cool for 5 minutes. Stir in the breadcrumbs, parmesan, thyme, lemon zest and salt.
Preheat the grill (or oven) to a very high level 392F degrees. Brush the grill using tongs with a paper towel. Place the zucchini with the cut sides on greased grates; grill, cook, until gently crisp, about 5 minutes on each side. Turn the courgettes so that they are sliced face up; add the sauce evenly on top. Cook until golden brown, 2 to 3 minutes. Carefully transfer to a platter. Serve with lemon wedges. Bon Appetit!
Mini zucchini pizza with tomatoes and cheese
. Healthy Breakfast Zucchini with Parmesan.
Mini zucchini pizza with tomatoes and cheese – a great dish in the season of young zucchini! This is a kind of zucchini fritters, baked in the oven with sour cream and garlic sauce, with diced tomatoes and grated cheese. Delicious!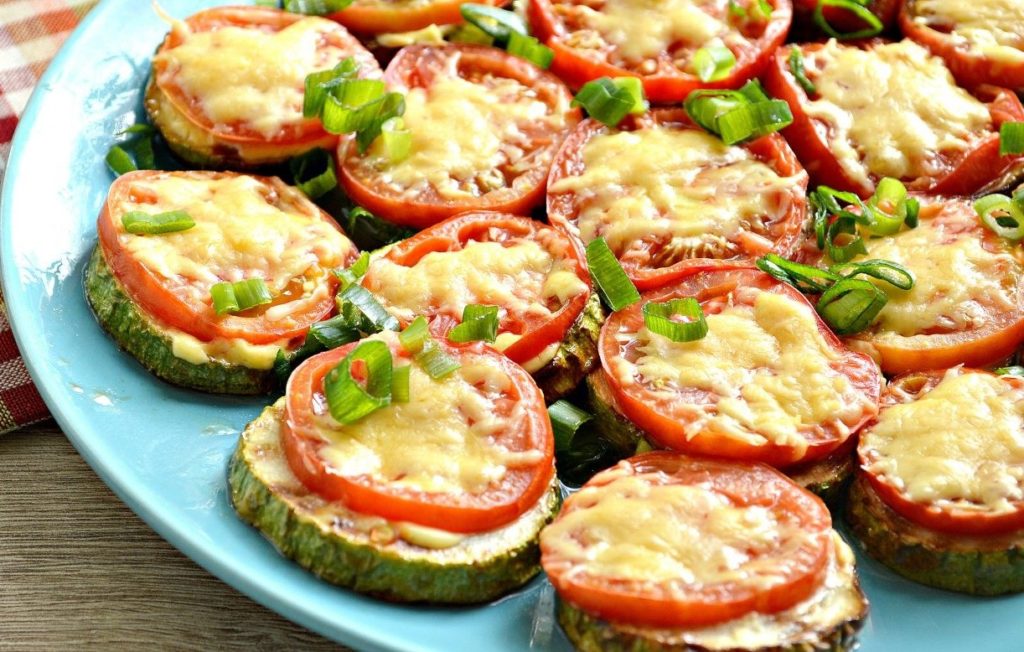 Ingredients for 4 servings:
Zucchini 1 pc.
Eggs 2 pcs.
Flour 5 tablespoons
Tomato 1 pc.
Hard cheese 3 tablespoons
Sour cream 3.53oz
Garlic 1 clove
Salt to taste
Ground black pepper to taste
Vegetable oil (for frying) 6 tablespoons
Instruction
Cooking time 50 minutes
How to make a mini zucchini pizza with tomatoes and cheese:
Peel the zucchini from the top skin or wash it thoroughly. Grate the zucchini on a coarse grater and squeeze out the juice. Add the eggs, salt, pepper and flour to the grated zucchini. Stir in the zucchini mixture.And now fry the zucchini pancakes in sunflower oil on both sides until golden brown.
Transfer the fried pancakes (this will be the basis for mini-pizzas) to a baking sheet or to a baking dish. For the sauce, mix the sour cream and chopped garlic. Use this sauce to coat the zucchini fritters. Wash the tomato, cut it into small cubes and put it on the pancakes.
Grate the hard cheese on a coarse grater, sprinkle them with zucchini pancakes with sauce and tomatoes. Bake the zucchini mini pizzas in a preheated 180 degree oven for about 25 minutes. Serve zucchini mini pizzas with tomatoes and cheese hot. Bon Appetit!
Like what you're reading? You can sign up for Medium using my affiliate link. Just $5 a month to read an unlimited number of articles and help me create further. Together we will move mountains!
https://elenasunshinemagazine.medium.com/membership
If you like articles subscribe to our newsletter and you will learn more. https://elenasunshinemagazine.substack.com/