The original eco-style wood decor gives the room a natural feel and a connection with nature. In any case, if you love nature and the harmony of natural materials in the decoration, then this theme will appeal to you. And to make original items for the interior of wood will not be difficult. Wood decor in eco style with your own hands.
What is necessary for this? A little patience and the ability to see the beautiful in the simple. With the help of seemingly simple components-branches, bark, logs, raw boards, you can create unique masterpieces that can decorate any room. Let's consider in detail the main options for decorative products of this direction.
Eco decor made of tree bark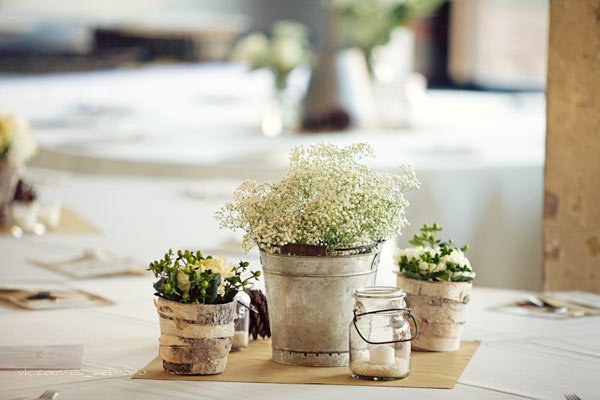 It seems that such a small thing, and what original ideas in the end. Ordinary tree bark, more often birch bark, with a competent approach, acquires a specific function of decor in an eco-style. If you are interested in this technique, then the first thing you need to stock up on material. It is best to separate the bark from a recently cut or growing tree (stump). If this is not possible, it is recommended to wet the log to facilitate separation.
The easiest way to decorate is to give the natural texture of the bark by transferring it to certain objects of different geometries. Alternatively, it can be used to wrap vases and jars for flowers of a simple smooth shape (cylindrical and with right angles), or wide candles of neutral tones. The edges are glued or the entire product is tightly wrapped with twine (tape).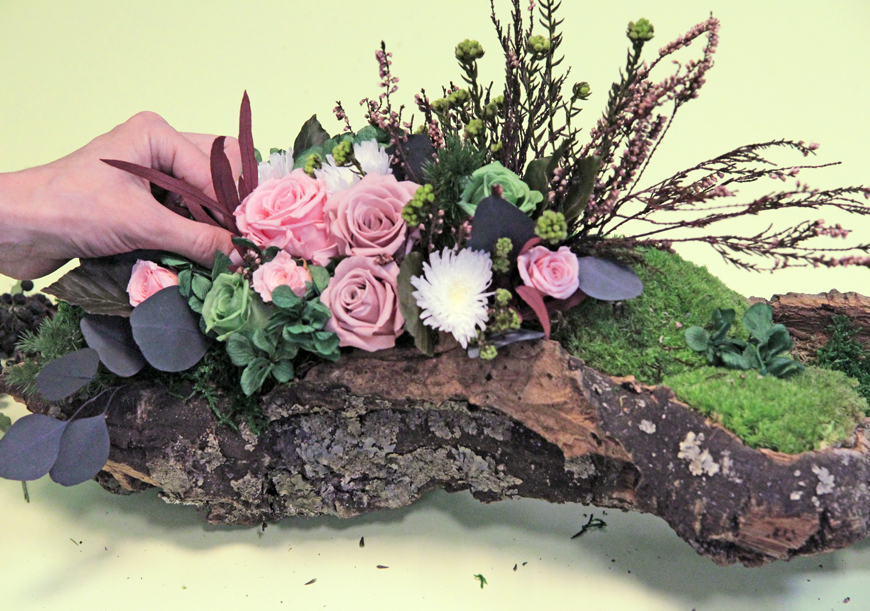 From the bark, you can create unusual containers for flowers, for example, hanging cones for decorating the garden on the occasion of a wedding or birthday. You can also use pieces to create photo frames, locker doors, and other items. The bark is simply glued to the surface, and the size of the strips does not matter. You can use a chaotic combination of pieces.
Original crafts from branches
. Wood decor in eco style with your own hands.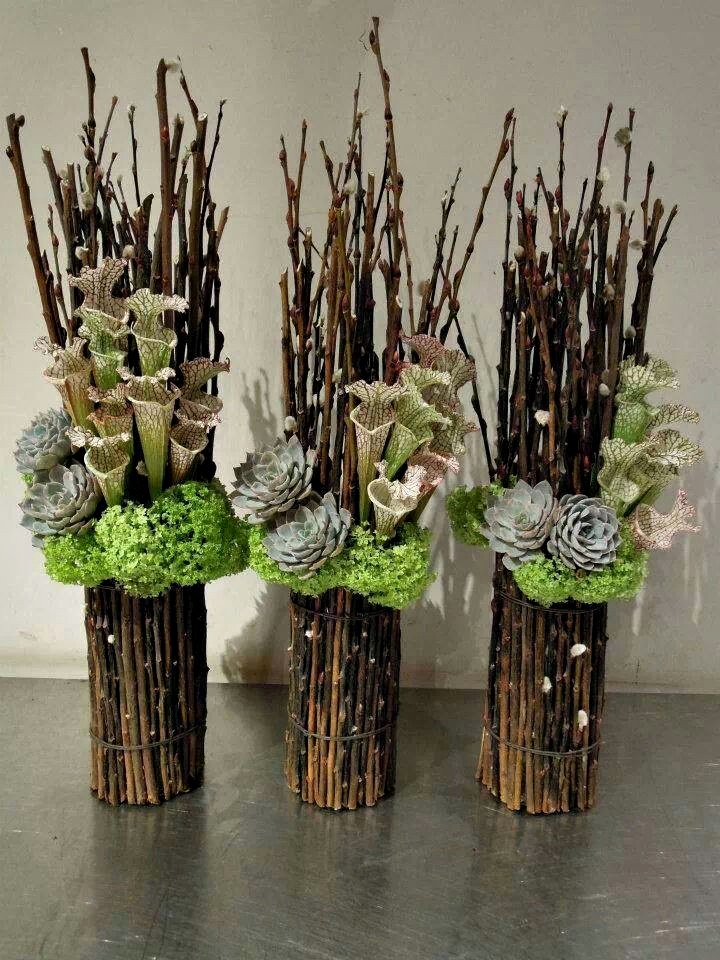 From the simplest branches collected in the nearest forest or park, you can create amazing compositions in eco-style. As you can see from the examples presented above, the technique is quite simple. For decoration, both single branches of bizarre shapes and compositions of intertwining branches are suitable. Original look frames, all kinds of panels and decorations. You can add other natural components to the compositions, such as stone. shells, leaves. Your imagination will complete the list.
Decor of twigs and snags
. Wood decor in eco style with your own hands.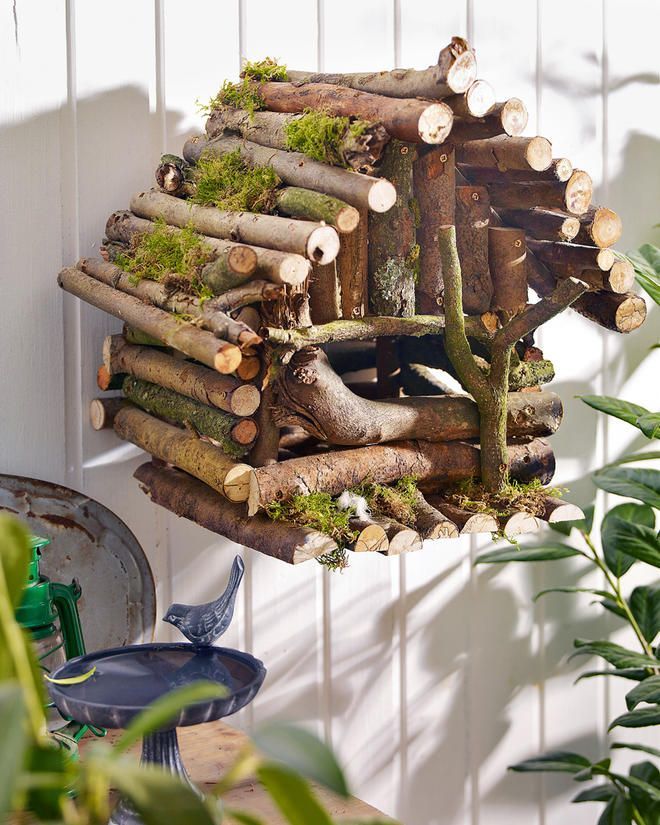 These crafts from knots and snags, unlike branches, already require a lot of effort. Blanks must be processed, given the necessary shape and put together. When decorating with single items, you can use fragments of intricate shapes found or brought from vacation at the sea or near the river. As a rule, such parts of trees separated long ago, were sanded by water and now look like relics.
The decor of cut down a tree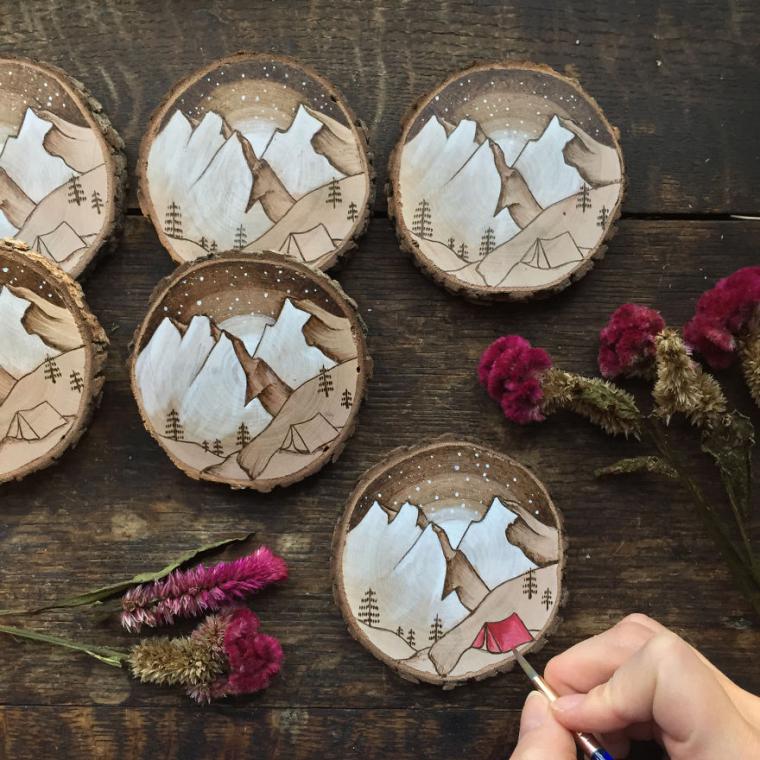 Even schoolchildren know that the annual rings that become visible when a cross-section is taken indicate the age of the tree. But to see a potential effect in them is the talent of the decorator. A collage of thin tree cuts can be unusually decorated with a wall or stool, thicker and larger ones will become an element of serving or can be used as a stand for hot dishes.
Use of logs and stumps in the design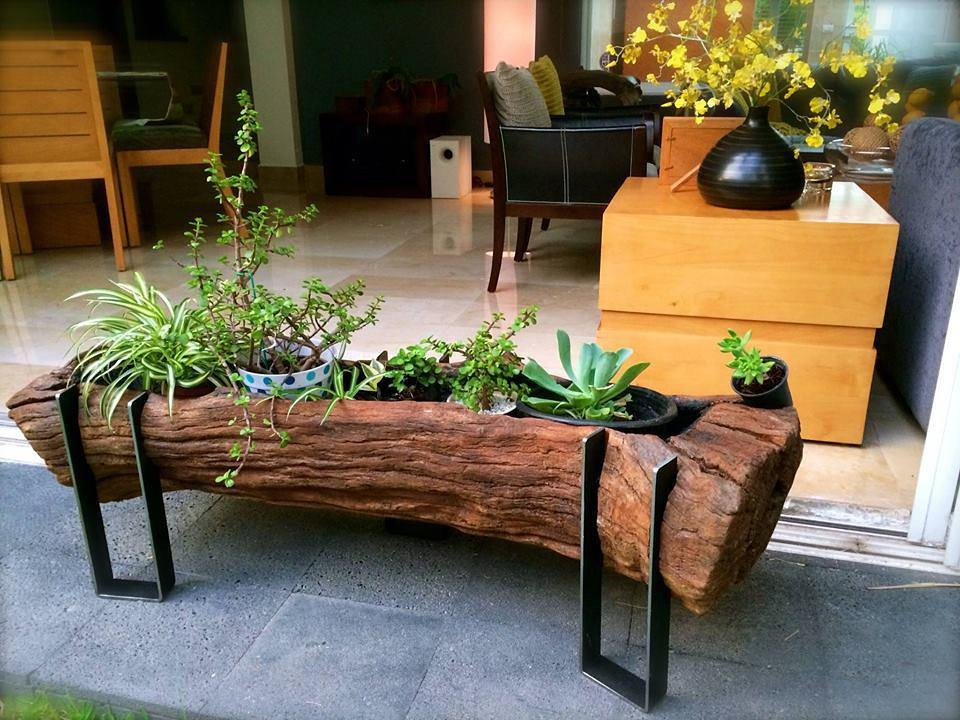 Using logs and stumps when making the main thing is not to overdo it. Such compositions are more voluminous and should fit harmoniously into the overall concept of the room style.
Original items made from raw boards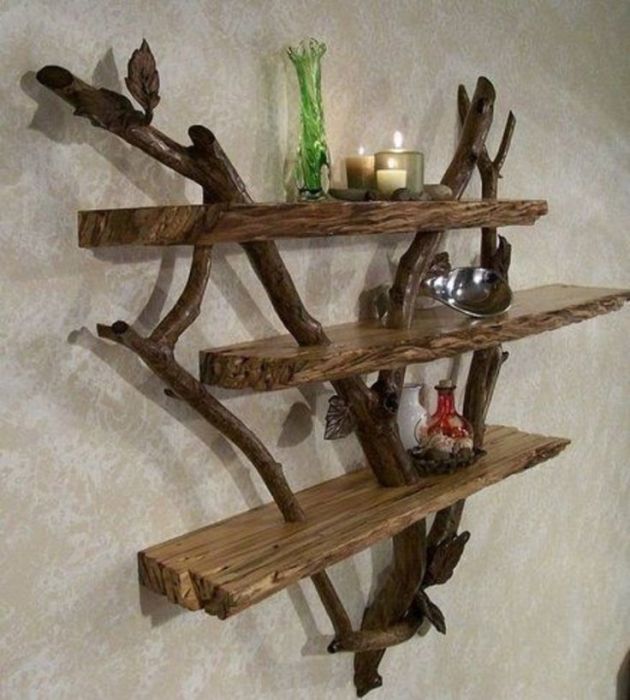 The use of raw boards is also very important when decorating rooms. Speaking of raw material, it should mean emphasizing the natural texture of wood with cracks and the effect of aging. These vintage boards look very nice as all sorts of shelves, frames, decorative wall coverings.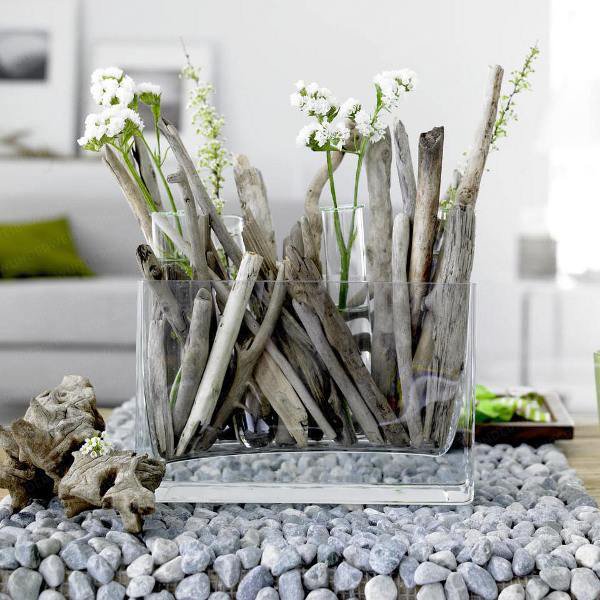 As you can see, there is no limit to the designer's imagination – a wide variety of improvised materials are used as decorations. In this review, we reviewed wood crafts that will decorate any interior of this style. Eco-style wood decor is available to anyone due to the relative ease of implementation of ideas. And the end result is sometimes unpredictable and original. And of course it will not leave anyone indifferent.