Today I want to share with you recipes for fast and healthy breakfasts. Such a quick breakfast should be your best choice. And I share recipes not just for breakfast, but for the healthiest breakfasts! 5 healthy and fast gourmet breakfasts.
Surely, many of you are familiar with the problem: What can I eat quickly in the morning for breakfast? So that it was both delicious and healthy. Breakfast should not only be made from natural products but also hearty.
By the nutritional value of a healthy breakfast, I do not mean the number of calories, but the richness of food for minerals, healthy fats, protein, and the right carbohydrates. All of them are components of the energy balance.
Why else is the nutritional value of breakfast important? The body needs not only fuel but also vitamins and minerals. Without them, a chemical chain of processes will not occur in the cell, when it is necessary to produce energy from the incoming glucose. B vitamins, magnesium, zinc, iron, chromium, selenium, and other substances are extremely important here.
The solution to many problems — is fast and healthy breakfasts.
To help you, I decided to write this article and share my favorite recipes for fast, healthy, and delicious breakfasts. So: fast and healthy breakfasts.
1. Oatmeal casserole with persimmon
. 5 healthy and fast gourmet breakfasts.
Delicious and healthy pieces of sliced oatmeal casserole with persimmon – the perfect breakfast.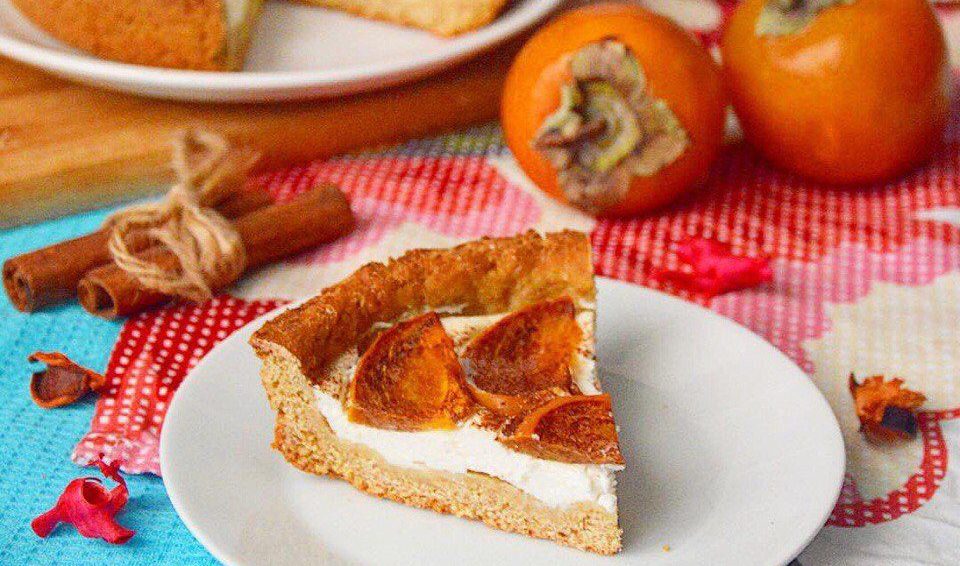 Ingredients for 2 servings:
Oat flakes 4.23oz
Persimmon 1 piece
Olive oil 5 tablespoons
Flour 2 tablespoons
Sugar 2 tablespoons
Salt 1/2 teaspoon
Instruction:
Cooking time 30 minutes
Prepare the ingredients for an oatmeal casserole with persimmons. Put the olive oil in a particular container, and add sugar and a pinch of salt.
Wash the persimmon, remove the peel from the fruit and remove the seeds, and put the pulp in a container. Add the persimmon pulp to the olive oil and mix gently. Add the sifted wheat flour, and oat flakes. Stir again.
Cover the baking dish with parchment paper and pour the prepared dough into it. Place in the oven, preheated to 356F degrees, for 25 minutes. Remove the oatmeal casserole with persimmon from the oven and cool, then cut it into cubes. Serve oatmeal casserole with persimmon, cut into cubes, with fragrant tea or coffee.
Bon Appetit!
2. Fast and healthy gourmet breakfasts: flaxseed porridge
. 5 healthy and fast gourmet breakfasts.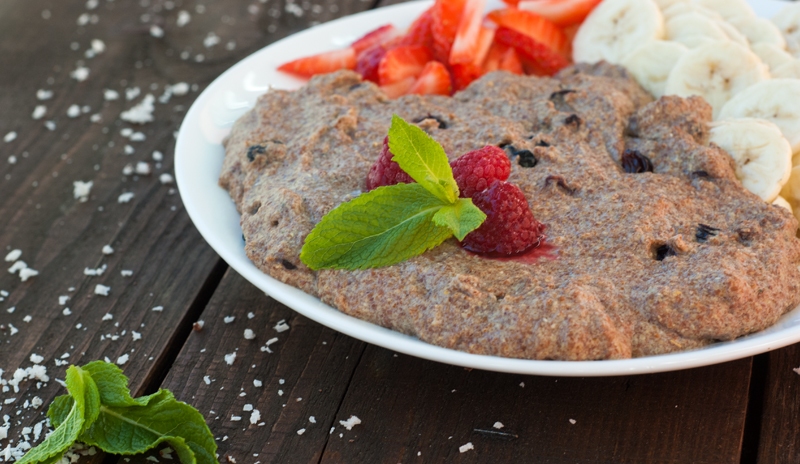 Ingredients 1 serving:
Flaxseeds (soaked overnight in water) 2 tablespoons
Almonds 1 tablespoon
Chia seeds 2 tablespoons
Apples with peel without core 1/2 pc
Berries (can be frozen) 3.53oz
Coconut chips or coconut chips 1 tablespoon
Cinnamon 1/2 teaspoon
Instruction:
Cooking time: 5 minutes + overnight soaking
In the evening of the previous day, soak the flax and Chia seeds, filling them with water at room temperature. Leave overnight, covered, on the kitchen table. In the morning, a film is formed there — these are super healthy bifidobacteria. Therefore, you do not need to remove this film in any case. If the berries are frozen, then put them overnight to defrost in the refrigerator.
In the morning. Chop the almonds coarsely with a knife (you can also do this in the evening). Chop the apple coarsely. Mix the flaxseed mush with almonds, apples, berries, and coconut shavings, and sprinkle with cinnamon.
This gourmet breakfast will satisfy you for at least 5 hours! In addition, it is prosperous in omega-3, useful fiber, antioxidants, bifidobacteria, and vegetable fats. What's not a great start to the day?
3. Asian-style omelet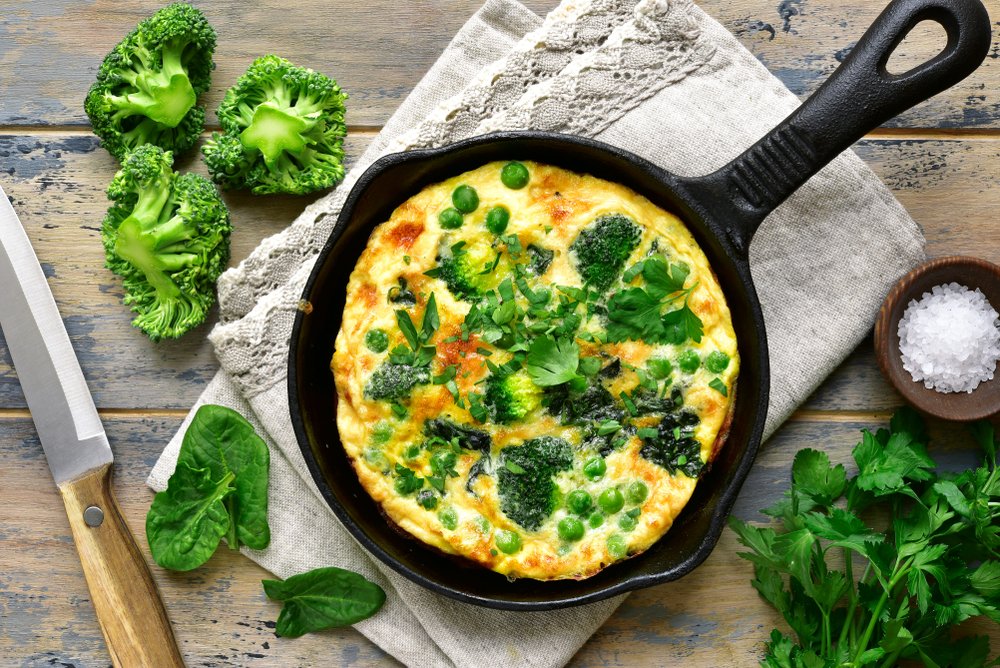 Ingredients 1 serving:
Eggs (preferably organic) 2 pcs
Broccoli bouquets (fresh or frozen) 3 tablespoons
Large red onion 1 piece
Spinach 4 tablespoons
Curry seasonings 1/2 teaspoon
Fish sauce (instead of salt) 1 teaspoon
Coconut oil for frying 2 tablespoons
Instruction:
Cooking time: 7 minutes
In a pan in oil, fry the spinach and broccoli with spices and onions until the spinach is half-fried (about 3 minutes). Beat the eggs with a fork with fish sauce and pour them over the vegetables. Cover and cook over medium heat until tender (about 3 minutes). Serve with tomatoes.
4. Lentil pate with nuts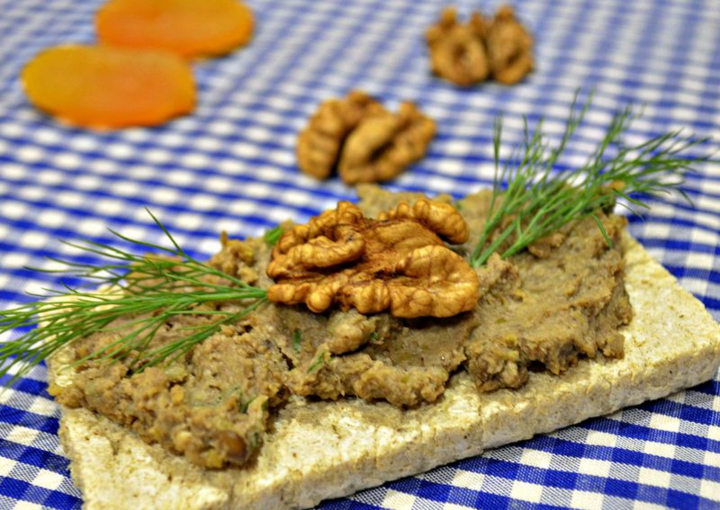 Lentil pate with nuts is a delicious and healthy breakfast dish. The dish is prepared very quickly, the recipe does not require additional effort for complex culinary processes.
Ingredients:
Red lentils 5.29oz
Carrot 1 pc
Onion 1 pc
Peeled walnuts 2 tablespoons
Olive oil 3 tablespoons
Dried garlic 1 teaspoon
Salt to taste
Ground black pepper to taste
Basil greens (for decoration)  to taste
Instruction:
Cooking time 35 minutes
Prepare the necessary ingredients. How to make lentil pate with nuts:
Wash the lentils and pour them into a container with a non-stick bottom. Fill with hot water in a ratio of 1:3. Boil the lentils for 20 minutes on medium heat, periodically removing the resulting foam.
The finished lentils should not be completely boiled. Peel the carrots and onions and cut them into small cubes. Fry the vegetables in olive oil in a frying pan for about 3-5 minutes, until soft.
Combine the boiled lentils and fried vegetables in a deep container. Add dried garlic, salt, and pepper to taste, olive oil, and walnuts. Grind everything with a blender into a homogeneous mass. Put the lentil pate in the molds, and cool.
Then decorate the pate to your liking and serve.
5. Fast and healthy gourmet breakfast: berry-protein mousse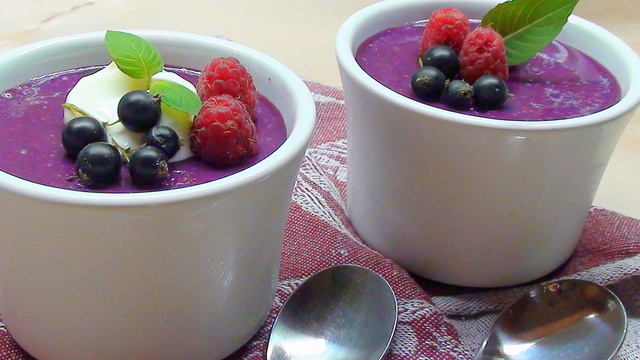 Ingredients for 1 serving:
Frozen banana 1 pc
Frozen berries (blueberries, raspberries, blackcurrants, cherries, blackberries 7.05oz
Frozen bouquets of broccoli 1 tablespoon
Flaxseeds 2 tablespoons
Sesame seeds 2 tablespoons
Vegetable milk (rice or soy) 3.53oz
For topping:
Chia seeds and Acai berries. Akai berries are a new fashionable superfood.
Instruction:
Cooking time: 5 minutes
Beat all the ingredients in a blender until smooth. Place in a bowl and sprinkle with Chia seeds and Acai berries.
Such a mousse is a bomb of antioxidants that protect us from aging. Broccoli fights cancer and also stands guard over our beauty. Seeds provide us with fiber, protein, and healthy vegetable fats. All together, you can keep your blood sugar stable until lunch, which means you won't get hungry! Bon Appetit!