This time I offer you a menu for the day, where I put together recipes that will not only make you beautiful for many years, but also provide you with everything you need: protein, fats, and carbohydrates from the right sources. Healthy menu for 1 day anti-aging.
Perhaps you will like these recipes so much that you will want to continue to eat something similar. This is very easy to do.

The same anti-aging menu will help you keep your energy levels consistently high throughout the day, which means that instead of nodding off in front of the monitor, you can work productively, leave the office at normal times and devote time to yourself.
Breakfast, option 1: green smoothies
.Healthy menu for 1 day anti-aging.
This breakfast option works wonders for your body. The Green smoothie is rich in plant-based protein and plant-based Omega-3s, and also contains high amounts of vitamin C and carotenoids. In fact, this drink is a mini detox at home. Beauty and health in one jar.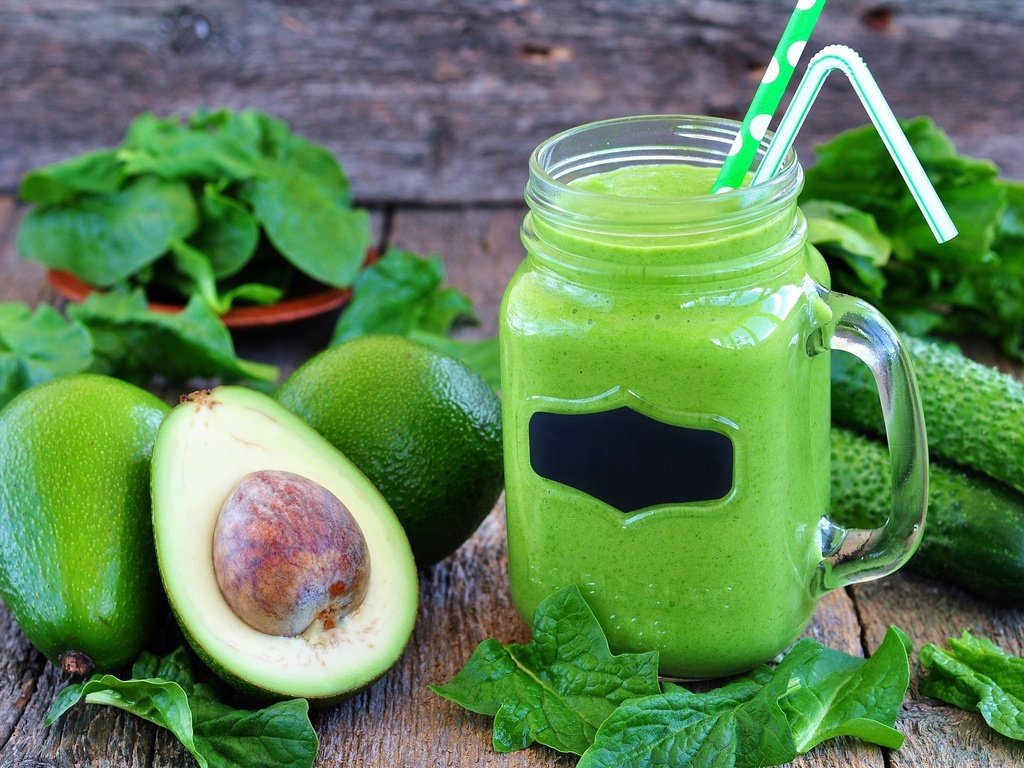 Ingredients for 2 servings:
Note: you can not share with anyone and drink everything yourself. Then, perhaps, you will not need a snack, which will go in our menu next item. If you get hungry, you can safely drink a smoothie, and also have a snack. Especially in the morning, we need food most of all, and it is easier to digest it at this time of day.
Small cucumber 1pc
Coriander with stems 1/2 bunch
Small bunch of parsley 1 pc
Hemp seeds 2 tablespoons
Peeled sunflower seeds 1 tablespoon
Small avocado 1 piece
Lemon peel 1/2 piece
Ginger root 1/2 tablespoon
Water 2.5 cups
Instruction:
Put all the ingredients in a blender and mix until smooth. This is important! There should be no lumps it will spoil all your fun.
Breakfast, option #2: flaxseed porridge with berries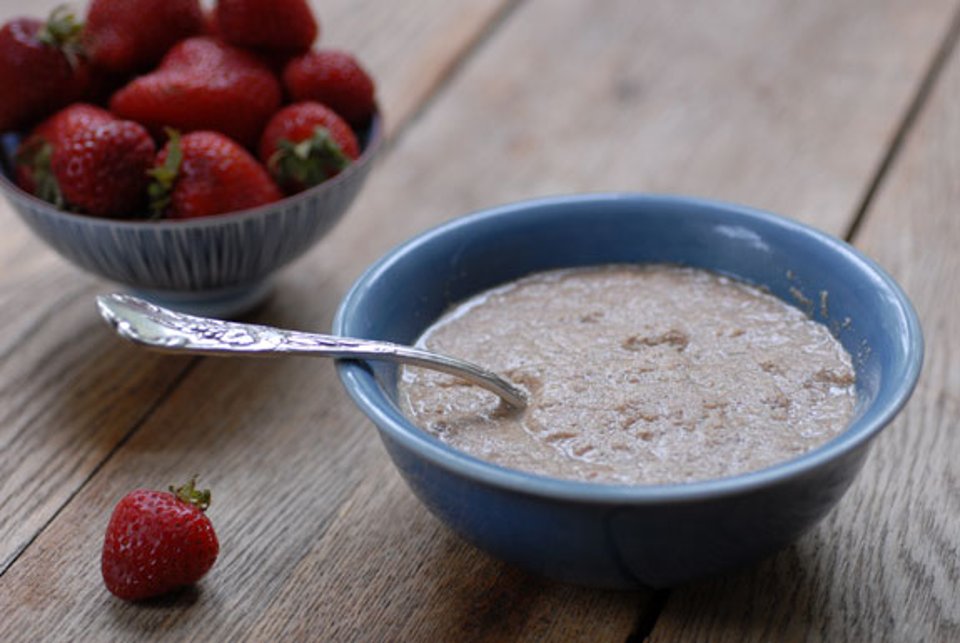 Ingredients 1 serving:
Flaxseeds (soaked overnight in water) 3 tablespoons
Almonds 2 tablespoons
Chia seeds 1 tablespoon
Apples with peel without core 1/2 piece
Of any berries (can be frozen) 3.53oz
Coconut chips or coconut chips 1 tablespoon
Cinnamon 1/2 teaspoon
Instruction:
In the evening of the previous day, soak the flax and chia seeds, filling them with water at room temperature. Leave overnight, covered, on the kitchen table. In the morning, a film is formed there that is super useful for bifidobacteria. Therefore, you do not need to remove this film in any case. If the berries are frozen, then put them overnight to defrost in the refrigerator.
In the morning. Chop the almonds coarsely with a knife (you can also do this in the evening). Chop the apple coarsely. Mix the flaxseed mush with almonds, apples, berries, and coconut shavings and sprinkle with cinnamon.
This breakfast is extremely rich in plant-based Omega-3s, healthy fiber, antioxidants, bifidobacteria, and vegetable fats. It also stimulates the work of the intestines and helps them to remove everything that has accumulated there to the outside. Cinnamon stabilizes blood sugar and has mild anti-inflammatory properties.
Now it was time to eat. This should be done about 2-3 hours after breakfast. For the first snack, you will need preliminary preparation. The fact is that in order to prolong beauty and youth, I suggest snacking on vegetable straws and healthy pesto. Here's the pesto you'll have to prepare in advance.  This will take no more than 10 minutes of your time. And it will last for at least a few days! But how much use!
Snack: 2 carrots plus 1 tablespoon of broccoli pesto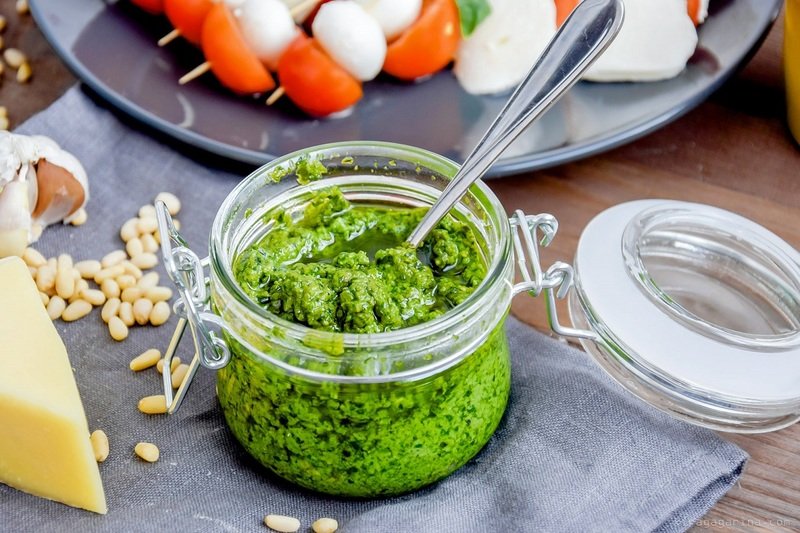 Pesto Recipe:
Ingredients approximately 17.64oz:
Inflorescences of a small head of broccoli 1 piece
Basil ½ bunch
Sage 5 leaves
Lemon juice 1/2 piece
Almonds 3.53oz
Garlic 4 cloves
Olive oil 1/2 cup
Salt and pepper to taste
Instruction:
Mix all the ingredients with 2-3 tablespoons of pure water in a blender or mini-cutter until smooth, gradually adding oil. Your pesto is ready. Keep it in the refrigerator in a clean glass jar.
Lunch: arugula and asparagus salad +8.82oz of fish or seafood
. Healthy menu for 1 day anti-aging.
Salad ingredients (for 2 servings):
Arugula 3.53oz
Tomatoes 10.58oz
Of asparagus (you can substitute broccoli) 17.64oz
New potatoes 21.16oz
Parsley 1 bunch
For refueling:
Olive oil 2 tablespoons
Lemon juice 1 tablespoon
Dijon hot mustard 1 teaspoon
Sea salt and pepper to taste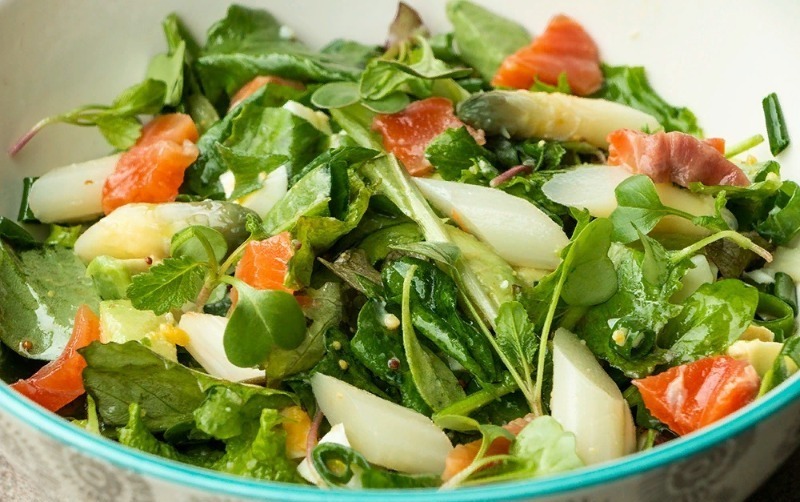 Instruction:
Cut the asparagus and fry for 3-4 minutes in olive oil, slightly salted. Cut everything else and mix with the warm asparagus. Mix the dressing in a separate bowl and season the vegetables with it.
For the salad, be sure to eat fish or seafood. It is desirable that they are not fried to the crust, because it is the fried crust, although I love it very much, contains harmful trans fats-sources of free radicals that destroy our cells. It is even better to take the fish for a couple with the addition of olive oil, which is added just before serving.
After lunch, after 3 hours, I suggest you make another snack. It is necessary both to take a break from work and not to pounce on a hungry wolf for dinner. Usually, evening overeating is the main reason that you want to lie down on the sofa. But there are so many interesting things in the world!
Snack # 2: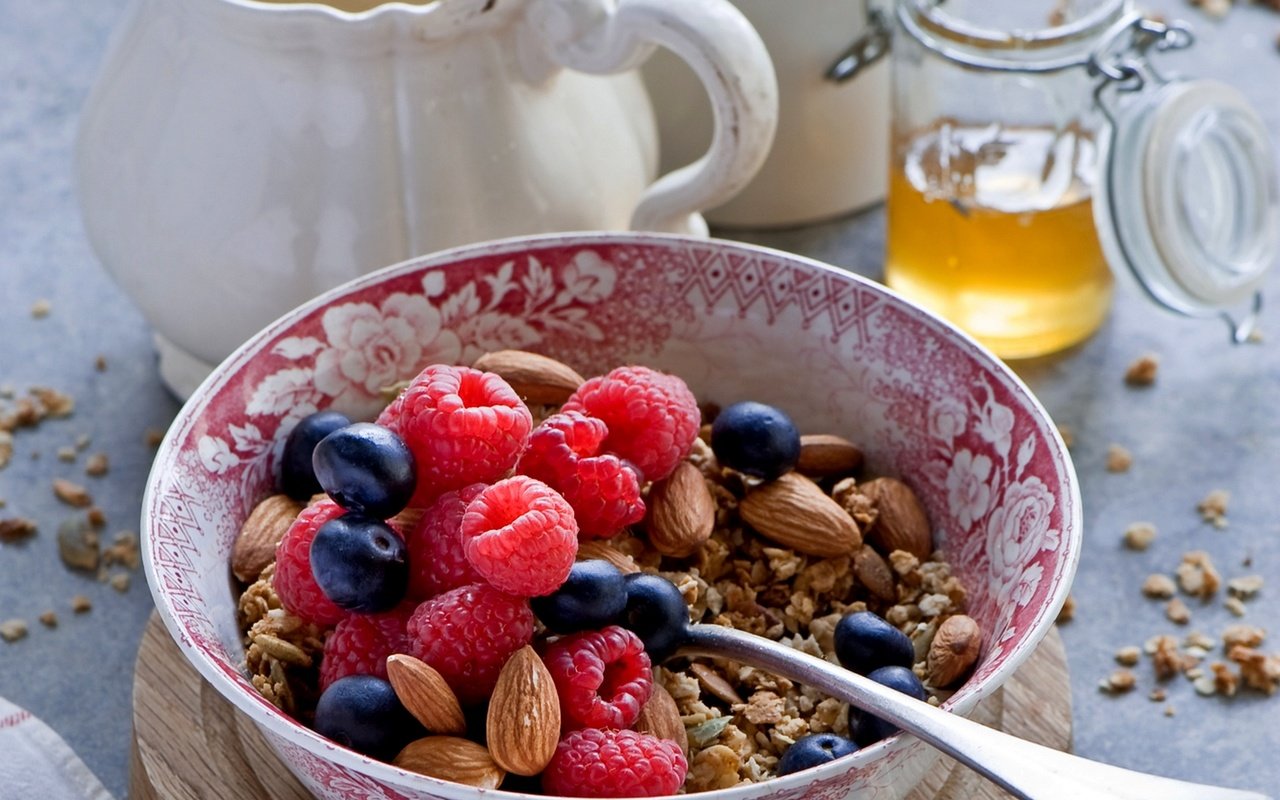 Strawberries/raspberries/blueberries 8.82 oz and almonds 1 tablespoon
These berries will provide you with antioxidants and a lot of vitamins, but at the same time, despite their sweet taste, they will leave your blood sugar alone. These berries also contain substances that improve the sensitivity of cells to insulin, which means that you will avoid spikes in blood sugar, which are one of the main enemies of our beauty and youth.
And so you came home. It's time for a healthy dinner, which will not only provide your body with useful substances for prolonging youth but also help you sleep well! I strongly recommend that you include the right carbs in your dinner.
Dinner: buckwheat with vegetables and veal liver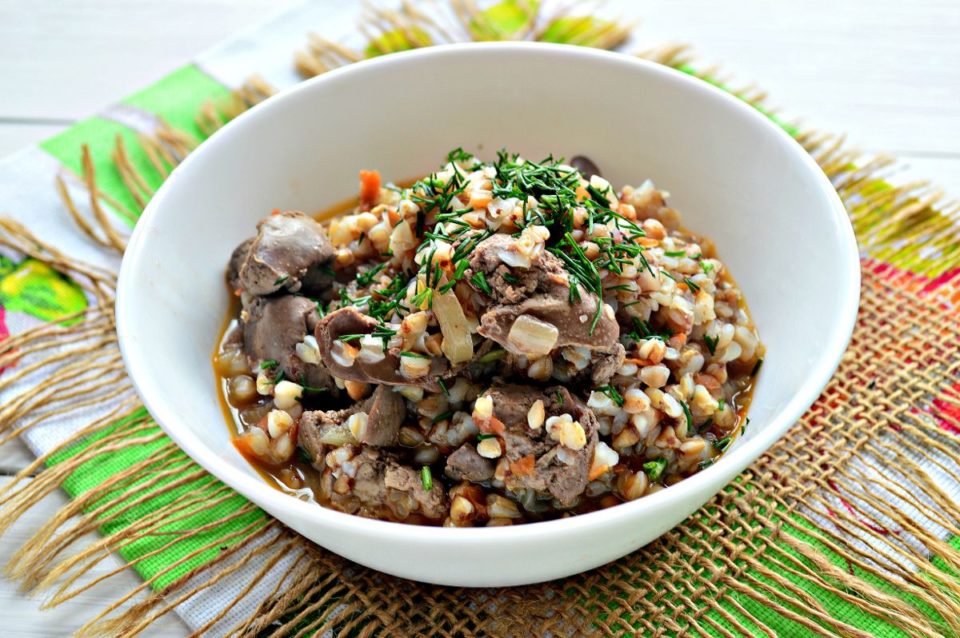 Ingredients for 2 servings:
Buckwheat 1 cup
Veal liver 14.11oz
Onions 2 pcs
Carrots 3 pcs
Garlic 1 coriander 1 bunch
Buckwheat or rice flour 1 tablespoon
Olive oil 1 tablespoon
Salt and pepper to taste
Instruction:
Boil buckwheat in salted water according to the instructions on the package. Finely chop the onion, carrot, and garlic and fry over medium heat until transparent. Cut the liver, and put it in a frying pan with the vegetables. Add a little water and buckwheat flour, and fry over medium heat until tender for 15 minutes. 5 minutes before cooking, add finely chopped coriander to the liver (leave a ¼ part for decoration). Season with salt and pepper. In the first plate lay the buckwheat on top of the liver with vegetables and then sprinkle with coriander.
Such a dinner will help you stay awake for the next day, sleep well, and also support you in stressful situations
All this is done very quickly, and you do not have to be a cook with experience. The dishes presented in this article are free of sugar, gluten, and milk. Bon Appetit!
Perhaps you will like these recipes so much that you will want to continue to eat something similar. This is very easy to do.