A light buffet is not necessarily sweets and fruits. We offer you an interesting idea-meat tartlet with minced meat. This is a universal portion snack. It is prepared from simple ingredients, it turns out very tasty! Meat tartlets with minced veal for a light buffet.
How to cook meat tartlets with minced meat for a buffet
For the filling, we will use veal. It is lean, tender, and juicy meat. In combination with tomato sauce and spices, the taste of veal will be fully revealed and will become the main decoration of our baskets.
Preparing the dough for yourself is quite simple. But to save time, you can use ready-made tartlets or frozen dough.
Ingredients:
For the filling:
Minced veal 17.64oz
Onions 1/4 cup
Sweet pepper 1/4 cup
Butter 2 tablespoons
Tomato sauce 1 cup
Brown sugar 1 tablespoon
Ketchup 4 tablespoons
Soy sauce 1 tablespoon
Salt 1/2 tablespoon
Pepper 1/2 teaspoon
Cheddar cheese 3.53oz
For tartlets:
Flour 2 cups
Baking powder 1/2 teaspoon
Eggs 2 pcs
Water 2 tablespoons
Butter 2 tablespoons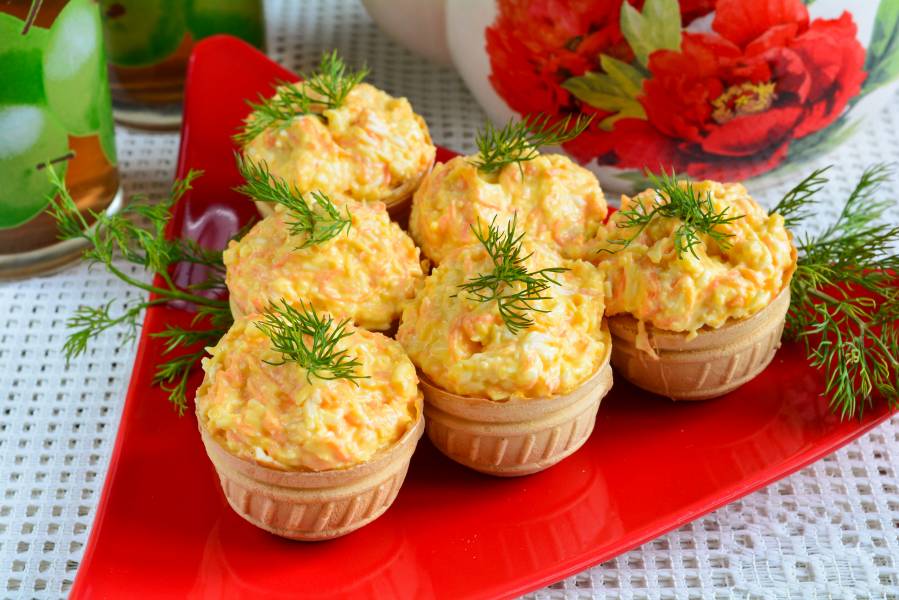 Instruction: Meat tartlets with minced veal for a light buffet. 
Cooking time 40 minutes
In a saucepan, melt the butter over medium heat until bubbles form. Add the onion, and sweet pepper and fry for 3-4 minutes, until the vegetables are soft.
Add the minced veal and cook over medium heat. This is followed by tomato and soy sauce, ketchup, salt, sugar, and pepper. Mix well. Cook over low heat for about 5 minutes.
To prepare the tartlet, mix the flour and baking powder. Beat the eggs with a whisk, and add water and melted butter. Pour into the flour and knead the dough. Then roll it out, squeeze out the round parts of the desired diameter, and put the dough in the muffin molds.
Fill the tartlets with the filling, sprinkle with grated cheese, and place in the oven, preheated to 356F for 10-15 minutes. The tartlets are ready. You can also add tomato paste, a little Tabasco sauce, and apple cider to the filling. Bon Appetit!