How to cook sweet potatoes: eat raw, stew with sugar, bake, grill, add to porridges, soups, puddings, purees, and warm salads. It goes well with meat, citrus, and spicy seasonings. When preparing dishes, it is able to add brightness and benefit to the usual menu. 5 healthy sweet potato dishes.
Sweet potato (sweet potato) – a root vegetable, pleasant to the taste, and with a rich composition of nutrients: it is a source of protein, carbohydrates, soluble fiber, a group of vitamins B and vitamin C, and calcium. An interesting feature of sweet potato is that it contains a source of the female hormone progesterone, so it is a valuable product for women in the pre-climactic period.
The undoubted advantage of sweet potatoes is their low-calorie content (in 3.53oz – 61 kcal), so they like to add it to diet salads. Due to its high fiber content, it quickly quenches hunger. It is also rich in vitamins PP, B1, B2, B6, A, C, and trace elements. A large amount of potassium makes this root vegetable very useful for our brain and nervous system.
How to choose a sweet potato
When choosing this vegetable in the store, pay attention to the color of its peel and hardness. It should not have any spots or sprouts. It is best to store it in a dark and cool place, for example, in a paper bag. Do not store it in the refrigerator or plastic containers, and it is worth eating it for two weeks. If you want to keep it for a longer time, then peel the sweet potato, cut it, and put it in the freezer.
Life hack in the kitchen
Sweet potatoes can be easily peeled if you first put them in boiling water, and then for a couple of seconds in ice. The peel will go away by itself.
1. Sweet potato with mushrooms and cherry tomatoes

. 5 healthy sweet potato dishes.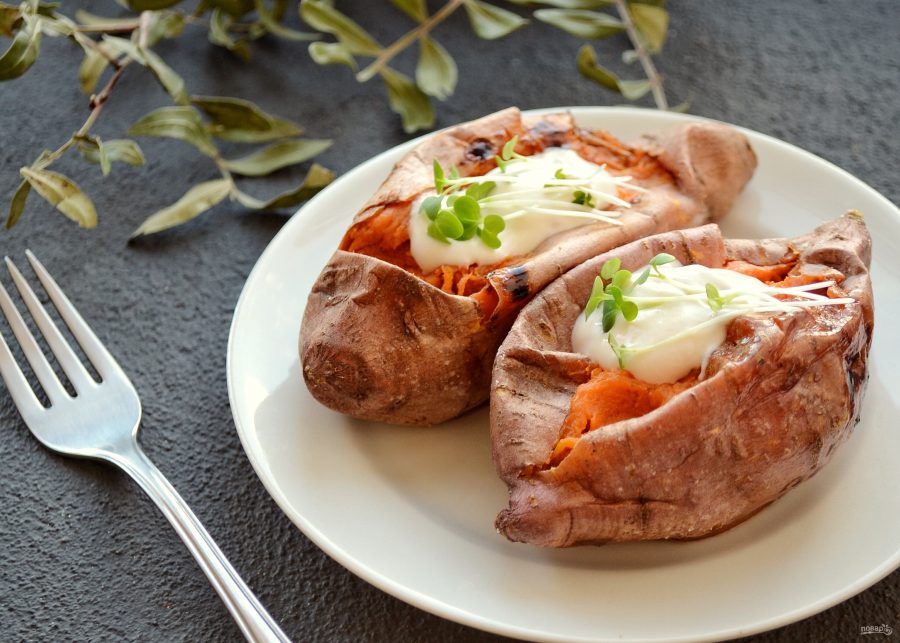 Ingredients for 2 servings:
Sweet potato 2pcs
Mushrooms champignons 5.29oz
Chickpeas 2 tablespoons
Cumin, coriander, paprika, 1/2 teaspoon each
Olive oil 4 tablespoons
Salt 1/2 teaspoon
Cherry tomatoes 2 tablespoons
Parsley for decoration 4 sprigs
Romano lettuce leaves for decoration
Thin 2 tablespoons
Dry garlic 1/2 teaspoon
Dry dill 1/2 teaspoon
Juice of a lemon ½
Hot water 1/2 cup
Instruction:
Soak the chickpeas overnight or use the sprouts, they do not even need to be cooked. Cook the chickpeas.
Preheat the oven to 356F, line a baking sheet with baking paper.
Mix olive oil, cumin, coriander, paprika, and salt.
Wash the sweet potato. You can leave the peel or remove it. Cut the sweet potato into 2 pieces, roll in half of the olive oil and spice mixture, and place in the oven for 45-60 minutes.
Thinly slice the mushrooms and place them on a baking sheet along with the chickpeas. Roll in the remaining olive oil and spices. Place in the oven for 20 minutes.
While the sweet potatoes, mushrooms, and chickpeas are baking, prepare the sauce: mix the hot water and thin until smooth, add the garlic, dill, and lemon juice. Taste it.
Cut the cherry tomatoes into halves, chop the parsley, and mix them together.
As soon as the sweet potato is ready (a caramel crust should form on top ), pour the thin sauce over it, and put the mushrooms, chickpeas, and tomatoes on top.
2. Burger for breakfast
With sweet potatoes, you will get a light and hearty dish.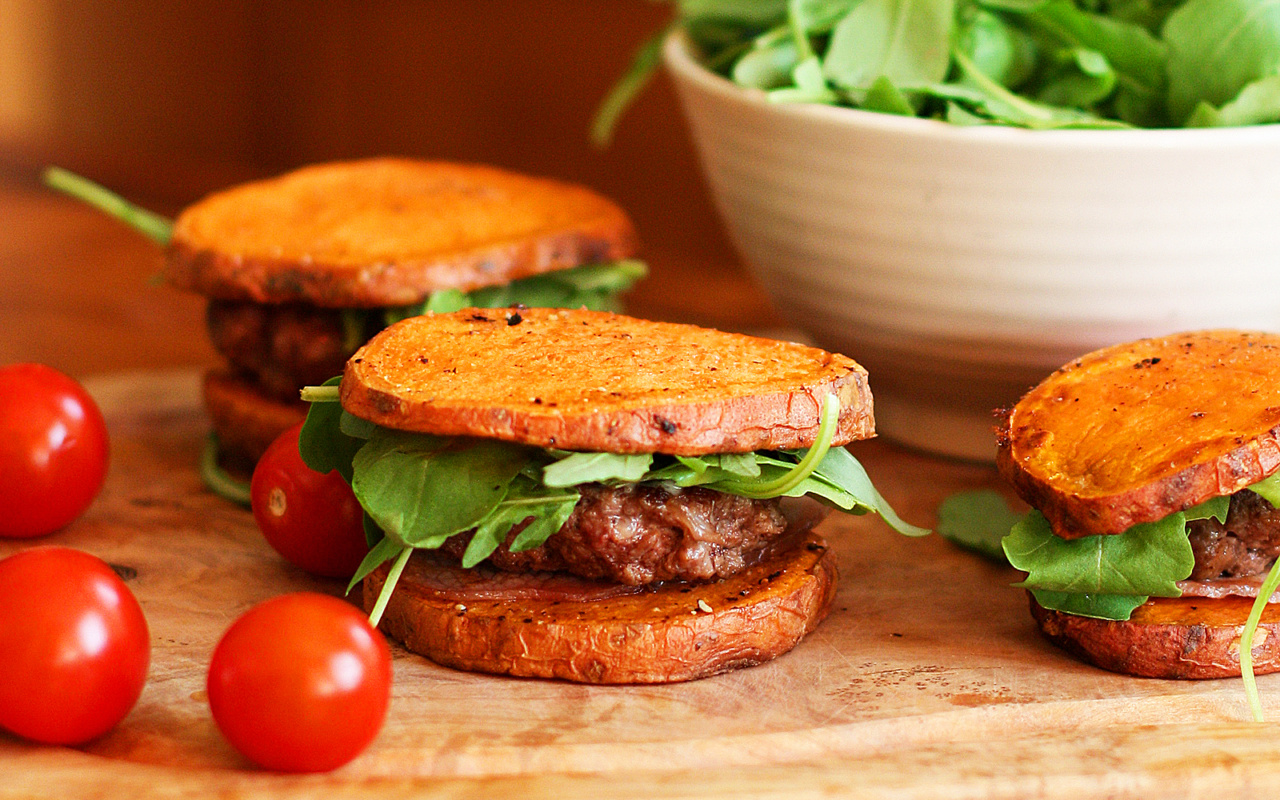 Ingredients (for 2 servings):
Baked sweet potato 4 rings
Eggs 2 pcs
Spinach (can be frozen) 3.53
Tomatoes 2 thin rings
Young cheese 3 tablespoons
Salt, pepper, herbs of provence, turmeric (to taste)
Instruction:
Bake sweet potatoes: thoroughly wash with a brush and cut 4 rings from the tuber. Brush with olive oil, sprinkle with seasonings on both sides, and place on baking paper. Bake in a medium oven at 356F for 15-20 minutes.
While the potatoes are baking, cook the poached eggs or make the glaze at a low temperature.
Add spinach, add spices to taste, and drain the excess juice.
We assemble the burger: a ring of sweet potatoes, a pillow of spinach, a slice of tomato, an egg, a little cheese, and a second ring of sweet potatoes.
3. Sweet potato with scrambled egg for breakfast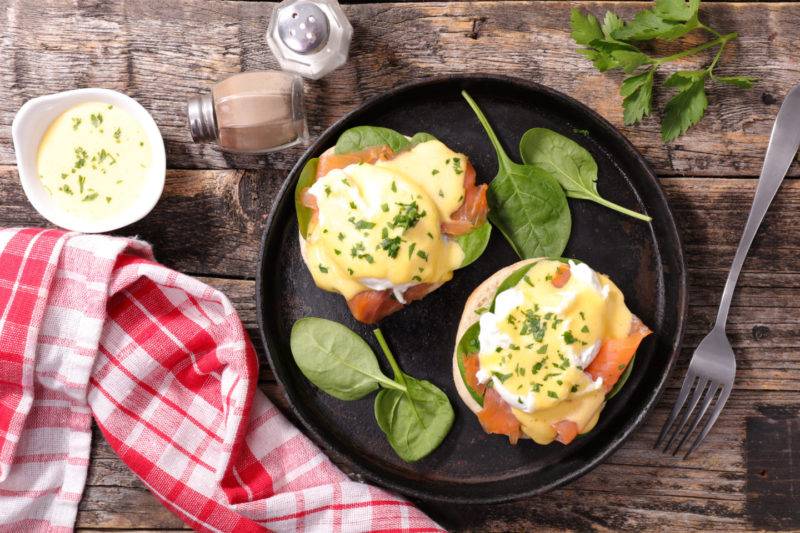 Ingredients (for 2 servings):
Sweet potato slice 4 pcs
Egg 2 pieces
Cherry tomatoes 6 pcs
Arugula 3 tablespoons
Sesame seeds or pumpkin seeds 2 teaspoons
Salt, and pepper to taste
Olive oil 2 tablespoons
Instruction:
Bake the sweet potato slices, first smearing them with olive oil on both sides and sprinkling with spices.
Make scrambled eggs: place the eggs in a greased frying pan at medium temperature, add salt, and stir with a fork or whisk during cooking (2 minutes).
Put scrambled eggs on slices of baked sweet potatoes, garnish with cherry tomatoes and arugula, and sprinkle with sesame seeds or pumpkin seeds and spices of your choice.
4. Steak with sweet potato and chimichurri sauce

. 5 healthy sweet potato dishes.



Beef steak is prepared with a green chimichurri sauce with garlic and lime juice. The same sauce is used for vegetable salad. Steak with tomato salad is a very harmonious and delicious dish because meat always goes well with vegetables. A chimichurri perfectly refreshes this dish.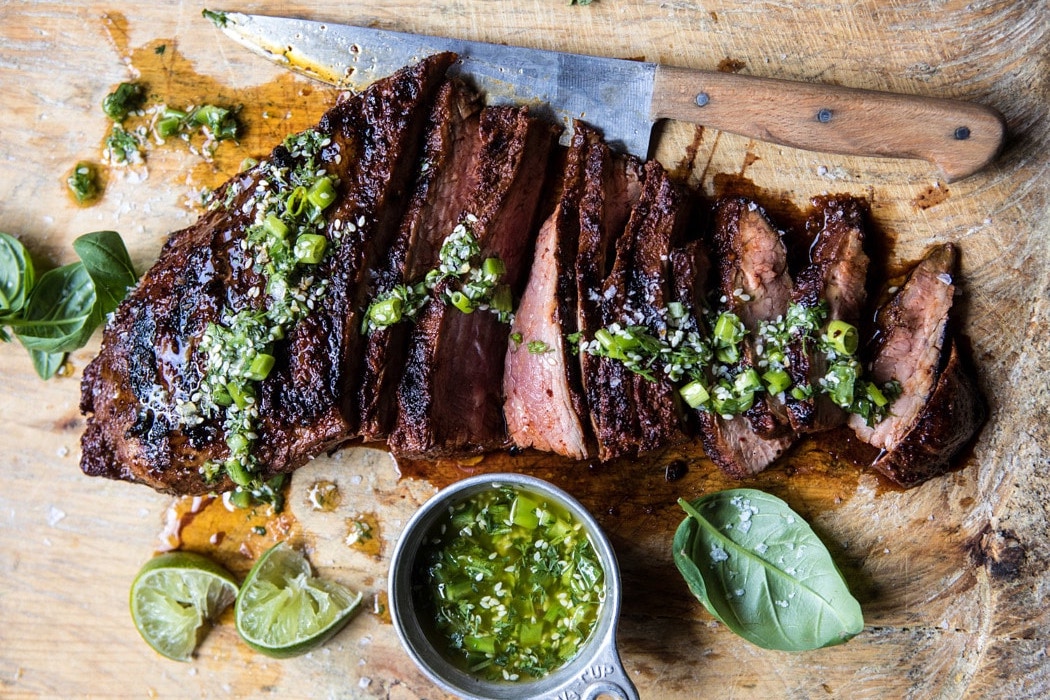 Ingredients for 4 servings:
Fresh coriander 1.76oz
Beef steak 34.92 oz
Sweet potato 8 pieces
Garlic 8 cloves
Chili pepper 2 pieces
Red wine vinegar 1/2 cup
Vegetable oil 3 tablespoons
Olive oil 5 tablespoons
Butter 2 tablespoons
Lime 2 pieces
Parsley 1.76oz
Green basil 1.76oz
Fresh oregano leaves 1 tablespoon
Cumin 1 teaspoon
Salt to taste
Instructions:
Cooking  1 hour 20 minutes
Wrap the sweet potato in foil, after sprinkling the root vegetables with vegetable oil. Place in the oven, preheated to 392F, for an hour. Remove the sweet potato from the oven, make a cut in the skin of the sweet potato, and remove the red pulp with a spoon.
Melt the butter in a saucepan, add the cumin, a pinch of salt, chopped basil, and lime zest, and mix with the sweet potato puree. The result can be folded back into the skin of the root crop if you managed to extract the pulp carefully and the skin retained its shape and other conditions.
Remove excess fat and film from a piece of the abaya, and cut it into portions. Hold the meat for 20 minutes at room temperature, and blot with a paper napkin, so that the surface of the steak is dry. Add salt.
Fry each piece of meat in a hot frying pan with vegetable oil for one and a half minutes on each side. Then place on a baking sheet and place in the oven, preheated to 356F, for five minutes.
In a blender, whisk the chopped parsley, oregano, coriander, garlic, chili pepper, wine vinegar, and olive oil with a pinch of salt. This will be the chimichurri sauce.
Let the steak rest for 3-5 minutes before slicing. Season with our Chimichurri sauce.
5. Sweet potato dessert
A portion of such a breakfast or afternoon tea:
Supports bowel function due to the high fiber content of pumpkin / sweet potato and chia;
Will give a daily dose of vitamin A;
Contains a daily allowance of an omega-3 source (chia);
It is a bioavailable source of protein (chia);
Contains healthy fats (coconut milk and butter);
It is an anti-inflammatory and immune-supporting agent (spices).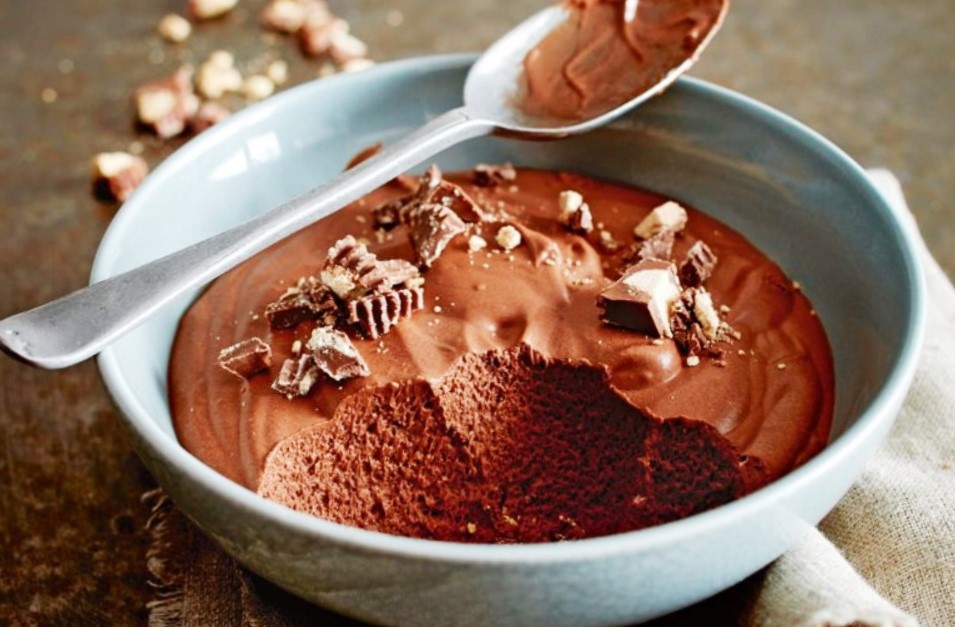 Ingredients:
Sweet potato 3.53oz
Cocoa powder 2 tablespoons
Coconut milk 1/2 cup
Coconut oil 1 teaspoon
Chia seeds 1 tablespoon
Turmeric, nutmeg, and cinnamon to taste
Instructions: Bake sweet potatoes in the oven for 30 minutes at 356F.
Simply mix all the ingredients in a blender and serve with coconut chips or seasonal frozen berries.
It's just delicious, satisfying, and warming! Bon Appetit!