Apple-date cake according to this recipe turns out to be a tender, soft and fragrant delicacy. Date filling keeps its shape well, moderately sweet. If you like the combination of apples and dates, then I strongly recommend making this delicious dish. Healthy desserts apple and date cake.
Healthy desserts will help you eat well and enjoy your favorite sweets. These desserts are delicious and healthy ! Read how to make dessert at home, buy food and cook for yourself and others to enjoy. Cooking healthy desserts requires knowledge of the cooking features, which we will tell you about in this article.
Dates contain healthy substances that are so necessary for a person. Its nutritional value, sweet taste, which is due to the content of a large amount of fructose, can provide us with energy for a long time. Many people like to eat dried dates, replacing them with sweets.
Ingredients:
Get ten servings
Dates 10.58oz
Apples 3 pieces
Grape seed oil 6 tablespoons
Honey 3 tablespoons
Oatmeal 1 Cup
Wheat flour ½ Cup
Baking powder 2 teaspoons
Lemon 1 piece
Walnuts 2 tablespoons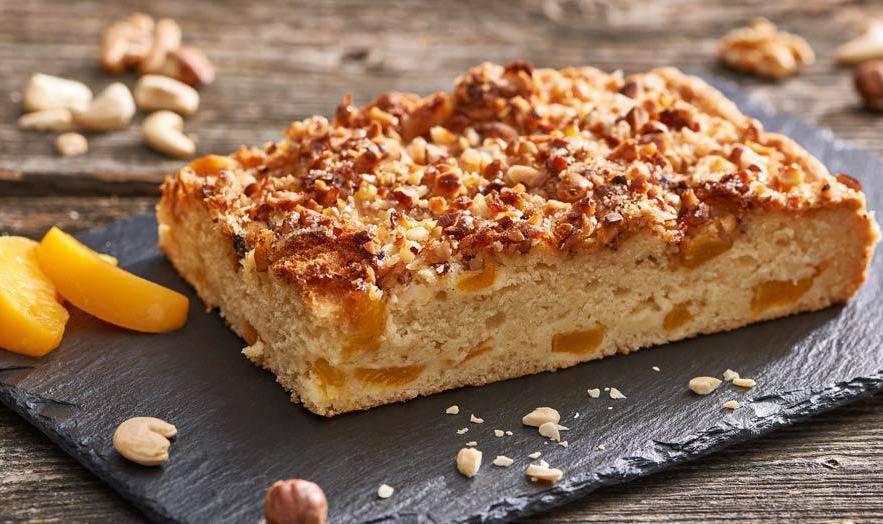 Instructions:
. Healthy desserts apple and date cake.
Cooking time 30 minutes
1. Peel and core the apples and remove the seeds from the dates. Cut the fruit into small cubes.
2. Remove the zest from the lemon and squeeze out the juice.
3. In a saucepan, heat the lemon juice, zest, honey, and cinnamon.
4. Then add the dates, remove from the heat and allow five minutes for the dates to soak in the juice.
5. Next, in order, add: apples, butter, oatmeal, flour (you can use a small amount of baking powder).
6. Put in the form of a medium layer, sprinkle with lemon zest on top and send to a preheated 356F degrees oven.
7. Get the form in twenty minutes, mark with a knife into equal parts and decorate each part with walnuts. Put in the oven for another 5-7 minutes.
Let it cool completely at room temperature, and then put it in the refrigerator for an hour and a half, so that it is completely stabilized. Bon Appetit!