Delicious tartlets with avocado, shrimp and curd cheese pasta. Cook according to this recipe and try a simple, healthy and delicious breakfast. Healthy breakfast tartlets with avocado shrimp and cheese.
Ingredients:
Cooking time 20 minutes
Designed for 12 servings
Avocado 1 PC.
Shrimp 10.58 oz
Cottage cheese 5.29 oz
Olive oil 1 tablespoon
Garlic 3 cloves
Lime 1/2 PC.
Sea salt to taste
Parsley for decoration
Tartlets (or loaves) for serving
Instruction:
. Healthy breakfast tartlets with avocado shrimp and cheese.
How to make a base for tartlets healthy. You don't have to buy ready-made baskets. After all, the manufacturing technology is very simple.
Classic shortbread tartlets
. Healthy breakfast tartlets with avocado shrimp and cheese.
Roll out the shortbread dough and cut out the circles. Distribute them in the cupcake molds. Depending on the molds you can turn out the tartlets with a ribbed or round edges. If necessary, cut off the excess dough. Refrigerate for 30 minutes or an hour. To reduce the time, you can put the molds in the freezer. Prick the bottom of future tartlets with a fork or knife, or cover with parchment and cover with dry legumes, such as beans. This is necessary so that the dough does not rise. Bake at 356F for 10-15 minutes.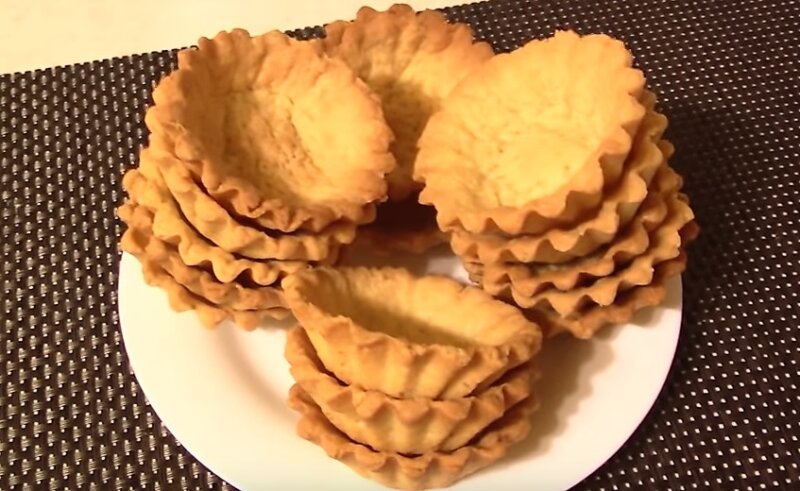 For cold appetizers, any bases are suitable, and for hot ones — only shortbread. It is better to fill the tartlets just before serving, so that they do not get wet. But the filling, if desired, is easy to make in advance.
Prepare tartlets and breakfast items from shrimp, avocado and cottage cheese. Crush the garlic with the flat side of a knife and fry for 1 minute in olive oil. Then remove the garlic.
Add the prawns to the pan with garlic oil and fry them for 2-3 minutes. Set aside the required amount of shrimp to decorate the tartlets.
Peel and slice the avocado. Squeeze out the juice of half a lime. Put the shrimp, avocado, curd cheese and lime juice in a blender bowl.
Grind until a homogeneous mass. To try. If you feel that there is not enough salt, add sea salt and mix. Delicious snack pasta with shrimp, avocado and cottage cheese is ready.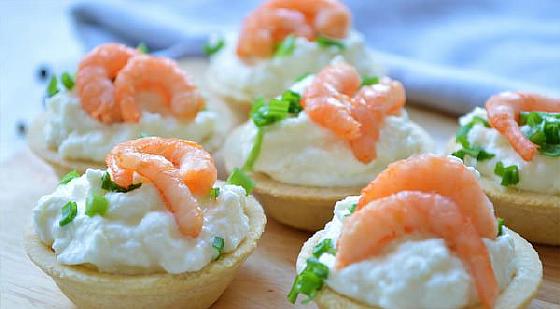 Fill the tartlets with the prepared shrimp, avocado and cheese filling, and garnish with prawns and parsley. You can spread snack pasta on diet bread.
Be sure to try it! Bon Appetit!!!
Subscribe to our paid subscription. To access premium content. You can read trending articles on topics such as healthy eating, steak cooking, gourmet sweets, and more.