This seasonal dessert will light up the sun even on a gloomy november day and cheer up all those gathered at the common table. Recipe without flour, eggs and with a minimum amount of sugar.Healthy recipe: pumpkin cheesecake.
Pumpkin cheesecake is bright, it's delicious and it's certainly healthy! Autumn has confidently entered its seasonal rights, which means that it's time for fragrant pastries with a cup of coffee or tea to pass the long, cool evenings in the company of friends and family.
Even if you don't consider vitamin pumpkin as an ingredient for dishes, or simply don't know how or have never cooked it, why not try using it in baking?
Ingredients:
for the cake:
Date paste 3.53oz
Oatmeal 3.53oz
Walnuts 4.94oz
Goji Berries 1 tablespoon
Sea salt to taste
For the cream:
Cashew 14.11oz
Fresh orange juice 1/2 Cup
Fresh lemon 2 tablespoons
Cane sugar 4.23oz
Goji berries 1 tablespoon
Coconut oil 1 Cup
Orange zest 1 teaspoon
for topping:
Pumpkin 11.46oz
Agar-agar 1 teaspoon
1/2 Cup water
Cane sugar 2 tablespoons
for sauce:
Frozen strawberries 7 PCs.
Cane sugar 3 tablespoons
Fresh lemon 4 tablespoons
Date paste 2 tablespoons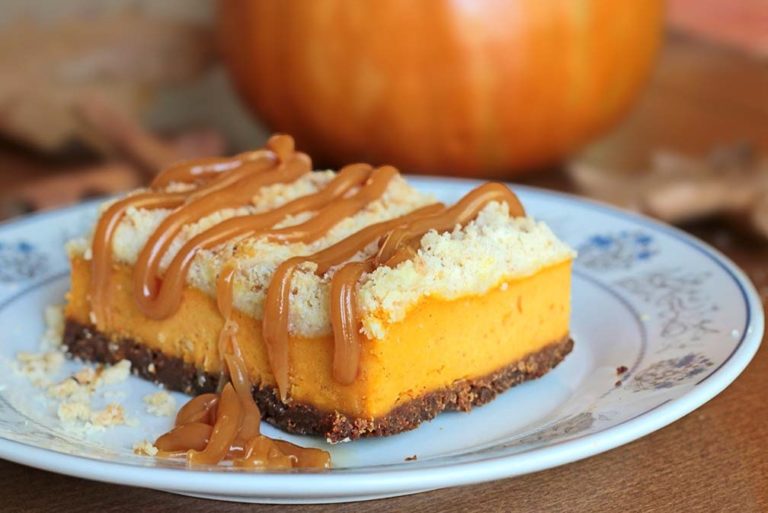 Instruction:
. Healthy recipe: pumpkin cheesecake.
Making a cake: Beat all the dry ingredients in a blender to make flour, then combine with date paste and put in a baking dish in an even layer.
Preparation of the cream: first you need to soak the cashews for 8-12 hours in water. Then all the ingredients (except coconut oil) are sent to a blender and whisk until smooth, add the coconut oil and scroll again. The resulting mixture is poured into a mold and sent to the freezer.
Preparation of topping: Mix agar-agar and water in a saucepan and put on the stove, stirring, bring to a boil. Pumpkin should be pre-baked in the oven at a temperature of 356F degrees, 30-35 minutes, so that it becomes soft. In a blender, send the pumpkin, sugar, and agar-agar syrup, beat well.
Preparing the sauce: Whisk all the ingredients in a blender until a smooth sauce is obtained.
Collect cheesecake: put the cream on the finished cake, the third layer – pumpkin topping and decorate with strawberry sauce. Tender dessert is ready! Bon Appetit!
Like what you're reading? You can sign up for Medium using my affiliate link. Just $5 a month to read an unlimited number of articles and help me create further. Together we will move mountains!