Caesar salad is one of the most popular and delicious salads. This dish is very easy to prepare and contains useful products. This salad is suitable not only for a lunch, but also for a festive or romantic table. Caesar Salad.
Caesar salad is a healthy food that you can take. It is rich in vitamins and minerals due to the large amount of ingredients contained. In this case, you need to remember that having a salad will always be a good way if you add great ingredients to it. For example, try adding tomatoes, carrots, broccoli, sweet peppers, zucchini, and cabbage on top of a salad bowl. Then you will take the healthiest food!
Ingredients

. Caesar Salad.



Romaine lettuce – 14.11 oz (400 g)
White bread – 3.53 oz (100 g)
Garlic -2 cloves
The extra virgin olive oil – 1.76 oz (50 g)
The chicken egg – 1 PC.
Lemon juice – 1 tablespoon
The Worcester sauce – 1 teaspoon
Parmesan cheese grated – 1 tablespoon
Salt – 1 teaspoon
Ground black pepper pinch
Instruction
40 minutes
1. For garlic croutons fit dried up white bread without crust, better baguette, cut into cubes with a side of 1 cm and a dry to a light browning in a preheated 356F (180 C) degree oven for 10 minutes. In the process of drying croutons need to flip a couple of times on a baking sheet. Crush the garlic and rub it with salt. Add 1 tablespoon of olive oil and warm up over medium heat. Add croutons and stirring, hold on the fire for 1-2 minutes.
2. A large raw egg pierce with a blunt side and lowered to 1 minute in a pan of barely simmering water.
3. Grate the garlic salad bowl and put it coarsely chopped lettuce. Drizzle with butter and mix gently. Season with salt and pepper, stir, add the lemon juice and a few drops of Worcestershire sauce, stir again. Break an egg and pour over salad and mix so that it covered the lettuce leaves, sprinkle with cheese and stir again, add croutons and stir again. Caesar Salad.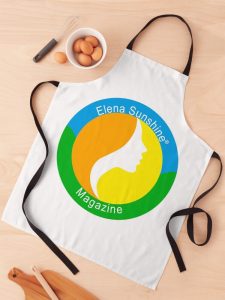 https://www.redbubble.com/i/apron/Elena-Sunshine-Magazine-by-Michaelbor76/52450511.6ZXWR?asc=u