Prepare a bright and healthy smoothie for breakfast, adding your favorite fruits and berries to it. Instead of sugar, you can use sweet syrup or liquid honey, and replace the milk with kefir. If you add chia seeds, you will get a full-fledged healthy snack that you can take to work or on the road. Healthy and vitamin morning: smoothie recipes.
Blueberry-flaxseed smoothie
Thanks to the grinding of berries, fruits and seeds, substances from smoothies are more easily absorbed by the body, and the presence of several components enhances the overall effect of all components. Try this healthy drink.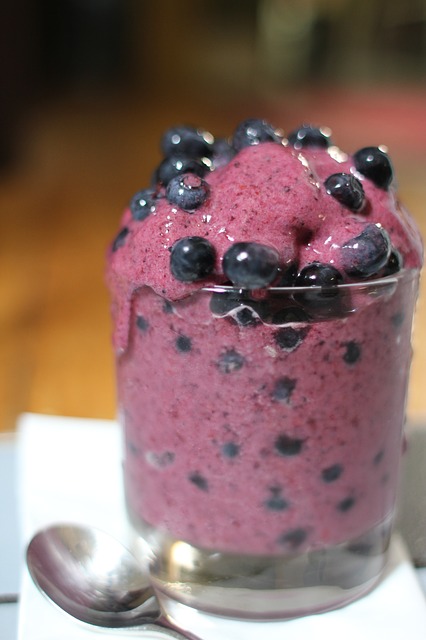 Blueberries are a storehouse of healthy substances and vitamins. It includes micro-and macroelements: manganese, potassium, iron, phosphorus, sulfur, copper, zinc and chromium; vitamins A, C, PP and B vitamins; essential oils, alcohols and tannins. The iron contained in the berry is completely absorbed by the body. Blueberry pigments (caratinoids) improve visual function, renew retinal cells, improve ocular blood circulation and night vision.
We will prepare smoothies based on yogurt. Useful bacteria of which help to maintain the necessary acidity of the digestive system, improve the absorption of nutrients contained in products. Yogurt is rich in vitamins, in particular calcium. A nice bonus of yogurt is that it contains vitamin B12, which stimulates better absorption of calcium.
Let's add a unique product to the smoothie – flax seeds, which contain an ideal composition of essential omega-3 and omega-6 fatty acids. Thanks to them, the human cardiovascular system is strengthened. The combination of vitamins such as A, E and vitamin F, which are important for the beauty of the skin, makes flax seeds mandatory for women. It also contains substances called lignans, which strengthen the internal barriers of cells and increase their resistance. It has antiviral, antibacterial and antifungal effects. In the shell of flax seeds, there is many times more lignan than in other plants. When using flax seeds, do not forget to drink a sufficient amount of liquids!
And the last in the list of ingredients – but not in importance! – honey and lemon. Honey, a natural sweetener, is known for its anti-inflammatory and antimicrobial properties. It has a beneficial effect on the nervous and immune system. Lemon improves metabolism, prevents vitamin deficiency and dissolves salt deposits, strengthens the walls of blood vessels.
Ingredients per 1 serving:
Natural yogurt ⅔ cups
Frozen blueberries ½ cup
Honey 2 teaspoons
Lemon 1 slice
Flaxseed 2 teaspoons
Instruction:
Cooking time is 8 minutes
In the bowl of a blender, combine yogurt, blueberries, honey and a lemon circle cut into pieces. Beat everything until smooth. Add the flax seeds and beat again. Pour the finished cocktail into a glass.
Refreshing smoothie with basil
. Healthy and vitamin morning: smoothie recipes.
This refreshing smoothie is perfect for a picnic. Avocado makes the texture creamy and gives a light nutty taste, and thanks to basil, the aroma becomes more saturated. Very tasty and healthy!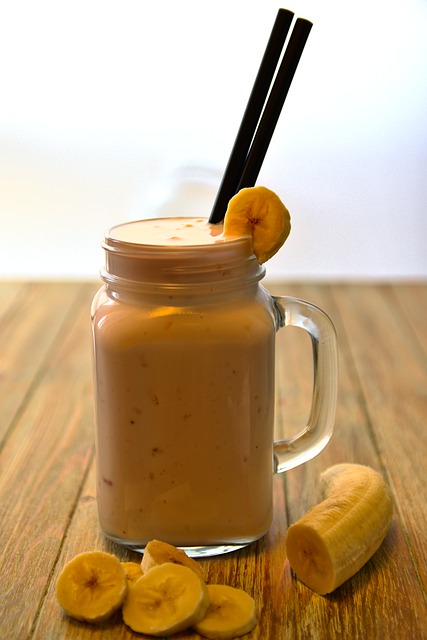 Ingredients per 2 serving:
Bananas 2 pcs.
Kiwi 4 pcs.
Avocado 1 pc.
Fresh basil 5 sprigs
Water 1 cup
Instruction:
Cooking time is 10 minutes
Peel and slice the bananas and kiwis at random. Peel and slice the avocado. Remove the leaves from the basil sprigs and chop them with a knife. In a blender, mix all the prepared ingredients, add water and beat until smooth. Cool the finished smoothie in the refrigerator.
Sorrel, fruit and cereal smoothies
. Healthy and vitamin morning: smoothie recipes.
I offer a recipe for an easy-to-prepare and hearty drink of a cheerful color, without adding sugar. Fresh, easy, delicious, beautiful and nutritious!! Supporters of a healthy diet and connoisseurs of vitamin smoothies will like it without any doubt!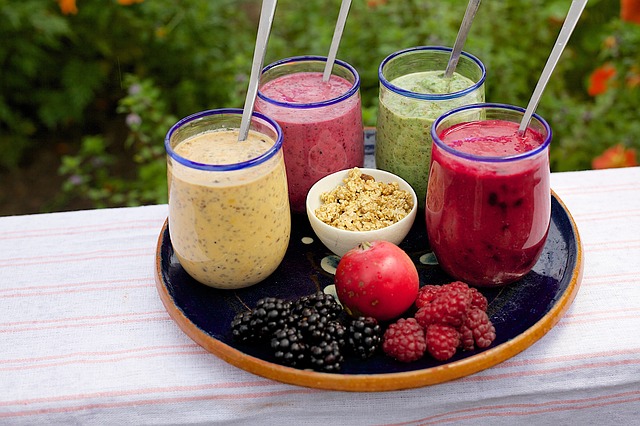 Ingredients per 3 serving:
Green tea 2 teaspoons
Cereal flakes 3 tablespoons
Bananas 2 pcs.
Apples 2 pcs.
Milk 3,2% 2 cup
Water 1 cup
Fresh sorrel 3 tablespoons
Instruction:
Cooking time is 12 minutes
Prepare the necessary products. You can take any flakes – oatmeal, cereals, mixed, but only those that do not require cooking. From fruits, you can take 2 very ripe bananas or 2 apples, mango, but it is better to choose fruits with a very sweet taste, because sorrel is still quite sour.
In 1 cup of boiling water, brew green tea (for about 5 minutes). During this time, wash and cut the fruit and sorrel. Cool the green tea a little, strain, mix with milk and pour our flakes.
Put all the products in a high container and beat for 2-3 minutes with a blender until a homogeneous fluffy mass. Pour into glasses and garnish with grated chocolate and mint or sorrel leaves. Have a nice and healthy treat for you! Bon Appetit!