Fragrant freshly baked waffles with a ball of ice cream, fresh berries or syrup will appeal to the whole family! And you can also make waffle tubes, fill them with your favorite fillings and enjoy the taste familiar from childhood. Dear friends, we have selected the best waffle recipes and invite you to cook them with us! Healthy Breakfast 26: Original waffle recipes.
#1.Potato waffles
Waffles are usually served for breakfast, and scrambled eggs, too. But for a good balanced breakfast, you need peace and desire. Who has time for this during the week? Can I cook fresh eggs, bake bread, rolls, baguettes, fry bacon and eggs, set the table beautifully, make coffee? Waffles, supplemented with beans and fried eggs, have a wonderful taste. The dish looks fantastic, and it's worth it.
In the past, people spent more time in the kitchen, including with their family, cooking food together and talking about everything in the world, and this was much more valuable and was not considered burdensome. Cooking together is great, and it's even better to enjoy food together.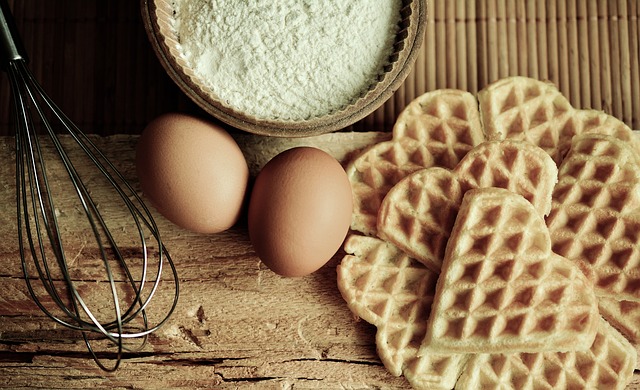 Ingredients for 4 servings:
Boiled potatoes 8.82oz
Chicken eggs 4 pcs.
Wheat flour 3.53oz
Semolina 2 tablespoons
Cream 8 tablespoons
Salt to taste
Freshly ground pepper mixture to taste
Ground nutmeg 1 teaspoon
The nutritional value of a serving is 325 k cal
Instruction:
Cooking time is one hour
For the dough, first boil the peeled potatoes until ready (it is desirable to take potatoes of boiling varieties), drain the water, let a couple come out. This is necessary in order to remove excess liquid from the potatoes. Mash it into a puree. In a bowl, combine the puree with the remaining ingredients, add salt and pepper, if desired, add a pinch of nutmeg. Instead of cream, you can use milk, and also add any greens.
Mix thoroughly and leave the dough alone for 30 minutes. The consistency of the dough is thick sour cream.
Heat the waffle iron, grease with vegetable oil, put about 2 tablespoons of dough, bake according to the instructions. It takes me about 6-7 minutes to do this, until it turns golden.
You can serve potato waffles with baked beans and fried eggs in tomato sauce. It will take you one hour to prepare the whole dish, including beans and scrambled eggs. At the time when the beans are baked, you can do waffles. Enjoy your meal!
#2.Zucchini waffles

. Healthy Breakfast 26: Original waffle recipes.



Simple, fast, delicious and quite unusual! Since the zucchini waffles.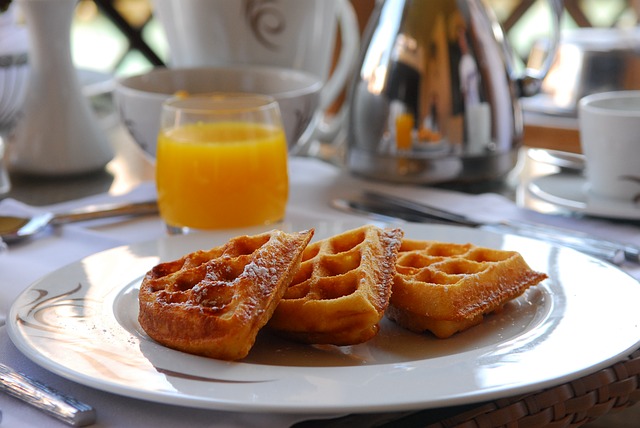 Ingredients for 3 servings:
Zucchini 34.57oz
Chicken eggs 2 pcs
Cheese 3.53oz
Flour 7.0oz
Baking powder 1 teaspoon
Sour cream 2 tablespoons
Instruction:
Cooking time 30 minutes
The nutritional value of a serving is 511k Cal
Grate the zucchini on a coarse grater, add salt and let it stand for 10 minutes.
Squeeze out the water and add all the ingredients alternately, stirring constantly.
Bake in a waffle iron until ready. We serve it with sour cream, fish, cottage cheese.
#3.Spicy nut waffles

. Healthy Breakfast 26: Original waffle recipes.



Any nuts will do, but I like pecans most of all — in combination with malt syrup it turns out bright and fragrant! You can serve waffles with jam, syrup or sour cream.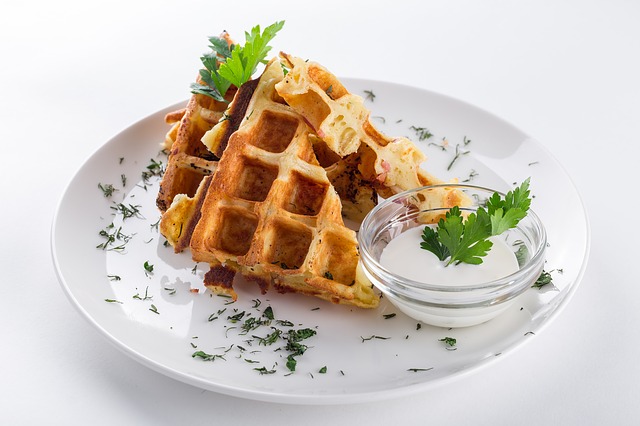 Ingredients for 4 servings:
Flour 6 tablespoons
Coarse flour 3 tablespoons
Chicken eggs 2 pcs
Pecans 2 tablespoons
Sugar 3 tablespoons
Butter 2 tablespoons
Milk 1 cup
Olive oil 1 tablespoon
Malt syrup 1 tablespoon
Vanilla extract 1/2 teaspoon
Ground cloves 1/4 teaspoon
Sea salt to taste
Instruction:
Cooking time 30 minutes
Melt the butter over low heat. Separate the yolks from the whites. Add sugar, ground cloves, salt to the yolks and beat everything with a blender with a whisk attachment, then, without stopping whipping, pour in the melted butter and beat everything into a light, fluffy mass.
Pour in the milk and beat it still a little. Pour malt syrup and vanilla extract into the milk-yolk mass, pour all the flour, chopped nuts and mix — the dough should turn out to have the consistency of liquid sour cream. Whisk the whites with a blender with a whisk attachment into a fluffy mass and mix into the dough. Malt syrup improves the quality of baking, so it is better to use it.
Preheat the waffle iron, grease it with olive oil and bake the waffles.
#4.Pumpkin Waffles

. Healthy Breakfast 26: Original waffle recipes.



Pumpkin waffles are simple, healthy and very tasty . The hot ones with apricot jam were very good!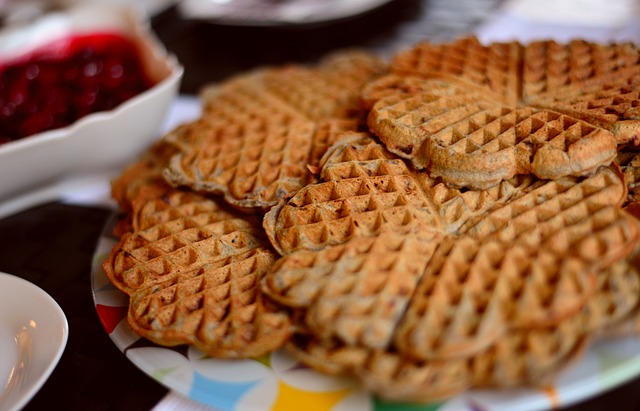 Ingredients for 1 servings:
1 cup milk
Chicken egg 1 pc.
Pumpkin puree 5.29oz
Vegetable oil 3 tablespoons
Brown sugar 2 tablespoons
Flour 4.23oz
Whole grain flour 6.35oz
Baking powder 2 teaspoons
Salt to taste
Cinnamon 1/2 teaspoon
Nutmeg 1 teaspoon
Instruction:
Cooking time 40 minutes
Mix the egg yolk, pumpkin puree, butter and brown sugar in a bowl. Add milk. In a separate bowl, mix the flour, baking powder, salt, cinnamon and nutmeg, mix until smooth. Beat the egg white to a tight foam. Mix the liquid and dry ingredients. Gently introduce the whipped protein. Mix it up.Bake in a preheated waffle iron.
#5.Waffles with cinnamon and applesauce
There are no animal products in the recipe, i.e. these waffles are suitable for vegans, allergy sufferers. Waffles should be served with jam, sauce or a ball of ice cream.
If you follow the recipe, then you will get about 8 waffles from the dough.
Agave syrup can be replaced with any other sweetener, for example, maple syrup.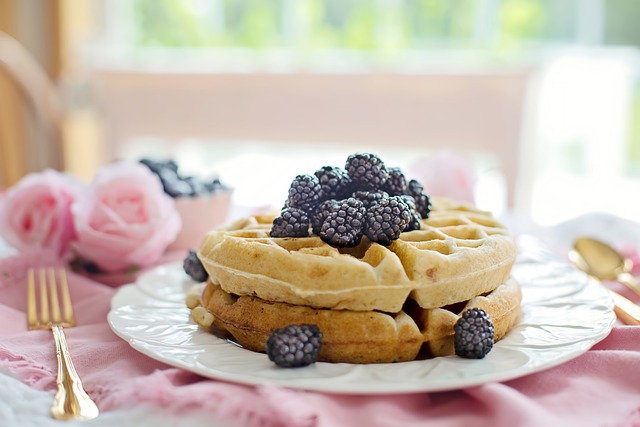 Ingredients for 2 servings:
Almond milk 12.35oz
Maple syrup 2 tablespoons
Applesauce 5.64oz
Wheat flour 8.47oz
Sugar 2 tablespoons
Baking powder 1 teaspoon
Soda 1 teaspoon
Ground cinnamon 2 teaspoons
Ground ginger ¼ teaspoon
Salt to taste
The nutritional value of a serving is 926 k Cal
Instruction:
Cooking time 35 minutes
We start with bulk ingredients. Pour the flour into a large bowl and add the sugar. Then add ground cinnamon and ground ginger, soda, salt and baking powder. In another bowl, mix all the liquid ingredients. (It is better to take a larger bowl, it is also worth kneading the dough in it).  Applesauce for waffles should be chosen without sugar. Maple syrup can be replaced with agave syrup. Vegetable milk in this case, we use almond milk.
In a bowl with liquid ingredients, slowly add the dry ones. Stir thoroughly with a mixer or whisk, so that there are no lumps. The dough should be uniform. Heat the waffle iron. We lubricate it with vegetable oil.  We pour the dough into the middle so that it does not flow over the edges of the waffle iron. Close and bake according to the instructions for the waffle iron (5 minutes per waffle). You can serve ready-made waffles with jam or syrup. Bon Appetit!