Healthy desserts and pastries can be delicious too. Do you know why? You choose among low-calorie foods what you like. Healthy desserts and pastries made from simple ingredients.
We love to inspire you to culinary experiences, so we are happy to share recipes for healthy desserts from simple ingredients that you can easily find in the nearest grocery store. Experiment!
(1) – "Nowadays, the recommendations for the general population are directed at upgrading the nutritional quality of overall dietary patterns, i.e., increasing the adherence to a healthy diet such as the MD. In addition, the restriction of unhealthy foods, such as processed foods, is also highlighted. Since most people like/consume bakery and pastry products, the reformulation of these processed foods is an interesting approach for reducing excessive energy, salt, saturated fat and sugar intakes. Food industry advances have provided a wide range of components that can be used as substitutes for these nutritional objectives, such as aromatic compounds for reducing salt content, polysaccharides, fat substitutes, olive oils rich in MUFA and PUFA and PAMs. Reformulation is necessary to improve the nutritional quality of products and, consequently, reduce the associated risk of developing chronic diseases, such as CVD, diabetes and cancer."
#1. Carrot muffins
. Healthy desserts and pastries made from simple ingredients.
It is very good to add dried fruits to these muffins: dried apricots, raisins, prunes. Walnuts also go well with carrots.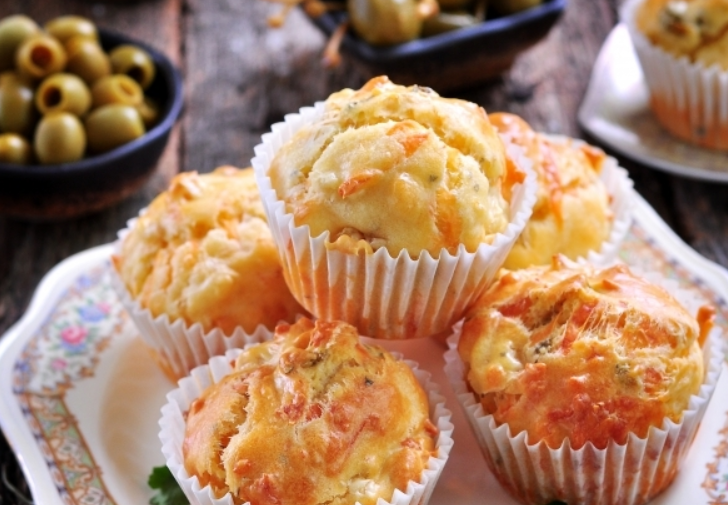 Ingredients for 10 pieces:
carrot 7.0oz
wheat flour 5.29oz
sugar 3.53oz
oranges 1 pc.
vegetable oil 5 tablespoons
baking powder 1 teaspoon
cinnamon 1 teaspoon
salt to taste
Instruction:
Cooking time 45 minutes
Peel and grate the carrots.
Squeeze the orange juice — you will need about 8 tablespoons for baking.
Mix flour, sugar, salt, baking powder, cinnamon. Add grated carrots and vegetable oil, mix. Pour in the orange juice, mix until smooth.
Put the paper blanks into the muffin mold. Pour in the dough, filling the mold by two-thirds.
Bake in a preheated 356F oven for about 25 minutes. Check the readiness with a splinter.
#2. Apple-cheese muffins with cinnamon
The sweet taste of maasdam cheese is very good in baking, for our muffins — that's what you need. It is better to use a hard and green apple.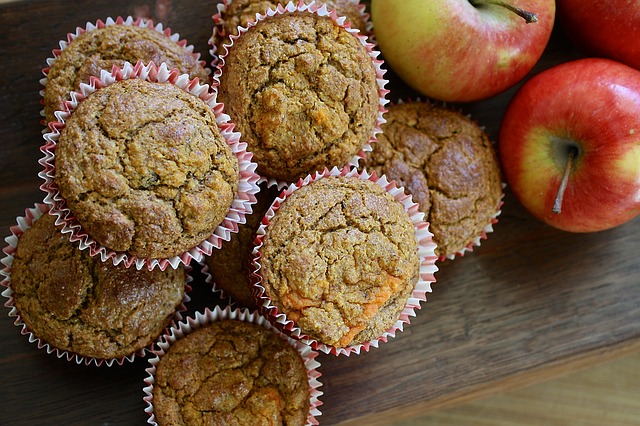 Ingredients for 3 servings:
The nutritional value of a serving is 926 k Cal
wheat flour 2 cups
large green apple 1 pc
maasdam cheese 3.53oz
butter 3.53oz
chicken eggs 2 pcs.
brown sugar ½ cup
milk 3 tablespoons
baking powder 1 teaspoon
ground cinnamon to taste
sea salt to taste
Instruction:
Cooking time one hour 10 minutes
Preheat the oven to 356F. Mix flour with salt and baking powder. Beat eggs together with sugar with a blender. Without ceasing to beat, add pre-softened butter. Pour half of the flour with baking powder and continue to beat until smooth.
Grate the maasdam cheese on a coarse grater and add to the dough. Grate the apple on a coarse grater along with the peel and add to the dough. Pour in the milk, pour in the remaining flour, mix everything. Grease muffin molds with the remaining butter, fill with dough, sprinkle with cinnamon on top. Bake muffins in a preheated oven for 35-40 minutes.
#3. Cake with lemon cream and plums
. Healthy desserts and pastries made from simple ingredients.
If there are no plums, fill the baskets with lemon cream after baking, and decorate with berries before serving.
There is no sugar in the dough for the base, so it turns out to be universal. You can fill ready-made tartlets with anything: jam, jam, unsweetened vegetable or mushroom filling.
Ingredients:
plums 10.58oz
flour 7.0oz
vegetable oil 7 tablespoons
water 3.53oz
salt 1/2 teaspoon
For lemon cream:
water 4 tablespoons
sugar 3.53oz
corn starch 2 tablespoons
lemons 1 pc.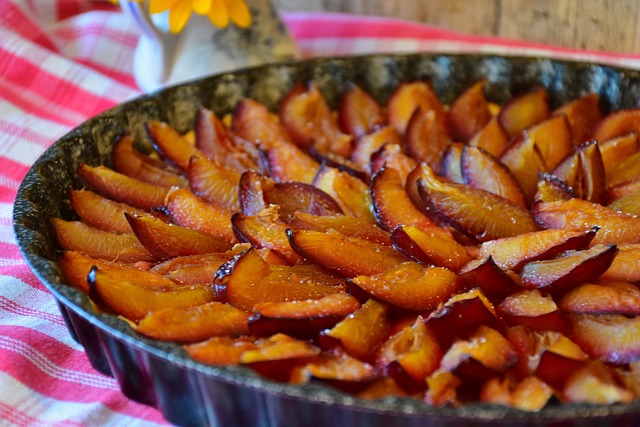 Instruction:
Cooking time is one hour
For the cream, rub the lemon zest and squeeze out the juice. You should get about 4 tablespoons of juice. Combine water, sugar, salt and starch in a saucepan, mix until smooth. Bring to a boil over medium heat, stirring.
Reduce the heat and cook until thickened, stirring constantly. Remove from the heat, pour in the juice, add the zest, stir and boil for another 2-3 minutes. Cool it.
Now prepare the baskets. Put the water in the freezer in advance so that it becomes icy.
Combine cold water with vegetable oil, add salt and punch with a mixer until a homogeneous white consistency.
Sift the flour into a large bowl, pour in the water. Knead the plastic dough, wrap it in a film and put it in the refrigerator for 30 minutes.
Remove the finished dough from the refrigerator and roll out into a layer 2-3 mm thick. Cut out the circles of the desired diameter and put them in baking molds.
At the bottom of the baskets, make punctures with a fork, fill with dry beans or peas. Bake at 356F for 10 minutes.
Rinse the plums, cut in half, remove the bones and cut the flesh into thin slices.
Remove the baskets from the oven, remove the peas. Put lemon cream with a tablespoon, and plum slices on top. Bake at the same temperature for another 15 minutes.
#4. Corn cake with apricots
. Healthy desserts and pastries made from simple ingredients.
The main thing is not to spare apricots: thanks to them, the pastries will turn out very bright and juicy. Walnuts can be used instead of almonds — it all depends on what you like more.
Ingredients for 1 serving:
butter 3.53oz
flour 3.53oz
sugar 5.29oz
corn flour 3.53oz
almonds crushed 3.53oz
baking powder 2 teaspoons
apricots 10 pcs.
chicken eggs 2 pcs.
milk 3 tablespoons
oranges 1 pc.
Instruction:
Cooking time is one hour
Grind almonds, measure wheat and corn flour, add baking powder and orange zest. Beat the butter with sugar, then, continuing to beat, add one egg at a time.
Add the dry ingredients to the egg mixture in parts. Stir, add milk. Put the dough into a medium-sized mold, put the apricot slices on top, slightly pressing them into the dough. Bake for 45 minutes at 392F. Enjoy your meal!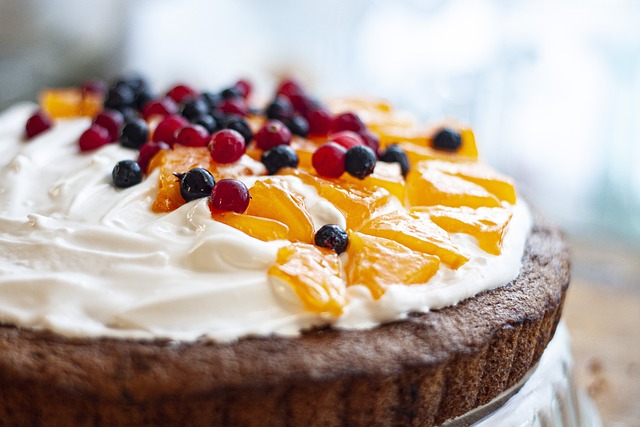 #5. Soft pumpkin cookies on sour cream and corn flour
. Healthy desserts and pastries made from simple ingredients.
Experiments with corn flour continue! We will supplement it with pumpkin puree, sour cream and get bright soft cookies. If it seems to you that there is not enough sugar, add another spoonful.
Ingredients:
Nutritional value of a serving of 126 k Cal
sugar 3 tablespoons
sour cream 20% 4 tablespoons
pumpkin puree 4 tablespoons
salt to taste
corn flour 3.53oz
wheat flour 8.82oz
baking powder 1 teaspoon
chicken eggs 2 pcs.
Instruction:
Cooking time 25 minutes
Bake the pumpkin in advance or steam it, chop it into a puree. Preheat the oven to 392F.
Mix egg, sugar and salt in a bowl.
Add pumpkin puree, mix). Sift both types of flour and baking powder, add to the pumpkin mass.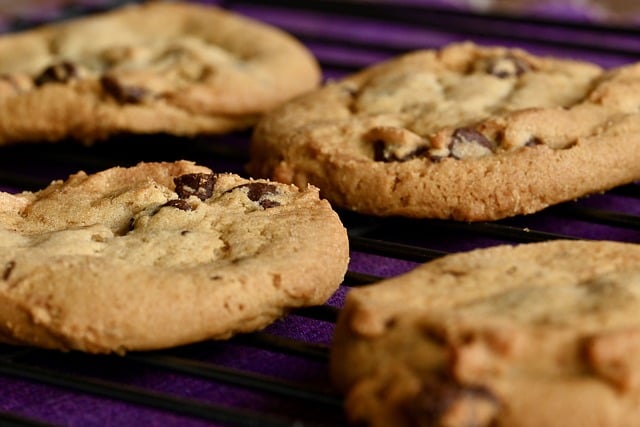 Knead the dough. It turns out to be yellow and soft. I do not advise adding a lot of extra flour, otherwise the cookies will be hard. I added a couple of spoons, no more.
Cover the baking sheet with baking paper, grease with vegetable oil. Moistening your hands with water, form cookies and bake for 15 minutes. It turned out 14 medium-sized cookies. Cool and taste. Enjoy your meal!
(1) – National Library of Medicine (US); Reformulation of Pastry Products to Improve Effects on Health. Ramon Estruch, Eulàlia Vendrell, Ana María Ruiz-León, Rosa Casas,Sara Castro-Barquero, and Xavier Alvarez. Published online 2020 Jun 7.