Natural sweets are made from healthy and affordable ingredients. How to cook delicious and healthy vegan desserts.
Vegan desserts will certainly be appreciated by all sweet tooths or lovers of eating something delicious under an interesting program.
Vegan sweets not only diversify the diet but also bring a lot of benefits to a person who adheres to a healthy lifestyle.
What spices are appropriate for vegetarian desserts?
Spices can be added raw, dried, or crushed. In addition, you can brew them in hot liquid. Spices will give their taste and aroma.
Let's take a closer look at spices and their taste characteristics:
Vanilla. It has a strongly pronounced aroma, sweet. It is suitable for making creams and cold desserts.
Cardamom. It resembles the taste of lemon. The main thing is not to overdo it.
Cinnamon. Tart and sweet to the taste.
Anise. It is able to give the dish a sweet taste with a hint of mint.
Mint. Very refreshing.
Nutmeg. It is used in moderate amounts. It will give the baking a pleasant taste.
Saffron. This dessert turns out to be golden, with a special aroma.
Ginger. A very flavorful additive. It will add piquancy to the dish.
Carnation. It has a strong aroma.
Orange and lemon zest. Will make the dish fruity.
(1) – "In conclusion, vegetarianism can either influence or be influenced by different QoL domains. The choice of adopting a vegetarian diet can have positive consequences, such as better physical health, positive feelings related to the adoption of a morally correct attitude, an increased sense of belonging (to a vegetarian community), and a lower environmental impact. On the other hand, factors that go beyond an individual's control, such as the environment and social/cultural group in which they are inserted, as well as gender-based differences, economic aspects, and limited access to a wide variety of plant-based foods, can negatively impact the QoL of those choosing to abstain from meats or other animal products. Despite the low number of studies on vegetarianism and quality of life, the existing evidence points toward a more positive impact. It is important to understand all the effects of adopting a vegetarian diet—beyond its nutritional aspects."
#1.Nut tart with caramel
. How to cook delicious and healthy vegan desserts.
Delicious and healthy tart without sugar and white flour. This tart just needs to be cooked and tasted! Words will be few because it is incredibly delicious! Crispy dough, assorted nuts, and chocolate caramel (not too sweet) — just an explosion of flavors.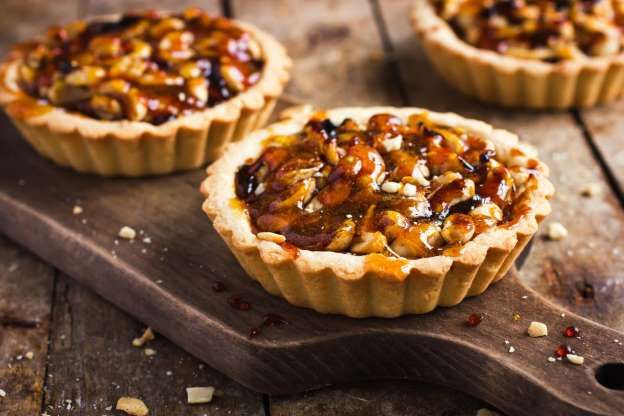 Ingredients:
Shortbread dough:
Almond flour (or peanut flour) 7.0oz
Corn starch 3 tablespoons
Coconut oil 4 tablespoons
Jerusalem artichoke syrup 3 tablespoons
Salt to taste
Orange zest 1/4 teaspoon
Vanilla extract 1/2 teaspoon
Caramel:
Maple syrup 3.53oz
Walnut Urbech 4.23oz
Coconut oil 3.53oz
Sea salt to taste
Vanilla extract 1 teaspoon
Hazelnuts for filling and decoration  2 tablespoons for each tartlet
Instruction:
Cooking time 1 hour
We prepare the dough. Remove the oil from the refrigerator 20 minutes before starting work, it should become a little softer.
Mix all the ingredients for the dough. Stir until the dough comes together in one lump. Roll out half of the dough between two sheets of baking paper. Clean up in the refrigerator.
Cut out the dough using the base ring for future tarts. Save the dough around the circles and use: the remains of the dough can be rolled out 2 more times. Put the sides for tarts by hand into rings using your fingers, distributing them in the same thickness as the base.
Prick with a fork and freeze the dough in rings for 30 minutes.
Preheat the oven to 356F. Bake the tarts until golden brown for about 15 minutes in rings. Let cool, carefully remove from the rings. Use it during assembly.
Cooking caramel. Melt the butter, and mix all the ingredients for the caramel until smooth.
Assembling. To fill each tartlet, you need about 2 tablespoons of nuts per tartlet. Put the nuts in the base of the baked and cooled tartlets, and pour the caramel. Let Tartu stand. We serve a very delicious nut tart with caramel for tea or coffee. Enjoy your meal!
#2.Carrot candies with dates
We prepare delicious and healthy sweets from carrots with dates, cinnamon, ginger, and pecans. Healthy sweets made from fresh carrots, dried fruits, and coconut chips are a great substitute for purchased sweets. The candies are sweet, juicy, and very tasty. You can not deny yourself such a delicacy!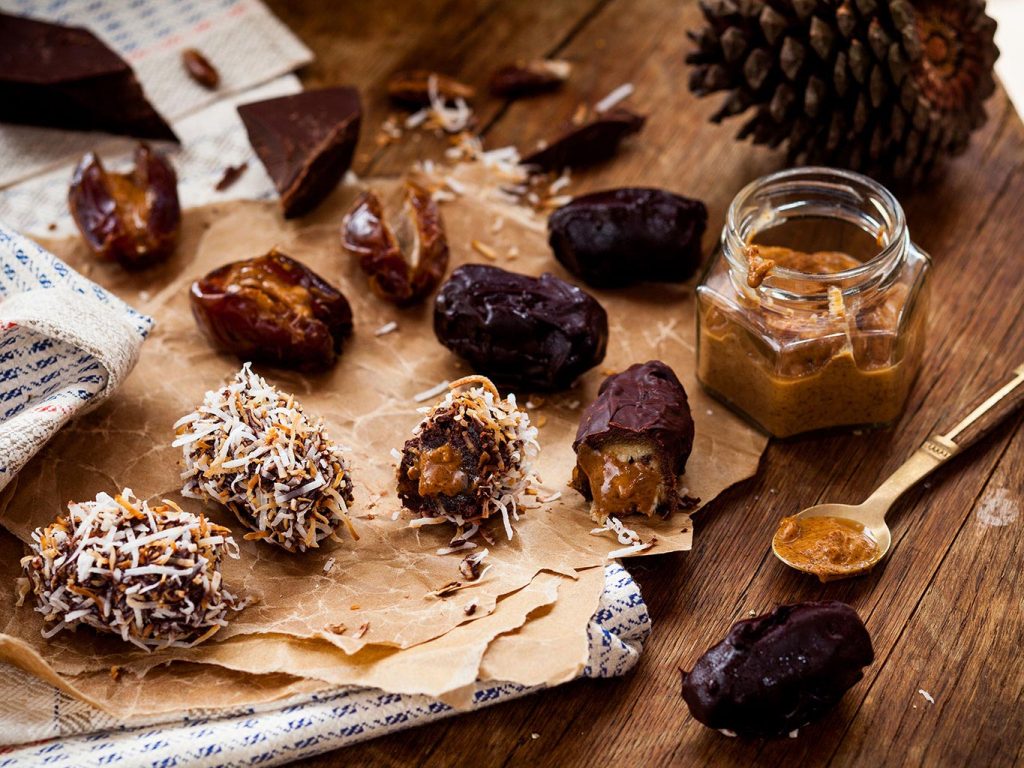 Ingredients for 20 candies:
Grated carrots 8.82oz
Dates soaked in boiling water for 10 minutes 3.53oz
Pecans 3.53oz
Sea salt to taste
Ground cinnamon ¼ teaspoon
Peeled and finely chopped ginger ¼ teaspoon
Nutmeg 1/2 teaspoon
Almonds 3 tablespoons
Coconut chips 2 tablespoons
Instruction:
Cooking time 20 minutes
Punch pecans, almonds, and spices in a blender to the state of crumbs with pulsating movements.
Put the carrots and dates, cut into pieces, in a large bowl and mix in a blender until smooth.
Put the carrot part of the mass into the nuts and spices, and mix and roll the balls. Roll in carrot powder or coconut chips.
Store in the refrigerator for up to 4 days under a lid so the candies do not get chapped. Cook and eat healthy and delicious sweets with pleasure!
#3.Lime cheesecake
. How to cook delicious and healthy vegan desserts.
According to this recipe, you will get the softest, lightest, and creamiest cheesecake with the aroma and freshness of lime and the brightness of matcha, which does not need to be baked. It's high in protein, and it's vegan and gluten-free!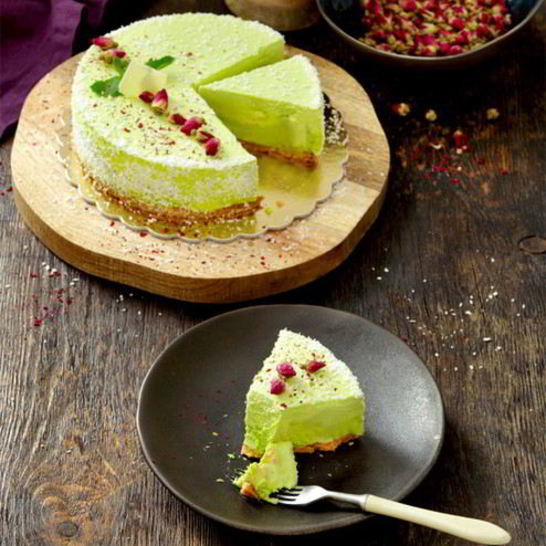 Ingredients:
For the base:
Muesli 10.58oz
Coconut oil 3 tablespoons
Almond milk 2 tablespoons
For the top layer:
Cashew nuts soaked for at least an hour in water 1 cup
Vanilla protein 1/2 cup
Agave syrup 3 tablespoons
Almond milk 1/4 cup
Spinach 3 tablespoons
Matcha powder 1 teaspoon
Lime juice 1 pc
Instruction:
Cooking time 3 hours
Mix the muesli with melted coconut oil and almond milk.
Put this mixture in a container with a square shape.
Strain the cashews from the water, place them in a powerful blender and whisk until smooth.
Mix the cashews and the rest of the ingredients for the top layer together and lay them on top of the base.
Place in the refrigerator for several hours to solidify or in the freezer for an hour. Garnish with lime slices.
#4. Avocado chocolate mousse with cashew cream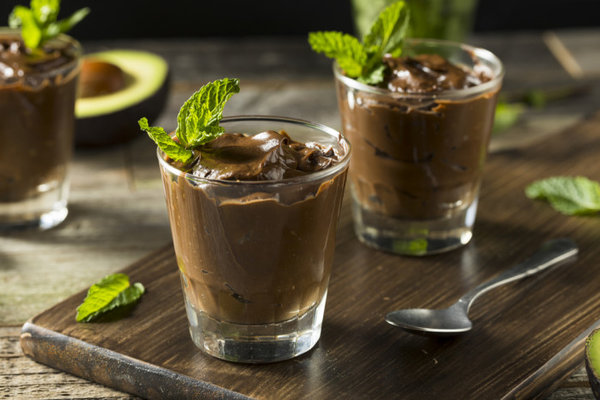 If you can't imagine your life without delicate chocolate mousses, but you don't want to gain extra pounds, then this is the recipe for you! There is no fat cream, no eggs, or anything else high-calorie in it. It is absolutely dietary, with a rich chocolate flavor.
Mousse can be used as a sauce or cream, and even for jewelry, it is suitable, as it holds its shape perfectly. Plus, it's still very healthy, because the main ingredient is avocado. In general, help yourself and enjoy, without worrying about your figure at all!
Ingredients for 4 servings:
For the avocado mousse:
Almond milk 1/2 cup
Avocado 1 cup
Agave syrup  1/2 cup
Cocoa 1/4 cup
Vanilla extract 1 teaspoon
For the cashew cream:
Almond milk  1/2 cup
Cashews soaked for 3 hours 1 cup
Maple syrup 1/3 cup
Vanilla extract 1 tablespoon
Coconut oil melted 1/2 cup
Cocoa 1/4 cup
For submission:
Berries (any) 1 cup
Instruction:
Cooking time 3 hours
Using a blender, mix all the ingredients for the mousse.
Spread the mousse on the bottom of four glasses. Tap the glass lightly on the table to make the mixture even out.
I was using a blender, to mix almond milk, cashews, maple syrup, vanilla extract, and coconut oil. Separate half of the mixture and set aside. Add the cocoa to the remaining mixture in a blender and blend until smooth.
In glasses with mousse, evenly distribute the cocoa cream. Lightly tap the glass on the table so that the cream settles. Add vanilla cream on top and tap the mirror again so that the cream settles.
Refrigerate for at least 3 hours to solidify. Garnish with berries to taste.
#5. Vegan chocolate truffles with cinnamon
. How to cook delicious and healthy vegan desserts.
Homemade sweets with a refined chocolate taste and a hint of cinnamon.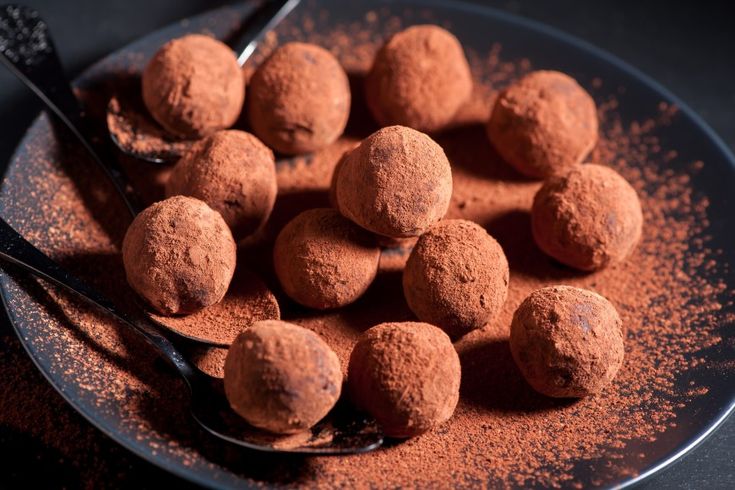 Ingredients for 20 pieces:
Finely chopped bitter chocolate 8.82oz
Fat coconut milk 1/2 cup
Vanilla extract 1/2 teaspoon
Cinnamon 1/2 teaspoon
Salt to taste
Сoconut chips 1/2 cup
Instruction:
Cooking time 2 hours 40 minutes
Place the chocolate in a medium heatproof bowl. Bring the coconut milk to a boil in a small saucepan. Remove from heat and let stand for 15 seconds. Strain through a sieve over the chocolate, stir, then let stand for 1 minute or until the chocolate melts.
Add cinnamon, vanilla, and salt. Refrigerate for 1 hour or until the mixture reaches room temperature.
Cover the baking sheet with parchment paper. Using a spoon, put 1 teaspoon of the chocolate mixture on a baking sheet and refrigerate for 30 minutes.
Place the coconut chips in a separate small bowl. Roll the cooled chocolate mixture into balls, then roll each in coconut chips. Return the truffles to a parchment-lined baking sheet and refrigerate for 1 hour.
#6. Blueberry pie
An easy-to-prepare vegan pie with blueberries, oat milk, and flaxseed flour.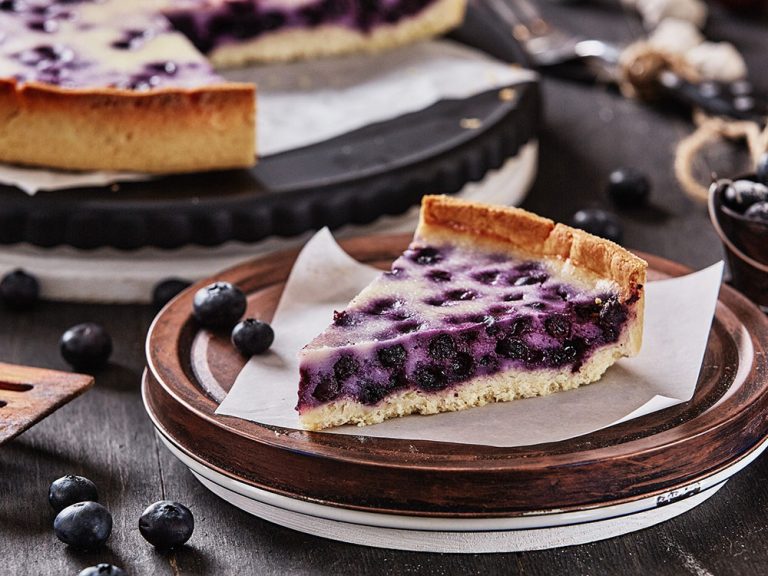 For the pie:
Oat milk 1 cup
Flaxseed flour 1/4 cup
Wheat flour or other flour 1 cup
1/2 cup oat flakes
Baking powder 1 teaspoon
Baking soda 1/4 teaspoon
Salt 1/2 teaspoon
Refined coconut oil, slightly softened 1/2 cup
Sugar 1 cup
Vanilla 1 teaspoon
Fresh or frozen blueberries 1 cup
For the glaze:
Powdered sugar 3 tablespoons
Oat milk 1 tablespoon
Vanilla 1/4 teaspoon
Instruction:
Cooking time 1 hour 10 minutes
Preheat the oven to 356F. Lightly oil the cake pan. Mix oat milk and flaxseed flour. Set aside.
Mix flour, baking powder, baking soda, and salt. In a large bowl, whisk together the coconut oil and sugar. Add the oat milk mixture to the butter, then add the vanilla. Mix the dry ingredients with the wet ones. Add blueberries.
Place the dough in the prepared mold. Bake the cake for 1 hour or until a toothpick inserted in the middle comes out clean.
Cool the pie in the mold for 10 minutes, then transfer it to a cooling rack.
If desired, you can cover the cake with icing. To make the glaze, mix powdered sugar, oat milk, and vanilla until smooth. Pour the icing over the cooled cake. Let the glaze harden a little.
#7. Sweets are made of dates, seeds, and oranges
. How to cook delicious and healthy vegan desserts.
It is best to drink spicy tea with sweets made of nuts and dried fruits.
Such candies are prepared very simply and quickly. We need a base of dried fruits. Dates, dried apricots, or prunes are perfect. Then nuts or seeds, which will give the candy texture, and flavorings – orange or lemon juice, spices. The cooking time is 40 minutes.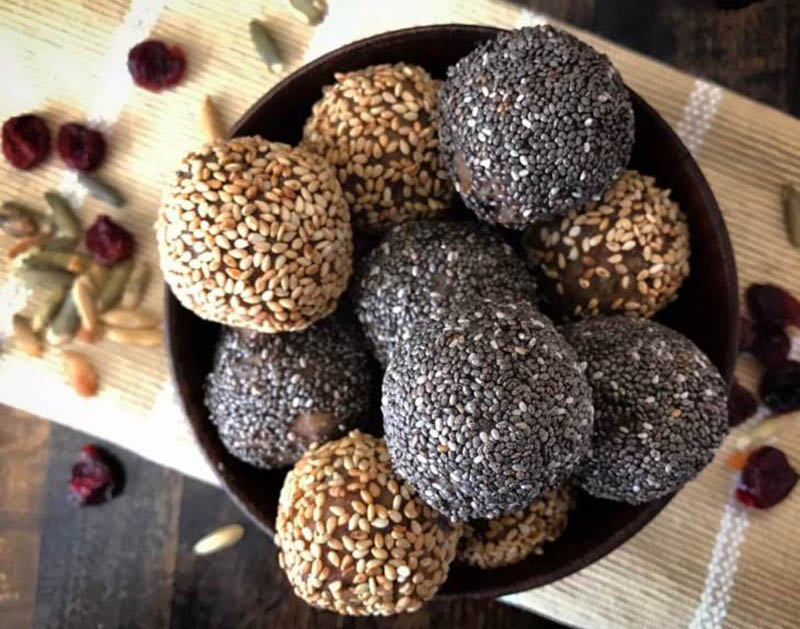 Ingredients for 20 pieces:
Dates 10.58oz
Sunflower seeds 3.53oz
Juice of 1 orange
Cocoa powder 2 tablespoons
Instruction:
Dates for sweets need large ones – such that the skin is easily separated. Leave them in hot water for 40 minutes, then remove the skin and remove the bones. Fry the seeds in a steel pan.
First, punch the dates with a blender until smooth. Then add two-thirds of the seeds, and orange juice and punch again with a blender. The mass should be equal, and dense, and the crushed seeds give it a texture.
Lubricate your hands with coconut oil and roll small balls. Put it on a plate and put it in the refrigerator for 30 minutes.
Grind one-third of the seeds in a spice mortar. Get the candies out of the refrigerator and roll them – part in cocoa powder, part in crushed seeds.
It is better to keep such sweets in the refrigerator, and they are stored for up to five to seven days. Bon Appetit!
Sweets made from natural ingredients will not contain harmful additives or a lot of sugar. Sweets and cookies can be prepared using dried fruits, natural juices, and nuts. These sweets are nutritious and easily digested.
(1) -Vegetarian Diet: An Overview through the Perspective of Quality of Life Domains. Shila Minari Hargreaves, António Raposo, Ariana Saraiva, and Renata Puppin Zandonadi, Jimmy Efird, Academic Editor.
https://www.ncbi.nlm.nih.gov/pmc/articles/PMC8069426/
Like what you're reading? You can sign up for Medium using my affiliate link. Just $5 a month to read an unlimited number of articles and help me create further. Together we will move mountains!