At the very beginning of the Rosh Hashanah meal, customs are fulfilled, the purpose of which is to start the new year with good signs. Holiday recipes for the Jewish New Year Rosh Hashanah.
During the evening meal of Rosh Hashanah, since the new year begins, it is customary to eat some things — "simanim", "symbols", while uttering short requests about the next year addressed to the Creator, the main word of which is consonant with the name of a particular"symbol".
According to tradition, the main fruits of Israel must be on the table in Rosh Hashanah: fish, green onions, beets, apples, carrots, pumpkin, string beans, pomegranates and dates. Each of the products symbolizes the good that awaits a person in the new year. For example, the head of a fish is a desire to be at the head, and not at the tail on the path of life, and a pomegranate is to do good deeds. Sweets on the new year's table, in turn, symbolize a sweet, pleasant life.
The goal of simanim is to start the new year with good signs
The most recognizable and famous dish on the Jewish New Year's table, of course, are apples baked with honey.
Another symbol of Rosh Hashanah is a pomegranate: they drink its juice, salt fish is plentifully covered with grains and add them to salads. And all because there are exactly 613 seeds in any fruit of this wonderful fruit — exactly the same as the commandments in Judaism.
Fish, of course, is also a traditional decoration of the new year's table. It is a symbol of abundance and growth, fertility.
It is customary to prepare sweet tzimes from carrots in Rosh Hashanah, to which apples and dates are often added. The dish should bring prosperity and positivity in the new year. If you are not a big fan of sweets, try a combination of carrots with stuffed fish.
In addition, it is necessary to put a pumpkin on the table-with it your prayers will definitely reach where it is necessary, any orthodox Jew will tell you. But even if you do not celebrate Rosh Hashanah, still pay attention to the pickled pumpkin. An unusual dish of Jewish cuisine will brighten up any lunch with its bright taste.
You can simply cook green beans for the holiday and season them with plenty of salt before serving. They will perfectly complement the table, which will already have a lot of complex and bright dishes. Another advantage of such a serving of beans is their compatibility with the traditional festive wine, which is served on Rosh Hashanah.
Beets on the new year's table can not be spared. It should certainly be added to fish, and to salads, and put on the table simply, for example, in an assorted vegetable plate. By the way, according to the strict rules of the Kashrut rules, it is better to marinate vegetables.
Leeks and dates are perfectly combined, which look great on a festive table in an unusual salad. Chicken liver is also served.
The Jewish New Year is a celebration of the creation of the world and man! And to make the anniversary of the birth of your distant ancestors sweet, put tzimes, dates and apples with honey on the table. And don't forget about the wine!
1. Honey challah A wreath of roses
. Holiday recipes for the Jewish New Year Rosh Hashanah.
Honey challah wreath of roses is a wonderfully elegant version of challah on Rosh Hashanah. It is round, with a unique honey taste and aroma, and thanks to its special shape of the wreath, it perfectly harmonizes with a small rosette of honey, which is inserted directly into the middle!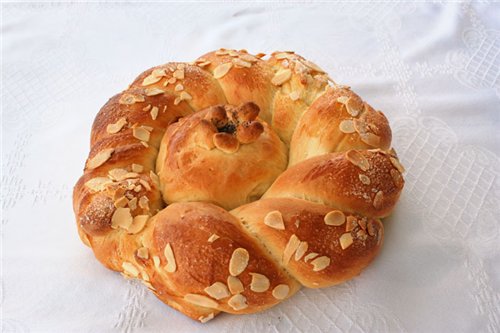 Ingredients:
for 2 challahs:
Flour 35.24oz
salt 1 tablespoon
Granulated sugar 2 tablespoons
Dry active yeast 2 tablespoons
Large eggs 2 pcs
Vegetable oil ½ cup
Honey 3 tablespoons
Warm water 2 cups
For the glaze: 4 tablespoons of honey are diluted with 2 tablespoons of boiling water
Preparation:
Sift the flour into the bowl of a mixer, add salt and mix well. Add the yeast and mix thoroughly again. Add sugar, eggs, butter and honey and knead the dough. Gradually add water until the dough is soft. As necessary, add warm water further on a tablespoon, until the dough becomes completely soft.
Knead the dough for 10 minutes, until it stops sticking to your hands. Grease a bowl with a little oil, roll the dough into a ball and roll it out in the bowl until it is well greased. Cover the dough and let it rise until it doubles in size, about an hour and a half.
Line the mold with parchment paper and lubricate the walls with oil. Lubricate the outside of a round mold 5 cm in diameter with oil and place it in the middle of the mold. Divide the dough into 4 equal parts and roll out each until you get a layer about 3 mm thick. Cut out even circles.
And here's how roses are made: Take four circles and put them in one line, so that each circle slightly overlaps the other. Starting from the lower tier, roll the dough into a tube. To keep the tube in shape, gently roll it on the work surface. Cut in half with a sharp knife. Place each half in the mold with the flat side down, at a distance of about from each other. So make as many roses to fill out the form. Cover and let rise again for 30-40 minutes. At this time, heat the oven to 356F.
Bake the challah for 25 minutes until golden brown.
Preparing the glaze: to do this, mix honey with water brought to a boil. Spread the finished challahs evenly with the resulting honey glaze.
Allow the challahs to cool slightly, then remove them from the mold with a sharp knife. Leave them on the grill until completely cooled.
If you prefer not too sweet challah, instead of honey glaze, you can lubricate the challah immediately before baking with an egg, loosened with a tablespoon of water.
2. Salad with pomegranate and pecans in caramel
Salad with pomegranate and pecans caramelized with spices is a delicious, original and refined recipe that will decorate a festive meal!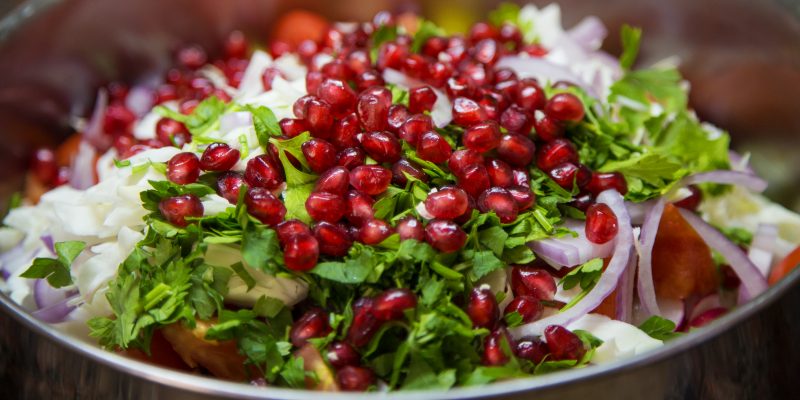 Ingredients:
for spicy candied nuts:
Pecans 1 cup
Maple syrup 2-4 tablespoons
To taste sea salt, freshly ground black pepper and cayenne pepper
Margarine (optional) ½ teaspoon
for salad dressing:
Olive oil 3 tablespoons
Apple cider vinegar 2 tablespoons
Maple syrup 1 tablespoon
Sea salt to taste
For salad:
lettuce, preferably mini kale (baby kale) 3 cups
Grains of 1 pomegranate
Black pepper, for serving
Preparation:
Heat the pecans in a dry frying pan over medium heat until fragrant and golden brown (about 5 minutes). Make sure that they don't burn. Add maple syrup, salt, black and cayenne pepper. Caramelize, stirring constantly, until the pan is dry, about 2-3 minutes. Now you can mix with the margarine until it melts completely.
Place the pecans in a single layer on parchment paper and let them cool.
In a small container, whisk the ingredients for the dressing. Pour the dressing over the prepared lettuce leaves and mix gently, preferably with your hands. Place the salad on a platter (or in a wide salad bowl) and sprinkle with candied pecans, pomegranate seeds and freshly ground black pepper.
3.Tzimmes with meat and pumpkin

. Holiday recipes for the Jewish New Year Rosh Hashanah.



Tzimmes is a sweet, festive dish.The most important thing is that it is meat with vegetables.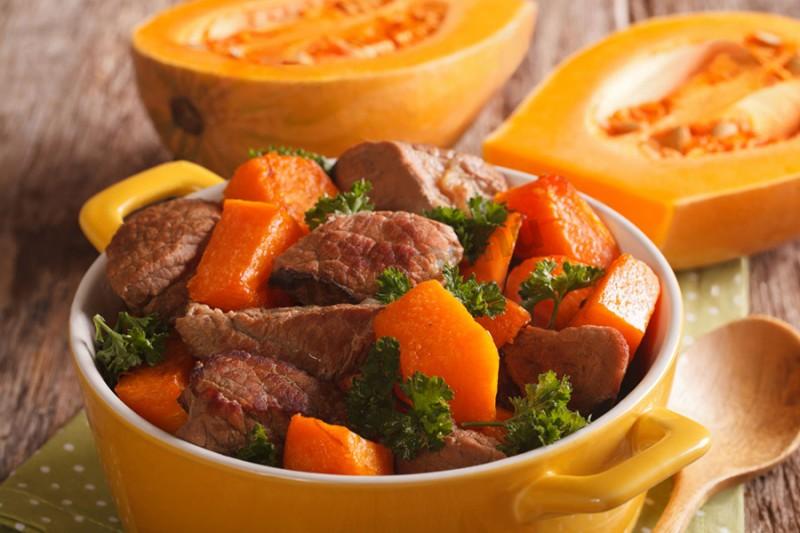 Ingredients:
Beef 17.64oz
Pumpkins 17.64oz
Carrots 3 pcs
Bulbs 2 pcs
Garlic 3 cloves
Seedless prunes 15 pcs
Honey 1 tablespoon
Carnations 2 inflorescences
Cinnamon 0.5 tsp or 1 stick
Paprika 1 teaspoon
Salt to taste
Black pepper to taste
Preparation:
Cut the beef into small pieces and fry in oil over high heat for 10 minutes to form a crust.
Cut the onion into cubes, carrots into large strips, pumpkin into pieces.
Add onions, carrots, pumpkin, garlic and prunes to the meat, simmer for 10 minutes on low heat.
Add spices and honey, pour water (2 cups), put in the oven for 50-60 minutes.
4. Rubia Beans
The fact is that "rubia" sounds similar to the Hebrew word "yirbu", which means "multiply". Therefore, these beans are accompanied by a wish to increase-good deeds, finances and offspring. We say :" May it be Your will that our merits be multiplied!".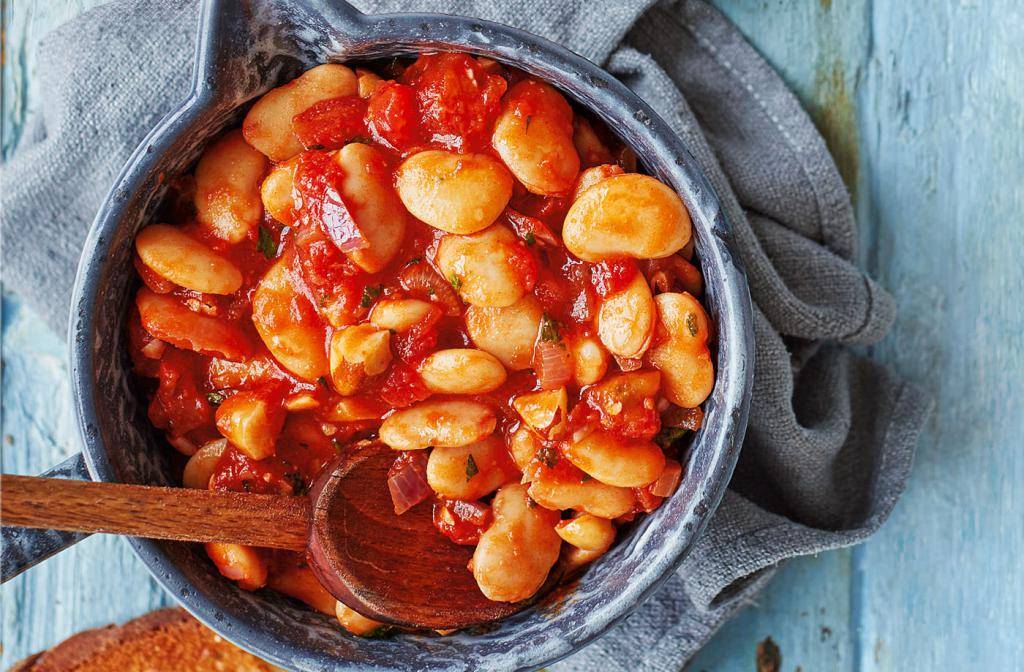 Ingredients:
The recipe is designed for 8 servings
Dried beans 1 cup
Water 5½ cup
Olive oil 2 tablespoons
Medium-sized onions, finely chopped 2 pcs
2 large tomatoes, peeled and diced
Tomato paste 2 tablespoons
Paprika 1 teaspoon
Cumin ½ teaspoon
Salt and black pepper to taste
Preparation:
Sort the beans, remove the litter and stones. Soak the beans overnight in 3 cups of water. In the morning, drain the water, pour 2 ½ cups of fresh water and cook in a closed saucepan until almost soft, about 20 minutes. Drain the water, but do not pour out 1 cup, but save it for later cooking. Heat the oil in a frying pan and simmer the onion until golden brown.
Add tomatoes, beans, a glass of water in which they were cooked, tomato paste and spices. Simmer uncovered until the beans are soft and saturated with flavors, about 20 minutes. Serve immediately. Rubia, prepared in this way, freezes well.
5. Sephardic fried Leek pies
. Holiday recipes for the Jewish New Year Rosh Hashanah.
Sephardic fried leek pies are a traditional recipe for simanim on Rosh Hashanah. Try to cook these tender pies with a crispy crust.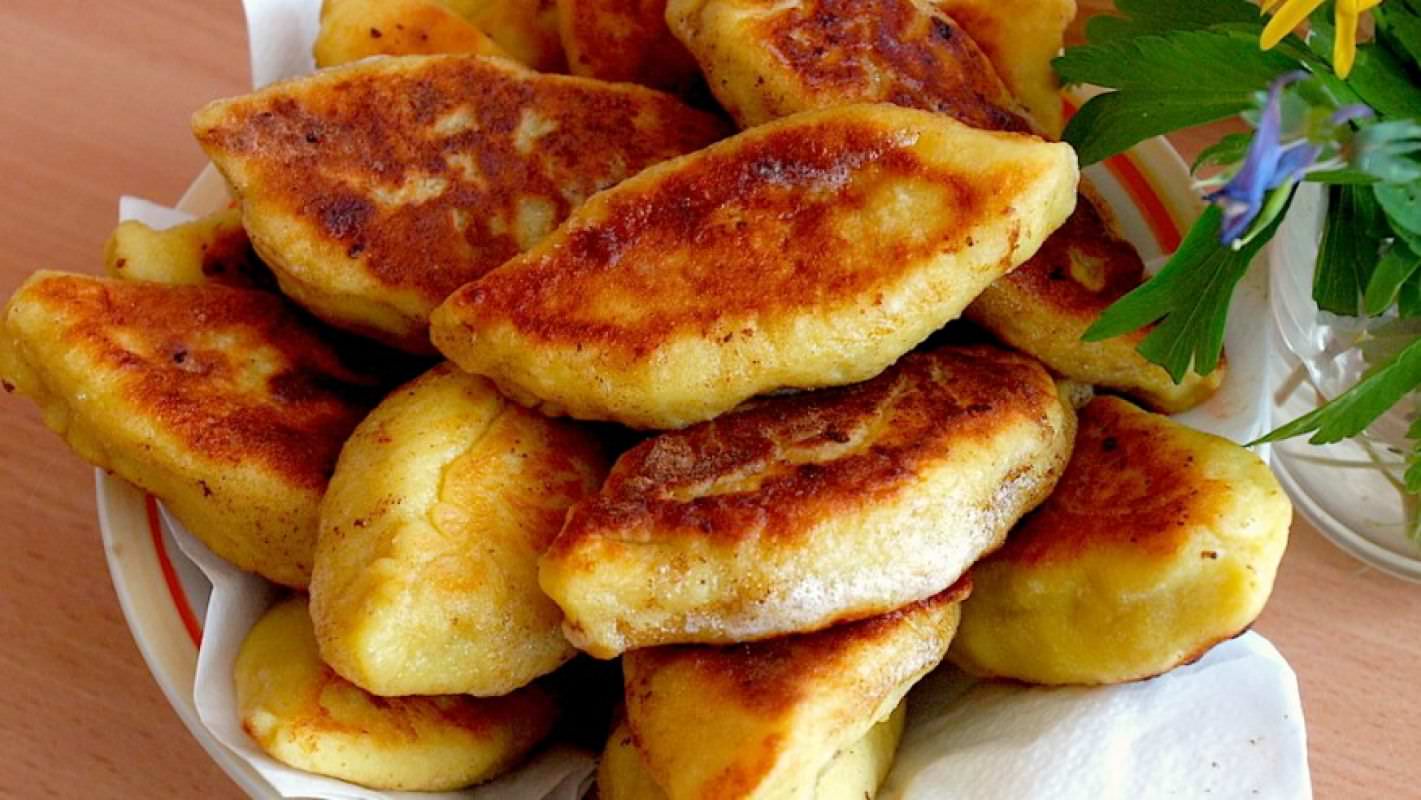 Ingredients:
Leeks (white and green parts of the stems), well washed and thinly sliced 31.75
Garlic (crushed or crushed) 4 cloves
Salt 1/2 teaspoon
Pepper 1/2 teaspoon
Nutmeg 1/2 teaspoon
Mashed potatoes (mixed or fresh)1 cup
Matzo flour 1/2 cup
Eggs 3 pcs
Frying oil
Preparation:
Boil the leeks until soft (25-35 minutes). Drain and squeeze. Mix the leeks, garlic, potatoes and matzo flour. Add the eggs and seasonings. Form the pies (add a little butter or matzo flour to the dough as needed to achieve the correct consistency).
In a large frying pan, pour the oil and heat it well (so that the test drop of water sizzles). Fry the pies until golden brown, then dry them on paper.
It can be stored in the refrigerator for 1-2 days or frozen. Serve hot. Bon Appetit!