If Kiwano is green, we use it as a vegetable, if orange-as a fruit and for desserts. Kiwano has the taste of cucumber, the smell of banana and the sourness of lemon. It is low-calorie and promotes weight loss. Light salads, snacks and even desserts are prepared from it. Kiwano with eggplant filling.
Kiwano has an unusual but delicate taste at the same time. It immediately looks like a melon, cucumber and banana. And some claim that it tastes like lime, kiwi and avocado. Therefore, kiwano can be used both as a fruit and as a vegetable, adding it to both sweet and spicy dishes.
Raw kiwano is eaten by cutting into slices. You can also cut the fruit in half and scoop out the pulp with a spoon. Kiwano is added to various salads, and also salted and pickled just like cucumbers. You can add kiwano to berry jams and compotes. This will give the usual sweets and drinks an unusual taste and aroma.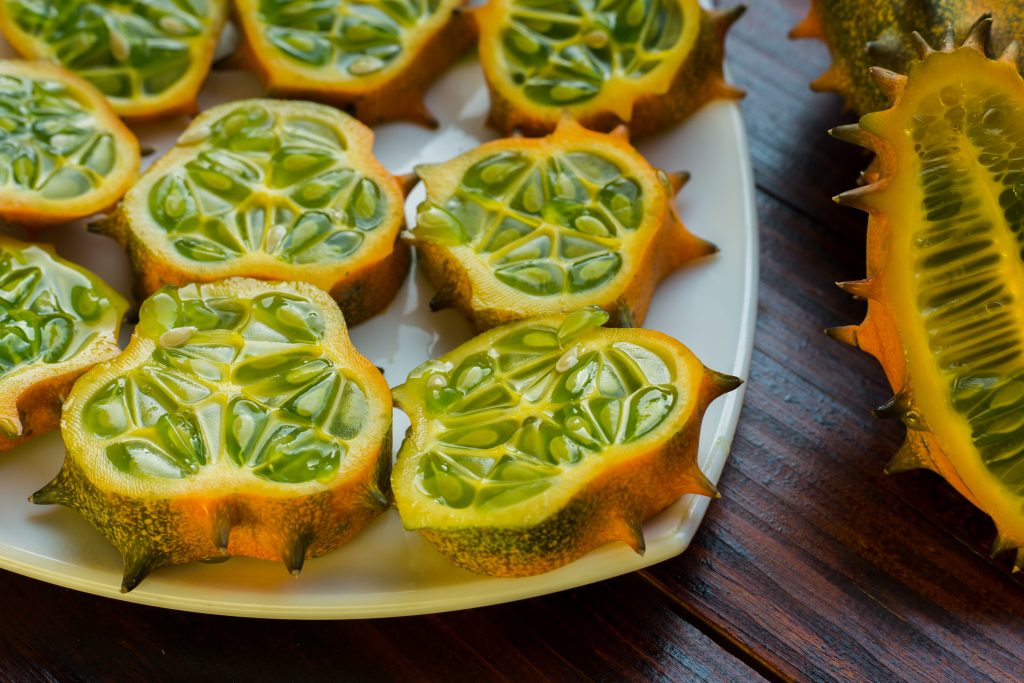 Thanks to the interesting appearance of kiwano, it is also used to decorate various dishes. You can cut the fruit into slices, or you can put the jelly pulp with seeds on top of any dessert. The peel of this fruit is also used for serving a festive table. If you cut the fruit in half, remove the flesh, and put the half of the skin on the spikes, they will turn into an unusual dish for desserts, as well as fish, meat and vegetable snacks.
Ingredients
Kiwano – 3 PCs.
Onion 1 PC.
Eggplant 1 PC.
Tomato 1 PC.
Olive oil 3 tablespoons
Salt to taste
Pepper h / m to taste
Garlic 1 clove
Natural yogurt 2 tablespoons
Honey 1 tablespoon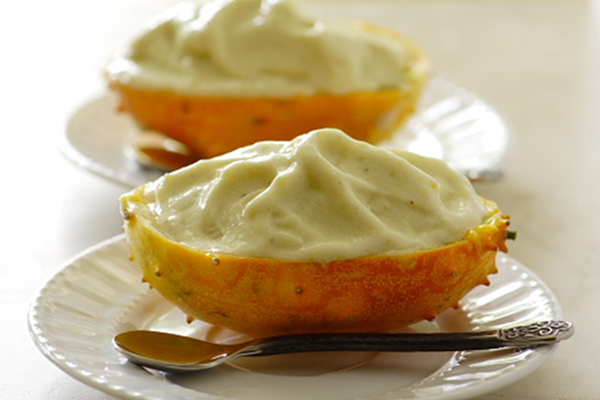 Instruction
. Kiwano with eggplant filling.
Cooking time 30 minutes
To make kiwano with eggplant filling, we will need the products listed in the list. Cut the onion into small cubes. Clean the eggplant from the skin and also cut into small cubes. Fry the onion and eggplant in olive oil until soft.
Add to them a tomato without skin and a clove of garlic. We continue to fry together. We punch the fried mass with a blender. Teaspoonful of kiwano free from grains. Add yogurt and honey to the grains. Mix thoroughly. Part of the cups are filled with grains with honey and yogurt, and part – with eggplant filling.Bon Appetit!