Broccoli with mustard-cream sauce, boiled eggs and bacon. If you are not yet a fan of bright, healthy and delicious broccoli, I recommend cooking it according to this recipe. Juicy cabbage, fragrant fried bacon, thick and tender creamy mustard sauce and boiled eggs – a very winning combination! Try it! Broccoli in mustard-cream sauce with bacon.
Ingredients
Cooking time 30 minutes
For two servings
Broccoli 19.4 oz (550 g)
Bacon 5.29 oz (150 g)
Eggs 4 PCs.
Cream 10% 1 Cup
Mild mustard 2 tablespoons
Butter 3 tablespoons
Wheat flour 1/2 Cup
Sugar 1 teaspoon
Ground black pepper to taste
Salt to taste
Instruction
. Broccoli in mustard-cream sauce with bacon.
Prepare the products according to the list. Boil the eggs hard (8 minutes after boiling). Then place the eggs in cold water and cool completely.
Wash the broccoli, dry it and divide it into large inflorescences.
Cut the bacon into strips. Peel the boiled eggs and cut them in half lengthwise.
Boil 1.5 liters of water. Add 10-15 g of salt and broccoli inflorescences to boiling water. Bring the water back to the boil and cook the broccoli for 4-5 minutes, until tender. Broccoli inflorescences should be completely cooked, but remain dense.
Flip the broccoli florets on a sieve and pour cold water over them to stop the cooking process and keep the cabbage bright. Separate and save 2 cups of broth for the sauce. Heat a non-stick frying pan over medium heat, add the sliced bacon and fry for 3-4 minutes.
Put the fried bacon on a plate for a while. Add the butter to the pan where the bacon was fried. When the butter has melted, add the wheat flour.
Constantly stirring, fry the flour for 3-4 minutes, until golden and a pleasant "nutty" flavor appears.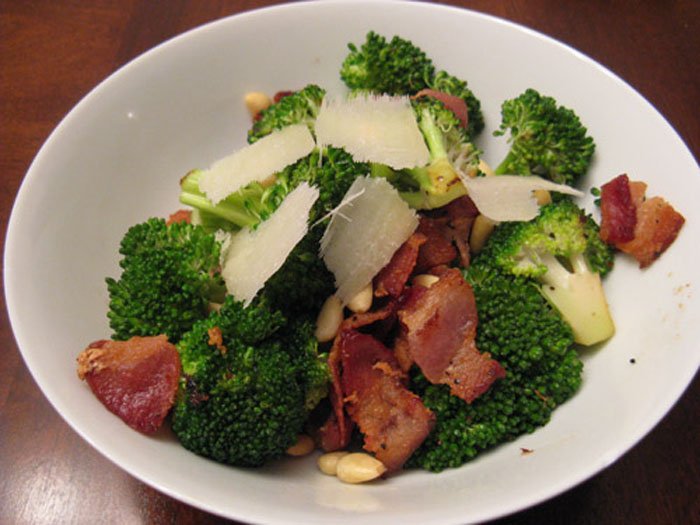 Reduce the heat to a minimum. In small portions, constantly stirring, pour 2 cups of cabbage broth and cream into the pan. Mix thoroughly so that no lumps remain. If lumps still formed, they can be broken with an immersion blender. Bring the mixture to a boil.
Then add the mustard, sugar, ground black pepper to taste and, if necessary, a little more salt. While stirring, warm the sauce for a few more seconds until it boils again.
Then return the fried bacon to the pan, saving a little to decorate the dish. Stir, bring the sauce to a boil and turn off the heat.
Measure a portion of cream-mustard sauce on a plate, put a few pieces of broccoli and a couple of halves of eggs. Garnish with bacon. Pour about a third of the sauce into a saucepan and serve with the dish so that you can add the sauce while eating. Serve broccoli with mustard-cream sauce, bacon and boiled eggs for breakfast or as a snack. Bon Appetit!