Lazy chicken cabbage rolls are an alternative to the usual cabbage rolls wrapped in cabbage leaves. Lazy cabbage rolls with chicken.
Lazy cabbage rolls are usually prepared in two different ways. You can cook lazy cabbage rolls in the form of cutlets, so that they are more similar to ordinary cabbage rolls. You can also make a cabbage casserole with meat, if the beautiful appearance is critical.
Ingredients
Cooking time 1 hour
Designed for four servings
Chicken broth 33.81 fl oz
Garlic 6 cloves
Lemon grass 1 teaspoon
Red onion 3.53 oz
Bay leaf 2 pieces
Turnip 7.05 oz
Ginger 2 tablespoons
Figure 17.64 oz
Black pepper peas 6 pieces
Chicken fillet 10.58 oz
Soy sauce 2 tablespoons
Coriander 3 tablespoons
Cane sugar 2 teaspoons
Vegetable oil 2 tablespoons
Rice vinegar for sushi 3 tablespoons
White cabbage 31.75 oz
Instruction
.  Lazy cabbage rolls with chicken.
1. Cut the chicken fillet into small pieces.
2. In a deep saucepan (in a large wok pan), heat the vegetable oil over high heat and fry the chicken fillet until golden brown.
3. as soon as the chicken is browned, add the diced turnips, onion half – rings and ginger-thin straws to the pan (wok, cauldron).
4. Simmer for five minutes, then put the chopped white cabbage in a saucepan (wok).
5. When the cabbage starts to juice, make the fire smaller, add the finely chopped garlic, Bay leaf, pepper, soy sauce, lemon grass, sugar and vinegar, stir and simmer for a couple of minutes, then add the rice, stir again and simmer for another three minutes.
6. then pour the chicken broth into a saucepan (wok) and simmer the cabbage rolls until tender. Depending on the type of rice, it is fifteen to twenty minutes.
7. when the rice is cooked, mix the contents of the pan (wok) with coarsely chopped coriander, remove from the heat and let stand under the lid for five minutes. Serve with sour cream or coconut cream. Or without any additives.
In terms of content-meat, cabbage, rice – this is quite cabbage rolls. But those that do not need to be wrapped in leaves, but chopped into cabbage. That's why they're lazy. Bon Appetit!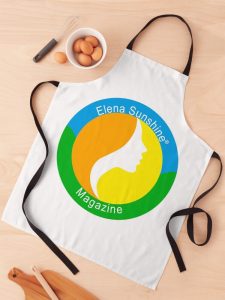 https://www.redbubble.com/i/apron/Elena-Sunshine-Magazine-by-Michaelbor76/52450511.6ZXWR?asc=u