If you like beef steaks, you probably know that ready-made steak, cut into thin slices, can be added to various appetizers and salads. Today we offer you another interesting recipe. Pizza with Sirloin steak and peaches is an original dish that will be appreciated by both steak lovers and fans of Italian pizza! Pizza with Sirloin steak and peaches.
To prepare pizza according to our recipe, we recommend buying wet-aged meat. It is quite soft, very juicy and fragrant. And the price of beef is much lower than the expensive premium beef for steaks. The best choice would be the sirloin steak steak wet aged – it is a lean meat that contains almost no fat. If you properly fry this cut, you will get a very juicy and flavorful beef steak.
We recommend preparing meat for medium rare roast steak, in which it retains a pink core and is covered with a delicious crispy crust. To save time, we recommend buying ready-made pizza dough, and read more about how to prepare pizza with Sirloin steak peaches in our recipe!
Ingredients:
Designed for four servings
Sirloin steak 24.69oz
fresh basil leaves 1 Cup
Fresh oregano leaves 1 Cup
Minced shallots 1 PC
Minced garlic clove 1 PC
Kosher salt 1/2 tsp
Olive oil 1/3 Cup
Ice 1 cube
Salt and pepper to taste
Pizza blanks 4 PCs
Fresh peaches, thinly sliced 2 PCs
Grated mozzarella 7.76 oz
Finely chopped green onion 2 tablespoons
Instructions:
. Pizza with Sirloin steak and peaches.
Cooking time 35 minutes
preheat the oven to 392F degrees. To make the pesto, chop the Basil, oregano, shallots, garlic, salt, pepper, oil, and ice cube in a blender until smooth. Set aside.
Season the steak with salt and pepper and cook over high heat for 1 minute on each side. Transfer the beef to a cutting board and let rest for 5 minutes. Thinly slice across the fibers.
Spread the pesto, half the cheese, meat and the rest of the cheese over the pizza blanks. Bake for 8-10 minutes. Serve still warm with green onions. Bon Appetit!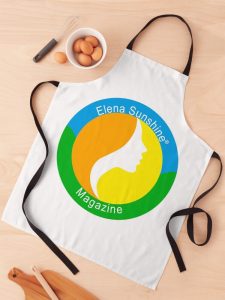 You can buy an apron with our logo 🙂
https://www.redbubble.com/i/apron/Elena-Sunshine-Magazine-by-Michaelbor76/52450511.6ZXWR?asc=u