Vegetarian pates this dish has all the healthy properties. Pates made from vegetarian products are another proof that vegetarian food is not only healthy, but also incredibly delicious. recipes for delicious homemade pate.
Vegetarian pates can be a main dish, an appetizer and even a dessert. You can use them for breakfast, during a snack, for tea or for dinner – it doesn't matter at all, because they are delicious and nutritious at any time of the day!
Vegetable pate: avocado, carrot, pumpkin, radish and spinach pate, beetroot and potato pate, eggplant, olive or olive pate, cabbage pate and others. Vegetable pates contain vitamins, minerals and dietary fiber that are important for health, which help your body stay healthy, young and full of energy!
Legumes: white or red bean pate, tofu pate (soy bean-based cheese), pea and lentil pates, chickpea and masha pate. Bean pates contain an increased content of fiber and vegetable dietary protein. Eating beans normalizes digestion, satisfies hunger, reduces appetite and promotes weight loss.
Mushroom: pate of pickled mushrooms, pate of champignons, honey mushrooms, chanterelles, pate of porcini mushrooms and oyster mushrooms, exquisite pate of truffles. Mushroom pates are rich in healthy nutrients: fiber, antioxidants, vitamins and minerals. The use of mushrooms supports the energy balance in the body, gives a good mood and has a beneficial effect on the immune system.
Dessert dishes: banana pate, nut pate, dried fruit pate and others.
Dessert pates combine the benefits of fruits, berries and nuts. A great alternative to sweets and chocolate with added benefits. For example, nuts strengthen the immune system and reduce the risk of diseases, and fresh and dried fruits contain a huge amount of vitamins and other trace elements for your health.
What is the most delicious thing about vegetarian pates is their preparation! After all, they are prepared quickly, very simply and at the same time they turn out stunningly delicious. We have prepared several pate recipes especially for you:
1.Green pea, edamame and avocado pate
A pate of green peas, edamame and avocado is great for breakfast.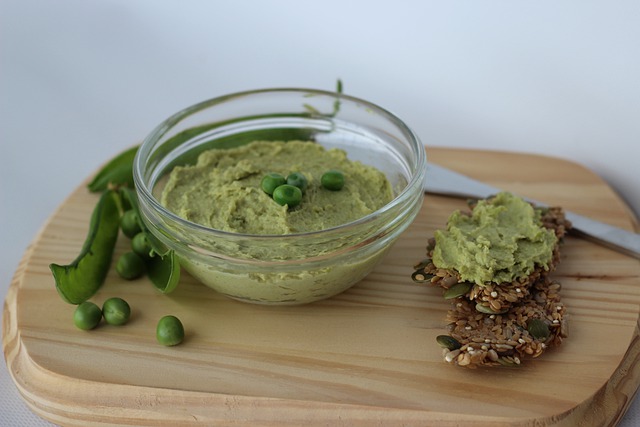 Ingredients:
Frozen edamame beans, peeled 2 cups
Frozen green peas 1 cup
Chopped avocado 1 cup
Fresh lemon juice ⅓ cup
Garlic 1 clove
Salt 1 teaspoon
Ground cumin ½ teaspoon
¼ teaspoon black pepper
Ice 3 cubes
Fresh basil ½ cup
lemon zest ½ teaspoon
Instruction:
Cooking time 35 minutes
1. Defrost the peas and edamame. If desired, cook in boiling water for a few minutes.
2. Using a blender, mix the edamame, peas, avocado, lemon juice, garlic, salt, cumin, black pepper and 3 ice cubes.
3. Add the basil and lemon zest. Mix with a blender. Serve immediately or store in the refrigerator in an airtight container for up to 3 days.
2.Bean paste with walnuts
. recipes for delicious homemade pate.
Boiled beans make a wonderful pate! A hearty and nutritious bean paste with a spicy taste is what you need for lunch with a slice of bread. This pate is prepared in an elementary way: we mix chopped boiled beans and fried onions with walnuts and dill – and enjoy it.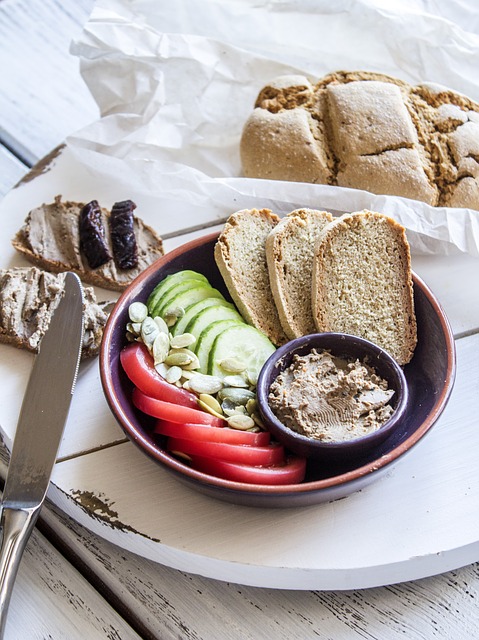 Ingredients for 4 servings:
Beans 7.0oz
Onion 5.29oz
Garlic 2 cloves
Walnuts 2 tablespoons
Ground coriander 1/4 teaspoon
Dried dill 1/4 teaspoon
Fresh dill 2 teaspoons
Salt 1/4 teaspoon
Ground black pepper to taste
Vegetable oil (for frying) 2 tablespoons
Instruction:
Cooking time 8 hours 20 minutes
Prepare the necessary products.
Put the beans in a saucepan, cover with water and leave overnight.
Then drain the water, rinse the swollen beans and transfer them back to the pan. Fill the beans again with clean water, put the pan on maximum heat. Bring the water to a boil. Reduce the heat to a minimum, remove the formed foam and cook the beans for about 30 minutes, until soft.
Drain the water from the boiled beans in a separate container. Place the beans in the bowl of a blender and pour in about 3 tablespoons of broth. Whisk on high speed until smooth and smooth. If necessary, add a little more broth. Peel the onion and cut it into small cubes.
Finely chop the walnuts with a knife. Heat the vegetable oil in a frying pan over medium heat. Put the chopped onion there and, stirring, fry for about 2-3 minutes, until soft and translucent.
Peel the garlic, finely chop it and send it to the frying pan. Wash the dill, shake it, chop it finely with a knife and also send it to the frying pan. Add chopped nuts, ground black pepper, coriander and dried dill. Stir, reduce the heat to a minimum and cover the pan with a lid. Cook for about 5-7 more minutes.
In a large bowl, combine the chopped beans, fried onions with nuts and herbs and salt. Mix thoroughly. Bean paste with walnuts is ready. You can serve it immediately after cooking. Bon Appetit!
3.Spicy celery root pate
. recipes for delicious homemade pate.
A tender and at the same time spicy vegetarian pate made from celery root is an excellent spread for sandwiches or a filling for tartlets. The products are simple, but such a spicy vegetable pate with an original taste will not be lost even on the festive table. It's worth a try!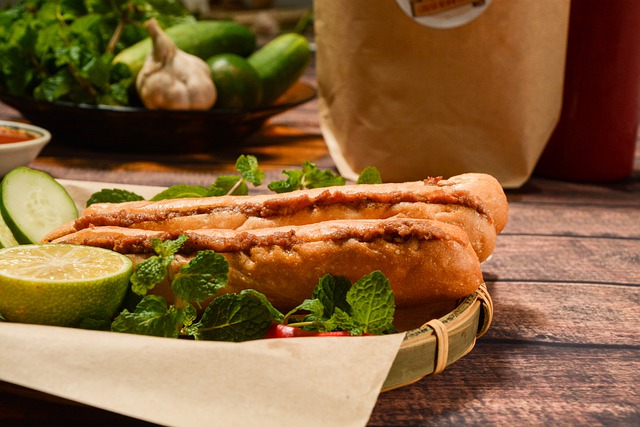 Ingredients for 6 servings:
Celery root 10.58oz
Onion 2 tablespoons
Ginger (root) 2 tablespoons
Lemon (for zest and juice) – 1 pc. (1 teaspoon of zest and 2 tablespoons of juice)
Honey 1 tablespoon
Garlic 4 cloves
Curry 1/4 tsp
Dried rosemary 1/4 teaspoon
Salt to taste
Ground black pepper to taste
Vegetable oil 2 tablespoons
Instruction:
Cooking time 55 minutes
Prepare the products according to the list. Wash the lemon and celery root thoroughly.Turn on the oven to preheat to 356F.
Peel and rinse the onion and garlic. Cut the onion into large cubes and send it to a baking dish. Add the garlic. Peel the ginger, chop it coarsely and also send it to a baking dish.
Also peel the celery root, cut into large cubes and send it to the mold. Sprinkle with rosemary and curry. Remove about 1 teaspoon of zest from the lemon with a fine grater and sprinkle it with vegetables. (Put the lemon aside for now – you will need it later.) Pour vegetable oil over the vegetables.
Cover the top of the mold with foil and send it to the oven, preheated to 356F, for about 30 minutes.Then remove the foil and bake for about another 10 minutes. Transfer the baked vegetables to a deep bowl.
Squeeze about 2 tablespoons of juice from the lemon and pour it over the baked vegetables. Add the honey and stir. Punch the vegetables with a blender until smooth.
The original spicy celery root pate is ready. Serve it to the table on toast, bread or in tartlets. You can store such a vegetable pate in the refrigerator, in a jar with a tight lid, for 3-4 days. Bon Appetit!
4.Pate of tomatoes and sunflower seeds
. recipes for delicious homemade pate.
A light vegetable pate made of sunflower seeds and tomatoes is a godsend for a lean, vegetarian and dietary menu. The base of boiled and crushed seeds gives such a vegetable pate a satisfying and interesting texture, and the addition of fresh tomatoes, tomato paste, garlic and dried herbs gives a spicy taste and aroma. Try it!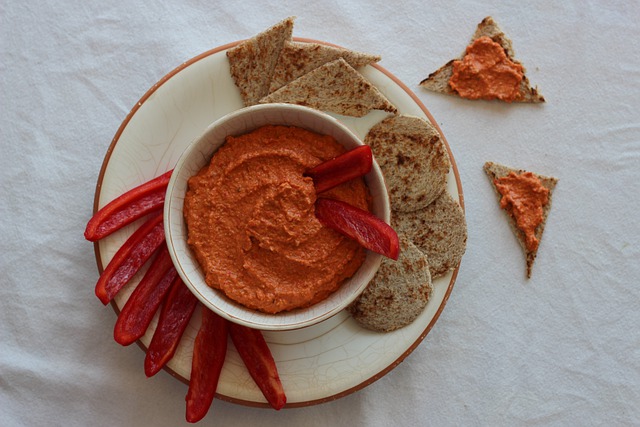 Ingredients for 1 serving:
Tomatoes 9.52oz
Sunflower seeds 8.82oz + 1 teaspoon for serving
Tomato paste 1 tablespoon
Lemon (for juice) 1/2 pc. (1 tablespoon of juice)
Vegetable oil 2 tablespoons
Boiled chilled water 4 tablespoons
Garlic 2 cloves
Dried Italian herbs 1 teaspoon
Salt to taste
Instruction:

Cooking time 40 minutes
Prepare the products according to the list.
If desired, dried or even salted tomatoes can be used instead of fresh tomatoes.
Wash the seeds and drain the liquid thoroughly. Pour about 4 cups of water into a saucepan or saucepan, put it on maximum heat and bring it to a boil.
Add the seeds to the boiling water, mix and bring to a boil again. Cook the seeds for about 15 minutes, stirring occasionally. Then drain the hot water, cover the seeds with cold water. Drain the water, cool the seeds slightly.
Wash the tomatoes, dry them and cut them into small pieces. Peel the garlic. In the bowl of a blender, combine sunflower seeds, tomatoes and garlic.
Whisk on high speed for about 2-3 minutes, until smooth.Squeeze about 1 tablespoon of juice from the lemon and add it to the blender bowl. Put the tomato paste there and pour in the vegetable oil. Whisk on high speed for about 1-2 minutes. Adjust the consistency of the pate to your taste by adding a little cooled boiled water. I added 2 tablespoons of water.
Add a mixture of dried Italian herbs and salt. Beat the mixture for about 1 more minute so that the seasonings are evenly distributed. Vegetable pate made of tomatoes and seeds is ready. Serve it to the table, optionally decorated with sunflower seeds. Bon Appetit!
5.Pumpkin pate with almonds
. recipes for delicious homemade pate.
Light and pleasant to the taste pumpkin pate with almonds is an unusual interesting snack, quite a satisfying and, without a doubt, nutritious dish.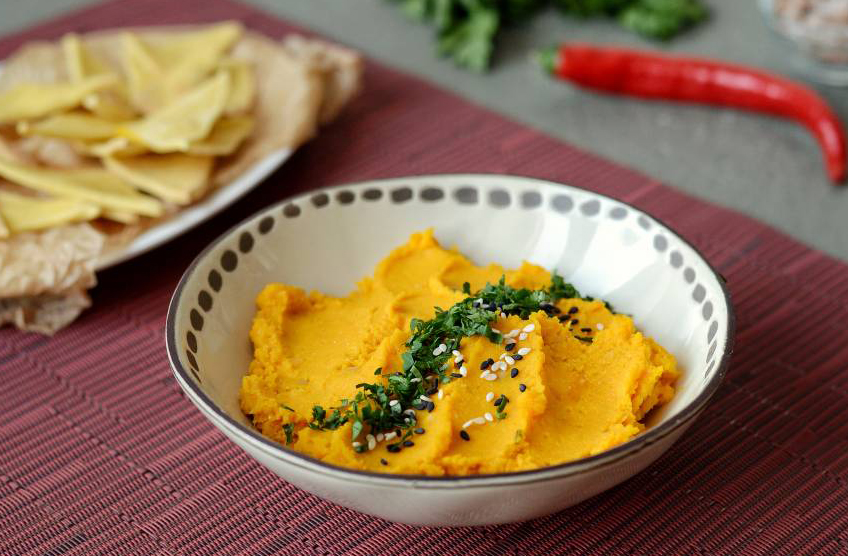 Ingredients for 3 servings:
For the pate:
Pumpkin (pulp) 8.82oz
Raw almonds 5.29oz
Onion 3 tablespoons
Lemon juice 2 teaspoons
Salt to taste
Ground black pepper to taste
Vegetable oil 2 tablespoons
For submission:
Balsamic cream 2 teaspoons
Narsharab sauce 2 teaspoons
Ground paprika to taste
Pumpkin seeds to taste
Instruction:
Cooking time 55 minutes
Prepare the products for pumpkin pate with almonds. Cut the pumpkin pulp into small pieces and wrap it in foil together with the peeled onion, cut into slices. Bake the pumpkin in the oven at 356F for about 20 minutes.
While the products for the pate are being baked, we will deal with almonds. It must be filled with boiling water for 5-7 minutes.
Then drain the water, and remove the skin from the almonds, which will already be very easily separated.
The onion and pumpkin are ready! They have become soft and smell very nice. Put the finished pumpkin, onion and peeled almonds in a bowl or bowl of a blender.
Grind into a tender homogeneous mass. Add salt, ground black pepper, vegetable oil and lemon juice. Mix it up. Ready-made pumpkin pate with almonds can be served cold or chilled.
When serving, almond-pumpkin pate can optionally be poured with balsamic cream, narsharab sauce, sprinkle with pumpkin seeds and ground paprika. However, the pate is very tasty in itself. Bon Appetit!