Vegetarianism involves the use of large amounts of fiber. This has a good effect on the intestinal microbiome. When these bacteria are in order, we feel refreshed and resist infections better, maintain a healthy weight easier and suffer less from digestive problems. Recipes for vegetarian, homemade soups.
Also, this type of diet helps to reduce cholesterol levels, which we usually get from animal products.
(1) – "Vegetable soups and creams have gained popularity among consumers worldwide due to the wide variety of raw materials (vegetable fruits, tubers, bulbs, leafy vegetables, and legumes) that can be used in their formulation which has been recognized as a healthy source of nutrients (mainly proteins, dietary fiber, other carbohydrates, vitamins, and minerals) and bioactive compounds that could help maintain the body's health and wellbeing. In addition, they are cheap and easy to preserve and prepare at home, ready to eat, so in consequence they are very useful in the modern life rhythms that modify the habits of current consumption and that reclaim foods elaborated with natural ingredients, ecologic, vegans, less invasive production processes, agroindustry coproducts valorization, and exploring new flavors and textures."
#1. Fragrant and warming sweet potato soup
Easy-to-prepare sweet potato soup, cooked in one pot, it is slightly spicy, thick and creamy! Fragrant, seasoned with coconut milk and smoked paprika — a wonderful hearty dish!
Ingredients for 2 servings:
Olive oil 1 tablespoon
Onion, diced 1 piece
Garlic 2 crushed cloves
Large sweet potato 1 piece
Fat coconut milk 1 jar
Buffalo sauce 1 teaspoon
Water 1 cup
Smoked paprika 1/2 teaspoon
Salt to taste
Instructions:
Heat the oil in a large saucepan over medium or high heat. After heating the pan, add the onion, garlic and fry for 3 minutes.
Meanwhile, peel the sweet potatoes and cut them into small cubes of the same size. Add diced sweet potatoes, whole coconut milk, buffalo sauce, water, smoked paprika and salt to the pan.
Bring to a boil, cover with a lid and let simmer for 30-35 minutes or until the sweet potatoes are tender.
Transfer to a high-speed blender and whisk for 15 seconds until the soup is smooth and creamy. You can add a little water to adjust the consistency to your liking. Taste and adjust the salt and spice to your liking.
Serve immediately with your favorite soup supplement options. Tofu or tempeh are great for adding protein and getting a full-fledged lunch option. The soup can be stored for up to 4 days in the refrigerator.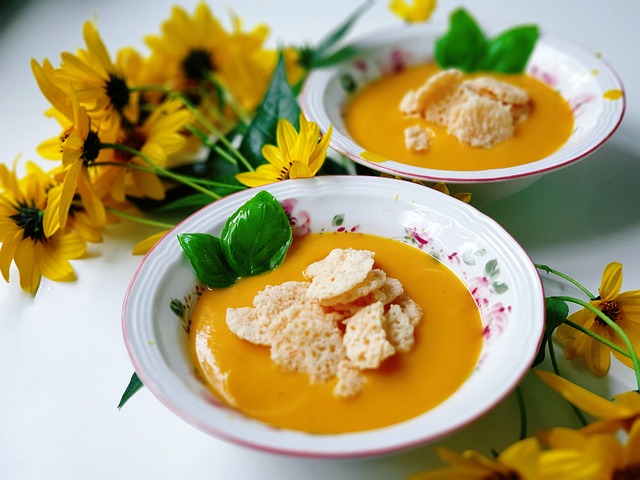 #2. Winter green soup
. Recipes for vegetarian, homemade soups.
Soup-puree of celery, cauliflower, zucchini, chickpeas and spices.
Ingredients for 4 servings:
Olive oil 1 tablespoon
White onion 1 piece
Celery 6 stalks
Zucchini 2 pieces
Green pepper 1 piece
Cauliflower 1/2 head
Garlic 4 cloves
Dried ground onion 2 teaspoons
Сhili flakes 1/2 teaspoon
Chickpeas 1 jar
Salt and pepper to taste
Water 4 cups
Spinach 7.0 oz
Instructions:
Preheat the oven to 392F. Coarsely chop the cauliflower, white onion, celery, green pepper and zucchini. Arrange the vegetables on a baking sheet.
Chop the garlic finely and pour a little olive oil. Now bake the vegetables for 30 minutes.
Put the baked vegetables in a large saucepan. Add the spinach along with the rest of the ingredients. Puree with a blender. Warm it up. Ready!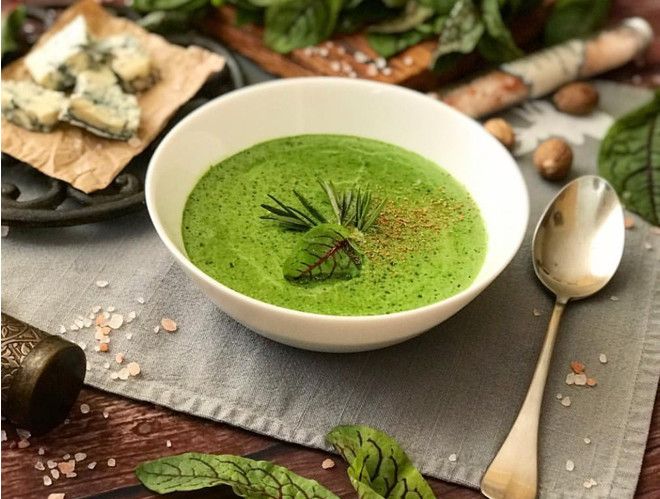 #3. Lentil puree soup with ginger
. Recipes for vegetarian, homemade soups.
Lentil puree soup with ginger, curry, coconut milk and chili flakes.
Ingredients for 4 servings:
Onion 1 piece
Garlic 5 cloves
Ginger, grated 1 teaspoon
Curry powder 1 tablespoon
Sliced carrots 17.64oz
Dry red lentils 2 cups
Vegetable broth 8 cups
Fat coconut milk 1/2 cup
Juice of 1/2 lemon
Salt and pepper to taste
For submission:
Toasted bread 8 pieces
Fresh thyme or other greens to taste
Chili flakes 1 teaspoon
Instructions:
First fry the onion in a small amount of olive oil until transparent, then add garlic, ginger and curry powder.
Add the carrots, red lentils and water or vegetable broth and cook until the carrots are soft, about 20 minutes.
Remove from the heat, add coconut milk and lemon juice. Using a blender, puree the soup. Serve with crusty bread, herbs and chili flakes.
#4. Cauliflower soup with mushrooms
. Recipes for vegetarian, homemade soups.
Cauliflower puree soup with fried mushrooms is very tasty and satisfying.
Ingredients for 4 servings:
Garlic 4 cloves
Cauliflower onion (large head) 1 piece
Vegetable broth 6 cups
Unsweetened soy milk 2 cups
Salt and pepper to taste
Chopped champignons 14.00oz
Instructions:
Put a large saucepan on medium heat. Put the chopped garlic and onion in it, add a few tablespoons of water. Fry until transparent.
Coarsely chop the cauliflower and add it to the pan along with vegetable broth, soy milk, salt and pepper. Bring to a boil and cook for 20 minutes, until the cauliflower is soft.
Meanwhile, chop the mushrooms and fry until golden brown. Season with salt and pepper to taste. When the cauliflower becomes soft, use an immersion blender to puree the soup.
Add salt and pepper to taste. Serve the soup with fried mushrooms.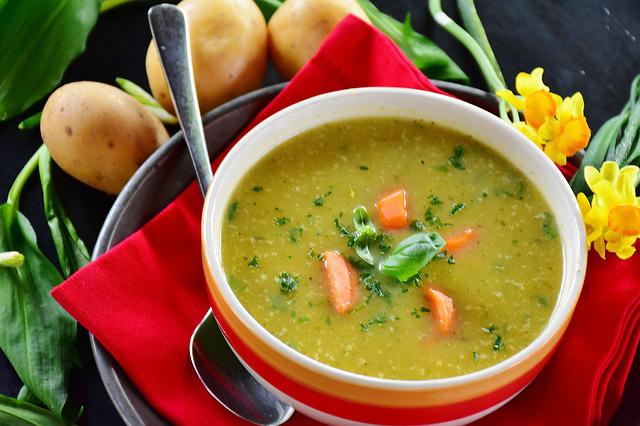 #5. Asparagus cream soup with pesto
. Recipes for vegetarian, homemade soups.
Vegan cream soup of asparagus, decorated with an unusual pesto with turmeric!
Ingredients for 4 servings:
For soup:
Thinly sliced leek (white part only) 1pc
Olive oil 2 tablespoons
Vegetable broth 8 cups
Cauliflower inflorescences 2 cups
Ground turmeric 1 teaspoon
Ground black pepper to taste
Sliced asparagus 34.75oz
Sea salt to taste
For pesto with turmeric:
Turmeric, peeled and grated 1 teaspoon
Chopped fresh parsley ½ cup
Extra virgin olive oil 2 tablespoons
Freshly squeezed lemon juice 1 teaspoon
Sea salt to taste
Ground black pepper to taste
Instructions:
In a large saucepan with a thick bottom, heat the vegetable oil over low heat. Add the leeks and cook, stirring frequently, until the onion is tender, 3 minutes.
Add 2 cups of broth, cauliflower, ground turmeric and pepper. Cover and simmer until the cauliflower is tender, 12 minutes.
Meanwhile, in a small food processor, add all the ingredients for the pesto. Stir for 30 seconds until you get the sauce with small pieces. Transfer to a small bowl.
Add the asparagus to the soup and cook until it becomes soft and bright green, 5 minutes.
Pour the soup into a blender and puree until smooth, adding as much of the remaining broth as necessary to get the desired texture. Season with salt.
Pour the soup on plates and garnish each portion with pesto sauce with turmeric. Enjoy your meal!
(2) – "However, the beneficial effects associated with the consumption of vegetable soups and creams are due not only to their nutritional properties but also to other actions such as their promotion of the body's hydration and their satiating properties."
(3) – "In conclusion, vegetable soups can be considered a suitable source of vegetables and nutrients which can be easily reformulated to fulfill nutrient requirements for specific population groups or with regards to health benefits, without misleading their gastronomic value. This nutritional value depends on the vegetables used for their production, most of which are recognized sources of dietary fiber and bioactive compounds (mainly polyphenols) with antioxidant and healthy properties. Research and innovation efforts have been applied to improve their processing in view that most of these beneficial compounds could be retained in the final product, and also to offer foods that meet the necessities of today's society: trust in the traditional, the power of plants, the time is crucial (convenience foods), zero residue, and wellbeing."
(1,2,3) – National Institutes of Health; Vegetable Soups and Creams: Raw Materials, Processing, Health Benefits, and Innovation Trends; Juana Fernández-López, Carmen Botella-Martínez, Casilda Navarro-Rodríguez de Vera, María Estrella Sayas-Barberá,1 Manuel Viuda-Martos, Elena Sánchez-Zapata, and José Angel Pérez-Álvarez. Published online 2020 Dec 14.