A hearty homemade lunch is impossible to imagine without an appetizing fragrant soup. Variations of the first courses can be very different. There is always a place for culinary experiments in the preparation of soups, but favorite dishes according to family recipes will especially please the household. Hearty homemade soup recipes. 
(1) – "Vegetable soups and creams have gained popularity among consumers worldwide due to the wide variety of raw materials (vegetable fruits, tubers, bulbs, leafy vegetables, and legumes) that can be used in their formulation which has been recognized as a healthy source of nutrients (mainly proteins, dietary fiber, other carbohydrates, vitamins, and minerals) and bioactive compounds that could help maintain the body's health and wellbeing. In addition, they are cheap and easy to preserve and prepare at home, ready to eat, so in consequence they are very useful in the modern life rhythms that modify the habits of current consumption and that reclaim foods elaborated with natural ingredients, ecologic, vegans, less invasive production processes, agroindustry coproducts valorization, and exploring new flavors and textures."
#1. Creamy salmon soup
. Hearty homemade soup recipes.
Prepare fish soup with milk or cream. If you like thick soups, then increase the amount of potatoes or partially mash them into mashed potatoes.
If you like thick soup, then increase the amount of potatoes. In some recipes, it is recommended to mash part of the potatoes in mashed potatoes and add to the soup.
The nutritional value of a serving is 262 kCal
Ingredients for 4 servings:
salmon 10.58oz
potatoes 3 pcs.
carrot 1 pc.
onion 1 pc.
cream 20% 1/2 cup
flour 1 tbsp
Fresh thyme 3 sprigs
salt to taste
black pepper to taste
Instruction:
Cooking time 30 minutes
From 6 glasses of water, cook the broth from the head, fins, and ridges of the fish. Strain. Add diced potatoes onions, and grated carrots on a coarse grater to the strained broth. Cook for 5 minutes, then add the salmon fillet, and cut it into small pieces. Cook for another 5 minutes.
Season with salt and black pepper. Add flour (1 tablespoon) to the cream and mix well. Pour the mixture into the soup and bring it to a boil, stirring constantly. Add fresh thyme for flavor.
Let the soup brew for 2 hours (recommended, but optional). You can eat right away. Serve garnished with a sprig of thyme and sprinkled with freshly ground black pepper.
#2. Pumpkin soup with red lentils
. Hearty homemade soup recipes.
Be sure to add spicy spices to the tender pumpkin soup with red lentils. When serving, sprinkle the dish with pumpkin seeds.
The nutritional value of a serving is 189 kCal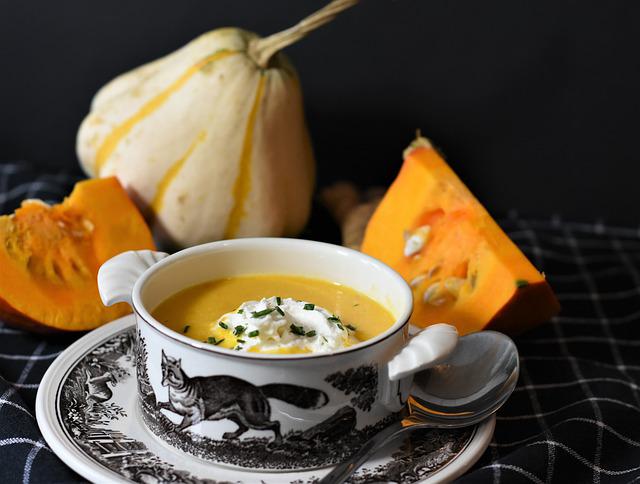 Ingredients for 6 servings:
celery root ½ pcs.
pumpkin 17.64oz
carrot 1 pc.
lentils 1 cup
onion 1 pc.
Sweet paprika 1 tsp
cumin to taste
curry ½ tsp
broth 4 cups
cream 15% 4 tablespoons
Pumpkin seeds to taste
Instruction:
Cooking time 30 minutes
Saute the onion in vegetable oil until transparent. Add diced carrots, pumpkin, and root celery, and fry for 5 minutes. Add the lentils, pour in the broth, and cook for 20-25 minutes until soft, covering the pan with a lid. Add spices. Puree with a blender. Add cream and pumpkin seeds.
#3. Vegetable soup
First, it is cooked on the stove, and then baked in the oven. We recommend you try it!
The nutritional value of a serving is 417 kCal
Ingredients for 4 servings:
white beans 5.29oz
Peking cabbage 8.82oz
celery 4 stalks
carrots 1 pc.
onion 1 head
garlic 3 cloves
dried rosemary 1 sprig
Meat broth 8 cups
hard cheese 3.53oz
Extra Virgin olive oil 3 tablespoons
white bread 8 pieces
Green onion ½ bunch
Instruction:
Cooking time 1 hour
Pre-rinse the beans and pour cold water overnight. Then put it in a colander, rinse, pour water, and boil until tender.
Cut onion, carrot, and celery into small cubes, and chop garlic. In a large saucepan, heat the oil, put the onion, carrot, celery, garlic, and rosemary in it, and cook over medium heat for 5 minutes, stirring.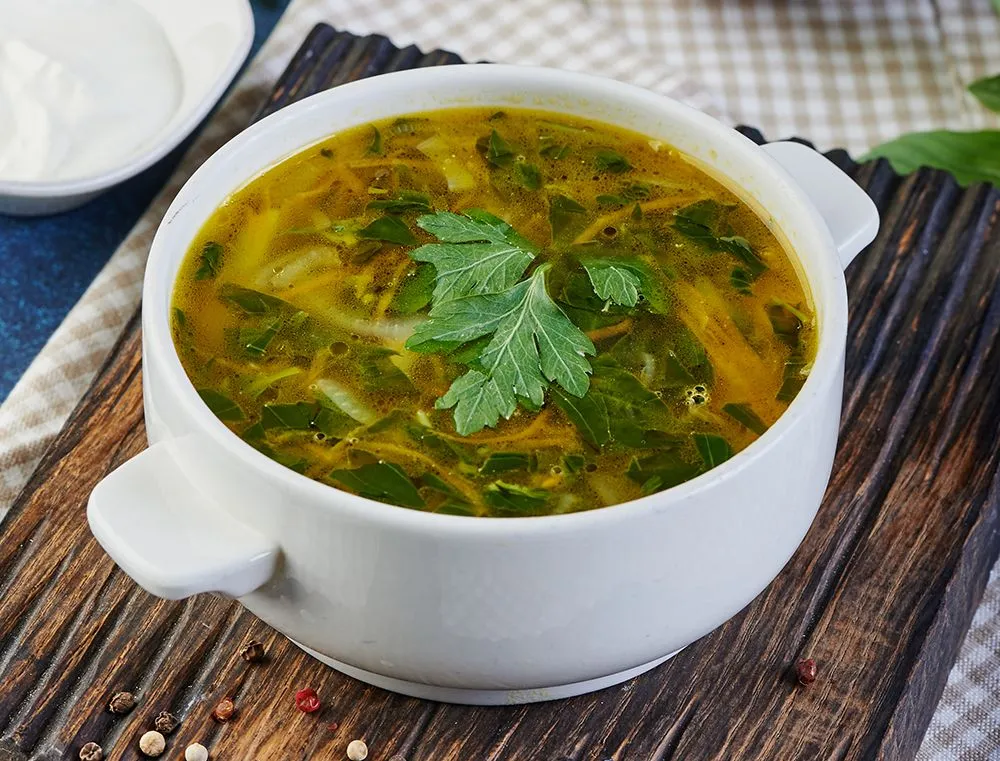 Add the beans to the vegetables, pour in the broth, and bring to a boil. Then add the finely chopped cabbage, bring it to a boil, let it boil for 2-3 minutes, and send the pot of soup to the oven at 392F for 15 minutes.
Grease the bread with olive oil, dry a little in the oven, sprinkle with grated parmesan, and bake for 1-2 minutes. Serve the soup with slices of bread and chopped green onions. Enjoy your meal!
#4. Cream cheese soup with ham
. Hearty homemade soup recipes.
Cheese soups have a special charm, they are always extremely tasty. Of course, good cheese and good ham are needed here, and this soup will definitely please and warm you on cold evenings.
The nutritional value of a serving is 283 kCal
Ingredients for 6 servings:
onion 1 pc.
carrot 1 pc.
olive oil 2 tbsp
ham 8.82oz
potatoes 3 pcs.
macaroni 3.53oz
processed cheese 7.0oz
cream 10-20% 1/2 cup
bay leaf 2 pcs.
Instruction:
Cooking time 40 minutes
Finely chop the onion, cut the carrots into strips. In a saucepan with a thick bottom, heat the oil, and fry, stirring, onions and carrots. If there is no such pan, then roasting can be done separately in a frying pan.
Cut the ham into thin strips, and put it in a saucepan. Cook, stirring, for a few more minutes. At this time, boil the kettle.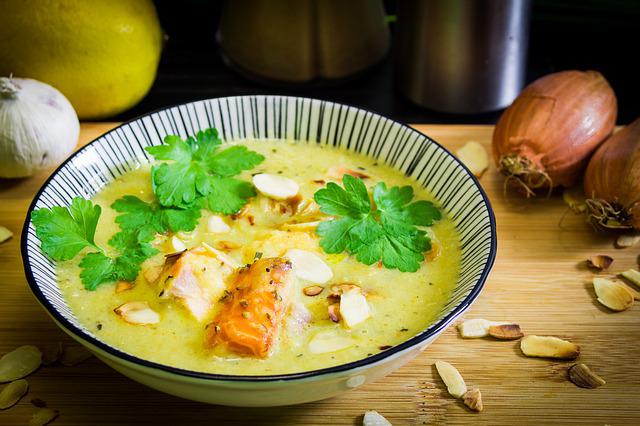 Pour about 4 cups of boiling water into a saucepan. Bring to a boil. At this time, cut the potatoes into cubes and put them in the soup. Cook for 10 minutes. Add pasta (for soup, I prefer to take small curly pasta). Cook for another 10 minutes.
At the end of cooking, add bay leaf, and melted cheese, and stir. Pour in the cream. Taste it and, if necessary, add salt and pepper. Pour the soup on plates and garnish with herbs. Serve with slices of toasted bread or crackers. Enjoy your meal!
#5. Mushroom soup with leeks
. Hearty homemade soup recipes.
Wash fresh mushrooms. If you don't have frozen porcini mushrooms, soak the dry white ones, and then fry them with onions. Instead of shallots, you can use onions or red onions.
The nutritional value of a serving is 399 kCal
Ingredients for 4 servings:
Frozen white mushrooms 8.82oz
oyster mushrooms 3.53oz
champignons 3.53oz
leek 2 pcs.
shallots 2 pcs.
garlic 4 cloves
thyme 3 sprigs
a small bunch of parsley 1 pc.
Chicken broth 5 cups
fat cream 1/2 cup
dry white wine 3 tablespoons
butter 2 tbsp
olive oil 1 tbsp
freshly ground black pepper to taste
Sea salt to taste
Instruction:
Cooking time 45 minutes
Defrost frozen porcini mushrooms (keep the liquid that remains from the mushrooms). Cut the light part of the leek into rings. In a large saucepan, heat the olive oil and 1 tablespoon of butter and fry the leeks.
Peel the shallots and cut them into rings. Peel and finely chop the garlic. In a saucepan with leeks, add shallots and half of the chopped garlic, mix everything, and fry over low heat for 3-4 minutes. Dry porcini mushrooms are crushed in a blender into powder and sprinkled with vegetables.
Pour in the wine, season with salt and pepper, and let the alcohol evaporate slightly. Cut oyster mushrooms and champignons into plates, add to the pan, and mix everything. Pour in the hot chicken broth so that the mushrooms are covered, then the liquid that remains from the frozen porcini mushrooms, and, without covering the lid, cook the soup until ready. Beat the finished soup with an immersion blender, so that small pieces of mushrooms remain, then pour in the cream and mix everything.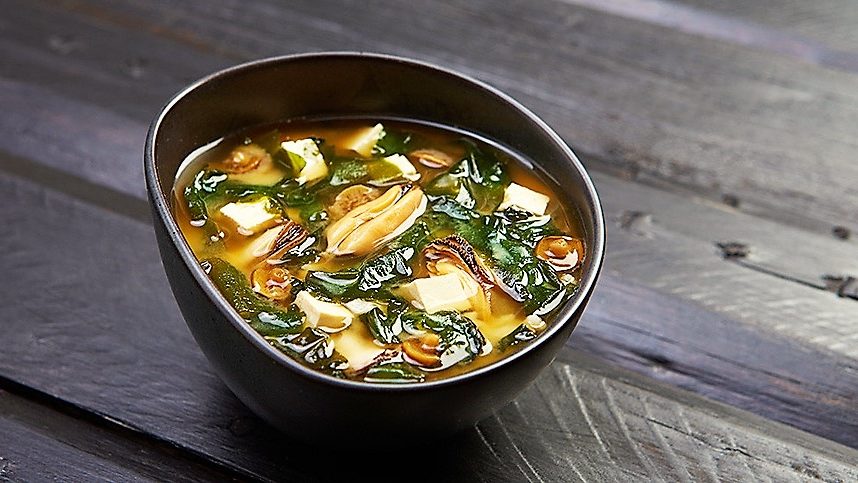 Defrosted porcini mushrooms cut into small pieces. Heat the remaining butter in a frying pan, put the chopped mushrooms, the remaining garlic, thyme leaves, pepper, and salt, and fry for 10-15 minutes on low heat until the mushrooms are ready. Finely chop the parsley. Pour the soup into plates, add fried porcini mushrooms with thyme, and sprinkle with parsley.
(2) – "However, the beneficial effects associated with the consumption of vegetable soups and creams are due not only to their nutritional properties but also to other actions such as their promotion of the body's hydration and their satiating properties."
(3) – "In conclusion, vegetable soups can be considered a suitable source of vegetables and nutrients which can be easily reformulated to fulfill nutrient requirements for specific population groups or with regards to health benefits, without misleading their gastronomic value. This nutritional value depends on the vegetables used for their production, most of which are recognized sources of dietary fiber and bioactive compounds (mainly polyphenols) with antioxidant and healthy properties. Research and innovation efforts have been applied to improve their processing in view that most of these beneficial compounds could be retained in the final product, and also to offer foods that meet the necessities of today's society: trust in the traditional, the power of plants, the time is crucial (convenience foods), zero residue, and wellbeing."
(1,2,3) – Vegetable Soups and Creams: Raw Materials, Processing, Health Benefits, and Innovation Trends. Juana Fernández-López, Carmen Botella-Martínez, Casilda Navarro-Rodríguez de Vera, María Estrella Sayas-Barberá,1 Manuel Viuda-Martos, Elena Sánchez-Zapata, and José Angel Pérez-Álvarez.