Shrimp dishes are always a great idea! If you need to cook something special, if guests are on the doorstep, but there is no time. Light soups, salads, and snacks with this seafood are ideal for dinner and are useful for the whole family. Of course, it is important to have proven recipes. Recipes for quick dishes with shrimp.
#1. Broccoli with shrimp
. Recipes for quick dishes with shrimp.
The dish turns out to be nutritious and at the same time light. Parmesan adds zest and a special flavor.
First, put the kettle on and boil some water – so you will cook pasta very quickly! Secondly, turn on the oven to maximum – let it warm up while you cook pasta! Well, parmesan adds flavor and zest! The dish is nutritious and not heavy – a great dinner came out in 30 minutes).
Ingredients for 2 servings:
pasta 10.58oz
fresh broccoli 7.0oz
cream 1/2 cup
parmesan 3 tablespoons
nutmeg to taste
salt to taste
Instruction:
Cooking time 30 minutes
Boil the pasta until half cooked in boiling salted water for 5 minutes. Shrimp and broccoli need to be thawed in advance. Shrimp and broccoli need to be thawed in advance. Or – if they are frozen, throw them into a pan with pasta and cook for a few minutes as well!
Add nutmeg, salt, and pepper to the cream. Put the pasta in a baking dish, greased with oil. Spread the shrimp and broccoli inflorescences on top, pour all the cream, and sprinkle everything with grated Parmesan on top. Bake for 20 minutes at 392F. Enjoy your meal!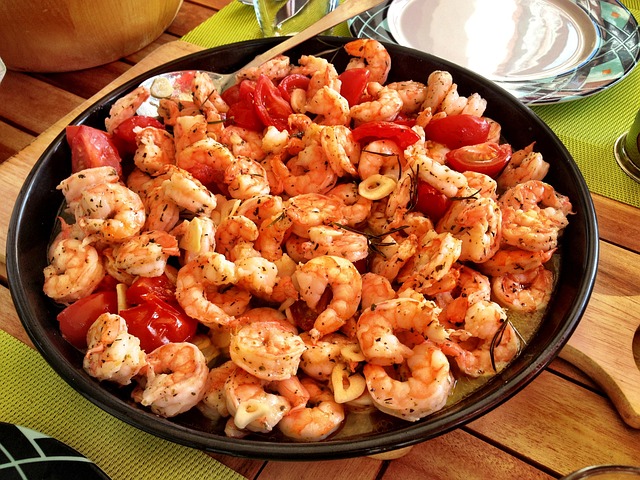 #2. Creamy shrimp baked in zucchini
A light and delicious snack for shrimp lovers will be especially relevant in the season of fresh zucchini and tomatoes.
Ingredients for 1 serving:
zucchini 3 pcs.
tomatoes 3 pcs.
cream cheese 3 tablespoons
cream 5 tablespoons
olive oil 2 tablespoons l
thyme to taste
frozen shrimp 7.0 oz
red onion 1 pc.
Instruction:
Cooking time 35 minutes
Wash the zucchini, cut it in half lengthwise. Remove the pulp. Chop the zucchini halves with a fork, and sprinkle with salt and pepper. Make cross-shaped incisions on tomatoes, pour boiling water over them, peel them, and cut them into cubes. Cut the onion into 2 parts, cut each part into 2 more parts, and cut into thin strips.
Fry the onion in olive oil for 5 minutes, add the finely chopped zucchini pulp, and cook, stirring for another 5 minutes. Add tomatoes. Put cream cheese and cream in the filling, and bring to a boil. Remove from heat, add shrimp, salt, and pepper, and sprinkle with thyme.
Stuff the resulting mixture with zucchini boats. Place them in a greased form and bake in a preheated 392F oven for 10-15 minutes. Serve hot, and eat with pleasure!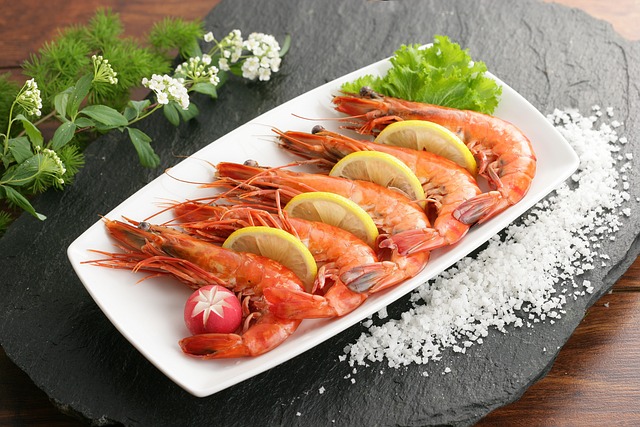 #3. Vegetable salad with shrimp and quinoa
. Recipes for quick dishes with shrimp.
If you are looking for a new dish for a light dinner, pay attention to the salad with shrimp, quinoa, vegetables, and fragrant dressing. It will turn out to be moderately satisfying and very tasty.
Ingredients for 2 servings:
shrimps peeled 10.58oz
garlic 1 clove
thyme fresh 3 sprigs
of quinoa 3 tablespoons
cucumbers fresh 1 pc.
cherry tomatoes 5 pcs.
avocado ½ pcs.
For dressing:
olive oil 2 tablespoons
soy sauce 2 teaspoons
honey 1 teaspoon
lemon juice 2 teaspoons
rice vinegar 1 teaspoon
Instruction:
Cooking time 30 minutes
Fry the shrimp in olive oil with garlic and thyme. Rinse the quinoa and boil according to the instructions on the package. Rinse and dry the greens and vegetables. Put the greens, chopped vegetables, quinoa, and shrimp on a plate. Mix the ingredients for the sauce and season the salad.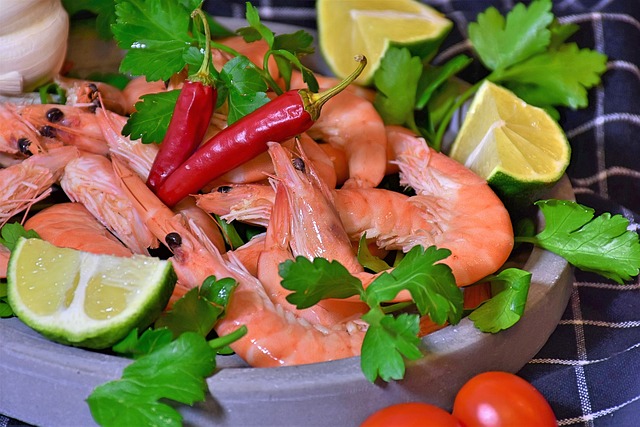 #4. Shrimp in wine sauce with nuts and basil
A very simple and delicious salad with literally four main ingredients. The rest of the work is done by the gas station, thanks to it, a light dinner will acquire bright spicy accents.
Ingredients for 2 servings:
shrimp 17.64oz
shallots 2 pcs.
pine nuts 3 tablespoons
raisins 2 tablespoons
fresh basil 1 bunch
garlic 2 cloves
white wine 4 tablespoons
olive oil 1 tbsp
ground black pepper to taste
sea salt to taste
Instruction:
Cooking time 25 minutes
Soak the raisins in white wine. Dry the nuts in a preheated frying pan. Peel the shallots and cut them into 4 pieces. Peel the garlic. Heat the olive oil in a frying pan, put the onion, garlic, and shrimp, and fry everything lightly. Pour in the wine with raisins, stir, and fry until the shrimp is ready. Tear the basil leaves with your hands. Sprinkle the finished shrimp with basil, salt, and pepper, mix, and sprinkle with nuts.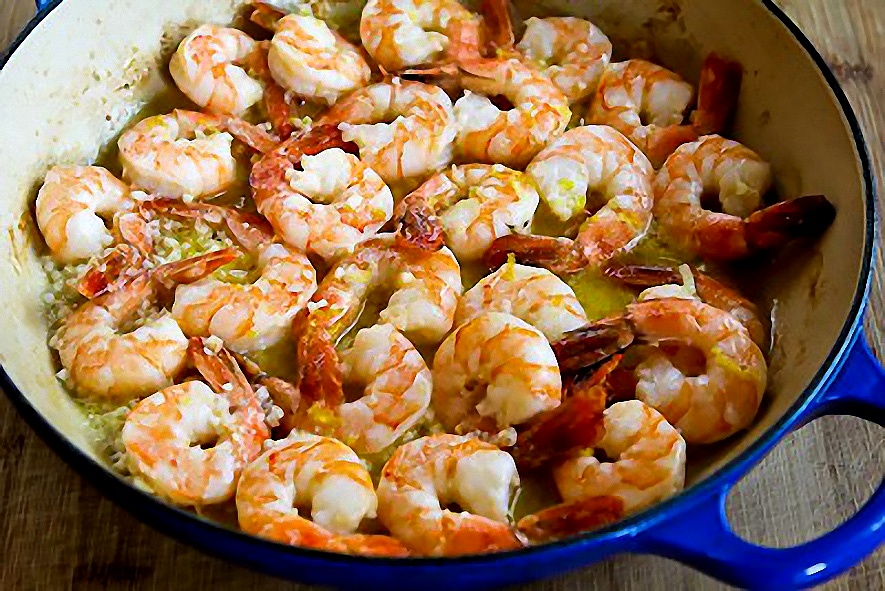 #5. Shrimp with ginger and honey under the grill
. Recipes for quick dishes with shrimp.
In order not to burn the skewers, they must first be soaked in water. Instead of honey, you can use maple syrup or sugar.
Ingredients for 3 servings:
For the marinade:
ginger root 1 teaspoon
chili pepper 1/4 pc.
garlic 1 clove
olive oil 2 tbsp
liquid honey 1 tsp
freshly ground black pepper to taste
sea salt to taste
Main course:
frozen shrimp 17.64oz
sesame seeds 1 tablespoon
Instruction:
Cooking time 25 minutes
Pre-defrost the shrimp. Peel the ginger root and grate it on a fine grater (you should get 1 teaspoon). Chop the chili pepper finely. Peel the garlic.
Prepare the marinade: garlic and ginger, salt and pepper grind in a mortar into a homogeneous mass, then combine with olive oil, honey, and chili.
Put the shrimp in the marinade and mix everything together. String the shrimp on skewers, place them in a deep baking tray at some distance from each other, and sprinkle with sesame seeds. Send the shrimp under the grill and bake until cooked.