In principle, in order to achieve a certain goal (improving concentration, attention, and memory), it is not necessary to radically change your diet. But you can slightly adjust the diet, depending on your goals and desires. Balanced menu for people with a high mental workload at work.
Breakfast
. Balanced menu for people with a high mental workload at work.
The nutritional value of a healthy breakfast is the richness of food for minerals, healthy fats, protein, and the right carbohydrates. All of them are components of the energy balance.
Protein provides us with energy, stimulating the production of the right hormones that are responsible for a good mood. Fats stabilize blood sugar. And the right carbohydrates give cells the fuel to function. The solution to many problems is a quick and healthy breakfast.
Porridge and whole grain bread are healthy not only as a means of improving metabolism but also as an excellent stimulant for blood circulation and improving brain activity.
#1.Mashed potato patties with filling
The cooled mass of mashed potatoes is used to prepare potato chips. Any filling is suitable for filling: a mixture of cheese and spinach, slices of cheese and ham, minced meat, or assorted vegetables.
Fried potato patties can also be carefully placed in a baking dish, sprinkle with cheese and bake for 10 minutes.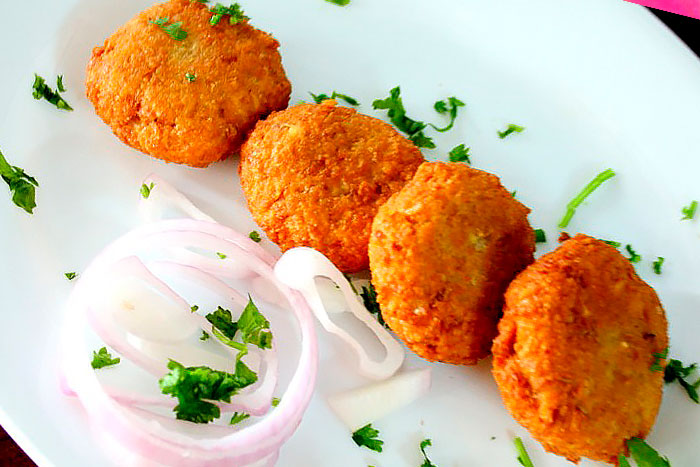 Ingredients for 2 servings:
Mashed potatoes 10.58oz
Chicken eggs 2 pcs.
Wheat flour 3 tablespoons
Salt to taste
For the filling:
Champignons 5.29oz
Onion 1 pc.
Dill 4 sprigs
Instruction:
Cooking time 35 minutes
Break chicken eggs into mashed potatoes, add flour, and salt, and knead a thick dough. The mass should keep its shape well.
Chop the onion and fry in vegetable oil until transparent. Enter the chopped mushrooms and simmer until the liquid has completely evaporated. Mix the filling with dill.
With a spoon, form small tortillas from the potato base.
Put 2 teaspoons of mushroom filling on each tortilla. Carefully shape the meatballs and fry them in hot oil until golden brown.
Breakfast should be not only made from natural products but also hearty.
#2. Omelet with broccoli and spinach
Why do we need the nutritional value of breakfast? The body needs not only fuel but also vitamins and minerals.
Without them, a chemical chain of processes will not occur in the cell, when it is necessary to produce energy from the incoming glucose. B vitamins, magnesium, zinc, iron, chromium, selenium, and other substances are extremely important here.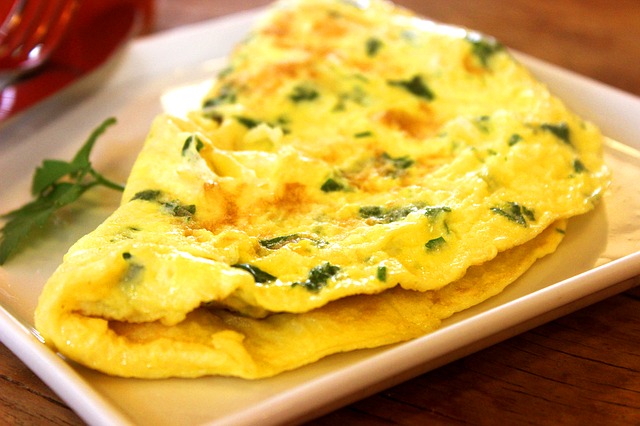 Ingredients 2 servings:
Eggs (preferably organic) 4 pcs
Broccoli bouquets (fresh or frozen) 3.53oz
Large red onion 1 piece
Spinach (about 4 large handfuls) 3.53oz
Curry seasonings 1/2 teaspoon
Fish sauce (instead of salt) 1 teaspoon
Coconut oil for frying
Instruction:
Cooking time 10 minutes
Fry the spinach and broccoli with spices and onions in a frying pan in oil until the spinach is boiled to half the size (about 3 minutes). Beat the eggs with a fork with fish sauce and pour them over the vegetables. Cover with a lid and fry over medium heat until tender (about 3 minutes). You can serve it with tomatoes.
#3. Salad with sprouts and chickpeas
I suggest cooking this salad with sprouts and chickpeas. In addition to the benefits and taste, there are a minimum of ingredients in it so as not to overload you with work.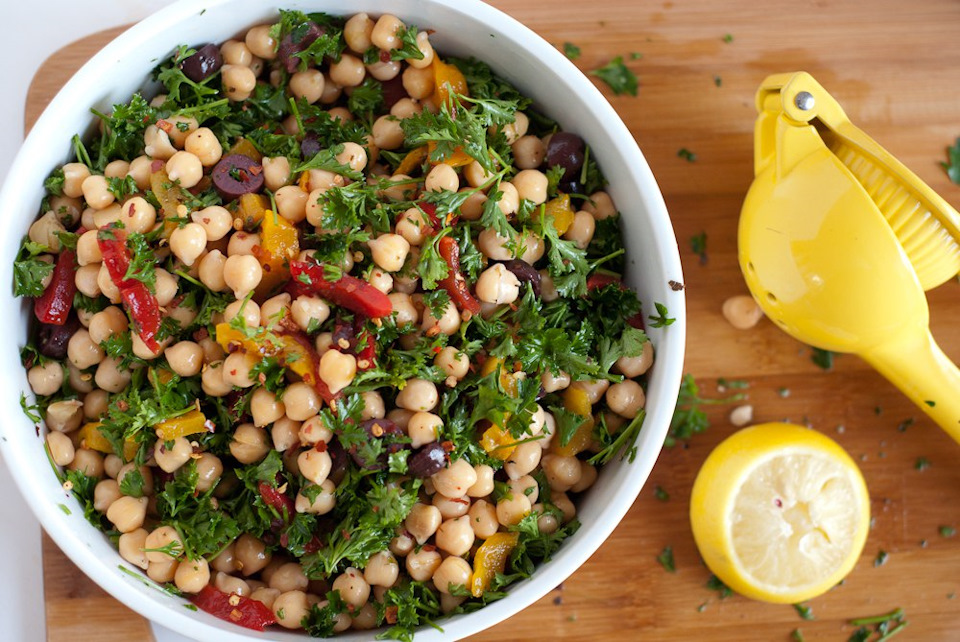 Ingredients for 2 servings:
Any seedlings 3.53oz
Ready-made chickpeas (freshly brewed or from a jar – 1 jar) 10.58oz
Tomatoes (or 2 large tomatoes) 8.82oz
Arugula (or other green salad) 3.53oz
Green onions 4 sprigs
Parsley 1 bunch
Flax seeds 2 tablespoons
Olive oil 3 tablespoons
Juice of 1⁄2 lemon
Salt and pepper to taste
Instruction:
Cooking time 10 minutes
How to make a salad with sprouts:
Tomatoes, onions, parsley (directly with stems) cut.
Mix with boiled chickpeas (if you take a jar, then drain the water from it and rinse under running water in a sieve).
Add the sprouts and arugula, and season with oil, lemon juice, salt, and pepper. Sprinkle seeds on top. Enjoy your meal!
#4. Spicy coconut milk with rose syrup
A warming drink made of coconut milk, spices, and rose syrup.
Ingredients:
Coconut milk 1 cup
Rose syrup 1 tablespoon
Maple syrup 1 tablespoon
Salt 1/4 teaspoon
Spice mixture:
Ground cinnamon ¼ teaspoon
Ground cardamom 1/4 teaspoon
Ground ginger to taste
Ground allspice to taste
Ground cloves 1/4 teaspoon
Ground nutmeg 1/6 teaspoon
Instruction:
Cooking time 10 minutes
Mix all the spices except salt.
Heat the coconut milk over medium heat until it starts to boil. Add a teaspoon of the spice mixture, and mix. Add the rose syrup, maple syrup, and salt and mix well. Serve the drink warm.
Lunch
. Balanced menu for people with a high mental workload at work.
Mashed soup: pumpkin, shrimp
There will be an unexpected combination. But the resulting taste is worth a lot!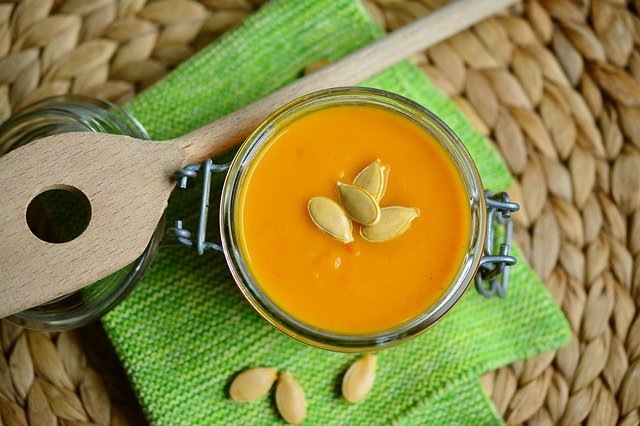 Ingredients for 4 servings:
Pumpkin 24.6oz
Shrimps peeled raw large 16 pcs.
Coconut milk 2 cups
Coconut oil (for frying)
Ginger fresh root 1 teaspoon
Curry powder 1/2 teaspoon
You can add cumin, coriander, and nutmeg to taste
Cilantro leaves for serving the dish
Bulbs  2 large.
Garlic cloves 3 pcs
Freshly ground black pepper to taste
Instruction:
Cooking time 30 minutes
Cut the pumpkin into cubes, and put it on a baking sheet. Pieces can be sprinkled with coconut oil (melt the oil in a water bath). Bake for 25 minutes (until soft). Finely chop ginger and garlic (or three on a grater). Cut the onion into pieces.
We put a saucepan with a thick bottom on moderate heat, putting coconut oil in it. When heated, fry the onion in oil until soft. Add half of the garlic and ginger mixture and pass for another 2 minutes. Add curry, and stir. Pour 4 cups of cold water and bring to a boil. Add the already-baked pumpkin and cook for 7 minutes.
At this time, heat the coconut oil in a frying pan and add the shrimp, as well as the remaining mixture of garlic and ginger. Salt, pepper, and fry a little on both sides.
When the soup is ready, beat it with a blender until smooth, pour coconut milk into it, and bring it to a boil. We serve the soup with shrimp and finely chopped coriander.
Beef meatballs with parsley and oregano
Beef meatballs in thick tomato sauce. The dish itself will turn out to be satisfying, so the side dish should be light and not burdensome for the stomach. Salad of tender spinach, spicy arugula, and bright radicchio.
It is also organically combined with beef. In addition, it helps the body to absorb all the nutrients correctly.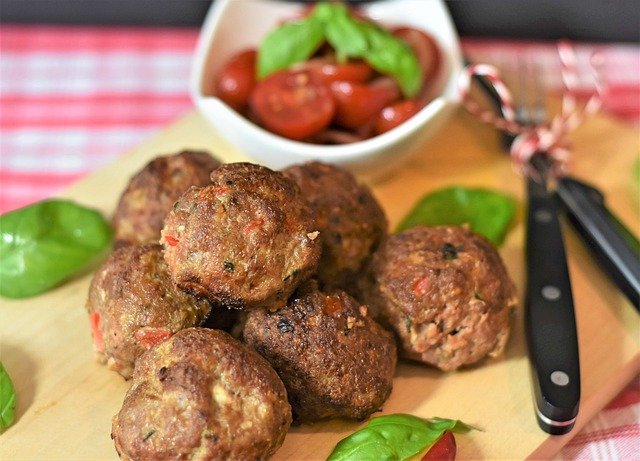 Ingredients for 4 servings:
For meatballs:
Ground beef 34.9oz
Parsley 1/2 bunch
Dried oregano 1 teaspoon
Ground red pepper ¼ teaspoon
Salt, and black pepper to taste
Vegetable oil 1/2 tablespoon
For filling:
Tomatoes in their own juice 10.58oz
Onion 1 pc.
Garlic 2 cloves
Tomato paste 2 tablespoons
Vegetable oil 1 tablespoon
Salt, and black pepper to taste
Instruction:
Cooking time 50 minutes
Let's start with a tomato filling. Cut the onion into small cubes and fry in oil until transparent. Then add the mashed tomatoes and tomato paste, and season everything with salt and spices. Simmer the sauce over low heat, stirring occasionally with a spatula, until it thickens properly.
Mix ground beef with finely chopped parsley and dried oregano, salt, and pepper to taste. We make neat small meatballs. Grease a deep baking dish with oil spread the meatballs, and pour in tomato sauce.
Cover the mold with foil and put it in the oven at 392F for 25 minutes, then remove the foil and bake for another 10-15 minutes. Serve the fragrant meatballs hot, sprinkled with sauce, and topped with a fresh salad mix. If desired, you can decorate the dish with cherry tomatoes.
Yellow rice with pine nuts and golden raisins. Balanced menu for people with a high mental workload at work.
Prepare this light and flavorful dish! This is a great side dish for your main dish or a ready-made light lunch.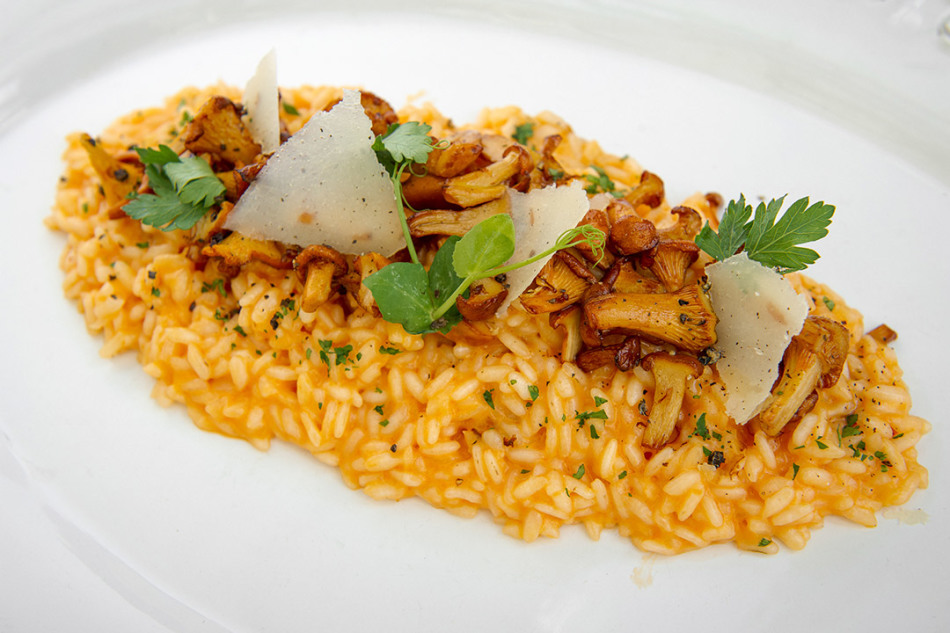 Ingredients for 2 servings:
Vegetable oil 1 tablespoon
Medium yellow onion, peeled and diced 1 pc
Jasmine rice 1 cup
Turmeric 1/2 teaspoon
Salt 1/2 teaspoon
Lightly salted vegetable broth or water 2 cups
1/2 cup golden raisins
Pine nuts 1/4 cup
Chopped parsley 3 tablespoons
Instruction:
Preheat the oven to 356F. Place the pine nuts on a baking sheet and cook until lightly browned about 5 minutes. Remember that pine nuts burn quickly. Set aside.
Heat the vegetable oil in a medium saucepan over medium heat. Add the chopped onion and rice. Cook, stirring frequently to prevent burning, for 5 minutes, until the onion becomes soft and the rice begins to take on color.
Add turmeric and salt and stir until the rice turns golden yellow. Add golden raisins and vegetable broth and cook until boiling. Reduce the heat to medium-low, cover with a tight-fitting lid, and cook for 15 minutes or until the rice is tender. If necessary, you can add more liquid, 3 tablespoons at a time.
Add the nuts and chopped parsley. You can serve it to the table!
You can take white rice, but you may need to increase the amount of liquid by 1/2 cup, as well as the cooking time by five minutes.
Iced tea with lemon and hibiscus
Refreshing tea drink!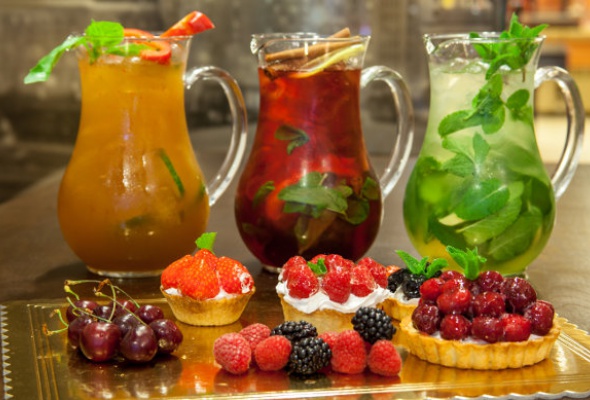 Ingredients for 3 servings:
Water 3 cups
Black tea 3 bags
Karkade tea 3 sachets
Agave syrup 2 tablespoons
Thinly sliced 1 lemon
Fresh mint 2 tablespoons
Edible flowers 3.53oz
Instruction:
Cooking time 10 minutes
Boil water in a saucepan. Add the tea bags and let them brew for 5 minutes. When the tea is ready, it will acquire a deep ruby-red color. Remove the tea bags and stir in the agave syrup.
Let the tea cool in the refrigerator. Just before serving, add ice and lemon slices and garnish with fresh mint and edible flowers.
Snack
. Balanced menu for people with a high mental workload at work.
Coconut milk with fruit
The combination of coconut milk, coconut chips, chia seeds, raisins, walnuts, apples, and pear makes it incredibly delicious! We also add cinnamon, which reduces the glycemic index. Coconut milk adds a special tenderness and piquancy to the dish.
Ingredients for 2 servings:
Apple 1 piece
Pear 1 piece
Coconut milk 1 cup
Raisins 2 tablespoons
Walnuts 2 tablespoons
Coconut chips 3 tablespoons
Chia seeds 1 tablespoon
Instruction:
Cooking time 40 minutes
Slice an apple and a pear, and put them in a cup along with all the other ingredients (except chia).
Then pour 1/2 coconut milk and put it in the oven for 30 minutes at a temperature of 356F. While cooking, you can listen to your favorite music or do things that are pleasant for you.
After the snack is ready, pour the remaining coconut milk into it, put in the chia seeds, and close the lid. Another 5 minutes, and the magic is ready!
Vegan lemon bean pie
Lemon pie with white beans, maple syrup, and olive oil.
Ingredients:
Coconut or olive oil for greasing a frying pan 1 tablespoon
Zest and juice of 2 lemons
Canned white beans, washed and dried 14.6
Maple syrup 2 tablespoons
Olive oil 3 tablespoons
Unsweetened vegetable milk 3 tablespoons
Vanilla extract 1 tablespoon
Of almond extract ¼ teaspoon
Almond flour 3 cups
Gluten-free flour of your choice 1/2 cup
Ground flaxseed 1/4 cup
Baking powder 2 teaspoons
Salt to taste
Instruction:
Cooking time 1 hour
Preheat the oven to 356F. Grease a baking dish with butter. Put baking paper on the bottom.
In a high-speed blender, add lemon zest, lemon juice, white beans, maple syrup, olive oil, vegetable milk, vanilla, and almond extract. Mix until smooth, about 1-2 minutes.
In a large bowl, whisk the almond flour, gluten-free flour, flaxseed, baking powder, and salt. Add the wet ingredients to the dry ones and mix. Pour the dough into the prepared pie pan and flatten the top. Bake for 45 minutes, or until the cake is slightly golden on top.
Remove from the oven and let cool for 10 minutes. Turn the mold onto a plate and tap on the bottom to remove the cake. Transfer to the grill so that the pie cools completely before slicing. Enjoy your meal!
Bruschetta with pickled eggplant and cream cheese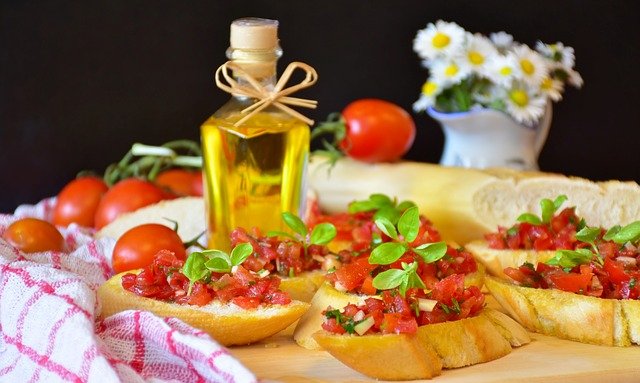 Ingredients for 2 servings:
Bread 2 slices
Eggplant 3.53oz
Cream cheese 2 tablespoons
Peeled walnuts 2 pcs.
Tomato 1 piece
Schnitt-onion 2 feathers
Vegetable oil for greasing eggplant
Marinade:
Teriyaki sauce 3.53oz
Cilantro 2 tablespoons
Fresh chili pepper 1/2 pod
Lime juice 1 teaspoon
Instruction:
Cooking time 35 minutes
We pierce the eggplant with a fork over the entire surface, rub it with vegetable oil and put it to bake in a preheated oven until ready at a temperature of 392 F for about 20 minutes. After we take it out, let it cool down and peel it. Cut into large cubes.
Prepare the marinade: chop the chili and cilantro finely, add the teriyaki sauce and lime juice, and mix. Mix the chopped eggplant with the marinade, cover it with a lid, and put it in the refrigerator for 2 hours.
Cut the tomato into cubes and mix with the chimichurri sauce. Bread on one side is fried on the grill or in a dry frying pan. Let it cool down a little. We put cheese on the fried side and spread the eggplant. Put tomatoes on top, and sprinkle with crushed nuts, and chopped chives.
Lime chips from brussels sprouts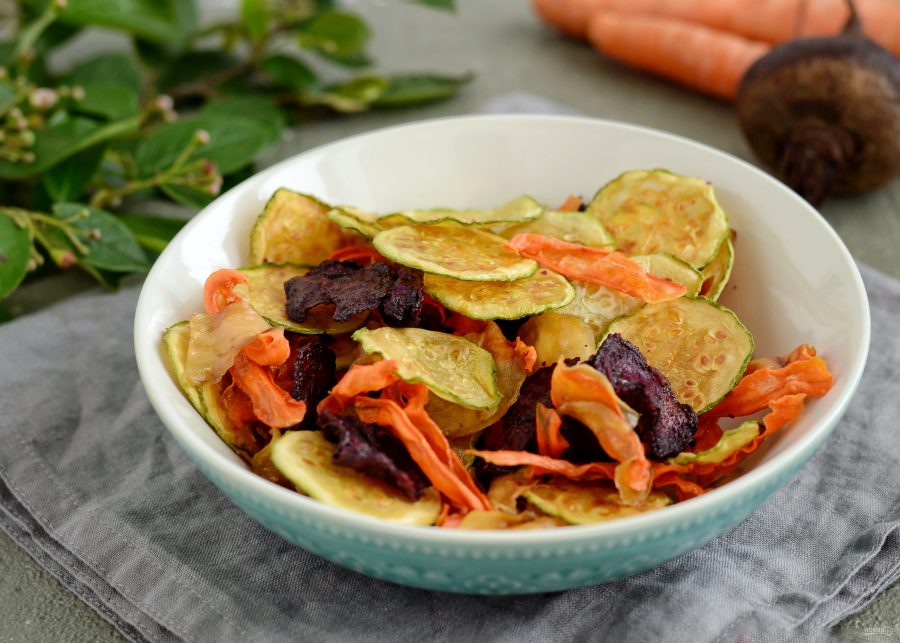 Ingredients:
Brussels sprouts disassembled into leaves 3 cups
Avocado oil or melted coconut oil 3 tablespoons
Pink Himalayan salt to taste
Instruction:
Cooking time 35 minutes
Preheat the oven to 392F. Cover the baking sheet with parchment paper.
Trim the ends of the flat stems of the brussels sprouts and separate the leaves. Eventually, you should get 2-3 cups of leaves. Put the separated leaves in a large bowl and add the lime juice.
Drizzle with oil and season with salt to taste. Stir until the leaves are evenly coated with oil. Spread the leaves in one layer on the prepared baking sheet and bake for 7-10 minutes until golden brown.
Tip: trim the stems of the brussels sprouts a little higher than usual, so the leaves will open more easily.
Dinner is healthy
. Balanced menu for people with a high mental workload at work.
#1. Couscous with baked carrots and corn
Fragrant, delicious, and satisfying!
Ingredients for 2 servings:
Couscous 5.29oz
Large carrots 1 pc.
Corn 1 cob
Avocado 1 piece
Jerusalem artichoke syrup 1 teaspoon
Spinach 3 tablespoons
Dried mint 1/4 teaspoon
Italian herbs to taste
Freshly ground black pepper to taste
Lemon juice 1/4 pc
Salt to taste
Olive oil 2 tablespoons
Instruction:
Slice the carrots on a Korean carrot grater or with a vegetable peeler, pour olive oil and Jerusalem artichoke syrup, and add Italian herbs, and salt. Bake in a preheated oven at 392F, for 17 minutes, stirring occasionally.
Pour 1 cup of hot boiled water over the couscous, add salt, cover with a lid, and leave for 3 minutes, the water should be completely absorbed, then loosen with a fork.
Boil the corn, and cut it with a knife from the sides of the grain.
Mix the couscous, carrots, and corn. Sprinkle with lemon juice and sprinkle with dried mint. Garnish with spinach.
Serve with avocado (cut the avocado, pour a little olive oil, and sprinkle with black pepper).
#2. Baked vegetables with aromatic herbs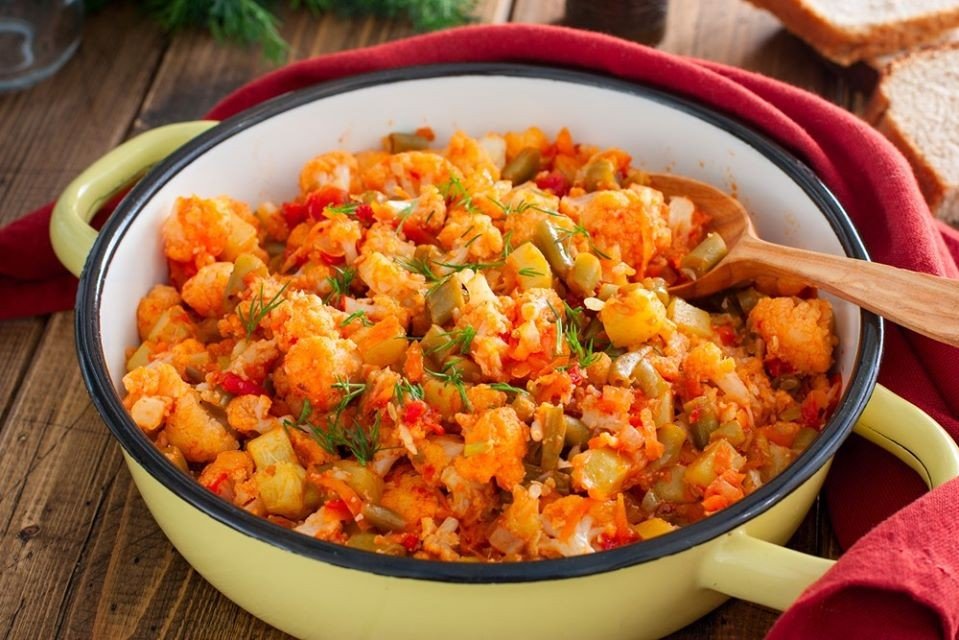 Ingredients for 4 servings:
Olive oil 2 tablespoons
Celery, sliced 2 stalks
Carrots, peeled, cut in half lengthwise, and sliced 1 pc
Fennel, cut in half lengthwise and sliced into ½ onion
Champignons, sliced 8.82oz
Chopped fresh thyme leaves 2 teaspoons
Fresh rosemary leaves 1 teaspoon
Freshly ground black pepper to taste
Freshly baked crispy whole grain bread, cut into pieces 12.3oz
Vegetable broth 2 cups
Instruction:
Cooking time 1 hour
Preheat the oven to 392F. Sprinkle the baking dish with cooking spray and set aside.
Heat the oil in a large frying pan over medium heat. Add the celery, carrots, and fennel and cook, stirring occasionally, for 5 minutes. Add the mushrooms and cook, stirring occasionally, until the vegetables are very soft, from 5 minutes.
Transfer the mixture to a large bowl and add the thyme, rosemary, and pepper. Add the bread, then add the broth and mix gently so that the ingredients are evenly moistened. Transfer to the prepared baking dish.
Cover with foil and bake until the ingredients are warmed up for 30 minutes. Remove the foil and bake until the ingredients on top are browned about 20 minutes.
#3. Orange, carrot, and mango smoothie
Smoothie of orange, carrot, mango, celery, and water.
Ingredients for 2 servings:
Orange, peeled and sliced 1 piece
Large carrots, peeled and chopped 1 pc
Celery, chopped 2 stalks
Mango chopped 3 tablespoons
Water 1 cup
Instruction:
Cooking time 10 minutes
Put the orange, carrot, celery, and mango in a blender, add water, and mix until smooth.
#4. Pineapple-lime smoothie
Sour-spicy smoothie for a charge of vivacity!
Ingredients for 2 servings:
Fresh or frozen pineapple slices 1 cup
Mint leaves 2 tablespoons
Lime juice 1 tablespoon
Grated fresh ginger 1/4 teaspoon
Low-fat vegan yogurt 5.29oz
Chia seeds 1 tablespoon
Agave syrup 2 teaspoons
Instruction:
Cooking time 10 minutes
In a blender, pure pineapple slices with mint leaves, lime juice, and ginger until the mint is finely chopped.
Add the yogurt and mix until smooth. Add chia seeds and agave syrup. Let stand for 5 minutes to thicken.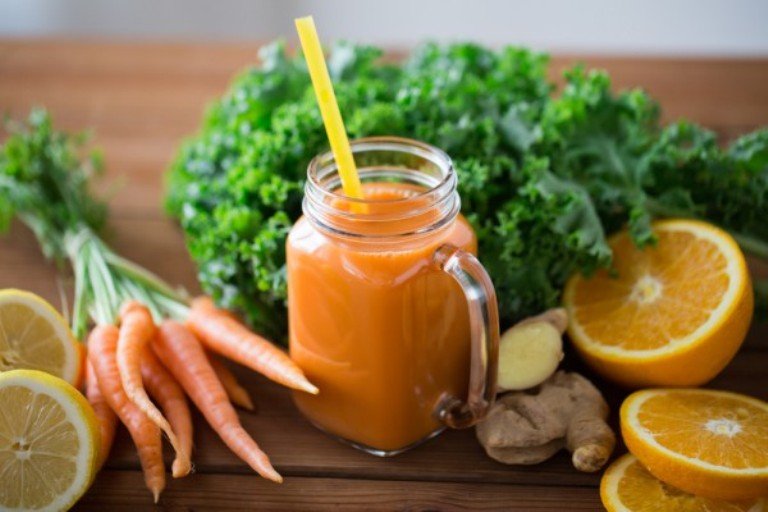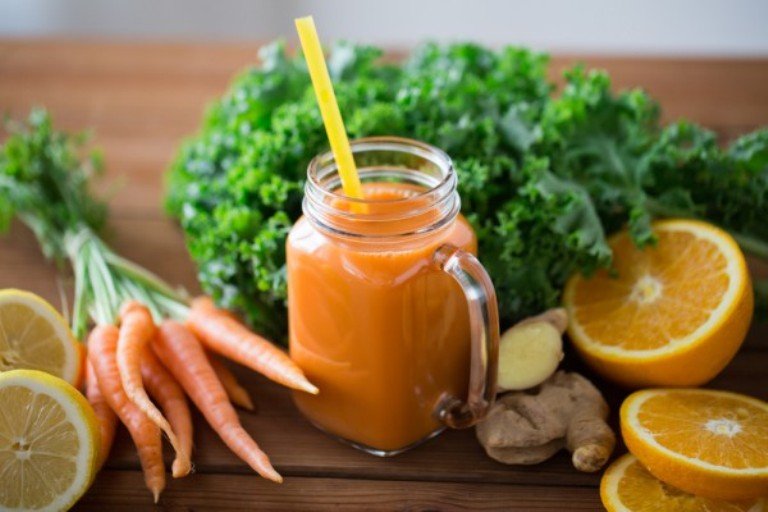 #5. Cherry smoothie with tofu. Balanced menu for people with a high mental workload at work.
Smoothies made from soy milk, soy yogurt, cherry juice, frozen cherries, oatmeal, and tofu.
Ingredients for 2 servings:
Cherry juice  1/2 cup
Unsweetened soy milk 1 cup
Cherry soy yogurt 1 piece
Solid tofu 3 tablespoons
Frozen cherries 3.53oz
Oat flakes 2 tablespoons
Ice (optional)
Instruction:
Cooking time 10 minutes
Using a blender, mix all the ingredients except tofu. If desired, add ice to the smoothie when serving.
If you know about the composition and features of the use of many products, then you can eat in such a way that it will have a very beneficial effect on the state of the brain. A proper daily menu will help perform any mental work efficiently and keep the sharpness and freshness of thinking for many years, regardless of a person's age.
(1) – "Sprouts and microgreens are novel functional food sources with great potential for sustainably diversifying global food systems, promoting human health, and facilitating the access of a steadily growing urban population to fresh microscale vegetables. These novel food sources have vivid colors, exciting textures, and diverse flavors and tastes, and they can be purchased in supermarkets or even home-grown for daily harvesting as needed. Furthermore, due to their short growth cycle, these nutrient-dense food sources can be produced with minimal input, without using pesticides; hence, they have low environmental impacts and a broad acceptance among health-conscious consumers. Furthermore, as sprouts and microgreens are usually consumed raw, there is hardly a loss or degradation of heat-sensitive micronutrients or vitamins through food processing."
(1) – Sprouts and Microgreens—Novel Food Sources for Healthy Diets. Andreas W. Ebert
Beatrice Falcinelli, Academic Editor, and Angelica Galieni, Academic Editor.