Strawberries are rightfully considered one of the most popular berries. It is very healthy due to a large number of vitamins and minerals contained in it. In addition, it is often used for weight loss. This is probably one of the most delicious ways to lose weight. What can be made from fresh strawberries?
Strawberries contain only 38 calories. It is great for those who want a delicious dessert, but at the same time protects their figure. You can use both fresh and frozen strawberries after defrosting with equal success. Jam and jelly are made from it, and used for ice cream and various desserts. It is also great for making tinctures and liqueurs, baking in any season, or for juice.
#1. Strawberry jelly
A simple, light, beautiful, delicious dessert. Strawberry jelly with gelatin is a wonderful low-calorie dessert. You can cook a delicacy at any time of the year from fresh or frozen berries. It will delight children and adults on weekdays and holidays.
Jelly is a common dessert in the diet of supporters of proper nutrition, because only berries, fruits, water, and a gelling agent are needed for its preparation.
Ingredients:
Fresh strawberries 21.6oz
Water 2 cups
Gelatin 2 teaspoons
Sugar 5 tablespoons
Cream and mint for decoration
Instruction:
Cooking time 20 minutes
Put the gelatin in a small container and add 2 tablespoons of hot water to it (according to the instructions), mix, and leave to swell.
Peel the strawberries, rinse, and dry them a little. Pour the remaining water into a ladle or saucepan, bring it to a boil, and dissolve the sugar in it. Put half of the strawberries in there and boil for a minute. Then remove from the heat, cover with a lid, and leave for 10 minutes. Then discard the berries in a colander.
Carefully enter the gelatin into the filtered broth and stir it until it completely dissolves. Strain and let cool slightly. Cut the remaining strawberries in half and spread them on the creams. Pour over the jelly, and garnish with cream and mint.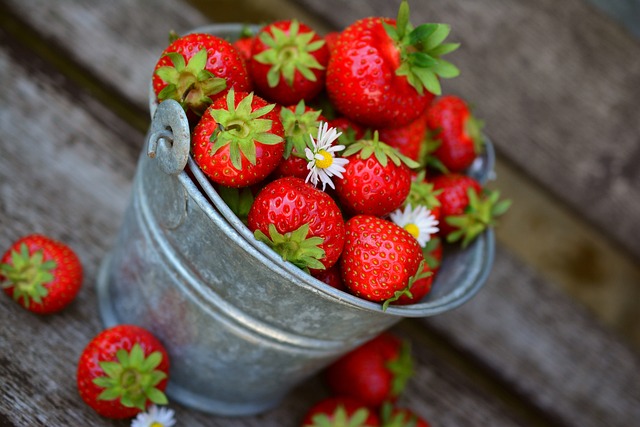 #2. Ground strawberries with sugar
. What can be made from fresh strawberries?
Fresh, fragrant, without cooking! Healthy and very tasty! Strawberries, ground with sugar, can be harvested for the winter without heat treatment. This will preserve all the vitamins and useful properties of this delicious berry. It's easier to do this than to make jam! And there is much more taste and aroma!
Ingredients:
Strawberries 4 cups
Sugar 3 cups
Instruction:
Cooking time 15 minutes
Grind the sugar into powder using a blender. Peel the strawberries and rinse well. Put it in a blender on top of powdered sugar. Whisk the contents of the blender bowl at low speed. Put the crushed strawberries in a convenient dish and send them to the refrigerator. This dessert is not suitable for long-term storage.
#3. Homemade strawberry ice cream
. What can be made from fresh strawberries?
Homemade strawberry ice cream will delight with an amazing taste and wonderful aroma. This dessert will appeal to both young and adults. Minimum effort and maximum pleasure!
Ingredients:
Fresh strawberries 14.2oz
Condensed milk 3.53oz
Freshly squeezed orange or tangerine juice 1/2 cup
Instruction:
Cooking time 2 hours
Whisk all the ingredients in a blender until smooth, put them into molds, and put them in the freezer for 2 hours. When the ice cream is frozen, put it in the creamers and serve it on the table.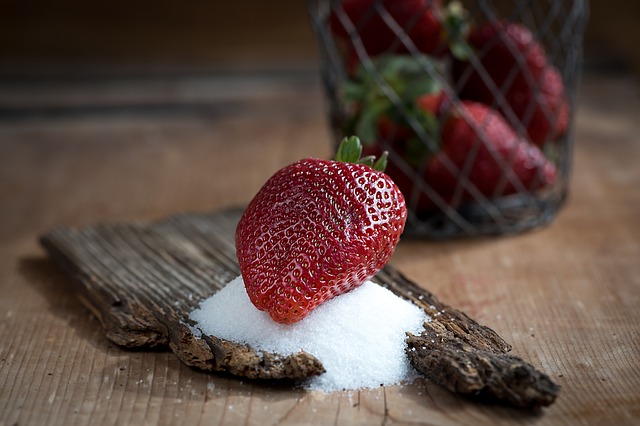 #4. Strawberry smoothie
. What can be made from fresh strawberries?
Fragrant fresh strawberries are a great base for smoothies. A delicious smoothie made of strawberries, milk is a drink that will make a wonderful breakfast or a light treat. Be sure to take note of the recipe and cook with pleasure!
Ingredients for 2 servings:
Strawberries 14.6oz
Milk 1 cup
Sugar 1 tablespoon
A few ice cubes
Mint for decoration
Instruction:
Cooking time 15 minutes
Put the strawberries, sugar, and milk in a blender and whisk until smooth. When serving, add ice to a smoothie glass and garnish the drink with mint.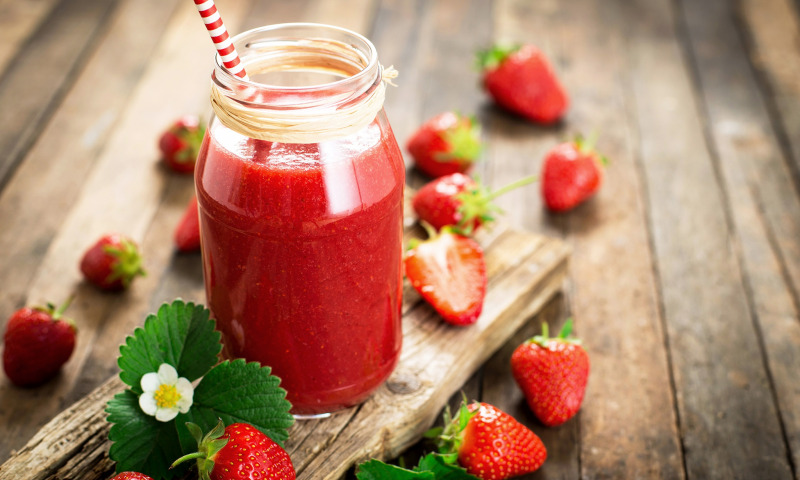 #5. Strawberry pastille
Strawberry pastille is a delicious natural sweetness made from ground strawberry fruits in pure form or with the addition of sugar or honey by drying in an electric dryer. It may well replace the purchased sweets and become a favorite treat for both children and adults.
Ingredients:
Strawberries 4 cups
Sugar 3.53oz
Instruction:
Cooking time 4 hours
Remove the strawberry "tails" and rinse them well. Then dry it a little. Using a blender, chop the strawberries into a puree and rub them through a sieve.
Pour the puree into a non-stick saucepan and add sugar to it. Put the pan on medium heat, bring to a boil, and cook for about 30 minutes until thickened.
Cover the baking sheet with baking paper, pour the strawberry-sugar mass into it, and smooth it with a spatula.
Dry the pastille in the oven with the door ajar for 4-5 hours on low heat. As a result, the pastille should be elastic, but not wet to the touch.
Strawberry treats are not ashamed to serve on the table both in a narrow family circle and in a large company of guests. Enjoy your meal!
#6. Strawberry pie
. What can be made from fresh strawberries?
I propose to cook a very delicious pie with this beautiful berry. The recipe is successful and very simple. All the products that are needed for this baking will always be found by every housewife, and cooking will not take much time. The pie comes out very tasty and soft, and on top – of a beautiful sugar crust, try it!
Ingredients:
Strawberries 14.6oz
Butter 3.53oz
Eggs 3 pieces
Flour 1 cup
Sugar 1 cup
Lemon 1/2 pcs
Soda 1/2 teaspoon
Instruction:
Cooking time 55 minutes
Peel the strawberries, rinse, and dry them a little. If desired, cut the berries in half.
Grease the mold with butter and put the strawberries there.
Beat the eggs with 2/3 of the sugar. Sift the flour twice. Gently add the egg mass to the flour, and mix well.
Melt the butter and extinguish the soda with lemon juice. Add these ingredients to the total mass and mix well again.
Pour the resulting dough into a mold with strawberries and bake in a preheated oven for 40 minutes at a temperature of 352F.
Use a mixer to make powdered sugar from the remaining sugar and sprinkle it on the cake when serving.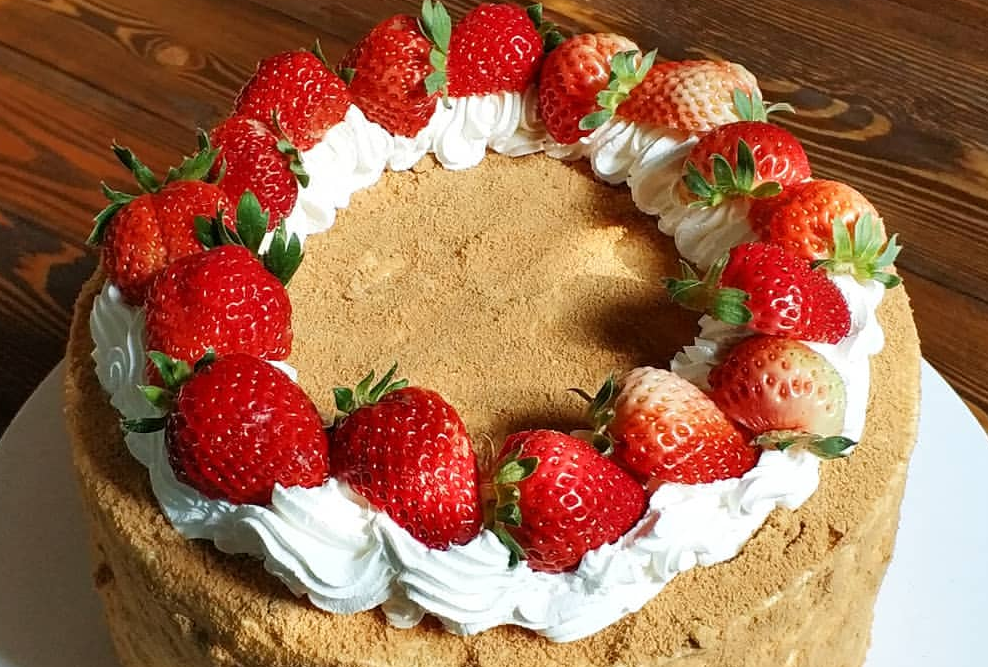 #7. Strawberry shortcake
A pie with a harmonious combination of crumbly shortbread dough, delicate sour cream filling, and fragrant strawberries. Very tasty!
For the dough:
Flour 1 cup
Chilled butter 3.53oz
Sugar 1 tablespoon
Water 2 tablespoons
Salt to taste
For the cream:
Milk 1 cup
Butter 2 tablespoons
Flour 2 tablespoons
Sugar 3.53oz
White chocolate 3 tablespoons
Eggs 3 pieces
For decoration: strawberries 10.580z
Instruction:
Cooking time 55 minutes
Cut the butter into cubes and put it in the bowl of a food processor. Add flour, salt, and sugar to the same place. Grind the ingredients for the dough, gradually adding water.
Roll out the dough of medium thickness, put it in a mold, and evenly distribute it over its entire area, including the walls of the mold. Prick the surface of the dough with a fork and send it to the refrigerator for 30 minutes.
Bring the milk to a boil and leave it to cool. Beat the eggs with sugar and gradually pour them into the flour, stirring continuously. Then slowly, without ceasing to stir, pour hot milk into the resulting mixture.
When the mass becomes homogeneous, put the cream on medium heat and cook with stirring until boiling begins.
Cut the butter for the cream into several portions and gradually add to the finished cream. Mix well. Grate the chocolate on a fine grater and add it to the cream. Stir until smooth.
Remove the dough form from the refrigerator and bake the cake in the oven for 15 minutes at a temperature of 356F. Then cool the mold, remove the cake, and put it on the dish you will serve on the table. Pour the cream inside the cake and spread it over the entire surface.  Place whole or halved strawberries on top.
As you can see, cooking healthy strawberry desserts is really quick and easy!