Try to make the right menu yourself. Feel free to include in your diet what you love, remember only about moderate amounts of food in portions. To do this, you can use examples of ready-made menus. Vitamin and balanced recipes for dishes with active mental activity.
To make a proper diet, you need to take into account all your features. There is no universal menu, as there are no identical people.
Food for active mental activity
Foods rich in antioxidants are extremely beneficial for the brain. These are all fruits, berries, greens, and most vegetables.
Breakfast food should not be heavy, or oversaturated with fats. It can be fish, boiled egg or omelet, cutlet, cottage cheese, or porridge. And necessarily — some vegetables or fruits. You can supplement the menu with tea, cocoa with milk, or juice.
Lunch should contain protein-rich foods. Meat, poultry, or fish contribute to filling the blood with amino acids that stimulate brain activity.
At dinner, on the contrary, you do not need to eat foods with a high protein content. Instead, carbohydrates are good and act most favorably just before bedtime.
Strawberries, strawberries, and blueberries improve coordination, concentration, and short-term memory.
Berries (cranberries, blueberries, grapes), vegetables (cabbage and beets), and fish (salmon, tuna, sardines, and fatty herring) are very useful for the development of intelligence.
Chocolate increases intellectual activity. The consumption of chocolate contributes to the production of serotonin in the body — a neurotransmitter and biologically active substance, the lack of which can lead to a decrease in mood and even depression.
Chocolate also contains the stimulant theobromine, which dramatically improves mood. Bitter chocolate varieties activate the brain and have a positive effect on the cardiovascular system. Varieties with a high cocoa content (above 70%) have a particularly beneficial effect on the work of the brain.
The benefits of nuts are undeniable. All nuts have a unique balance of vitamins and trace elements. They are rich in complex proteins necessary for all tissues. Nuts are a source of vegetable proteins, carbohydrates, dietary fiber, and fat with a high content of polyunsaturated fatty acids, vitamin E, B vitamins, potassium, magnesium, calcium, phosphorus, iron, manganese, copper, and other healthy and necessary substances for the body.
The nutritional value of nuts is provided by a favorable combination of proteins and fats in them; nut protein contains many essential amino acids. Due to the presence of oleic acid, polyunsaturated fatty acids, and other substances, nuts are healthy for brain function.
#1.Salad with shrimp, avocado, and grapefruit
. Vitamin and balanced recipes for dishes with active mental activity.
Avocado will balance the combination of salted shrimp and tart grapefruit. A light but hearty salad will perfectly cope with the role of a protein dinner or a nutritious snack. Thanks to its neutral taste, avocado has turned into a unique ingredient. The fruit will perfectly complement both sweet and unsweetened dishes.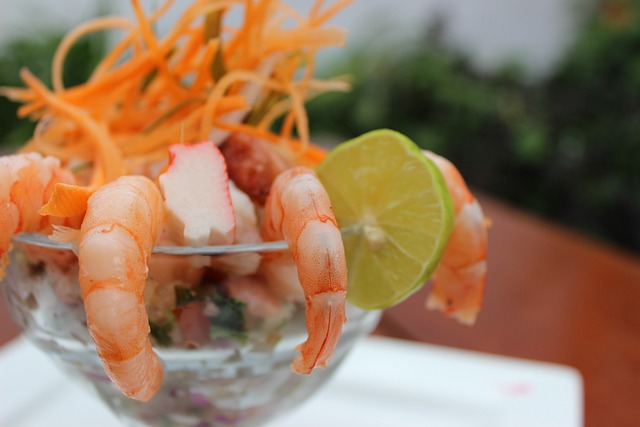 Ingredients for 2 servings:
Shrimp 5.29oz
Salad mix 3.53oz
Avocado 1 pc.
Grapefruit 1/2 pcs.
Butter 1 tablespoon
Garlic 1 clove
For refueling:
Olive oil 2 tablespoons
Wine vinegar 1 tablespoon
Salt to taste
Pepper to taste
Instructions:
Cooking time 20 minutes
Prepare the shrimp: defrost and peel.
Heat the butter in a frying pan, add garlic to it, and crushed it with the wide part of the knife blade. Simmer until the clove is browned, and then remove.
Fry the shrimp in fragrant oil. Lightly season the seafood with salt and pepper during cooking.
Cut the avocado in half, remove the stone and cut it arbitrarily.
Free the grapefruit from the peel, seeds, and films.
In a clean bowl, put the washed greens, peeled grapefruit, toasted shrimp, and avocado.
Season with a mixture of olive oil and wine vinegar. If desired, add more spices and serve.
#2.Vitamin salad
. Vitamin and balanced recipes for dishes with active mental activity.
Avocados contain a lot of useful substances. It contains B vitamins, which are essential for the functioning of the brain and the entire nervous system. There are also a lot of macronutrients in this fruit — potassium and magnesium. And avocado has vitamin E, which makes the skin supple and beautiful. Beauty should be not only on the face but also on the plate. Therefore, we will prepare an exquisite salad with smoked chicken, avocado, and mango.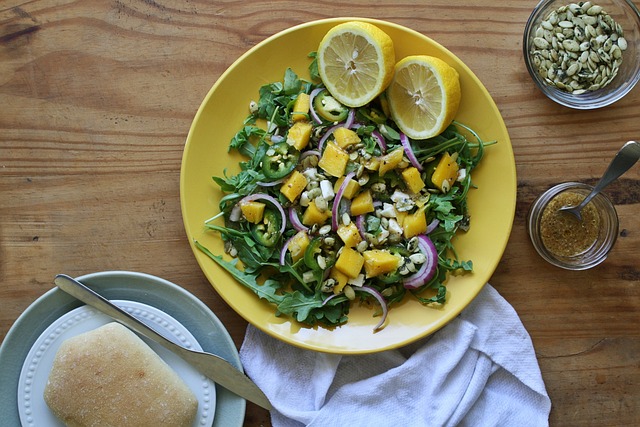 Ingredients for 2 servings:
Smoked chicken fillet 7.0oz
Avocado 1 pc.
Mango 1/2 pcs.
Arugula 1/2 bunch
Pine nuts 1 tablespoon
Refill:
Grainy mustard 1 tablespoon
Liquid honey 1 tablespoon
Olive oil 3 tablespoons
Salt and black pepper to taste
Instructions:
Cooking time 30 minutes
The pulp of avocado and mango is cut into thin wide slices. Smoked chicken fillet cut into large pieces. Gently tear the leaves of the arugula with our hands. Beautifully spread avocado, chicken, and mango on a plate, sprinkle with toasted pine nuts, and decorate with arugula leaves. Season the salad with salt and pepper, and pour a dressing of grainy mustard, lemon juice, and olive oil.
#3. Rice pudding with mango
This pudding is a godsend for those who watch their figure and mood. Mango is combined with orange juice and dates, turning into a fragrant puree.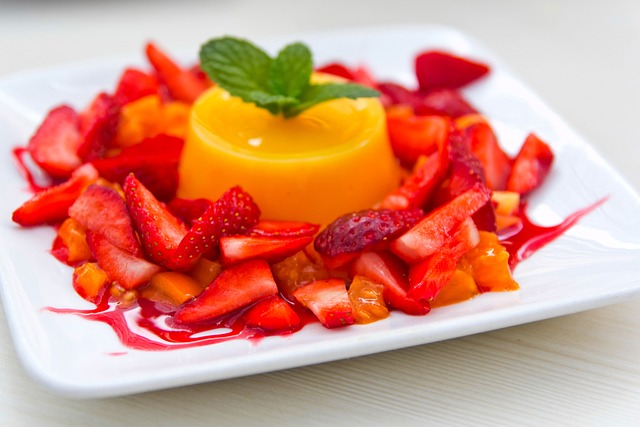 Ingredients for 2 servings:
Rice 1/2 cup
Coconut milk (soy, oatmeal, almond) 13.53 fl oz
Water 1/2 cup
Mango (can be frozen) 10.58oz
Date 4 pieces
Orange juice 3 tablespoons
Lemon juice 1/4 tablespoon
Instructions:
Cooking time 20 minutes
Boil rice in coconut milk and water over low heat. You can use lightweight coconut milk.  Mix mango, dates(pitted), orange, and lemon juice. Scroll in the blender. We cool the rice a little and arrange it into shapes. Pour the mango sauce on top and put it in the refrigerator to cool completely. Delicious, healthy, easy, and nutritious.
#4.Healthy pizza in a frying pan
. Vitamin and balanced recipes for dishes with active mental activity.
A great alternative to regular pizza. Fast, delicious, bright!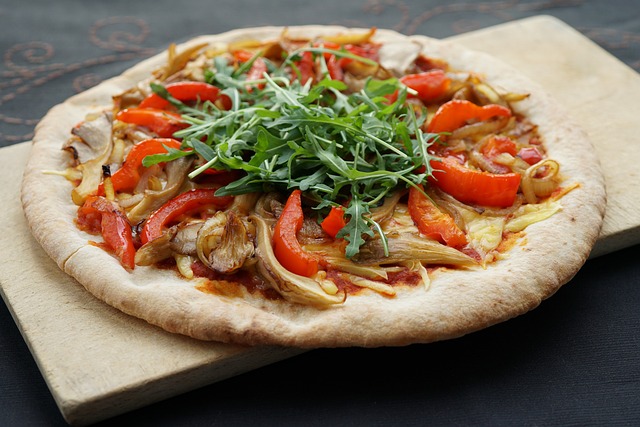 Ingredients for 3 servings:
Oat flakes 5.29oz
Kefir 1/2 cup
Chicken eggs 2 pcs
For the sauce:
Sour cream 1 tablespoon
Mashed tomatoes 1 tablespoon
For the filling:
Shrimps peeled 3.53oz
Cherry tomatoes 8 pcs
Pizza mozzarella 3.53oz
Arugula to taste
Instructions:
Cooking time 30 minutes
Mix all the ingredients for the base with an immersion blender and let it stand for 5 minutes, then pour it into a hot frying pan, and evenly distribute.
Fry on medium heat to take the bottom, then turn it over and lubricate it with sauce. We spread the filling, and cheese on top, cover with a lid and wait 5 minutes until the cheese melts.
Next, open the lid and fry for 10 minutes on the slowest fire.
#5. Baked pike perch with zucchini in the oven
Pike perch shish kebab is an extremely tasty, juicy, and healthy dish that is ideal for relaxing in the country, fishing, or picnicking with friends. A simple and easy-to-prepare dish, it is sure to appeal to all fans of healthy eating. Pike perch meat is very juicy and tender, perfectly combined with various marinades.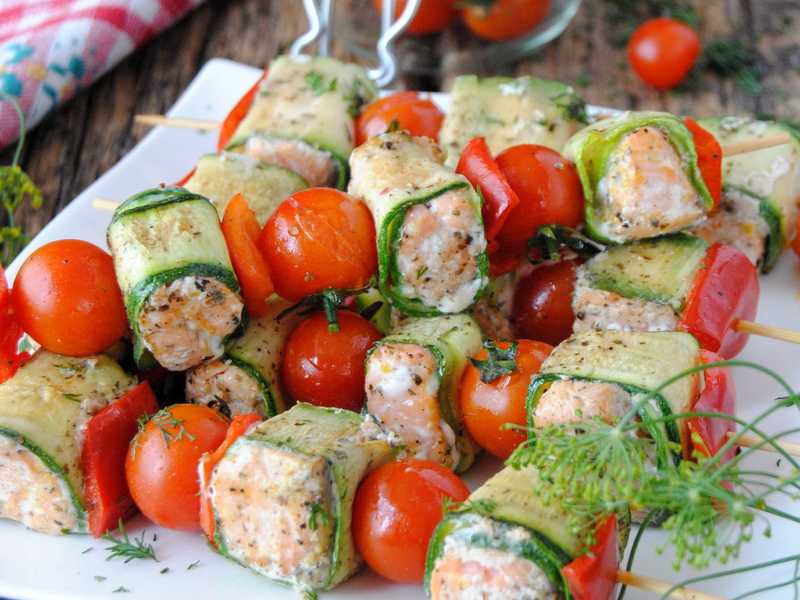 Ingredients for 2 servings:
Pike perch fillet 10.58oz
Zucchini 1 pc.
Olive oil 2 tablespoons
Lemon juice 2 tablespoons
Smoked paprika to taste
Seasoning for fish to taste
Salt to taste
Instructions:
Cooking time 40 minutes
Cut the fillet into a large cube, add salt and marinate in a mixture of spices. Cut the zucchini into long strips with a vegetable peeler. String a strip of zucchini and fish on wooden skewers with a snake.
Place the skewers on a baking sheet, pour olive oil and lemon juice, and send them to the oven for 25 minutes, preheated to 356F. Enjoy your meal!