We offer to make a delicious dinner, spending no more than half an hour on it. That's how long it will take to create a full-fledged noodle-based dish. After a hard day's work, few people will want to spend an evening near the stove. 5 delicious dishes with noodles.
Prudent housewives prepare dinner for the future, but even the most favorite dish will get bored if you eat it for several days in a row. And, of course, the taste of a freshly cooked treat does not compare with a warmed-up one.
1. Soba noodles with beef and stir-fry vegetables
Buckwheat noodles are versatile. It goes well with meat or seafood.And it perfectly complements vegetables and sets off nut dressing or sesame oil well. Since noodles in the dish are the main ingredient, its choice should be approached responsibly.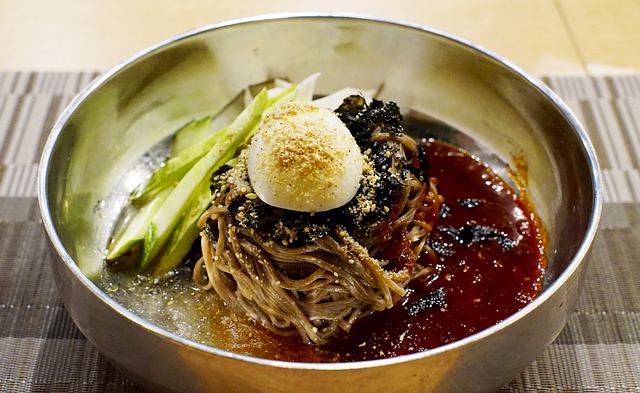 The secret of the dish is in the stir-fry technique – slicing into thin strips and quick frying in hot oil. At the same time, do not forget to constantly stir the ingredients. All vegetables must be prepared in advance, as there will be no time left for this during the cooking process. And you can save time and effort by buying a ready-made frozen mixture in the Asian style.
Ingredients:
Designed for 3 servings
Buckwheat noodles 10.58oz
Beef 12.35oz
Vegetable mixture 17.64oz
Soy sauce 1 cup
Starch 2 tsp
Olive oil 2tbsp
Black pepper to taste
Instruction:
Cooking time 40 minutes
Cut the beef into thin strips, pour 2 tablespoons of soy sauce and leave for 5-7 minutes.
In another bowl, mix the remaining soy sauce and starch.
Prepare the noodles. Cook it in boiling water for no more than 3 minutes. The product already contains salt, so you do not need to add spice to the water.
Put the noodles on a sieve and cool with ice water. So you will stop the cooking process.
Heat the pan well, pour in the olive oil and wait for it to heat up.
Fry the beef over high heat until golden brown. It is better to lay the meat in portions so that it is fried, and not stewed in its own juice.
Also fry the vegetables in portions. It is advisable to keep their crispy core.
Mix meat and vegetables in a frying pan, pour soy sauce with starch, add pepper and simmer for 1 minute.
Add the noodles, mix well and simmer the dish for another 1 minute. During this time, the soba will absorb the sauce and become even more tender and delicious.
2.Udon with chicken, vegetables and tofu in teriyaki sauce
. 5 delicious dishes with noodles.
Udon is characterized by a neutral taste and a wider shape of noodles, so it is often added to dishes with a bright broth or complex sauce. Thanks to its porous texture, the product quickly absorbs mouth-watering notes of seasonings and spices. Udon is prepared according to a traditional recipe adapted for modern cuisine.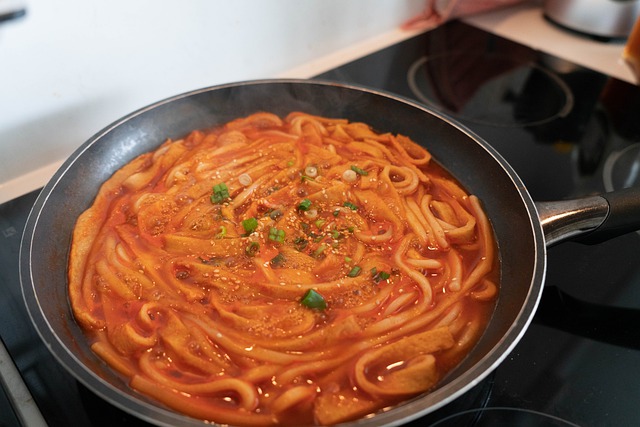 Ingredients:
Designed for 2 servings
Chicken fillet 1 pc.
Tofu 3.5oz
Carrot 1 pc.
Bulgarian pepper 1 pc.
Udon noodles 10.58oz
Teriyaki sauce 2tbsp
Soy sauce 4tbsp
Vegetable oil 1tbsp
Instruction:
Cooking time 30 minutes
Cook the noodles for 1 minute less than indicated on the package. When draining the water, save one ladle of liquid.
Flip the udon into a colander and rinse with cold water to stop the cooking process.
Cut carrots and peppers into strips, and tofu into small pieces.
Divide the chicken breast lengthwise into two parts and chop each into thin slices.
Heat the frying pan well, and then heat the vegetable oil in it.
Fry the breast, vegetables and tofu in portions over moderate heat.
Transfer all the roasting to the pan, add the noodles and the water saved after cooking the udon. Simmer on the fire until the noodles absorb all the liquid.
Add the teriyaki and soy sauce, mix well and simmer for 30 seconds.
If desired, you can decorate the dish with sesame seeds or fresh herbs.
3.Homemade noodles with chicken, oyster mushrooms and broccoli
Just one word "homemade" makes the dish more appetizing! However, cooking noodles will take all half an hour that we have.However, let's return to our dish. This recipe is quite versatile. For example, if you add more liquid during cooking, you will get a hearty and rich soup.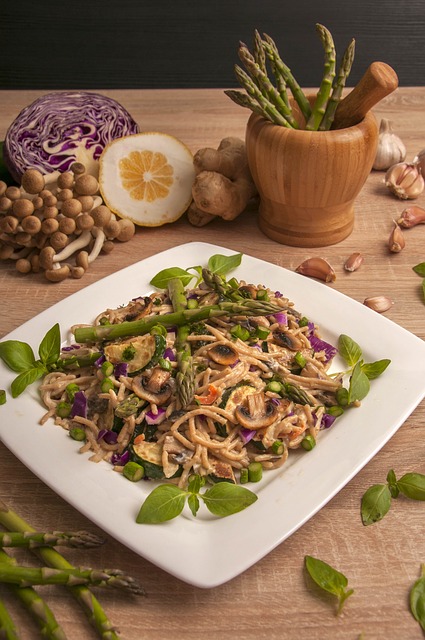 Chicken meat can be taken to your taste. Breast fillet or thigh fillet will perfectly manifest themselves in the dish. And if you didn't have oyster mushrooms at hand, then they can easily be replaced with champignons.
Ingredients:
Designed for 4 servings
Chicken fillet 17.64oz
Homemade noodles 10.58oz
Leek 1 pc.
Broccoli 8.82oz
Mushrooms 7.0oz
Soy sauce 4tbsp
Olive oil 4tbsp
Instruction:
Cooking time 35 minutes
Take the white part of the leek and cut it into thin rings.
Divide the broccoli into inflorescences, and cut the mushrooms into small pieces.
Cut the chicken fillet into small pieces.
In a deep frying pan, heat the vegetable oil and fry the chicken fillet together with the onion.
Cook the noodles following the instructions on the package. When draining the water, save a couple of ladles.
Add broccoli and mushrooms to the chicken and onion. Fry for 2-3 minutes, and then add 1 ladle of water remaining from cooking noodles. Simmer for 10 minutes.
Transfer the noodles to the pan and stir. If desired, add more liquid.
Pour in the soy sauce and simmer on the fire for a couple more minutes.
4. Soup with chicken and shrimp
. 5 delicious dishes with noodles.
The soup has a bright spicy taste with light milky notes. Let's start by choosing rice noodles.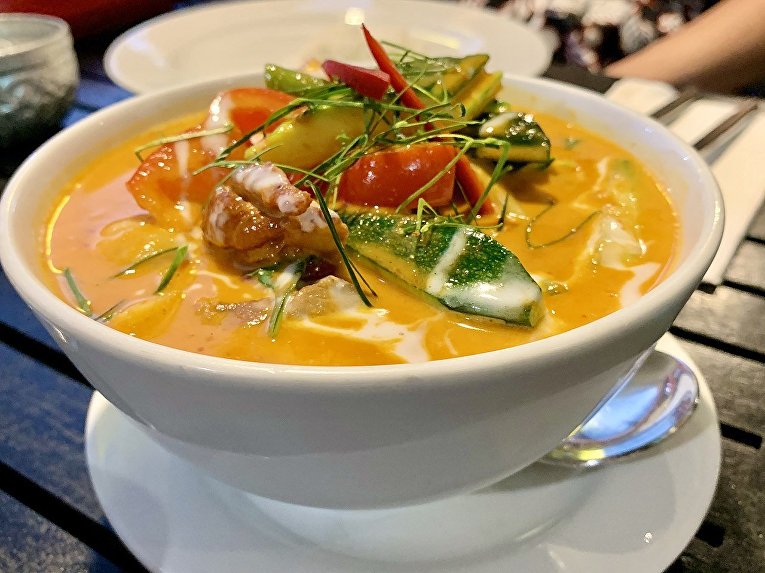 Ingredients:
Designed for 3 servings
For soup:
Shrimp 12.35oz
Chicken fillet 7.0oz
Dry fish broth 1 tsp
Garlic 2 cloves
Fresh ginger 1 teaspoon
Onion 1 pc.
Vegetable oil 1tbsp
Water 1 cup
Chili pepper 1 pc.
Coconut milk 2 cups
Curry paste 2tbsp
Rice noodles 8.82oz
Sugar 1 tsp
salt to taste
For decoration:
Mint 1 teaspoon
Basil 1 teaspoon
Instruction:
Cooking time 30 minutes
Cut onion, garlic, ginger and chili pepper into small cubes.
In a deep frying pan, heat the vegetable oil and fry the slicing until soft. Add the dry fish broth and simmer for a few more minutes on the fire.
Peel the shrimp. Transfer the shells and heads to the pan with the vegetables. Pour in the water and simmer for 15 minutes.
Cut the chicken fillet into pieces and fry in a separate pan until golden brown.
Strain the resulting broth and pour it into a saucepan.
Pour coconut milk into the broth, add curry paste, salt and sugar.
Bring the broth to a boil, add the shrimp and chicken to it. Cook for 5 minutes.
While the broth is boiling, cook the noodles, following the instructions on the package.
Transfer the noodles to the broth, turn off the heat and let it brew for 1-2 minutes.
Serve garnished with mint and basil leaves.
5.Salad with buckwheat noodles
. 5 delicious dishes with noodles.
This dish will perfectly cope with the role of a light unusual dinner. Buckwheat noodles can be prepared in less traditional ways. For example, boil in broth to add new notes to the taste, or steamed to preserve the delicate texture.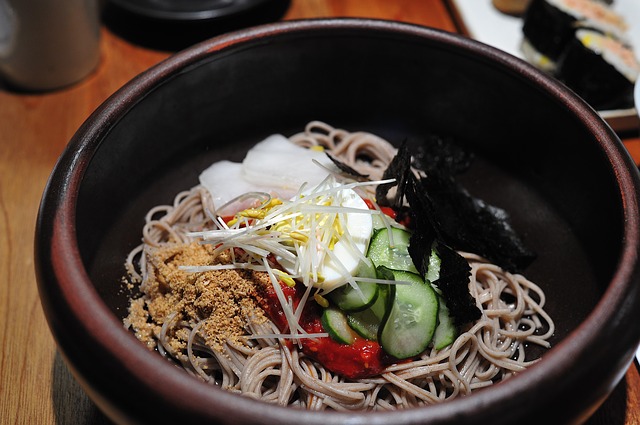 There are two ingredients in the salad that are not always found in the kitchen: rice vinegar and edamame beans. The first can be replaced with lemon juice, apple or wine vinegar. The second is the usual green peas.
Ingredients:
Designed for 2 servings
Buckwheat noodles 8.82oz
Carrots 2 pcs.
Fresh cucumbers 2 pcs.
Beans edamame 7.0oz
Green onion 1 bunch
Cilantro 1/2 bunch
For refueling:
Olive oil 2 tablespoons
Rice vinegar tablespoons
Honey 1 tbsp
Ginger 4 tsp
Soy sauce 3 tsp
Garlic 1 clove
Instruction:
Cooking time 20 minutes
Cook the noodles following the instructions on the package.
Cut carrots and cucumbers into strips, chop onions and coriander.
In a large bowl, mix the cooled noodles, boiled edamame beans, vegetables and herbs. Mix the salad well.
Prepare the dressing: combine olive oil, rice vinegar, honey, ginger, soy sauce and crushed garlic. Whisk with a spoon until smooth.
Season the salad, garnish with sesame seeds if desired and serve.
As you can see, you do not need to spend several hours preparing an original dinner. The main thing is to have good ingredients at hand. Bon Appetit!