Plants are more beneficial for the human body: the plant can keep fresh for several days after it has been plucked. Why is the first green so healthy in spring?
Take, for example, a lettuce leaf – it has a green color, juicy elasticity, and harmonious structure, it is fresh and beautiful. The freshness and juiciness of the products are the information that keeps us in order. Maintaining beauty and harmony in the body is the main function of nutrition.
The uniqueness of plants lies in three main functions.
Firstly, it is protection against any kind of mutations, since antioxidants block and/or restore the effects of decay processes in the body.
Secondly, plants are the source of most energy in the form of carbohydrates (in fruits, roots) and fats (mainly in seeds).
Thirdly, plants also contain amino acids – the building material for our protein.
After a long winter period with a small amount of sunlight, fresh young greens are more than relevant in the diet.
Due to the fact that vitamin D is poorly produced in winter and there are few antioxidants, a free radical process is actively taking place in the body and a greater number of mutations occur.
The first greens are designed to fill this gap by patching up possible DNA damage and saturating with biologically active substances.
Nature has arranged it so that in late spring and early summer, fruits and nuts have not yet ripened, it is the greens that dominate – and this should be used.
Watercress, spinach, sorrel, various types of salads, and radishes are cultured fast–growing plants. Wild plants can be actively used in nutrition.
(1) – "Sprouts and microgreens are novel functional food sources with great potential for sustainably diversifying global food systems, promoting human health, and facilitating the access of a steadily growing urban population to fresh microscale vegetables. These novel food sources have vivid colors, exciting textures, and diverse flavors and tastes, and they can be purchased in supermarkets or even home-grown for daily harvesting as needed. Furthermore, due to their short growth cycle, these nutrient-dense food sources can be produced with minimal input, without using pesticides; hence, they have low environmental impacts and a broad acceptance among health-conscious consumers. Furthermore, as sprouts and microgreens are usually consumed raw, there is hardly a loss or degradation of heat-sensitive micronutrients or vitamins through food processing."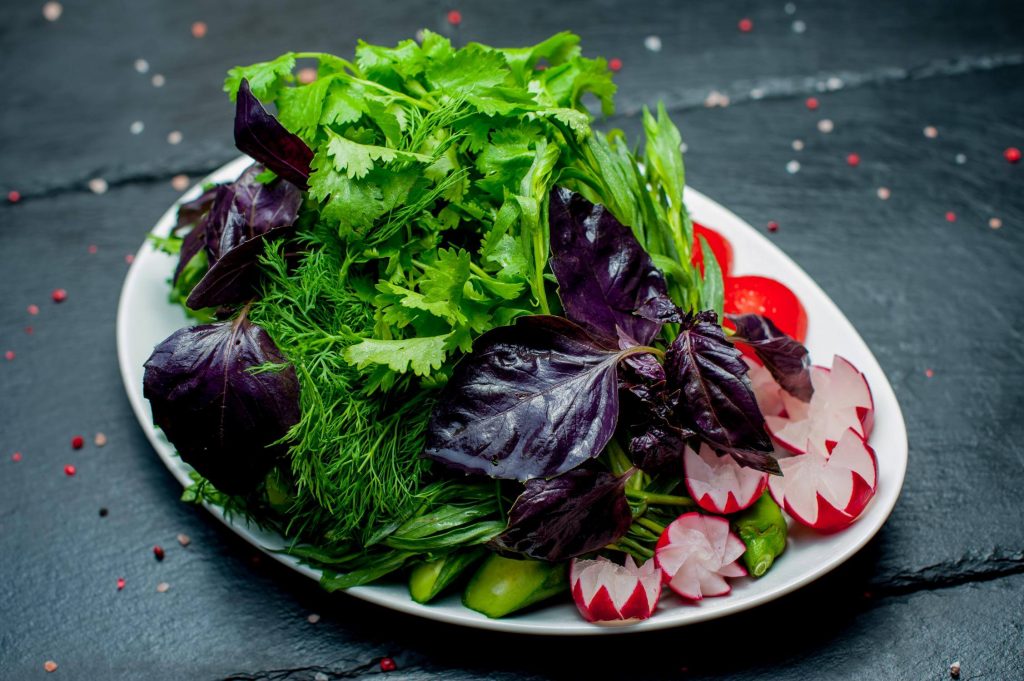 What to do with wild plants?
Why is the first green so healthy in spring?
Mix green smoothies. Cut into salads, cold and warm. Cook cold soup, and add it to any soups and side dishes. Fry with the addition of seeds and nuts.
About seeds – now is the time for seedlings, as the grain itself germinates during this period: sprouted buckwheat, peas, soy, and any other seeds available to you will enrich the taste and nutrition of smoothies, salads, and side dishes.
Herbal tea for heavy physical exertion:
Edible herbs growing around us are a source of vitality, their composition has not been changed by selection and gene experiments, they choose the best time and place for themselves. That is why the true power of nature is concentrated in them. The best way to eat plants is biogenic nutrition.
Ingredients:
Anise 1 tablespoon
Fenugreek 1 tablespoon
Barberry 1 tablespoon
Instruction:
Brew 4 cups of boiling water, insist for 15 minutes, and drink during the day. You can carry it in a thermos with you and "refresh yourself", for example, during training.
This composition provides good tone, gives endurance, normalizes liver function, which is especially important in the spring, and affects the biochemistry of the blood.
Spring salad
. Why is the first green so healthy in spring?
In April, you can go on the first wild-plant hunt of the year. From these herbs, you can make a quick salad according to the principle: herbs + something sour + vegan cheese or tofu + dressing.
Ingredients for 2 servings:
Spring herbs 7.0oz
Soak the grass in water: 1/2 tablespoon of salt + 1 tablespoon of vinegar per 2 liters of water. Half an hour will be enough.
Oranges 1/2 pcs.
Sour strawberries 3.53oz
Tofu cheese 3.53oz
Olive oil 1 tablespoon
Grain mustard 1 teaspoon
Instruction:
Wash the wild plants thoroughly in a bowl with water, draining the water several times.
Nettle can not be scalded, at this age, it does not burn and has a piquant velvety taste.
Cut the orange into slices, and the tofu into cubes.
Mix the ingredients, and pour the sauce of butter and mustard.
Wild plants in the diet are healthy, tasty, and profitable.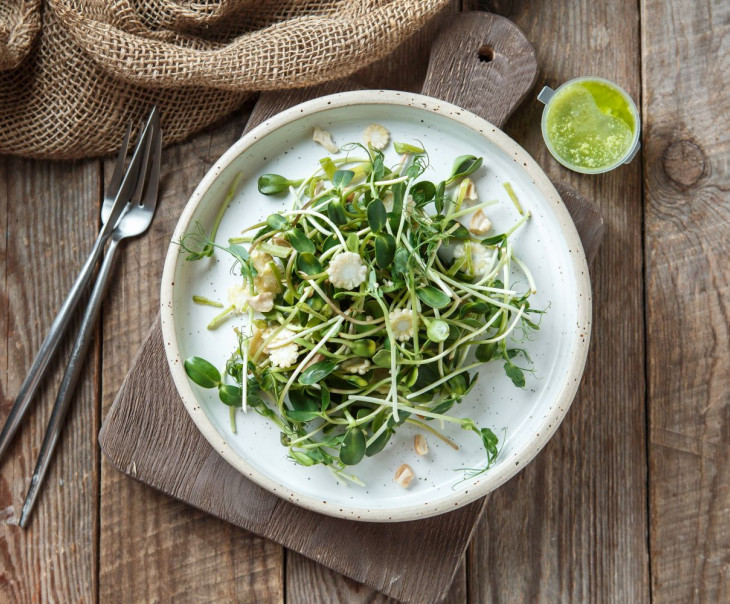 Lentil salad with baked oranges and radicchio.
Why is the first green so healthy in spring?
An unusual salad of boiled lentils, oranges, and radicchio salad!
Ingredients for 3 servings:
Oranges 2 pcs
Thinly sliced radicchio leaves 4 cups
Olive oil 2 tablespoons
Lentils 1 cup
Freshly squeezed orange juice 1 cup
Toasted walnuts 1/2 cup
Spinach microgreens 2 tablespoons
Microgreens 1 tablespoon
Instruction:
Cooking time 1 hour
Preheat the oven to 356F. Line a baking sheet with parchment paper.
Peel the oranges and peel the membranes. Place the peeled slices in a large bowl.
Add the radicchio and 1 tablespoon of olive oil to a bowl with orange slices. If desired, add salt and mix. Place the mixture in a single layer on a baking sheet and bake for 25 minutes, until the oranges begin to brown and caramelize. In the process, mix once and turn the baking sheet on the other side.
Meanwhile, bring the lentils, 1 cup of water, and orange juice to a boil in a medium-sized saucepan. Reduce the heat to medium and cook for 25 minutes, until the lentils are soft.
Drain the liquid into a separate container and transfer the lentils to a large bowl. Return the liquid from the lentils to the pan and simmer over medium heat for 5 minutes, or until the volume is reduced to ¼ cup. Pour the liquid into the lentils.
Add the baked mixture of oranges and radicchio to the lentils, the remaining 1 tbsp olive oil, walnuts, and micro-greens. Mix it up. If desired, add salt and pepper.
The perfect green salad
This green salad is rich in chlorophyll, vitamins, and minerals. If you want to feel more energetic, prepare it!
Ingredients for 4 servings:
Lettuce leaves (arugula is possible) 14.20oz
Cucumber 2 pcs.
Celery 1 stalk
Green pepper 1 pc.
Seedlings (of your choice) 3.53oz
Microgreen parsley 2 tablespoons
Sunflower seeds 2 tablespoons
Lemon juice 1/2 tablespoon
Olive oil 2 tablespoons
Instruction:
Cooking time 15 minutes
Wash the greens and put them in a salad bowl. Wash cucumber, celery, and pepper, chop, and mix with sprouts and sunflower seeds. Mix everything and season with olive oil and lemon juice.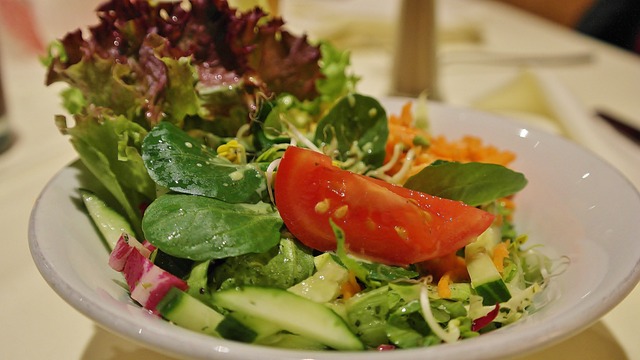 Salad with mint, avocado, and grilled peaches
. Why is the first green so healthy in spring?
An unusual salad with quinoa, basil, and mint microgreens. And also avocado, beans, lime, lettuce, and grilled peaches.
Ingredients for 2 servings:
Lime 1 piece
Rapeseed oil 2 tablespoons
Mint microgreen 2 tablespoons
Micro-green basil 3 tablespoons
Peach, cut into quarters 2 pcs
Quinoa 3.53oz
Green beans, cut in half 5.29oz
Red onion, very finely chopped 1 pc
Leaves of any salad chopped 7.0
Avocado, peeled and chopped 1 pc
Instruction:
Cooking time 16 minutes
Mix lime zest with lime juice, oil, mint, and basil microgreens. Boil the quinoa.
Cook the beans for 3-4 minutes until the pods are tender. Fry the peaches in a grill pan for 1 minute on each side.
Drain the quinoa. Add beans, lettuce, and quinoa to a dish with a microgreen of basil and mint. Place the avocado and peaches on top. Garnish with mint leaves. Serve warm.
(1) – Sprouts and Microgreens—Novel Food Sources for Healthy Diets. Beatrice Falcinelli, Academic Editor, and Angelica Galieni, Academic Editor.
https://www.ncbi.nlm.nih.gov/pmc/articles/PMC8877763/