This classic toasts is incredibly easy to prepare and very delicious! This is a very tasty, healthy snack, which is a worthy alternative to the usual sandwiches on the holiday table. The toast has an amazing and unforgettable taste. Toasts Skagen with caviar and prawns.
Salmon caviar is a very useful product that supports the body with the necessary substances. It is recommended to use for people with weakened health, as well as to raise hemoglobin. Thanks to the protein with its polyunsaturated fatty acids, caviar is easily digested, but at the same time it has a high nutritional value.
Salmon caviar improves brain function, is good for the eyes, and also for the immune system in general. It does not contain fat and carbohydrates, but it is higher in calories than such products as meat and milk.
Ingredients
Cooking time 15 minutes
Designed for 4 servings
Bread for toast 4 pieces
Peeled cooked prawns 11.29 oz (320 g)
Mayonnaise 3 tablespoons
Dijon mustard 1 tablespoon
Dill 3 tablespoons
Red caviar salmon  5.29 oz (150 g)
Lemon 1 piece
Butter 2 teaspoons
ENERGY VALUE PER SERVING
Calories 361 kcal
Protein 30.5 grams
Fat is 18.5 grams
Carbohydrates 18 grams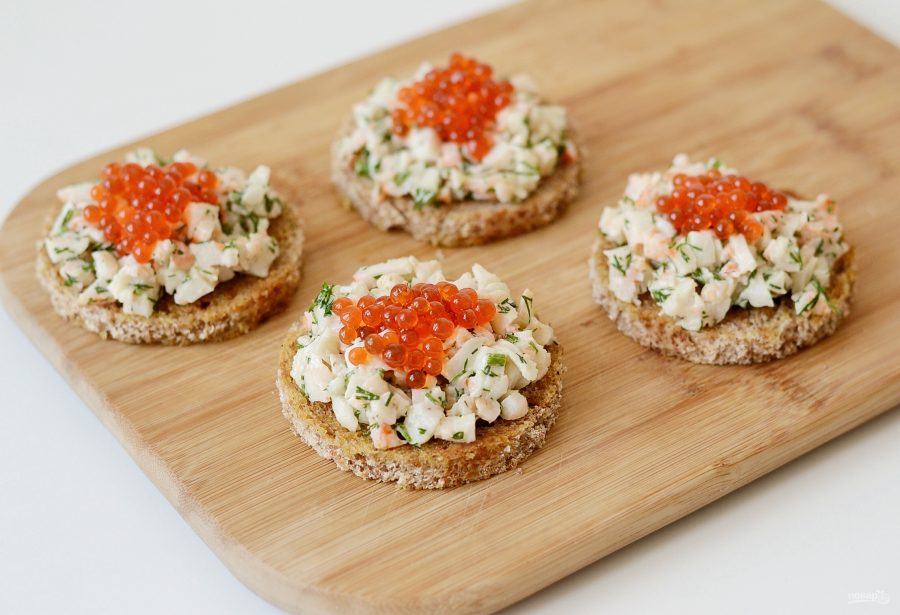 Instruction
. Toasts Skagen with caviar and prawns.
Cut off the bread crust and fry the resulting slices on both sides in a small amount of oil until golden, transfer to paper towels.
Set aside a few prawns and four sprigs of dill for decoration. If the prawns are large, cut them into small pieces. Finely chop the rest of the dill and mix with the prawns, mayonnaise and mustard.
Put the resulting mixture on the fried slices of bread. Top each toast with a few prawns and a spoonful of caviar. Garnish with a sprig of dill and a slice of lemon. Bon Appetit!