The essence of the evening meal is to prepare the body for a night's rest and to optimize the metabolic process that does not stop during sleep. Dishes for dinner are recommended not to fry, but to bake, stew, or cook for a couple. It is important to include fiber in the dishes. It is found in vegetables, so in the evening it is healthy to eat cucumbers, zucchini, tomatoes, beets, and corn. 5 delicious recipes for a healthy dinner #1.
Before going to bed, our body needs proteins. You can use lean meat and poultry (rabbit, chicken or turkey, veal), fish and seafood, eggs, cheese, and tofu as a protein supplement.
A few additional recommendations:
1. The correct end of the dinner is sour and moderately sweet berries and fruits (apples, pears, citrus fruits, pineapple, and kiwi).
2. It is healthy to include cottage cheese in dinner, rich in calcium and protein — it is required for the restoration of muscle tissue.
3. You can fill and supplement dishes with the help of fermented milk products — yogurt, low-fat kefir, and natural yogurt without additives.
4. Fresh herbs, dry bran, flax or chia seeds will improve digestion.
5. Vegetarians replace animal protein with peas, lentils, and beans.
6. With an active lifestyle, intensive training, and physical activity, "slow" carbohydrates are introduced into the evening diet — whole-grain bread, buckwheat, unpolished rice, and so on.
1. Salad with olives and almonds
.5 delicious recipes for a healthy dinner #1.
A light salad in the style of greek cuisine with olives and vegan feta cheese.
Ingredients:
Designed for 4 servings
Cucumber cut lengthwise 1 piece
Of coarsely chopped olives 1/2 cup
Chopped lettuce leaves 2 cups
Lemon juice 1 tablespoon
Vegan feta cheese ½ cup
Chopped parsley 2 tablespoons
Green onions, finely chopped 1 tablespoon
Almonds, toasted and chopped 3 tablespoons
Salt to taste
Pepper to taste
Olive oil 3 tablespoons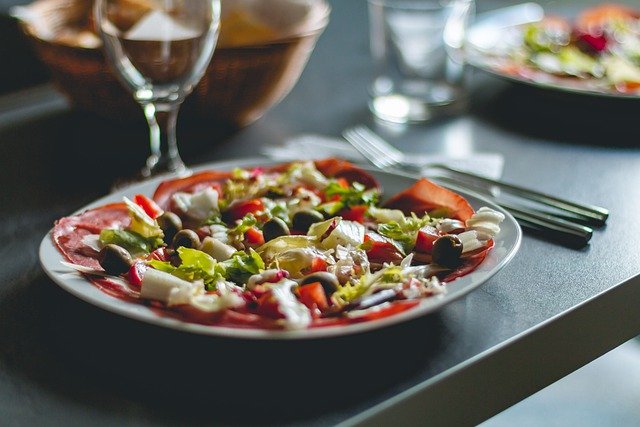 Instruction:
Cooking time 15 minutes
Cut the cucumber into thin slices, and season with salt and pepper.
Preheat the oven to 356F. Place the olives on a baking sheet and bake for 5 minutes.
In a bowl, whisk the olive oil and lemon juice.
Put all the ingredients in a bowl, add the sauce, and serve.
2. Pumpkin and chickpea stew with couscous
. 5 delicious recipes for a healthy dinner #1.
A hearty and tender stew with the addition of vegetables!
Ingredients:
Designed for 3 servings
Olive oil 2 tablespoons
Carrots, diced 1 pc
Red bell pepper, chopped into ½ pieces
Whole cumin seeds 1 tablespoon
Bay leaf, crumbled 1 pc
Canned chickpeas 31.75oz
Mashed pumpkin soup 28.22oz
Couscous 2 cups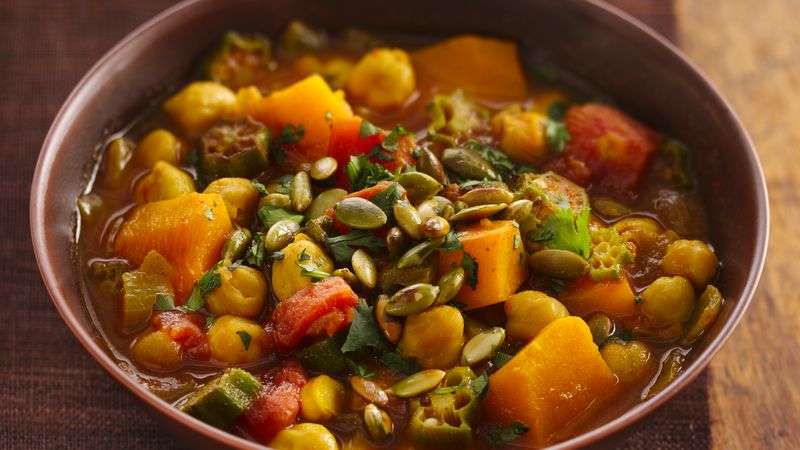 Instruction:
Cooking time 40 minutes
Heat the oil in a saucepan over medium heat. Fry the carrots for 3 minutes until soft. Add the bell pepper and fry for another 3-5 minutes or until soft. Add the cumin seeds and bay leaf.
Puree chickpeas and pumpkin soup-puree in a blender until smooth. Add to the carrot mixture along with the remaining chickpeas and soup. Simmer for 15-20 minutes. Season with salt and pepper.
Meanwhile, put the couscous in a heat-resistant bowl and pour 1½ cups of boiling water. Cover with a lid and let stand for 3-5 minutes, until all the liquid is absorbed. Whisk the couscous with a fork.
3. Gluten-free and milk-free vegetable pancakes: instead of bread
A new recipe for vegetable pancakes (gluten-free and milk-free), which will successfully replace bread. They can also be used for sandwiches (it turns out very tasty with lightly salted and smoked fish). And instead of bread, which you are used to eating with soup. Also, these pancakes are likely to be liked by children.
These pancakes are not only delicious and gluten-free but also rich in calcium (I added sesame to the recipe). Also, unlike ordinary pancakes, these pancakes stabilize blood sugar and help with problems with insulin due to garlic, which is quite a lot in this recipe. Vegetables and whole-grain buckwheat flour deliver both types of fiber, which contributes to the normalization of the intestines.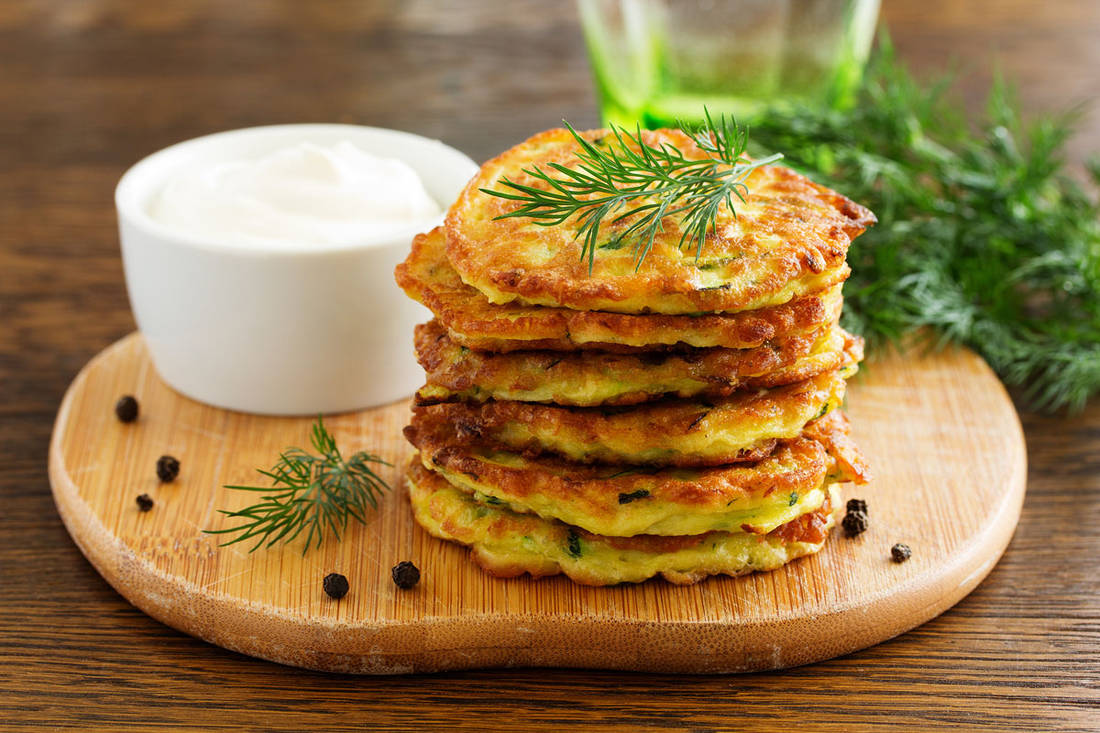 Ingredients for gluten-free vegetable pancakes:
(about 20-25 pieces)
Eggs 3 pcs
Medium zucchini 10.58oz
Large carrots 2 pcs
Onion 1 pc
Garlic 5 cloves
of Dill 1 bunch
Rice, almond, or soy milk without sugar 1 cup
Whole-grain buckwheat flour 1 cup
Sesame seeds 4 tablespoons
Salt and pepper to taste
Olive oil for frying
Instruction:
Cooking time 50 minutes
Put all the ingredients except the olive oil in a blender or food processor and grind until a creamy consistency is obtained.
Pour the dough into a separate bowl and, if it is too thick, add more vegetable milk until the consistency of a liquid dough is obtained. If the dough, on the contrary, is too liquid, then add flour and mix well.
To understand what kind of consistency is ideal, you will get only after you put the first pancake on a preheated frying pan: it is necessary that it does not spread like a pancake all over the pan, but remains "in place". 1 tablespoon of dough ideally
Heat the olive oil in a frying pan. There are very few fats in the dough itself, and they are нealthy.
Put the pancakes in the pan with a tablespoon and bake until ready for about 3 minutes on the first side, and another 1 minute on the second.
Before each new batch of pancakes, I recommend adding a little more olive oil to the pan. Your healthy gluten-free pancakes are ready!
THE IDEA: these pancakes can be made not only with zucchini but also with other vegetables. Broccoli and bell pepper are ideal.
4. Baked carrots and root vegetables with parsley sauce
. 5 delicious recipes for a healthy dinner #1.
I suggest you try to cook such a "warm" version of dinner — baked carrots and root vegetables with parsley sauce.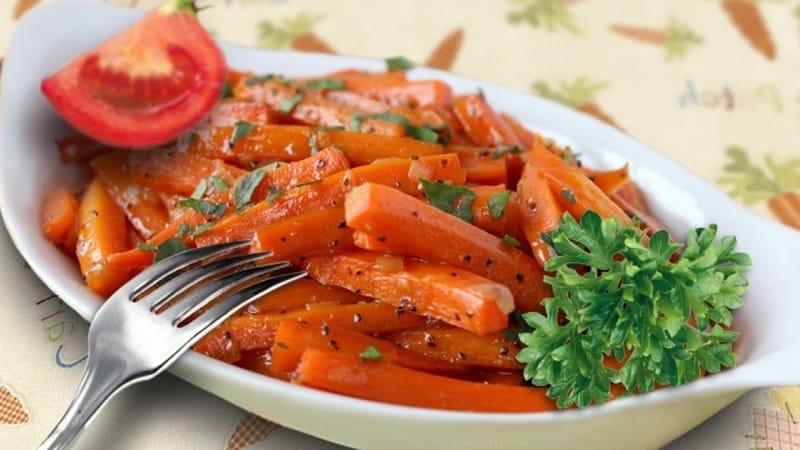 Ingredients for 2 servings:
Any root vegetables (carrots, parsley root, celery root, sweet potatoes/sweet potatoes)
Olive oil 4 tablespoons
Salt and ground pepper to taste
For the sauce:
Of parsley 1 bunch
Coriander (or spinach) 1 bunch
Garlic 2 cloves
Cashews or pine nuts 2 tablespoons
Olive oil 1/2 cup
Ground coriander seeds 1 teaspoon
Grated on a fine grater, the zest of 1 lemon is only the yellow part
Instruction:
Cooking time 30 minutes
Peel the vegetables and cut them into large pieces.
Mix with olive oil, pepper, and salt and bake in the oven until cooked for about 30 minutes at a temperature of 356F
Sauce:
Chop all the ingredients for the sauce in a blender, and try it with salt.
After the vegetables are baked, season them with the sauce
Your delicious and hearty dinner (or lunch) is ready.
If you have a fasting day, then baked carrots will serve as an excellent dinner. If this is your usual day, then any bird or lamb/beef is perfect for this dish. Bon Appetit!
5. Wild rice with sage and croutons
Fragrant rice with toasted bread croutons, which can be served as a filling or a separate dish!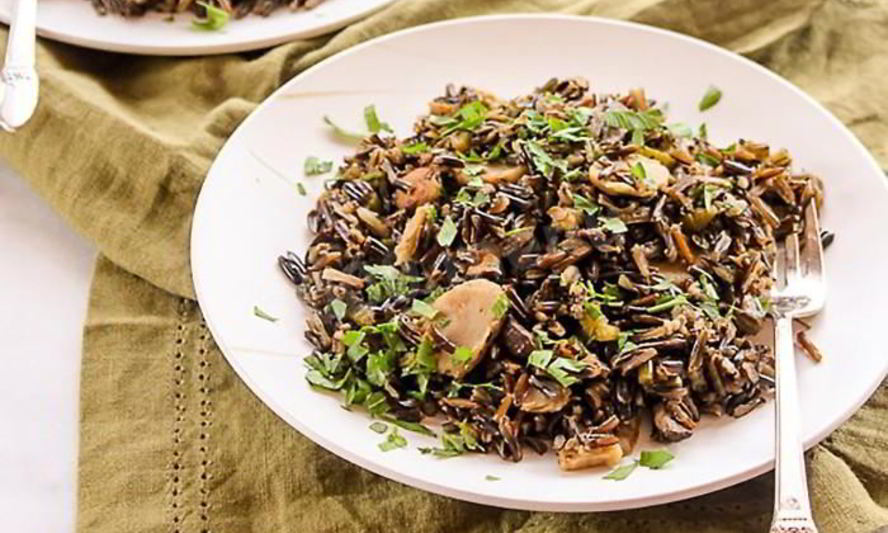 Ingredients:
Designed for 4 servings
Coarsely chopped walnuts ½ cup
Whole-grain gluten-free bread, diced into 8 slices
Olive oil 5 tablespoons
Table salt to taste
Freshly ground black pepper to taste
Vegetable broth 4 cups
Wild rice 2 cups
Finely chopped fresh tarragon 1 teaspoon
Chopped fresh sage 1 teaspoon
Instruction:
Cooking time is one hour and 15 minutes
Preheat the oven to. Grease a square baking dish with cooking spray.
Fry the walnuts in a dry frying pan over medium heat for 5 minutes or until fragrant, shaking the pan frequently. Set it aside.
Mix the bread cubes with 2 tablespoons of oil, salt, and pepper in a bowl. Transfer to a baking sheet and bake for 12-14 minutes or until golden brown. Set aside and keep the oven turned on.
Heat the remaining 5 tablespoons of oil in a large saucepan over medium heat. Add the broth and bring it to a boil. Add the wild rice and bring it to a boil again. Cover with a lid and simmer for 40 minutes. Add the roasted walnuts and simmer under the lid for another 10 minutes. Remove from the heat and season with salt and pepper if desired.
Put the rice in the prepared baking dish and bake for 10-20 minutes or until the rice is browned on top and covered with a crisp crust. Serve to the table, sprinkled with croutons, sage, and tarragon. Bon Appetit!