Fruits and berries can be consumed not only in fresh form but although they contain a maximum of healthy properties. They can be used to make desserts: dried, baked, and mixed with other ingredients, creating a unique taste and aroma of dishes.5 healthy fruit and berry desserts.
The benefit of fruit and berry desserts is that the main component is fruits and berries. Even after cooking, such dishes retain some of the vitamins and nutrients contained in them. In addition, fruits and berries are excellent sources of fiber, which has a beneficial effect on the digestive system.
1. Fruit dessert with a biscuit
. 5 healthy fruit and berry desserts.
Don't worry about getting better. Vitamins are charged for the whole day. After a small portion, you do not want to eat for a long time. The ingredients of the fruit dessert can be changed indefinitely. It takes a few minutes to prepare it. It's a dream, not a dessert! Because it always wants to cook.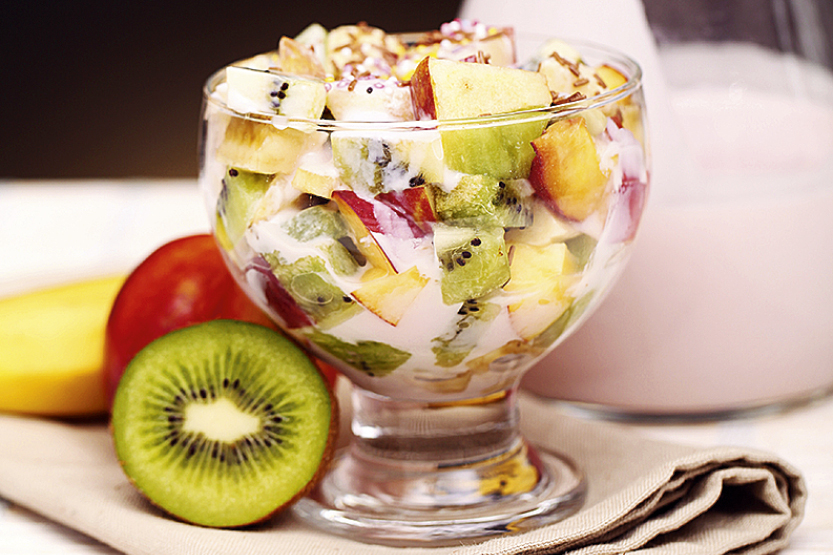 Ingredients:
Pear 3.53oz
Mango 3.53oz
Kiwi 3.53oz
Chocolate cookies 1.76oz
Nuts (optional) to taste
The sweet sauce ( made of pomegranate juice and honey) taste
Instruction:
Cooking time 20 minutes
It is advisable to start cutting the dessert with mango. After all, all the other ingredients are extremely delicate. The skin of the mango is not necessary to cut, because it will play the role of fiber. Just need to wash the fruit well (let it be ripe), and then cut it into small cubes.
After washing the pear thoroughly, we also finely tune it, without removing the skin. Kiwi will add a little sourness to the salad. This shaggy fruit should also be thoroughly washed under running water before cleaning. Peeled kiwi is cut into thin plates, and then into pieces – the same format as the previous ingredients.
Anyway, the cookies need to be crumbled (but not very finely!). However, they should be added to the salad at the very end.
If you need to make a fruit dessert even more satisfying, you can add nuts to it. Which ones? Everyone chooses for themselves. In this recipe, almonds were chosen, more precisely, almond chips. Delicious, satisfying, and, if in a small amount, useful! You can sprinkle a salad or add to the fruit.
How to fill a fruit dessert of this type? It depends on your preferences. Let's say yogurt.
For this fruit salad with cookies, the dressing was made from pomegranate juice and honey.
You can add the ingredients and just slide, and layers (pouring each sauce). It turned out very tasty and beautiful!
2. Melon and avocado dessert
.5 healthy fruit and berry desserts.
This dessert is prepared in just a couple of minutes. The dessert is not only delicious and juicy thanks to melon and berries, but also satisfying-thanks to avocado and pine nuts.
Ingredients for 1 serving:
Avocado 0.5 pcs.
Melon 4 slices
Pine nuts 2 tbsp
Lemon juice 1 tbsp
Yogurt 3.53oz
Blackberries 5 berries
Dried basil 1 pinch
Fresh basil 3 leaves
Instruction:
Cooking time 15 minutes
We will prepare all the products for dessert with melon and avocado. The melon should be chosen ripe, and sweet. Yogurt can be used for drinking fruit or just unsweetened Greek.
How to make a dessert salad with melon and avocado: Peel the melon and cut it into slices, then cut each slice in half. We spread the pieces of melon on the dish arbitrarily.
Remove the skin from the avocado, remove the stone, and cut the avocado into thin strips. Spread the avocado strips on a dish with the melon. Immediately sprinkle the avocado with lemon juice so that it does not darken.
Pour yogurt over the salad. Sprinkle the salad with pine nuts and dried basil. Decorate the salad with fresh basil and blackberries. The dessert salad of melon and avocado is ready! Bon Appetit!
3. Fruit salad with celery, pumpkin, and yogurt
Fruits are used in this salad-apple, orange, banana, and kiwi. The perfect complement to the fruit salad celery and roasted pumpkin. Very tasty and vitamin-rich salad with yogurt.
Ingredients for 3 servings:
Pumpkin 10.58oz
Celery petiole 1 stalk
Orange 1 piece
Apple 1 piece
Kiwi 1 piece
Banana 1 piece
Yogurt 3.53oz
Lemon mint 5 leaves
Lemon juice 3 teaspoons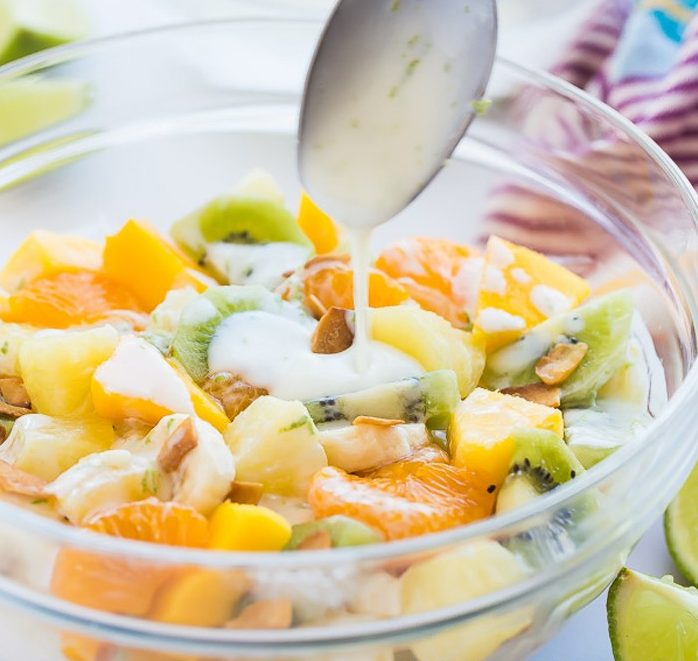 Instruction:
Cooking time 10 minutes
Bake the pumpkin in the oven at 356F degrees until soft, about 50 minutes.
Peel the apple, orange, kiwi, and banana. With celery, too, remove a thin film with a vegetable peeler. Cut the banana and kiwi into roughly equal pieces. Cut the apple and orange into the same pieces.
Cut the celery diagonally. Beat the yogurt with a blender with mint leaves and pour this dressing over the fruit salad with celery. Drizzle with lemon juice.
Cut the cooled baked pumpkin into pieces and serve with the fruit salad, without stirring.
4 . Sweet fruit dessert with chocolate sauce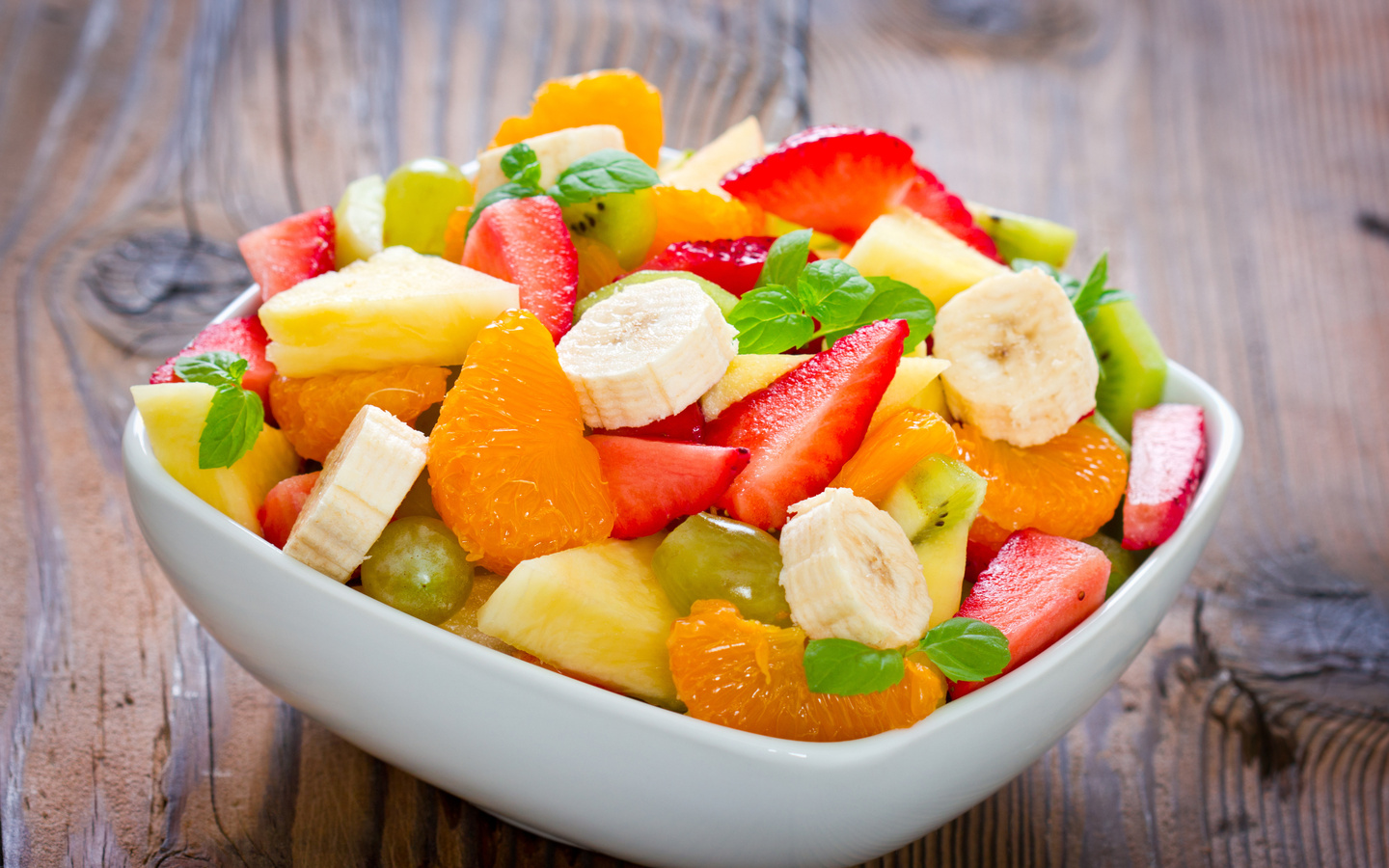 As a dessert for children or for a festive table prepares a sweet fruit salad with chocolate sauce. Dessert according to this recipe is a mix of different fruits and berries, a combination of different flavors under a delicate chocolate sauce.
Ingredients for 3 servings:
Nectarine 2 pcs
Banana 1 piece
Apricots 3 pcs
Grapes 12 berries
Dried cranberries 1 tablespoon
Almond flakes or other nuts (optional) 1 tablespoon
For the chocolate sauce:
Cream 20% fat 3.53oz
Chocolate 3.53oz
Vanilla sugar (optional) 1 teaspoon
Fruit desserts can be prepared with any seasonal fruits and berries. Choose soft, but not overripe fruits for the salad, so that the pieces of fruit in the salad remain intact and do not give juice.
Instruction:
Cooking time 10 minutes
Ingredients for making fruit salad with chocolate sauce. The chocolate for the sauce can be milky or black, to your taste. How to make a fruit dessert with chocolate sauce:
For the sauce, heat the cream with vanilla sugar until hot. Put the chocolate in the cream, broken into pieces.
Constantly stirring, dissolve the chocolate in the cream. At the same time, keep the pan on the slowest fire or water bath. When the chocolate is completely dissolved and the mass becomes homogeneous, the chocolate sauce is ready. Cover the pan with a lid or cling film and leave the sauce to cool.
For dried cranberries pour boiling water for 2 minutes, then drain the water, drain the berries. Wash and dry the fruit for dessert.
Cut the fruit into pieces, and remove the seeds. Cut the grapes in half, if the grapes are pitted, remove them. Put the chopped fruit in a salad bowl. Add the cranberries. Gently mix the salad.
Spread the salad in portions on the creams. Pour the chocolate sauce over the fruit salad, sprinkle with almond flakes (or other nuts) and serve immediately. Very tasty and juicy fruit salad with chocolate sauce is ready.
Bon Appetit!
5. Grilled peaches with raspberry sauce
. 5 healthy fruit and berry desserts.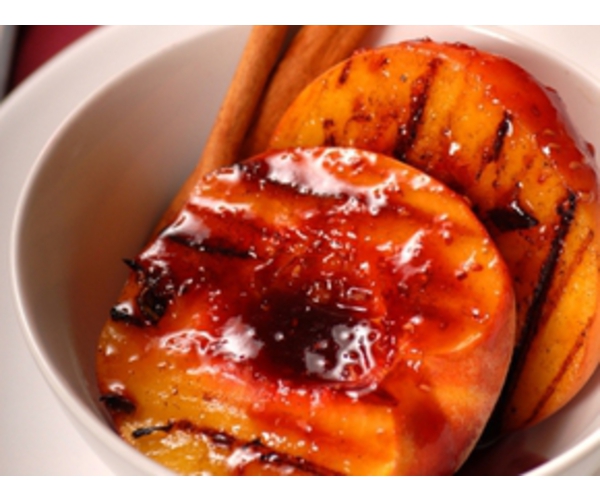 Juicy grilled peaches, coupled with fragrant raspberry syrup, are the perfect dessert that will appeal to both adults and children! Create a treat from peaches to fully enjoy its taste.
Ingredients for 2 servings:
Peaches (or nectarines) 6 pcs
Honey 1 teaspoon
Brown sugar 1/2 teaspoons
Ground cinnamon 1 teaspoon
Raspberry 5.29oz
Butter 1/2 tablespoon
Rum (or cognac) 1/2 tablespoon
Fresh mint for decoration
Salt to taste
Instruction:
Cooking time 15 minutes
Prepare the necessary ingredients.
Wash the peaches in water, peeling off their fleecy layer. (If desired, you can also use nectarines.)
How to cook grilled peaches with raspberry sauce:
Divide each fruit into two halves, removing the stone from it. If the bone is not removed, then just carefully cut it off.
Put the raspberries in a container and wipe with a press for boiled potatoes. Place the container on the stove.
Bring to a boil and turn off the heat. Cool slightly and add honey, brown sugar, ground cinnamon, and a pinch of salt to emphasize the taste. Mix gently. Rub the steamed raspberries through a strainer. Remove the cake or create a morse from it.
Pour the raspberry sauce back into the pan or saucepan and place it on the stove. Boil for 5-6 minutes until the desired density.
Place the peaches on a greased, preheated grill. If you have alcohol: rum, cognac, etc., then smear it on the halves of peaches or nectarines – they will help make the grill patterns more vivid. Fry the fruit on the grill for about 2-3 minutes. Place them on plates and allow them to cool slightly.
Fill the peach halves with the prepared raspberry sauce and serve, garnished with fresh mint leaves.
If desired, grilled peaches with raspberry sauce can be sprinkled with ground cinnamon, cocoa powder, grated chocolate, and coconut chips.
Bon Appetit!
Everyone knows that fruit should be eaten necessarily, better every day, they have a huge amount of vitamins and nutrients. No less healthy and desserts made from fruits and berries.
To prepare a delicious dessert, you do not need to have culinary skills, because sweet dishes are prepared easily and simply. A little imagination and a beautiful dessert are ready!