Lentils are delicious and very healthy legumes, rich in protein and vegetable fiber. It contains a number of vitamins and trace elements, including unsaturated omega-3 and omega-6 fatty acids. Lentil dishes have a beneficial effect on the digestive and nervous system. 5 simple and delicious dishes with lentils.
They also help to lower cholesterol and increase hemoglobin, normalize the work of the heart and blood vessels. It goes well with various vegetables, meat and mushrooms. Lentils make delicious cream soups and broths, side dishes, snacks, cutlets, pancakes and even jam.
(1) – "Lentils have been consumed as a part of the diet worldwide and play a significant function in human nutrition as a rich source of bioactive and non-bioactive nutrients. When comparing to pulses, lentils have the highest starch content and insoluble dietary fiber content and high quantities of prebiotic carbohydrates that maintain the gut microbiota, which prevents colon-associated diseases. Lentils are among the cost-effective legumes, and they have lower quantities of fat, sodium and vitamin K, but a high content of potassium. This demonstrates them as a health-promoting source of nutrients, and their intake in the daily diet should increase, as this is related to the prevention of obesity and CVD. Besides these nutrients, lentils have certain bioactive food components, namely "polyphenols". These polyphenol-rich lentil seeds have antioxidant potential and a primary function in protecting against various diseases such as diabetes, obesity, CVD and cancer."
#1. Lentil cutlets
. 5 simple and delicious dishes with lentils.
Cutlets according to this recipe are very tender and fragrant, and they also have one big plus — they are very popular even for those who do not like lentils.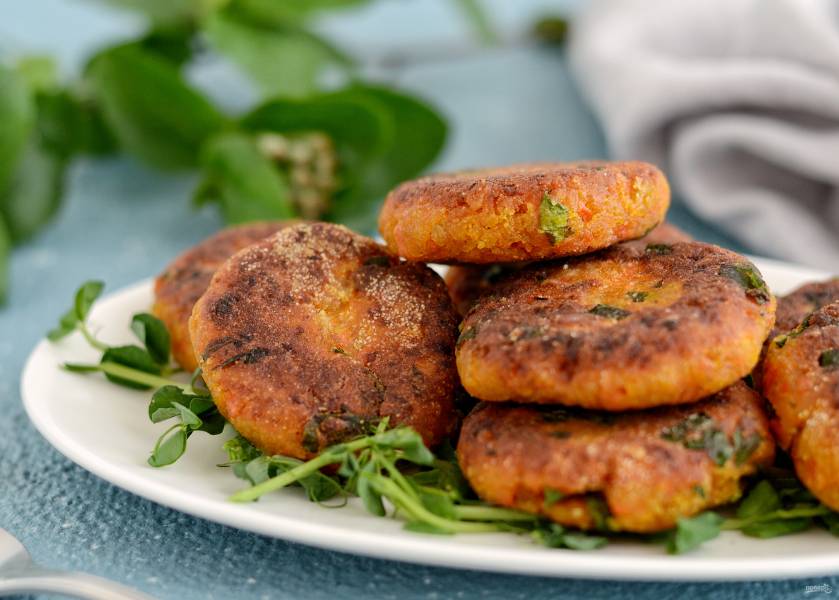 Ingredients for 6 servings:
The nutritional value of a serving is 242 k Cal
green lentils 10.58oz
red onion 1 pc.
garlic 2 cloves
salt to taste
black pepper freshly ground to taste
chili pepper dry 1 pc.
bay leaf 2 pcs.
Extra Virgin olive oil to taste
breadcrumbs 3.53oz
tarragon 2 sprigs
parsley herbs ½ bunch
tomatoes mashed passata 2 tablespoons
cardamom 1/4 teaspoon
cinnamon 1/4 teaspoon
cumin to taste
coriander to taste
chicken eggs 2 pcs
Instruction:
Cooking time 1 hour
Rinse the lentils, pour water, let them boil, remove the foam, add salt, chili, bay leaf, oil, one clove of garlic and cook until tender. Put the finished lentils on a sieve, rinse and let the water drain completely.
Put out the onion and garlic, add the passata, stir and simmer for another 1-2 minutes. Put the lentils in a large bowl, add the onion, mix and knead lightly with a masher.
Then add herbs, spices, egg (small) to the lentil mass, mix and form cutlets with wet hands. Roll the cutlets in breadcrumbs, put them on a board, cover with a film and send them to the refrigerator for 30 minutes.
Then take out the cutlets and fry on both sides until cooked. Delicious, simple and fast! Enjoy your meal!
#2.Lentil tortillas
Lentils are a unique product! And these cakes are proof of that. These are very, very tasty, tender tortillas. And most importantly, very satisfying. 1-2 small cakes for tea and you are full for at least half a day.
Lentils can even be added to the dough. We share a recipe for delicious tortillas, for which we use legumes. Fried onions or bacon will fit into the filling — an unusual combination, but very successful.
Ingredients for 3 servings:
Orange or yellow lentils 7.0oz
flour 10.58oz
fresh yeast 1 teaspoon
butter 3 tablespoons (or any vegetable)
medium onion 1 piece
sugar 2 teaspoons
sea salt 1 teaspoon
sesame 1 teaspoon
Provencal herbs to taste
poppy 1 teaspoon
olive oil for greasing tortillas
Instruction:
Cooking time 1 hour
Soak the lentils in cold water for 1-2 hours. Boil until tender. Drain the excess water. Allow to cool slightly and punch with a blender.
Mix yeast with 1 teaspoon of sugar and 1 tablespoon of flour. Add 3 tablespoons of warm water. Mix well and put in a warm place to rise for 15 minutes.
Add the dough to the lentils, we also send 1 tablespoon of melted butter or vegetable oil there. Mix well with a spoon and leave in a warm place to rise. It will take 2 hours.
Finely chop the onion and fry with 2 tablespoons of oil until golden brown. If you make tortillas with bacon, then finely chop the bacon, fry it, add the onion and fry also until golden brown. When the lentils have increased in volume by 2 times, add the fried onion, salt, remaining sugar and mix well.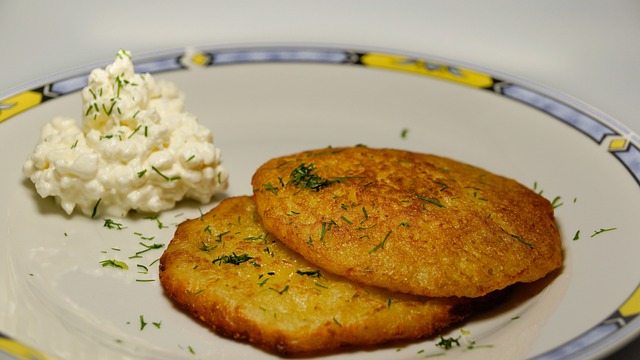 Add flour in several steps. First mix with a spoon and then knead on the table. The dough will stick to your hands a little at first and then it will become very obedient and tender. It should not be cool.
We divide the dough into 6-8 parts, depending on what size of tortillas you prefer. I did average. We cover the baking sheets with paper, lubricate with oil and gently knead the tortillas right on the paper with our fingers. Sprinkle with sesame seeds and lightly press it into the dough.
And leave for proofing for 20 minutes. Then we lubricate them with olive oil and make longitudinal grooves with our fingers. Preheat the oven to bake for 30 minutes (depending on the size of the tortillas, until golden brown).
#3. Pate of lentils and mushrooms
. 5 simple and delicious dishes with lentils.
Do you want to surprise your family? Then you will need a recipe for an original pate of mushrooms and lentils. Invite your loved ones to guess what the snack is made of!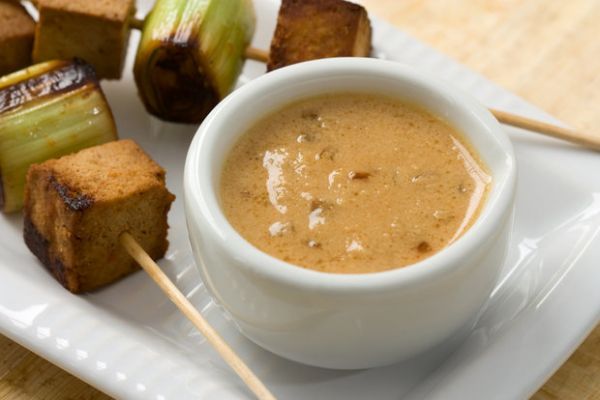 Ingredients for 2 servings:
The nutritional value of the dish is 456 k Cal
champignons 5.29oz
onion 1 piece
sweet paprika 1 teaspoon
freshly ground pepper mixture 1/2 teaspoon
soy sauce 1 tablespoon
vegetable oil 3 tablespoons
lemon juice 1/2 tablespoon
garlic 2 cloves
green lentils 2 cups
Instruction:
Cooking time 20 minutes
We will need 2 cups of already boiled lentils. Boil it preferably without salt, until fully cooked.
Finely chop the onion and garlic and fry in 2 tablespoons of oil for 2 minutes, stirring constantly.
Add finely chopped champignons. If you take frozen ones, like mine, I advise you to defrost and squeeze out all the water. Sprinkle with pepper and paprika to taste. Cook for about 7-8 minutes.
In a blender, combine lentils, onions with mushrooms, lemon juice and soy sauce. Beat everything into a homogeneous mass. Transfer the pate to a bowl, cover with a film or lid and cool for about an hour.
It turned out to be tender, delicious and healthy! And if you also serve it with crunchy crackers, it's very tasty!
#4. Warm salad of beans, lentils and baked vegetables
. 5 simple and delicious dishes with lentils.
This salad is a source of healthy substances. In addition to lentils and beans, bulgur will be needed for this dish.
Any vinegar will do, but not balsamic. In the water in which the beans are cooked, you can add tomatoes, celery and your favorite herbs.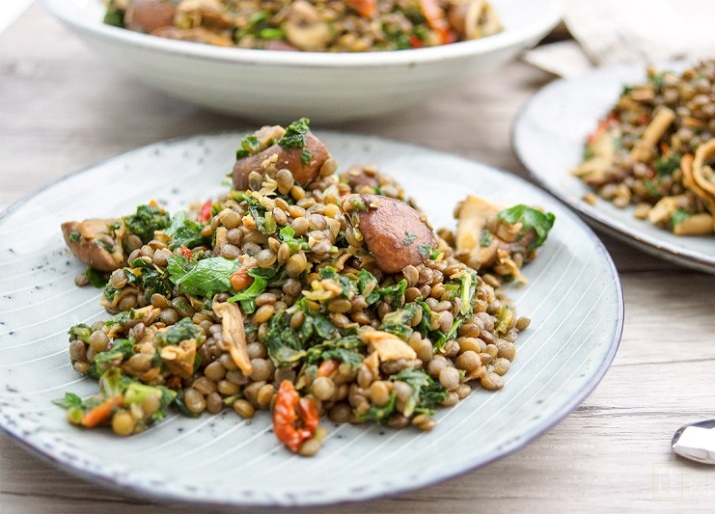 Ingredients for 4 servings:
Nutritional value of a serving 511 k Cal
zucchini 1 pc.
eggplant 1 pc.
green lentils 1 cup
red beans 1 cup
burgur 1/2 cup
sweet red pepper 1 pc.
raisins 1 handful
onion red ½ pcs.
red chili pepper ½ pcs.
a small bunch of basil 1 pc.
olive oil 4 tablespoons
vinegar 2 tbsp
ground black pepper to taste
sea salt to taste
Instruction:
Cooking time 40 minutes
Preheat the oven to 356F. Boil the lentils and beans separately according to the instructions on the package. Pour the bourgour into a small saucepan, pour boiling water and boil. Wash the sweet pepper, wrap it in food foil, place it in a small baking tray and send it to the preheated oven or under the grill.
Put the eggplant in a baking tray and send it to the oven. Cut the zucchini into long strips and lightly lubricate with olive oil.
Heat 1/2 teaspoon of olive oil in a grill pan and fry the zucchini strips on both sides, then cut into small pieces. Peel the onion, cut into thin half rings, pour vinegar and leave for 10 minutes. Chili pepper, removing the seeds, finely chop.
Place the baked sweet pepper in a saucepan and close the lid tightly, then remove the skin, remove the stalk with seeds and cut the pulp into cubes.
Remove the skin from the baked eggplant, cut the flesh into cubes. Put eggplant, sweet pepper, spelt, beans, lentils, chili and raisins in a salad bowl, mix everything.
Add zucchini slices and pickled onion (save vinegar). Pour the remaining olive oil over the salad and 1 tablespoon of vinegar in which the onion was pickled, add salt, pepper and mix again. Chop the basil leaves with your hands and sprinkle the salad.
#5. Lentil muffins with seeds and almonds
. 5 simple and delicious dishes with lentils.
Ingredients for 6 servings:
The nutritional value of a serving is 522 k Cal
red lentils 1 cup
wheat flour 1 cup
corn flour ⅔ cup
applesauce 3.53oz
soy milk 1/2 cup
chicken eggs 2 pcs.
olive oil 3 tablespoons
liquid honey 2 tablespoons
brown sugar 1 tablespoon
pumpkin seeds 2 tablespoons
almond petals 1 tablespoon
baking powder 1 teaspoon
vanilla extract ½ teaspoon
sea salt to taste
Instruction:
Cooking time 40 minutes
Preheat the oven to 392F. Boil the lentils according to the instructions on the package. Combine boiled lentils with applesauce, add egg, sugar and honey, pour in soy milk, vanilla extract, olive oil and mix everything.
Mix all the flour with baking powder and salt, add pumpkin seeds and almond petals, mix everything. Combine the lentil mass with flour and knead everything.
Place paper liners in muffin molds and lay out the dough. Bake muffins in a preheated oven for 20 minutes. Enjoy your meal!
(1) – National Library of Medicine (US); Kumar Ganesan and Baojun Xu; Polyphenol-Rich Lentils and Their Health Promoting Effects; (2017 Nov; 18(11): 2390. Published online 2017 Nov 10.); https://www.ncbi.nlm.nih.gov/pmc/articles/PMC5713359/