Soup is a universal dish that can be cooked at any time of the year. The first may look different: vegetable soups, meat, fish, creamy, fruit, hot and cold. Everyone can choose an option to their liking. By and large, it does not matter which soup you prefer, the main thing is that the first one is made from fresh and high–quality products. 5 Spring soups from seasonal products.
The first dishes create a feeling of fullness in the stomach, perfectly satisfying hunger, but at the same time do not contain extra calories. Soups are also considered an ideal solution for people who want to lower cholesterol or limit fat intake.
It has been proven that people who regularly eat the first look slimmer than those whose lunch consists exclusively of the second. You can cook soup on the basis of almost any product. Pumpkin, beetroot, leek or onion, beans, sorrel, arugula, and dozens of other options – all this can be turned into a nutritious and delicious first course. In addition, do not forget about broths from different types of meat, fish, and seafood. It is only necessary to change the proportions of the ingredients and on the basis of the same set of products, you can prepare several variants of the first.
Cooking a classic soup does not require special skills. The dish is prepared quickly and very easily. The recipe, as a rule, does not provide for accuracy in measuring the amount of ingredients and even the composition of the components can be changed every time to your taste and mood.
#1.Quick vegetable soup
. 5 Spring soups from seasonal products.
Frozen asparagus can be found in supermarkets all year round. But right now it is fresh, tasty, and healthy as never before. If you actively get yourself in shape, this vegetable soup will help you achieve your goal faster.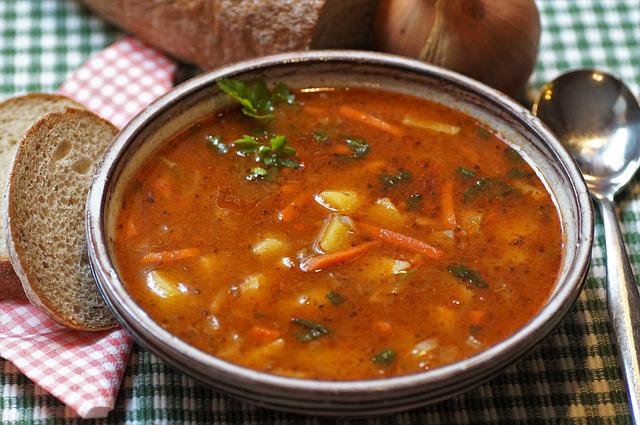 Ingredients for 3 servings:
Leek 1 pc.
Garlic 2 cloves
Asparagus 10 stalks
Vegetable broth 3 cups
Potatoes 2 pcs.
Carrot 1 pc.
Green peas 3.53oz
Celery 3 stalks
Salt to taste
Instructions:
Cooking time 30 minutes
Finely chop the leek, chop the garlic, and fry the slicing in a saucepan in olive oil until golden brown.
In asparagus, remove the hard parts at the bottom, and cut the stems into small cubes. Combine with onion-garlic frying.
Pour in the warm vegetable broth and cook for 10 minutes after boiling.
Cut potatoes into cubes, carrots into large strips, and celery — arbitrarily.
Add the sliced and green peas to the soup, add salt, and cook for another 5-7 minutes.
#2.Spinach cream soup
. 5 Spring soups from seasonal products.
Spinach boasts generous reserves of valuable elements in spring. Therefore, the soup from it turns out to be the most healing. Delicate spinach cream soup with ruddy shrimp is a perfect spring combination.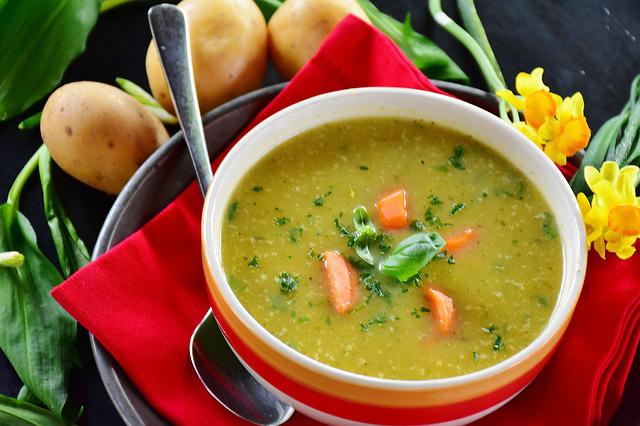 Ingredients for 4 servings:
Onion 1 pc.
Garlic 4 cloves
Flour 1 tbsp
Spinach 21.16oz
Broth 2 cups
Milk 3.2% 2 cups
Shrimp 14.11oz
Rosemary 2 sprigs
Ground nutmeg to taste
Oil 6 tablespoons
Instructions:
Cooking time 35 minutes
Chop the onion and 2 cloves of garlic, and fry in 3 tablespoons of oil.
Add flour and chopped spinach, and mix.
Pour in the broth and simmer on the fire for 10 minutes.
Add the milk and cook for another 10 minutes.
Remove the soup from the heat, add salt and nutmeg, and give the dish a homogeneous texture with a blender.
Heat the remaining oil in a clean frying pan, add crushed 2 cloves of garlic and sprigs of rosemary. Wait until the oil absorbs the aroma of spices and herbs.
Remove the browned garlic with rosemary and quickly fry the peeled shrimp in fragrant oil.
Pour the soup onto plates, garnish with fried shrimp, and serve.
Try to cook these spring soups for your loved ones. They will fill your family menu with new bright flavors and a sunny mood.
#3.Soup with peas
Agree, hearty winter soups from dried beans and beans are pretty boring. Spring cream soup from green peas will help to refresh the taste range. Before serving, decorate the soup plates with fresh herbs. As an experiment, you can take mint leaves. Such a still life will please the eye with bright colors, and the body with placers of vitamins.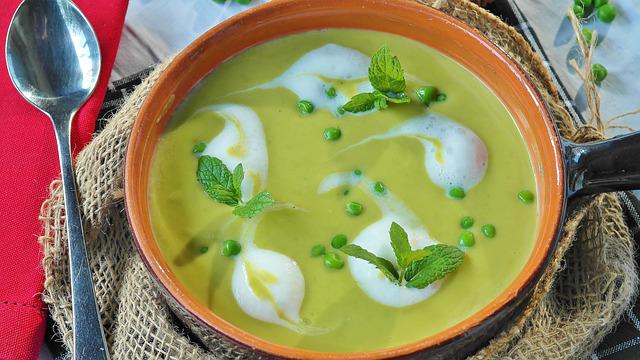 Ingredients for 2 servings:
Green peas 19.4oz
Bacon 3 tablespoons
Onion 1 pc.
Garlic -1 clove
Cream 20% 1/2 cup
Vegetable broth 2 cups
Salt to taste
Instructions:
Cooking time 20 minutes
Cut the bacon into large pieces and fry until crisp. Transfer the roast to a clean bowl.
Finely chop the onion and garlic and fry until golden brown in the same pan in which the bacon was cooked.
Add frozen peas to the golden onion with garlic and simmer on the fire for 2-3 minutes.
Transfer the billet to the already boiling broth and cook for 10 minutes.
Use a blender to puree the soup. Pour in the warmed cream and bring the soup to a boil. Pour on plates, garnish with bacon and herbs, and serve.
#4. Sorrel soup
. 5 Spring soups from seasonal products.
Green soup with sorrel is the very embodiment of spring — bright, juicy, and fragrant. There are many variations, but sorrel soup with egg remains a favorite classic. This dish has two cooking options: raw eggs can be beaten and poured into the broth, or you can cook them separately and add them already during serving. How it tastes better is decided by the cook and the household.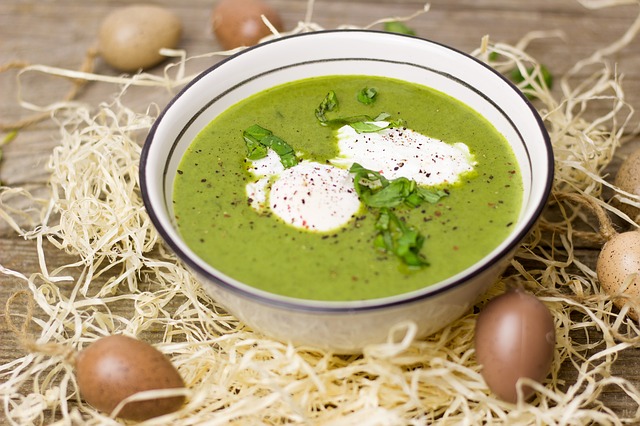 Ingredients for 3 servings:
Broth 6 cups
Sorrel 1 bunch
Potatoes 3 pcs.
Chicken eggs 2 pcs.
Salt to taste
Pepper to taste
Greens 4 twigs
Instructions:
Cooking time 25 minutes
Prepare the broth. How to make it as delicious as possible, you can see here. If desired, leave the meat on which the broth was cooked and add it to the soup later.
Cut the peeled potatoes into cubes and send them to the hot broth. Cook until half cooked.
Cut the sorrel into "ribbons" and send it to the almost-cooked potatoes. At this stage, you can return the meat to the broth.
Bring the soup to a boil, add salt and pepper to taste, and remove from heat.
Let the dish stand for 5-7 minutes and serve, garnished with boiled egg, herbs, and sour cream.
#5. Zucchini puree soup
. 5 Spring soups from seasonal products.
The first spring zucchini delight with a subtle refreshing taste and fireworks of vitamins. In addition, they are ideal for delicate cream soups. Even the most demanding gourmets will not resist such a dish. And if you serve soup with fried mushrooms, pieces of chicken, or shrimp, you will get not only delicious but also a hearty treat.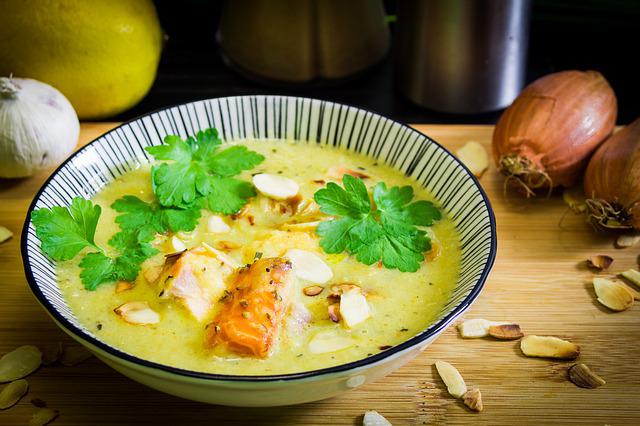 Ingredients for 4 servings:
Zucchini 3 pcs.
Potatoes 3 pcs.
Broth 6 cups
Walnuts 3 tablespoons
Ground nutmeg 1 pinch
Cream 20% 1 cup
Salt to taste
Instructions:
Cooking time 35 minutes
Cut the zucchini into slices and fry in oil until lightly browned. Bring the broth to a boil, add the sliced potatoes, and zucchini roast, and cook for 30 minutes.
Beat the workpiece into a smooth mass with a blender. Add the crushed walnuts and punch again with a blender until smooth and homogeneous texture.
Pour in warm cream, add salt to taste, return to the fire, and bring to a boil. Garnish the soup to taste and serve. Enjoy your meal!