These brownies with avocado, apple and dates are very tender and literally melt in your mouth! A variation of the popular chocolate cake recipe. The unusual taste of the original squares brownies are good for any occasion. But you must remember that the perfect brownie should be crispy on top, and inside-soft, slightly moist. Avocado brownies in a slow cooker.
Ingredients:
For 12 servings
Avocado 2 PCs.
Apple (medium) 1 PC.
Dates 3.53oz
Eggs 2 PCs.
Vanilla extract 1 teaspoon
Chocolate (72%) 4.94oz
Flour 2 tablespoons
Cocoa powder 2 tablespoons
Baking powder for the dough 1 teaspoon
Salt to taste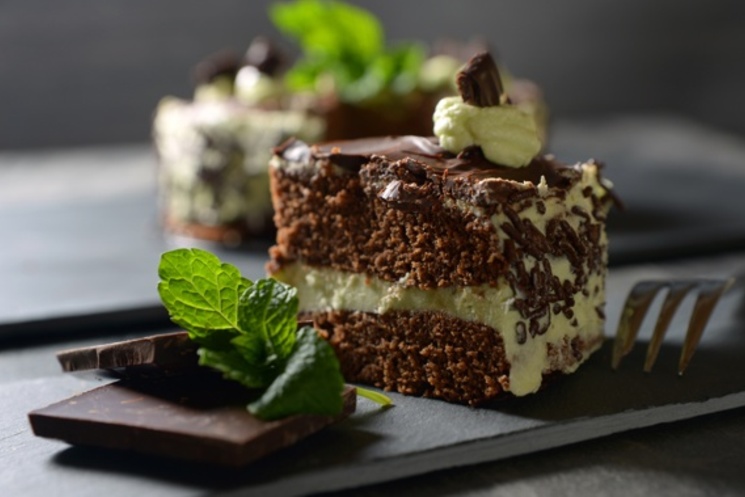 Instruction:
. Avocado brownies in a slow cooker.
Cooking time one hour
Pour hot water over the dates and leave for about 20 minutes. In a separate bowl, mix all the dry ingredients (except chocolate). Beat the " wet " ingredients in a blender. Drain the dates before adding them.
If you have a powerful blender or food processor,
you can immediately beat all the wet ingredients until smooth. My blender is small, old and not very powerful, so I whipped after each addition of products so that everything was well crushed and the dough turned out to be homogeneous.
Add a mixture of dry ingredients to the resulting mass. Beat until smooth. At the end, add the chocolate pieces. Manually mix them into the dough. Pour the finished brownie dough with avocado, apple and dates into the bowl of a slow cooker, pre-oiled.
Spread the dough evenly. Close the lid of the slow cooker and turn it on in the "Baking" mode for 30 minutes. After the end of the multi-cooker mode, let the brownies cool down (I left the brownies in the multi-cooker).
Remove the cooled avocado brownie from the bowl of the slow cooker (upside down) and cut into small pieces. If desired, brownies can be covered with chocolate cream. Delicious, chocolate cake! It just melts in your mouth! Ideal with coffee or milk. Perfect for a festive table – for a birthday, Christmas.  Bon Appetit!