A sweet mood can overtake any day of the week, especially in rainy autumn. In such a case, you need to have a box of fresh sweets at hand. A delicacy for every taste can be prepared independently, without spending a lot of time. Cooking sweets at home: 5 simple recipes.
Dried fruits, chocolate, coconut or salted caramel – choose your favorite ingredient and get involved in the process with us. Sweet homemade candies can be a great surprise for loved ones or a pleasant dessert for yourself. It will taste better than in the store!
1.Creamy toffee
Milky, tender, with the addition of salt — toffee is prepared very simply, and will please for several days, unless, of course, they are eaten much earlier.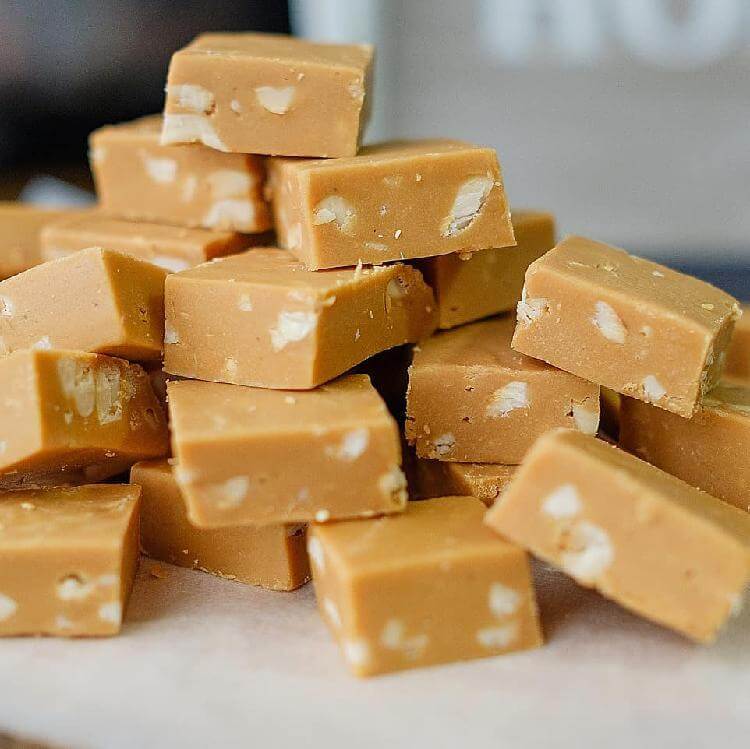 Ingredients:
Sugar 7.0oz
Cream 33-35% 1 cup
Butter 1 tablespoon
Honey 3 tablespoons
Vanilla 1/2 teaspoon
Instruction:
Cooking time 1 hour 10 minutes
1. Prepare a silicone ice mold. If there is no such thing, take a plastic one and lubricate it with a small amount of oil.
2. In a saucepan, mix cream, sugar, vanilla, butter and honey. Put it on the fire.
3. Bring the mass to a boil, stirring constantly. Cook over medium heat for 30 minutes, stirring occasionally.
4. Pour the thickened hot mass into the molds. Wait until it cools down, and then put it in the freezer for 30 minutes.
5. The original candies are ready! If you want to make the taste richer, sprinkle the blanks with coarse salt before putting them away in the cold. Still like salted caramel?
2.Tender coconut
Being next to freshly cooked coconut sweets, you need to have patience and great willpower. After all, for the best result, the products should be allowed to infuse for a day — after that, the dessert will be much tastier.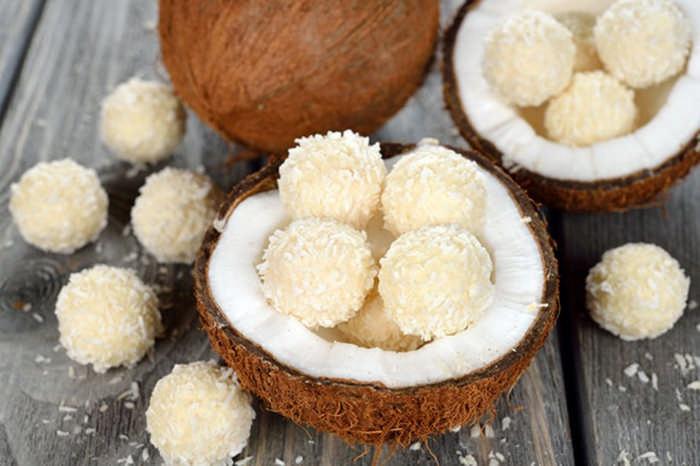 Ingredients:
Coconut chips 5.29 oz
Condensed milk 14.11 oz
Egg yolks 1 pc.
Almonds 3.53 oz
Vanilla 1/2 teaspoon
Instruction:
1. In a saucepan with a thick bottom, mix condensed milk, egg yolk and 3.53 oz coconut chips.
2. Put on the fire and boil the mass over medium heat for 10 minutes, stirring constantly.
3. Put the contents of the saucepan on a flat plate, flatten and let it cool completely.
4. Roll the balls with a small diameter and place the almonds inside. Roll in the remaining coconut chips.
5. Place the finished candies carefully on a flat surface and put them in the refrigerator overnight to stabilize.
3.Frozen plum
Jelly candies made from fruits and berries can be prepared all year round. In summer and autumn – from seasonal products, and in winter — from frozen.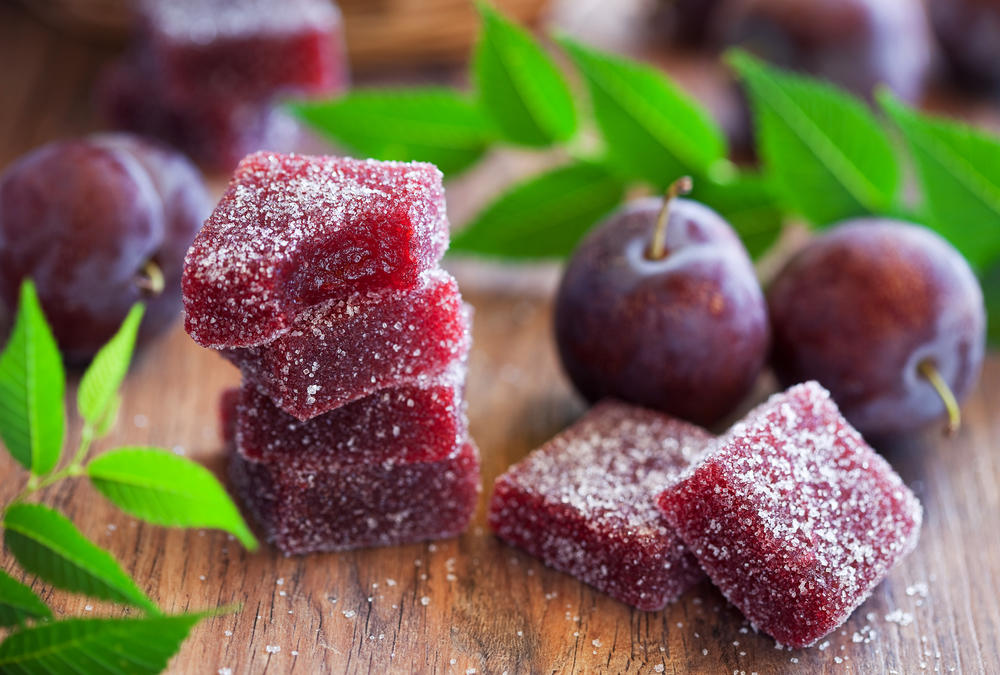 Ingredients:
Plums 17.64 oz
Gelatin 1 tablespoon
Sugar 10.58 oz
Butter for greasing
Instruction:
The preparation time is 5 hours and 20 minutes
1. Prepare a container in which you will cool the candies. It can be a flat rectangular baking dish. Cover it with baking paper and grease with butter.
2. Wash the plums, cut them into two parts, remove the stone and preferably peel them. The ingredients indicate 17.64 oz plums, in the prepared form the amount should be about 14.11-15.87 oz.
3. Chop the plums into small pieces and mix with sugar. Add a little water (1 tablespoon) and punch with a blender.
4. Pour the resulting mass into a saucepan and pour gelatin. Heat the mass over low heat for 5 minutes, until the sugar and gelatin dissolve. Do not forget to stir. As soon as the liquid boils, remove from the heat.
5. Cool the mixture. If you do not have a special thermometer, drop a drop of plum mass on your hand. If it is not felt on the skin, then the temperature is correct.
6. Beat the contents of the pan with a mixer for 10 minutes, until the mass turns white and increases in volume.
7. Pour the mixture into the prepared mold and put it in the refrigerator for 5 hours, until completely solidified.
8. Remove the finished jelly mass from the mold, cut into pieces and roll in sugar or powdered sugar. Keep it in the refrigerator!
4.Dried fruit candies
. Cooking sweets at home: 5 simple recipes.
If you stick to proper nutrition, prepare spicy sweets without sugar. They can be eaten at any time of the day. The aromas of orange and cinnamon will definitely set you up for a warm autumn mood!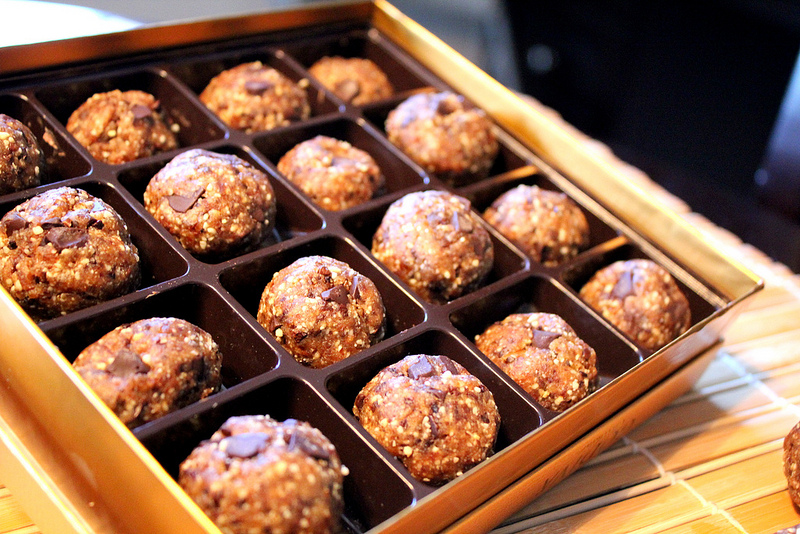 Ingredients:
Dates 7.0oz
Prunes 3.53oz
Cashews 3.53oz
Orange juice 2 tablespoons
Orange zest 1 teaspoon
Nutmeg to taste
Cinnamon 1 teaspoon
Coconut chips 2 tablespoons
Instruction:
Cooking time 1 hour 15 minutes
1. Chop the prepared nuts.
2. Pour dates and prunes with warm water for 10 minutes, dry. Cut into pieces and puree in a blender, adding juice, orange zest and spices.
3. Mix chopped nuts with dried fruit paste.
4. With wet hands, form balls, roll in coconut chips, sesame seeds or almond petals.
5. Put the blanks on a platter and put them in the refrigerator for 1 hour. A healthy snack is ready!
5.Chocolate truffles
. Cooking sweets at home: 5 simple recipes.
True sweet tooth will never pass by a chocolate cake, cakes or sweets. For this recipe you will need dark chocolate and cocoa powder of good quality.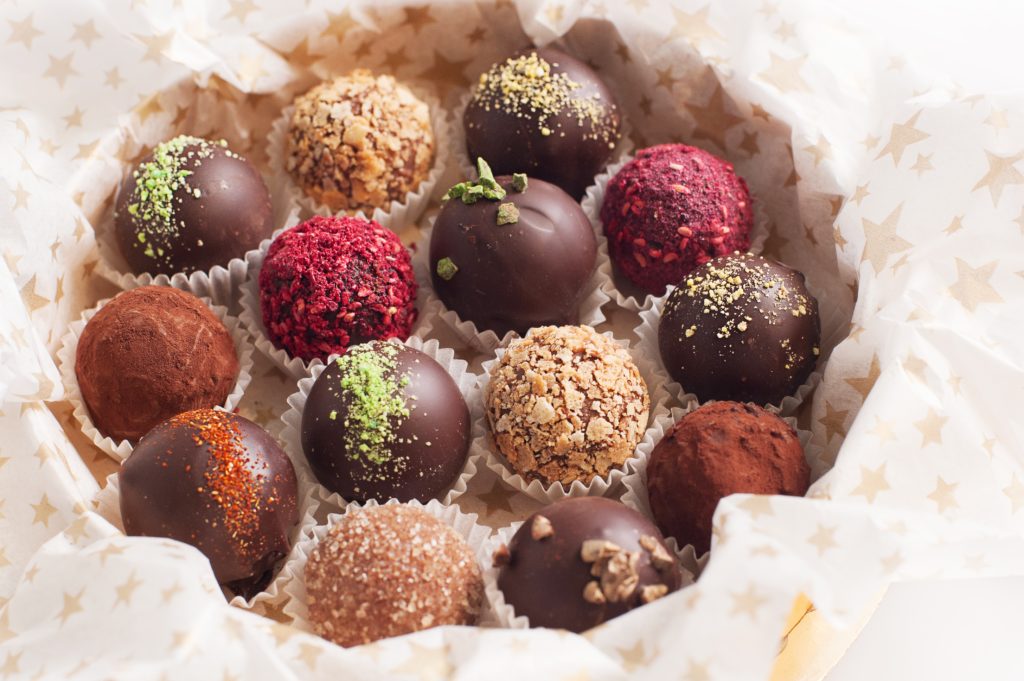 Ingredients:
Cream 33-35% 1 cup
Dark chocolate 7.0oz
Sugar 1 tablespoon
Butter 1 tablespoon
Cocoa powder 2 tablespoons
Instruction:
Cooking time 2 hours 15 minutes
1. Heat cream in a saucepan with a thick bottom, add sugar. Stir, bring to a boil. Turn off the fire.
2. Put the chocolate, broken into pieces, and butter in a saucepan. Stir until smooth.
3. Pour the contents of the pan into a deep dish, cool it and put it in the refrigerator overnight.
4. Using a teaspoon, form balls of the same size and roll them in cocoa.
5. Put the finished candies back in the refrigerator for at least 1 hour. Enjoy it!
Making sweets at home is not at all difficult, as it may seem at first glance. In addition, this will require a minimum of ingredients. Choose the recipe that you liked the most and bring it to life in your kitchen. Treat your loved ones with sweets for and without!
Bon Appetit!
Like what you're reading? You can sign up for Medium using my affiliate link. Just $5 a month to read an unlimited number of articles and help me create further. Together we will move mountains!
https://elenasunshinemagazine.medium.com/membership