Vegan tender cakes are very tasty and beautiful confectionery. Such a cake can be prepared at home, in your kitchen. After all, there are a lot of vegetable products, using which you can get delicious, beautiful and healthy cakes! Carrot, berry, pancake, nut – very different. The main thing is to have a desire and a decent recipe. Festive, healthy and delicious cake recipes.
1. Orange cake
This light and delicious vegan sponge cake can be served separately, or used as a base for other cakes.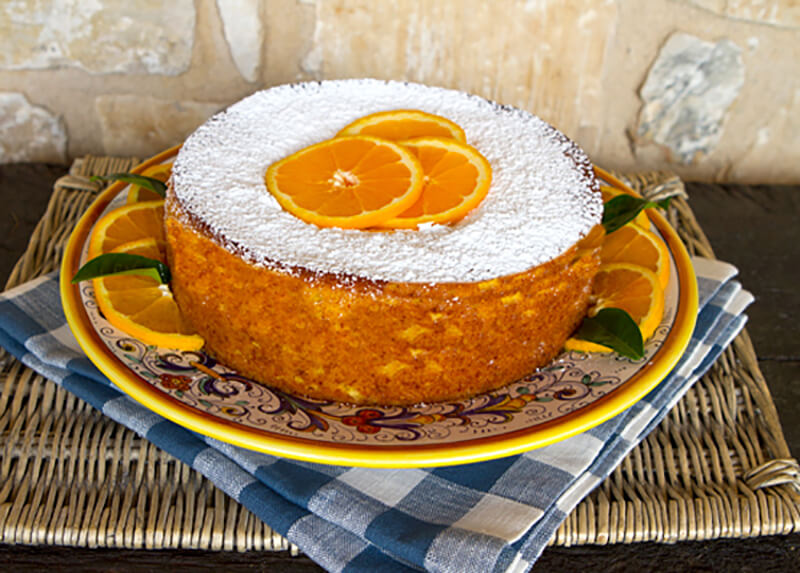 Ingredients for 4 servings:
For a biscuit:
Wheat flour 1.5 cups
Sugar 1 cup
Almond milk 2 cups
Orange extract 2 tsp
Olive oil 5 tablespoons
White wine vinegar 1 tablespoon
Soda 1 teaspoon
Salt ½ tsp
Ground cinnamon 1 teaspoon
Thyme 1 teaspoon
For the cream:
Powdered sugar 2 cups
Vegan margarine 3 tablespoons
Almond milk 4 tbsp. l.
Orange extract 3 tsp.
Zest of one orange
For submission:
Orange slices
Fresh thyme, rosemary, mint of your choice
Instruction:
Cooking time 1 hour
Preheat the oven to 356 F. Grease a baking dish with butter.
In a saucepan, mix 2 cups of almond milk, cinnamon and thyme. Bring the milk to a boil, then turn down the heat and leave to boil for 15 minutes.
In a separate bowl, mix 2 tsp of orange extract, olive oil and vinegar. Add almond milk, mix well.
Mix all the dry ingredients for the sponge cake. Add the milk and butter and mix well.
Pour the mixture into a baking dish and bake the sponge cake for 30 minutes. Then put the biscuit in the refrigerator.
Mix all the ingredients for the cream and whisk with a mixer.
When the biscuit cools down, smear it with cream. Garnish with oranges and herbs.
2.Carrot cake with vanilla cream
. Festive, healthy and delicious cake recipes.
We share a recipe for the same classic, but vegan carrot cake for the delight of lovers of spicy sweets!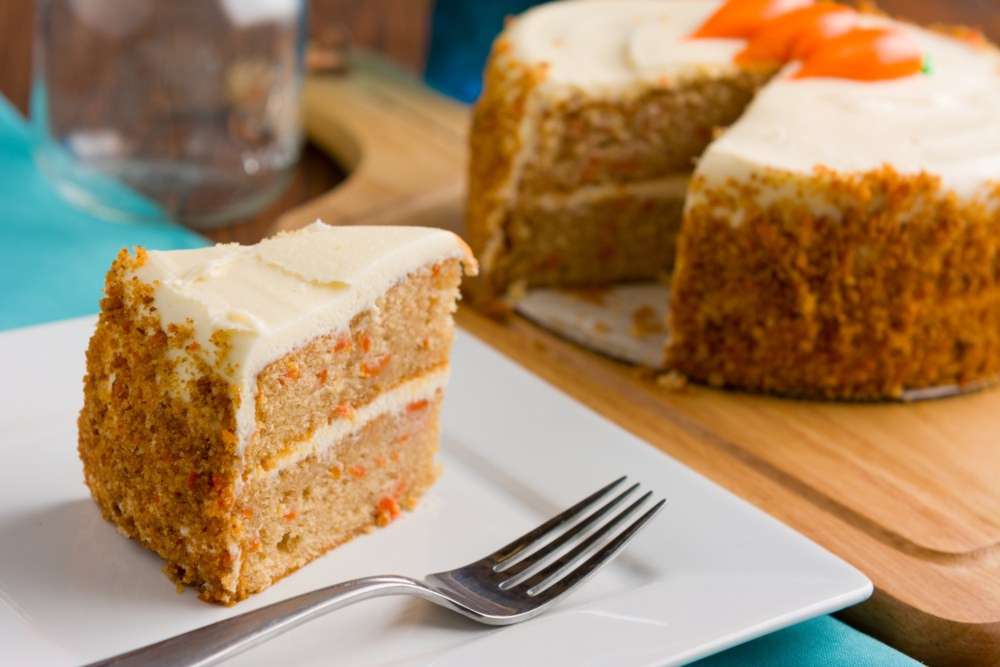 Ingredients for 6 servings:
Biscuit:
Flour 3 cups
Sugar (you can use cane sugar) 2 cups
Ground flax 2 teaspoons + 6 tablespoons of water
Vanilla extract 2 tsp
Ground cinnamon 1 tsp
Baking soda 2 tsp Apple
cider vinegar 2 tbsp
Walnuts 1 ½ cup
Vegetable oil (olive, coconut) 5 tablespoons
Cold water 2 cups
Grated carrots 2 cups
Cream:
Vegan cottage cheese 2 cups
Powdered sugar 1/2 cup
Vanilla extract 1 tsp.
Instruction:
Cooking time 7 hours
Preheat the oven to 356 F. Line two identical baking pans with parchment or brush with a small amount of oil.
In a large bowl, combine the sifted flour, sugar, salt, cinnamon, pumpkin spices and baking soda. Mix it up. Place the walnuts on a baking sheet and bake for 5 minutes, remove and let cool.
Chop half of the walnuts into fine crumbs, add all the walnuts to the flour mixture. In a small bowl, mix the oil, water, vinegar, flaxseed egg, vanilla and carrots. Pour the liquid mixture into the flour mixture and mix until smooth.
Pour the dough into the molds and bake for 35 minutes until "clean toothpick". Let the pies cool for 10 minutes, then remove them from the mold and leave to cool completely.
Make a cream. If you use vegan cottage cheese, just whisk it in a blender with powdered sugar and vanilla. If coconut milk, leave the jar overnight in the refrigerator. Remove the hardened "cream", whisk them with powdered sugar and vanilla.
Smear each cake with cream. Put one on top of the other, decorate with walnuts. It is best to let the cake stand in the refrigerator for 6-8 hours so that it is soaked with cream.
3.Delicate vegan cake with strawberries.
Festive, healthy and delicious cake recipes.
Easy to prepare, at the same time, an elegant cake that can be made for a birthday or a family holiday. Instead of strawberries, you can use any berry.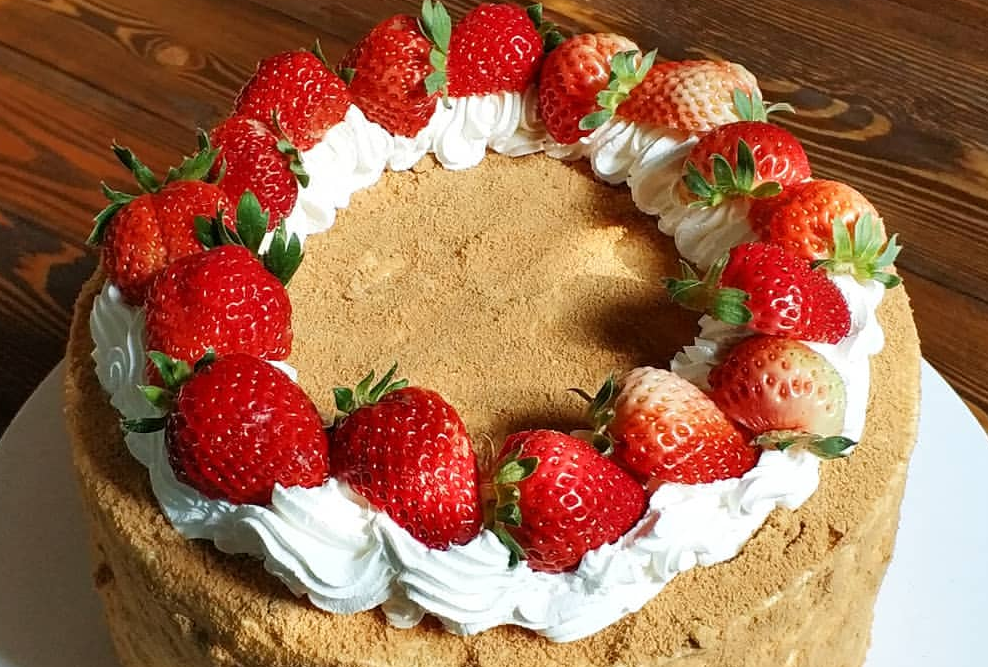 Ingredients for 4 servings:
For a biscuit:
Flour + for powdering the surface 15.87oz
Soda 1 teaspoon
Powdered sugar 8.82oz
Sunflower oil 1/2 cup
Vegan milk (almond or soy) 2 cups
Maple syrup 3tbsp.l.
Vanilla extract 2 teaspoons
Strawberry jam 4tbsp.l.
Sliced strawberries, for topping 5.29oz
For the cream:
Vegan Spread 7.0oz
Powdered sugar 1/2 cup
Instruction:
Cooking time 1 hour
Preheat the oven to 356 F. Brush with butter and sprinkle with flour 2 round shapes for the cake. In a large bowl, mix flour, baking soda and sugar. Mix sunflower oil, milk, syrup and vanilla in a jar, pour over the dry ingredients.
Beat the mass with a mixer for 2 minutes until thick, creamy consistency. Distribute the mass into the molds, bake for 35-45 minutes in the oven. Remove, let cool.
Meanwhile, prepare the cream filling: mix the spread, powdered sugar and vanilla in a bowl. Cover with a lid, refrigerate until thickened.
Spread the jam evenly over one of the pies, then lay out the cream mixture. Put the second pie, put the remaining cream. Garnish with strawberries. Bon Appetit!