Cauliflower in cashew cream is a delicious, healthy and nutritious dish. Cauliflower is a rich source of vitamins, minerals and antioxidants. A combination of turmeric and black pepper. Healthy recipes Cauliflower in cashew cream.
Black pepper piperine increases the absorption of turmeric and its use in the body. This combination has a beneficial effect on health, as these substances have anti-inflammatory and antioxidant properties.This recipe uses cashew, which, thanks to soaking in water, acquires a more accessible form for the absorption of nutrients. Soaking makes the nuts juicy and sweet.
Cauliflower is a vegetable with delicious juicy inflorescences, from which you can prepare a lot of delicious and, most importantly, healthy dishes. It can be used not only to make healthy baby puree, but also to prepare various light soups and soups-puree, summer salads, warm snacks, stews and casseroles — cauliflower dishes can be very different.
The vegetable is delicious to bake, cook, fry, marinate or even add to the dish raw. Not everyone knows about the last two methods, but marinated cauliflower has a piquant taste and crunchy consistency. Most often, it is preferred to fry in batter or breadcrumbs.
Ingredients:
For 6 servings
Cauliflower 1 piece
Cashew (dry, unroasted) 1 Cup
Water 1 Cup
Spices (salt, turmeric, black pepper) by taste
Garlic 2 cloves (optional)
Olive oil 2 tablespoons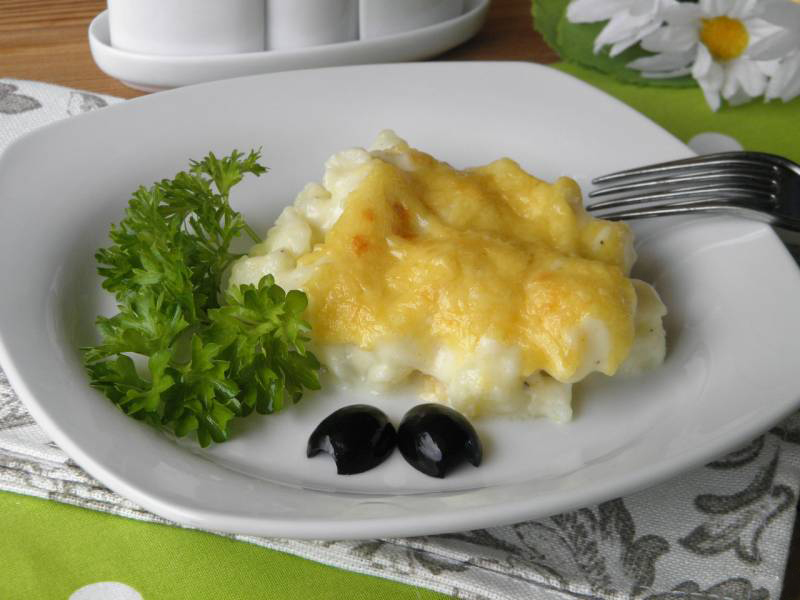 Instruction:
. Healthy recipes Cauliflower in cashew cream.
Cooking time one hour
To prepare a delicious and nutritious dish, we will need. Wash the cashews, soak them in clean water for 5 hours and rinse them again. Cabbage disassemble on inflorescences, to cut.
Place the cashews in a blender bowl, add some clean water and spices. Beat, adjusting the water, until the consistency of thick sour cream.
Put the cabbage tightly in a baking dish in one layer, apply the cashew cream and distribute them with a brush. Bake in a preheated 356F (180С) degree oven for 40-50 minutes. Spread the cauliflower on a platter. As greens , you can use lettuce leaves and chopped bell peppers. Enjoy your meal!