Homemade sweets made from dried fruits. Healthy composition of sweets and very rich taste will appeal even to those who do not like dried fruits. This recipe became one of my favorites from the first cooking. Energy properties will saturate for a long time. Even without adding sugar, the sweets turned out to be sweet due to the natural properties of dried fruits. It is ideal to take such sweets with you on a long journey. But don't eat too many of them, since dates and cashews are high in calories.
They make such healthy sweets from all kinds of nuts, chickpeas, oatmeal, dried fruits. Combining various products, supplementing them with natural sweeteners (honey, stevia, agave or maple syrup), coconut chips, poppy seeds, sesame seeds, cocoa powder, chia seeds, you can get a variety of flavors. Homemade sweets made from dried fruits.
Ingredients:
.Homemade sweets made from dried fruits.
for 19.4 oz (550 g) of candy
Dates (without seeds) 6oz (170 g)
Cashew nuts 5.29 oz (150 g)
Almonds 2 tablespoons
Dried apricots 3 tablespoons
Flax seeds 1 teaspoon
Chocolate (70% cocoa)  5.29 oz (150 g)
Nutritional value per 3.53 oz (100 g)
Calories 441 k cal
Protein 10 g
Fat 26 g
Carbohydrates 43 g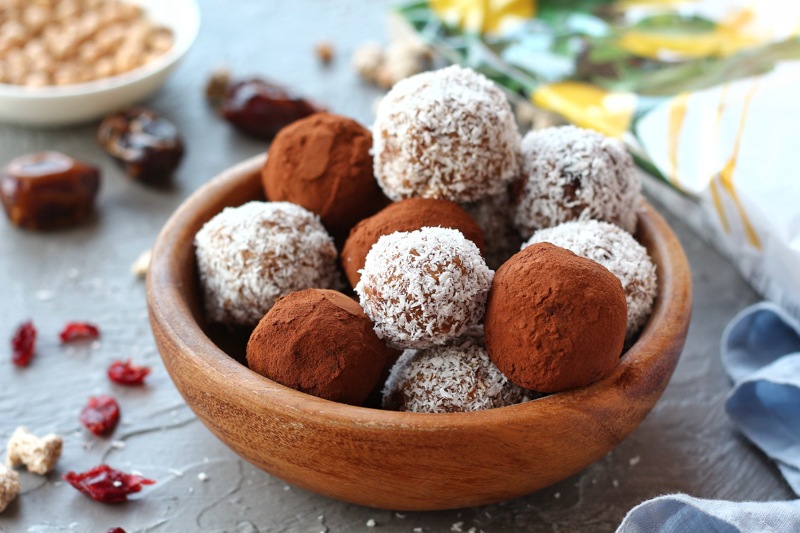 Cooking healthy sweets:
Pour boiling water over the dried apricots, and peel the dates from the seeds.
Chop the nuts in a blender. Add dried fruits and one teaspoon of flax seeds to the blender. Grind until a homogeneous mass.
Melt the bitter chocolate and distribute it over the surface of the mold. We send it to the refrigerator for 25 minutes.
After the chocolate has frozen, fill the form with the filling. Cover the top with chocolate and send it to the refrigerator for 1 hour.
If the recipe contains nuts, seeds, and peanuts, it is better to pre − fry them in a dry pan-so the candy will turn out more flavorful. And when you roll the balls themselves, moisten your hands a little with water, so that the mixture does not stick to them. Also, do not forget about the proper storage of homemade sweets. Since they are prepared without preservatives, their shelf life is short. And it is better to store it in the refrigerator. Bon Appetit!