Rabbit meat is an ideal healthy product. But few people know how to cook a rabbit so that it does not lose its delicate taste. Although it is very easy. Rabbit fricassee with cream and parsley.
The rabbit is a healthy and lean meats, is known to many. It contains more protein than other types of meat, but much less fat. It also has a rich vitamin and mineral composition. This recipe for rabbit fricassee is perfect for a festive table, for the arrival of guests.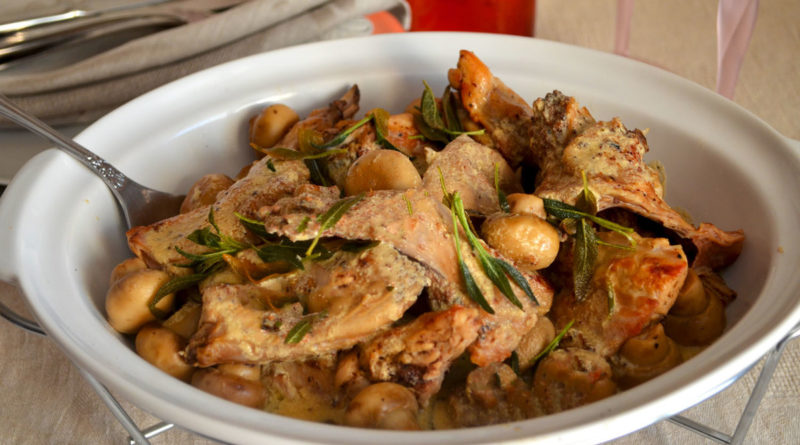 Ingredients:
Cooking time 1 hour 30 minutes
Rabbit (carcass) 33.51oz
Low-fat cream 1 Cup
Onion 2 PCs
Vegetable oil 1 tablespoon
Salt 1 teaspoon
Pepper to taste
Parsley 5 sprigs
Instruction:
. Rabbit fricassee with cream and parsley.
Cut the rabbit carcass into pieces and rinse it under running water.
Heat a frying pan with a little oil. Lay out the pieces of rabbit meat and fry them lightly on both sides. During frying, add salt to taste. Put the liver, heart, and kidneys aside for now, and don't fry them with the meat, otherwise you'll ruin their taste.
Transfer the meat pieces to the pan. Put the heart with the liver and kidneys in the same place. Pour a little boiled water on the bottom of the pan. Salt it lightly. Pour cream on top. The liquid should almost completely cover the meat.
Sprinkle the meat with chopped onions. Simmer for 15-20 minutes and leave. Before doing this, it is better to remove a piece of meat and make sure that it is already soft. The cooking time depends very much on the age of the rabbit. It is better to remove the liver from the pan a little earlier, so that it does not become hard on the contrary.
This dish goes very well with mashed potatoes, but you can serve it with any side dish. Rabbit fricassee is a meat stew with sauce.  Bon Appetit!