Wok meat is a delicious and dietary dish. It is fried in a frying pan with almost no oil. Therefore, what counts calories, or just a supporter of a healthy diet — this is what you need. We will cook meat in a chinese wok pan, and prove that low — calorie food is bright, hearty and original dishes. Healthy recipes Meat wok.
How to cook meat in the wok?
Dishes in the wok are prepared at an accelerated pace, so the products used retain the maximum useful properties. In addition, you are guaranteed to get a beautiful crispy crust and a pleasant aroma. Fry the meat in a wok so that the pieces do not pile on top of each other. Then each will be covered with a golden crust. If you fry vegetables, then lay them in portions of 8.82 oz, finely chopped. Products are quickly fried, stirring constantly during cooking with a spatula. But real professionals effectively toss the contents of the pan, turning a routine kitchen process into a real show.
In order to fry wok meat on a home stove, you need a frying pan with a flat bottom on the outside. For frying, it is better to use a thin-walled one, and for stewing or even cooking, you can take a cast-iron wok pan. It makes good meat stew and pilaf.
How to cook meat in a wok pan so that it is soft? To do this, take a cut with a delicate texture, which is quickly fried. For example, a tenderloin or a thick edge. In addition, marinades are actively used, which also soften the meat fibers.
What kind of oil and how to fry meat in a wok in such a short time? First of all, you need a strong fire. Properly prepared products will have a pleasant aroma and crust. They won't burn and they won't be raw. But before you put the pan on the fire, you need to clean and cut all the products that you plan to fry.
You need just a little oil, about a tablespoon per bookmark. But olive oil or butter won't do. They have a low smoke point, so they will simply burn. Take grape seed oil, peanut or sesame oil. It is very important not to reduce the heat and constantly actively stir or toss food. And, of course, do not leave the stove.
Marinades for beef in a wok are prepared with sourness. It is the acid that softens the muscle fibers. The main thing is not to overdo the meat in the marinade. Otherwise, you can get the opposite effect when the pieces of beef are rubber. You can use teriyaki sauce or oyster sauce, sweet and sour sauce or high-quality soy sauce. Meat in a wok pan recipe with soy sauce can be slightly changed and use the sauce, which is called: «Wok». And it is based on the same soy sauce, which is supplemented with sugar, wine, salt, water and yeast extract.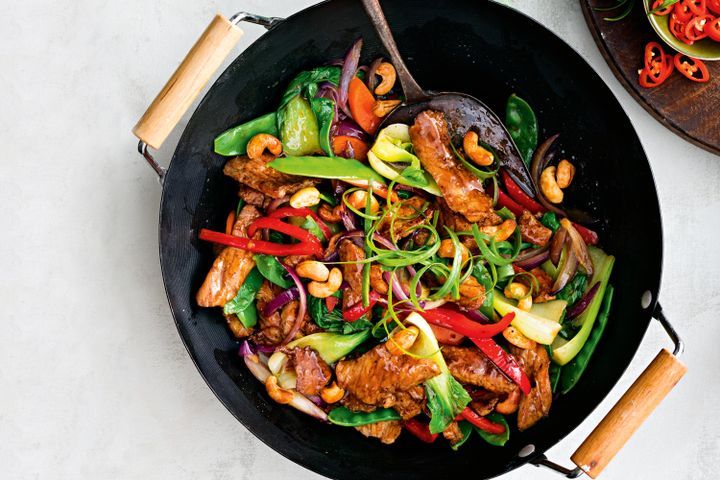 Meat in a wok recipes with vegetables
. Healthy recipes Meat wok.
Before you start cooking, select the meat. You can buy beef tenderloin or thin alternative steaks, such as Hanger steak or Skert. In the case of the last two, the meat is cut in strips across the fibers. Learn more about cooking alternative steaks by reading this article.
We will cook meat with vegetables in a wok using a tenderloin. The tenderloin is a valuable part. It is dietetic and gentle in its structure. There are few fat streaks in it. Such a tasty piece of meat is a guarantee that your dish will be perfect.
Beef in a wok pan is cooked very quickly, so we chop the meat in thin strips across the fibers, as for beef Stroganoff. Put the meat on a well-heated frying pan and immediately start stirring. The beef will cook for 10 minutes. Ginger, garlic and chili pepper, soy sauce and curry are traditionally used as spices. These are basic recommendations. In fact, the meat in the wok recipes are very diverse. We will prepare spicy meat with vegetables and corn cobs.
We take the beef tenderloin, take it out of the refrigerator, let it heat up to room temperature, dry it and cut it into thin strips. Pre-cut all the vegetables. Onions and peeled sweet peppers are cut into large slices or half-rings. Carrots should be cut smaller. Corn cobs are cut in half, garlic cloves are cut in plates. Chop the green onions.
In a preheated frying pan, fry the meat in small portions for 8-10 minutes, stirring constantly. After the meat, the vegetables are fried separately for 2-3 minutes. They are laid in order of hardness. That is, carrots before, and green onions at the very end. When the vegetables are almost ready, add the corn and sweet pepper, sesame seeds and sugar. Return the meat to the wok and prepare all the ingredients now. Tomato paste and soy sauce are added to the pan, and then the dish is salted and peppered to taste. Now the wok is not frying, but stewing and softening of all components. That's the whole recipe for cooking meat in a wok. Without taking into account the preparation, the main process takes about 20 minutes. The cooked meat with vegetables remains to be removed from the heat and spread on plates.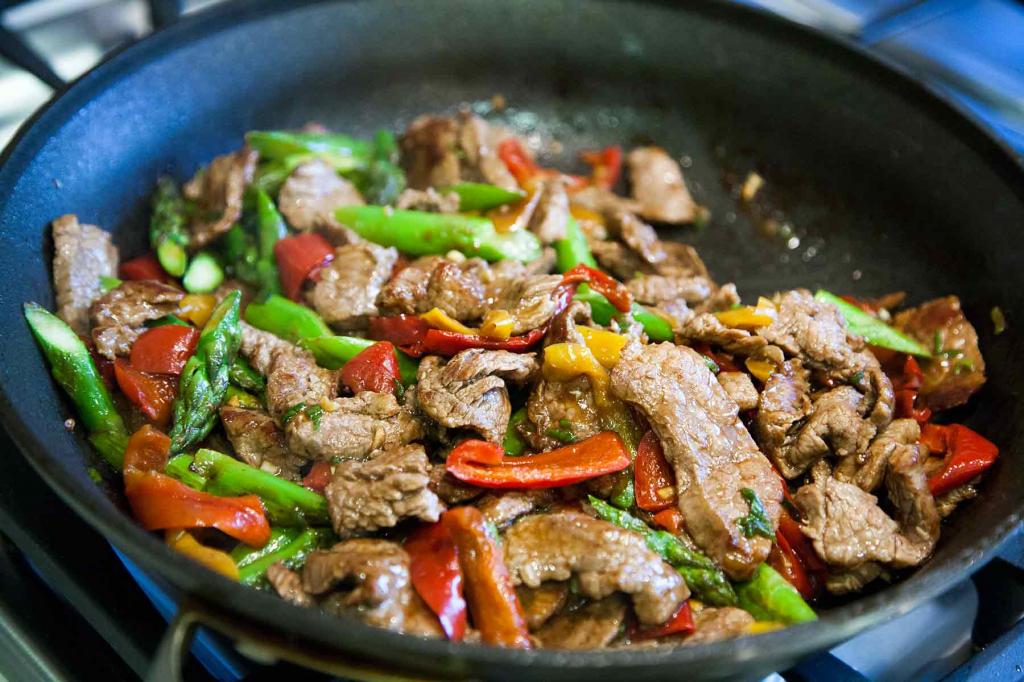 Wok noodles with meat and vegetables
. Healthy recipes Meat wok.
We will prepare it by marinating the meat in a mixture of sesame oil, grated ginger, soy sauce and apple cider vinegar. Immediately divide it into two parts. 20 minutes of this marinating is enough. The rice noodles should be boiled a third less than required, and the broth drained. It will come in handy. Chop the green onions and carrots.
Pour a little sesame oil and vegetable oil into the heated wok. The meat should be removed from the marinade and dried, and then fried until golden brown, about 2 minutes. Remove it with a slotted spoon.
After the meat in the pan, fry, adding one after another, carrots, string beans, green peas and finally green onions. Preparing the sauce. In the second part of the marinade, add the broth and a little starch. All this is sent to the vegetables, and after a minute we put it together in a wok, adding meat and noodles. Simmer for a few minutes — noodles with beef in Chinese are ready.
If you have wheat wok noodles with meat and vegetables, the recipe will be similar. These noodles are also called udon. To it add sweet pepper, onion, garlic, chili pepper. And everything is dressed with teriyaki sauce. Egg noodles with beef in soy sauce are prepared with onions, garlic, pepper and string beans, and at the end they are sprinkled with chopped herbs.
Wok meat can be prepared in a variety of ways. At the same time, these dishes will be bright, memorable and light. Try to test the dexterity of your hands and cook something special from marbled meat in a wok.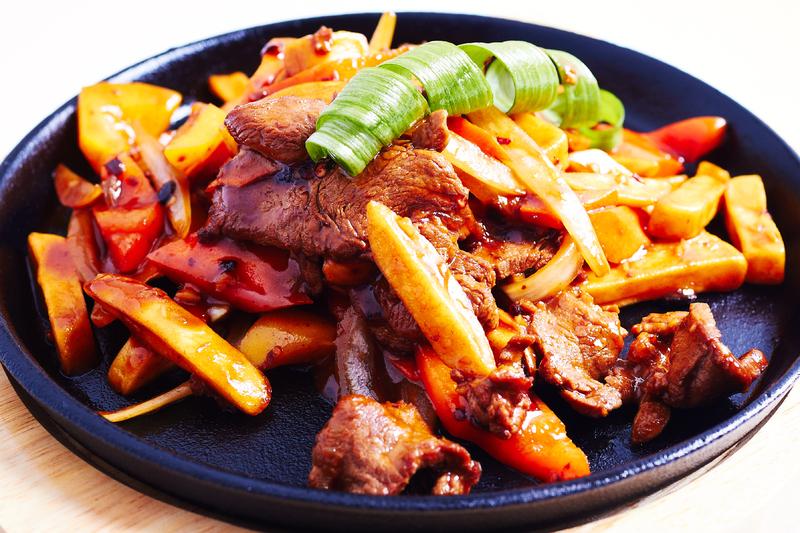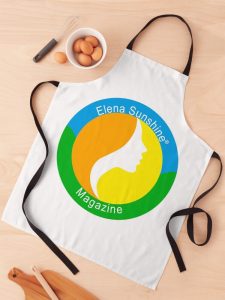 You can buy an apron with our logo 🙂
https://www.redbubble.com/i/apron/Elena-Sunshine-Magazine-by-Michaelbor76/52450511.6ZXWR?asc=u