Spaghetti with squid in cream sauce is a wonderful dish for seafood lovers. The creamy sauce perfectly soaks the spaghetti, makes it tender, and the squid takes on the main flavor accent. Pasta with squid in cream sauce.
Ingredients
for 3 servings
Spaghetti 7.05oz
Squid 8.82oz
Onion 1 PC.
Cream 20% 1 Cup
Butter 2 tablespoons
Hard cheese 3 tablespoons
Salt to taste
Ground black pepper to taste
Nutmeg 1 tablespoon
Instruction
. Pasta with squid in cream sauce.
Cooking time 30 minutes
Prepare all the ingredients you need to make the squid paste in a creamy sauce. The first step is to prepare the squid carcass. My squid is unpeeled, completely thawed.
To prevent squid meat from being rubbery, it should be cooked for a minimum time. In a saucepan, boil water, add a little salt and dip the squid in boiling water.
Bring the water to a boil and then cook the squid for no longer than 30 seconds. Then immediately remove and lower the squid in ice water for 1 minute. If the skin remains on the squid carcass, remove it. You can also clean the squid from a thin film. Dry the squid and cut it into strips. Peel the onion and cut it into small cubes.
In a frying pan, heat 2 tablespoon of butter. Over high heat, fry the onion until lightly golden, about 2 minutes. Add the squid to the onion and continue to fry for another 2 minutes over high heat.
Then pour the cream into the pan, add salt, ground black pepper and nutmeg to taste.
Bring the cream to a boil and cook the squid sauce until lightly thickened (3-4 minutes). In parallel with the sauce preparation process, boil the spaghetti in boiling salted water. Put the finished spaghetti in a colander and let the water drain. Transfer the spaghetti back to the pan, add the remaining butter and stir.
Now spread the spaghetti on serving plates, top with the squid sauce and sprinkle each portion with grated hard cheese. Serve the pasta with squid in cream sauce to the table immediately after cooking.
Bon Appetit!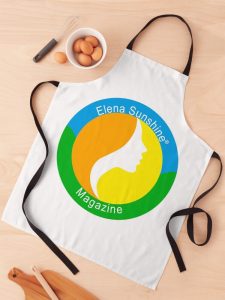 You can buy an apron with our logo 🙂
https://www.redbubble.com/i/apron/Elena-Sunshine-Magazine-by-Michaelbor76/52450511.6ZXWR?asc=u