This light dish is coconut curry with prawns, filled with vegetables and is very flavorful because of the prepared curry paste and coconut milk. The sweet and spicy sauce covers and fills the rice with flavors. Fitness recipes Coconut curry with shrimp.
Ingredients:
Cooking time 35 minutes
Designed for six servings
Olive oil 2 tablespoons
Curry paste 3 tablespoons
Finely chopped garlic 1 tablespoon
Sliced lemongrass 1 ½ teaspoons
Coconut milk 2 cups
Vegetable broth (or water) 1 Cup
Fish sauce 2 teaspoons
Corn starch 1 tablespoon
String peas, cut into 5.29 oz chunks
Carrot sliced into thin slices 3.53 oz
Peeled prawns 31.75 oz
Fresh Basil 3 sprigs
Cooked rice 24.69 oz
Instruction:
. Fitness recipes Coconut curry with shrimp.
Heat the oil in a large saucepan over medium heat. Add the curry paste, garlic, ginger and lemongrass; cook, stirring constantly, until the mixture is fragrant and dry, about 2 minutes. Add the coconut milk and stock (or water) and mix. Bring to a boil over medium heat. Reduce the heat to medium-low; simmer for 5 minutes.
Stir the fish sauce and cornstarch into a small bowl. Add the curry to the mixture; bring to a boil over high heat. Reduce the heat to medium-low, simmer, stirring occasionally, until the sauce thickens, about 5 minutes.
Add the peas and carrots to the curry mixture. Cook, without stirring, until the vegetables are soft, about 2 minutes. Add the prawns; cook, stirring occasionally, until the prawns are pink and ready, about 2 minutes. Remove from heat. stir in the Basil. Serve on rice. Bon Appetit!
Everyone would like to be in great shape all the time and have a perfect body. But not everyone is morally ready to make sacrifices for this, because proper nutrition is a habit that is not easy to instill in yourself. There are times when you should find fitness recipes for weight loss and proper nutrition.
If you like articles subscribe to our newsletter and you will learn more. https://elenasunshinemagazine.substack.com/
Like what you're reading? You can sign up for Medium using my affiliate link. Just $5 a month to read an unlimited number of articles and help me create further. Together we will move mountains!
https://elenasunshinemagazine.medium.com/membership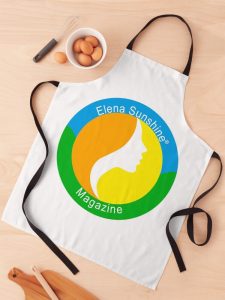 https://www.redbubble.com/i/apron/Elena-Sunshine-Magazine-by-Michaelbor76/52450511.6ZXWR?asc=u