Shrimp and grits are a popular and delicious dish. Although it is most often served for breakfast there, you can prepare it at any time of the day and enjoy the amazing taste combination of the most delicate corn porridge and elastic shrimp in a lemon-garlic butter sauce. And in order for grits, or simply porridge from corn groats, to acquire such a texture, grated parmesan and butter are mixed into it at the end of cooking. Spread the fragrant porridge on plates, put the ready-made prawns on top and pour the delicious sauce with herbs. Prepare a delicious dish at home with this recipe. Shrimp in garlic sauce with corn porridge grits.
Ingredients for the recipe:
Calculated for 4 servings
Medium shrimp (peeled) 19.4oz
Corn porridge 1 Cup
Grated Parmesan 1/4 Cup
Butter 3 tablespoons
Minced garlic 2 cloves
Cayenne pepper to taste
Lemon 1 PC
Parsley 2 tablespoons
Salt 1 teaspoon
Black pepper 1/2 teaspoon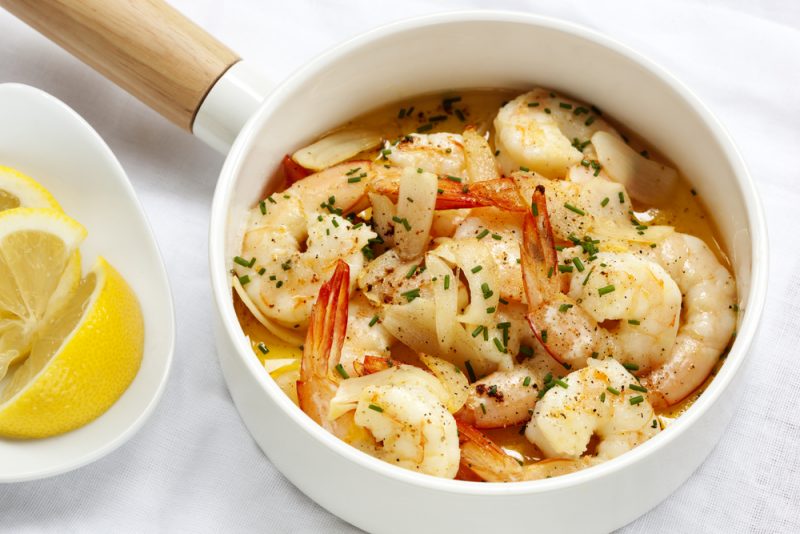 Instruction
. Shrimp in garlic sauce with corn porridge grits.
Cooking time 30 minutes
Preparation of the dish according to the recipe:
Pour 3 cups of water into a saucepan, cover with a lid and bring to a boil over high heat. Remove the lid and slowly stir in the grits, salt and black pepper. Reduce the heat to moderately low and cook, stirring, until thickened, about 5 minutes. Then add the Parmesan cheese and butter. Remove from the heat, season with salt and pepper to taste. Cover and keep warm.
Meanwhile, sprinkle the shrimp with salt and black pepper. In a large skillet over medium-high heat, melt the remaining butter. Add the prawns, garlic, and Cayenne pepper, if using it, and cook, stirring, until the prawns are pink, 3-4 minutes. Remove from the stove and add 2 tablespoons of water, lemon juice and parsley; stir to coat the shrimp with the sauce, season with salt and pepper.
Arrange the corn porridge in shallow bowls and top with the prawns and sauce. Serve with lemon wedges. Bon Appetit!