The soup prepared according to the recipe will turn out to be fragrant and rich. It will feel a pleasant beef taste of special meatballs — meatball. Read on to learn how to prepare this recipe for spicy soup with meat meatballs. Spicy soup with meat meatballs.
Delicious recipe for spicy soup with meat meatballs
Meatballs are meat balls that are made from minced meat. Nothing new, it seems. But the composition of minced meatballs can be very different. We will prepare minced meat with crackers, chorizo sausage and marbled beef. The result is an interesting combination of meat and spicy flavors. It is best to take dry-aged minced meat for this dish. This is low-fat minced meat, which has a bright aroma and rich taste. It makes excellent cutlets, first courses, tacos, kebab and much more. To make your meatballs look beautiful, carefully knead the minced meat. So it will become more sticky, and the meatballs will keep good form.
Ingredients
Designed for six servings
Vegetable oil 1 teaspoon
Salted crackers, finely chopped 5 pcs.
Water 2 tablespoons
Chorizo Sausages 6.17 oz
Lean Ground Beef 8.82 oz
Egg 1 pc.
Bulbs 2 pcs
Chipotle pepper in adobo sauce 3 pcs.
Adobo sauce 1 tablespoon
Chicken broth
Large tomatoes (diced) 4 pcs
Fresh coriander leaves, chopped 1/2 tablespoon
Instructions
. Spicy soup with meat meatballs.
Cooking time 35 minutes
Heat the oil in a skillet over medium-high heat. Combine the crushed crackers and water in a large bowl and mix until the consistency of a paste. Add the chopped chorizo sausage, ground beef and egg. Knead well.
Form approximately 24 meatballs. Put them in the pan. Cook for 10-12 minutes, turning occasionally. Transfer the meatballs to a plate. Add the onion to the pan. Fry it for 2-3 minutes or until transparent. Add the chopped chipotle peppers. Stir for 20-30 seconds to give the pepper its flavor, and transfer to the pan. Add the adobo sauce and stock and bring to a boil.
Add the meatballs to the soup. Simmer for 2-3 minutes. If necessary, remove excess fat. Top with sliced tomatoes and coriander.  If desired, serve the soup with lime wedges. Bon Appetit!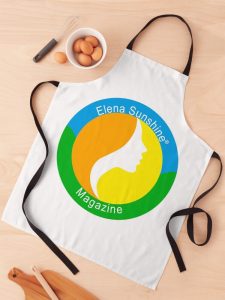 You can buy an apron with our logo 🙂
https://www.redbubble.com/i/apron/Elena-Sunshine-Magazine-by-Michaelbor76/52450511.6ZXWR?asc=u