Why vegetables and fruits? Taste, benefits and uniqueness of bright fruits and vegetables.

The bright colors of vegetables and fruits signal the content of phytonutrients in them (of which there are more than 3000). Each phytonutrient has a specific role in the body: they are antioxidants (protect cells), help the liver to remove toxins, have anti-inflammatory properties, support the immune system and play an important role in preventing chronic diseases. Taste, benefits and uniqueness of bright fruits and vegetables.
Including colorful fresh vegetable products in the diet, we provide ourselves with a whole range of phytonutrients. At the same time, our body also receives fiber, which helps the detoxification process, ensuring the work of the intestines and the timely withdrawal of "waste materials".
A modern urban person on average eats 2-3 vegetables and 1-2 fruits a day. This is at best and it is not enough! To help the body efficiently carry out the processes it needs, you need to gradually add colored vegetables and fruits to the diet.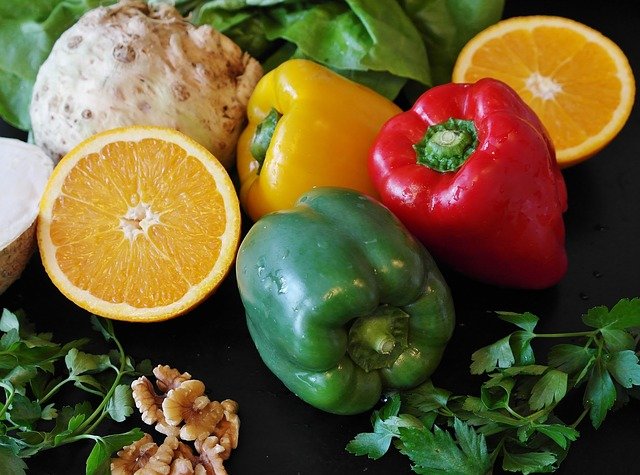 Vegetables and fruits of red color.

Taste, benefits and uniqueness of bright fruits and vegetables.



Strawberries, grapes, red oranges and grapefruits, cherries and cherries, cranberries, beets, tomatoes, radishes, red peppers.
They contain vitamin C, flavonoids, and lycopene-powerful antioxidants that help protect the body from the destructive effects of free radicals and prevent some forms of cancer.
Lycopene is better absorbed by the body after small heat treatment and in the vicinity of high-quality fats. Therefore, steamed tomatoes with a spoonful of olive oil will be better absorbed than just a piece of raw tomato.
Recipe: Gazpacho
Feel free to cook if your diet includes nightshade.
Large ripe tomato 1 pc
Small cucumber 1 pc
Sweet red pepper 1 pc
Olive oil 1 tablespoon
Natural soy sauce instead of salt 2-3 tablespoons
Grind everything in a blender – and you're done!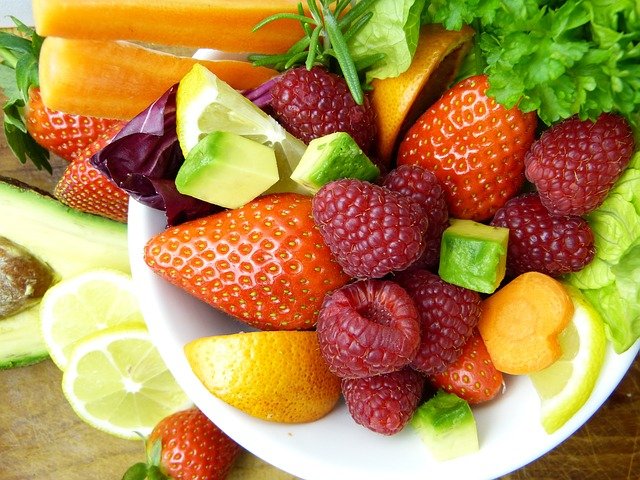 2. Vegetables and fruits of orange and yellow color
Bananas, oranges, yellow apples, pineapple, mango, lemons, apricots, peaches, pumpkin, turnips, yellow and orange peppers, sweet potatoes( sweet potatoes), turmeric.
All yellow fruits and vegetables are rich in vitamin C and carotenoids. They are best absorbed with healthy fats. Pineapple is a source of bromelain, an enzyme that improves digestion. Citrus fruits protect against cancer.
Turmeric is the absolute champion among spices! Its anti-inflammatory and digestive-improving effects have made it popular in cooking and therapeutic use.
Pumpkin and lingonberry dessert. Taste, benefits and uniqueness of bright fruits and vegetables.

Ingredients:
Sweet pumpkin peel, cut into cubes 34.92 oz
Put in a saucepan, add 0.5 cups of water
Cranberries or cranberries (can be frozen) 10.58 oz
Dried apricots 7.0 oz
Instruction:
Close the lid, let it boil, and, turning down the heat, simmer for 15 minutes.
2-3 minutes before cooking, add cranberries or cranberries, cut dried apricots.
Green fruits and vegetables
All greens: spinach, kale, salad leaves of different varieties, parsley, dill, coriander, arugula, avocado, green peas, broccoli, Brussels sprouts and other types of cabbage, kiwi, green apples, green grapes, lime.
Green fruits and vegetables contain chlorophyll and B vitamins, which are involved in the processes of energy formation in the body, and also saturate the blood with oxygen, improving metabolic processes at the cellular level.
They are also rich in phytonutrients called glucosinolates (found in cruciferous vegetables – all kinds of cabbage, kohlrabi, and radishes). These components allow you to maintain the health of cells, help the liver metabolize and remove toxins, and have an anti-inflammatory effect. But the effects of hot temperatures do not like glucosinolates, they are destroyed. Therefore, cruciferous vegetables are better either to eat fresh or to cook with soft methods (for a short time for a couple) and in a small amount of water.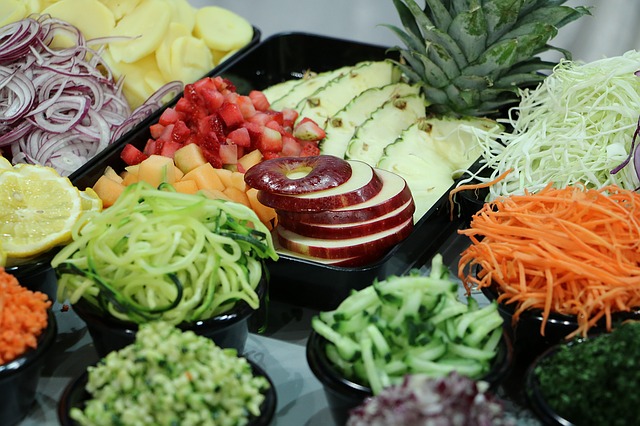 Tabouleh salad
It is rich in sodium and iron, it supplies fiber to the body. In my version, with quinoa instead of couscous, it is supplemented with high-grade protein and calcium.
Ingredients:
Large bunch of parsley
Tomato 1 piece
Red onion ½ pcs
Quinoa (preferably red or multicolored). 2 tablespoons
Juice of ¼ lemon or ½ lime
Olive oil 2 tablespoons
Mineral or sea salt to taste
Instruction:
Cook the quinoa for 15 minutes
While the quinoa is cooking, chop the parsley: the smaller, the tastier it will be.
Finely chop the onion and tomato. Mix the herbs, onion, tomato, and quinoa.
Season with lemon juice, oil, and salt.
Salad with broccoli and cashews
Broccoli cabbage is healthy for suppressing protein glycation, prolonging life, strengthening bones, preventing lung, colon, breast, prostate, pancreatic, and stomach cancer, normalizing blood pressure, and lowering cholesterol levels. Thus, broccoli can be considered almost the most valuable of all currently known superfoods. The only thing is that it should be consumed strictly in its raw form.
It's delicious, try to make a simple salad:
Ingredients:
Broccoli 3.53 oz
Red grapefruit or orange 3 slices
Pomegranate seeds 1 tablespoon
Red onion (chopped)
White wine vinegar 1 tsp
Cashews (pre-soak in filtered water for two hours) 1 tablespoon
Ground pepper, and turmeric  to taste
Instruction:
Divide the broccoli into small inflorescences, and cut. Peel the grapefruit and divide it into slices, open each slice, and peel off the white veins to exclude bitterness. Finely chop the red onion. In a bowl, mix olive oil, white wine vinegar, and pepper to taste. Cut the animated cashews or randomly break them into pieces. Season the vegetables and fruits with the sauce and mix gently. Decorate the top with pomegranate seeds and nuts.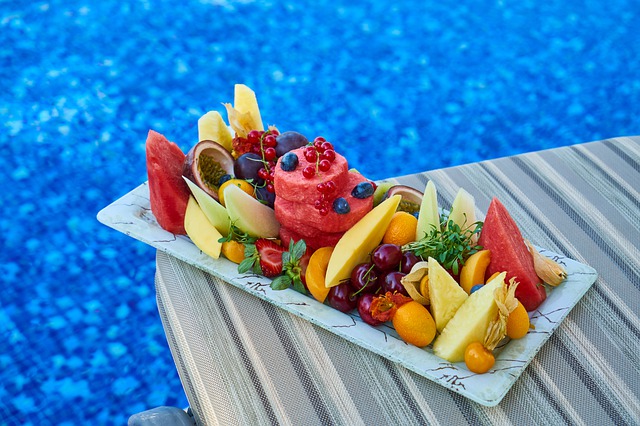 Fruits and vegetables of blue, blue purple color. Taste, benefits and uniqueness of bright fruits and vegetables.

Blueberries,  currants, plums, red cabbage, red onion, purple cauliflower, eggplant.
They contain powerful antioxidants called anthocyanins. Blueberries are especially rich in them. Anthocyanins have adaptogenic, bactericidal, and anti-inflammatory properties.
When we talk about adding a variety of vegetables and fruits to the diet, the quality factor is important: there is little useful preserved in plastic vegetables that have been lying on the supermarket shelf for more than one month. Therefore, try to choose local, seasonal products grown on organic farms.
Recipe: toast with ricotta and purple figs
High-quality bread! I have a yeast-free on a real long leaven, which, unlike fast yeast, breaks down gluten, making it easier to digest.
The freshest ricotta. You can use vegan cheese (based on cashews). The layer is obtained from 2 tablespoons, these are the necessary fats and protein.
Seasonal figs, cut into thin plastics. Each piece contains a fragrance and happiness. Figs are also very necessary for the health of blood vessels and the prevention of thrombosis, so if you have varicose veins, this is your product.
Blueberries or blueberries. Seasonal, the most vitamin-rich. These are bioflavonoids and antioxidants.
A little fresh thyme or rosemary on top. Just sprinkle and inhale the aroma of herbs, as if you are not in the metropolis.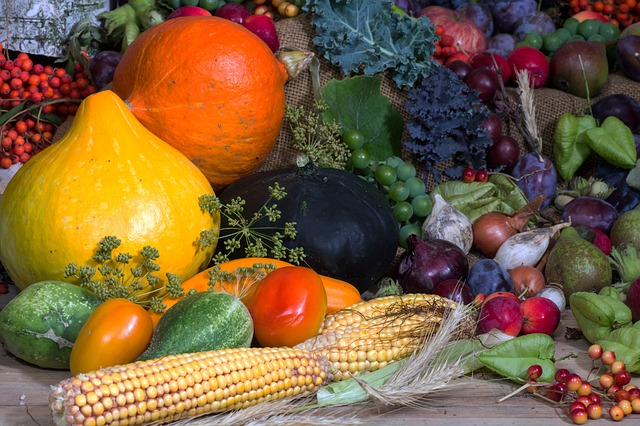 How to add variety to your daily diet? Taste, benefits and uniqueness of bright fruits and vegetables.

Plan in advance what you will buy. My refrigerator turns into a rainbow after buying food for a week: of course, there is more green, but all the colors are necessarily present.
Plan the menu for the week, taking into account the strategy "eat a rainbow every day".
Add vegetables to every meal. Let me remind you that fruit is not a dessert, it is a separate meal, for example, a snack or an afternoon snack.
Make colorful salads, soups, and side dishes from different vegetables (stews, dals, pasta with vegetables)
Compose a variety of fruit salads and desserts: chia pudding with fruit and cinnamon, berry mixes.
Prepare smoothies: it's delicious, fast, and healthy.
Put the pieces of fruit in the water: it will become tastier and healthier.
During the day, note to yourself how your rainbow is formed, and what colors you still need to add to it. And let your every day be bright!