Lavender essential oil is becoming an increasingly popular remedy in household use. The essential oil is versatile and has a pleasant smell. Lavender oil for hair and scalp. 
The product obtained by distillation is the quintessence of the beneficial properties of the plant itself: relaxing, anti-inflammatory, antibacterial and others.
Lavender essential oil in care cosmetics opens up many opportunities to maintain the beauty and health of hair.
The use of lavender essential oil for hair.
Lavender oil for hair and scalp. 
Useful properties for hair include a wide range of effects.
#1. Stimulates hair growth.
#2. Protects the hair. From the negative effects of the environment and damage from overheating.
#3. Against dandruff.
Lavender has proven antimicrobial properties and helps prevent the growth of bacteria and fungi. Dandruff is usually caused by fungi affecting the scalp. The skin microbiome is disrupted and suitable conditions are created for the proliferation of pathogenic flora. Applying lavender products directly to the scalp will help get rid of itching, dandruff and even infection.
#4. Relieves skin inflammation.
Lavender essential oil is traditionally used as a home remedy for inflammation and burns on the skin. Its inclusion in the composition of the funds is useful for inflammatory, allergic reactions and dry scalp.
#5. Improves the condition of the scalp.
It is impossible to imagine luxurious well-groomed curls without maintaining the health of the scalp. Lavender oil, having beneficial anti-inflammatory and antimicrobial properties, improves and maintains her condition.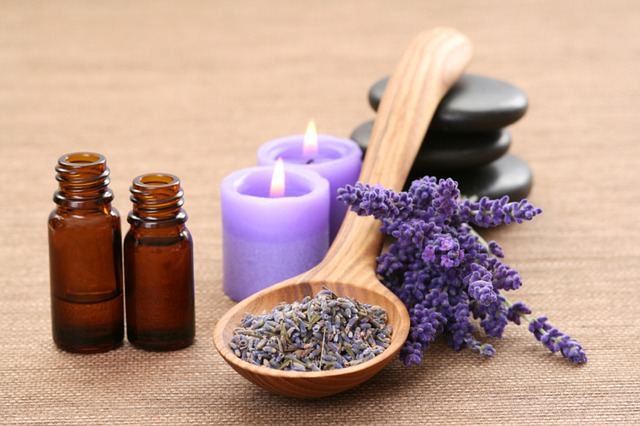 #6. Fights stress and hair loss caused by it.
Lavender has a soothing effect and aroma. Its charming smell can calm the nervous system quickly enough. The use of lavender to relieve anxiety and insomnia. It is also important to note that the positive effect of lavender on the nervous system.
Stress is one of the main causes of hair loss and it can be removed with the help of aromatherapy. (In addition, hyperactivation of the immune system and systemic inflammation are closely related to anxiety and stress. Which can lead to deterioration of the health of the scalp and subsequent hair loss).
#7. Relieves headaches.
A simple head massage with lavender oil relieves spasm and improves cognitive abilities such as concentration, concentration and memory.
#8. Will help you fall asleep soundly.
Insomnia is a common factor in today's rapidly changing lifestyle. Sleep loss is debilitating and leads to a violation of emotional and physical well-being. Lavender oil reduces cortisol levels, providing a restful sound sleep. Our external beauty is deeply connected with our internal health and condition. When you have a good rest, your hair and skin also become healthier.
Methods of application of lavender oil
. Lavender oil for hair and scalp. 
There are many ways to apply lavender ether to hair and scalp. Both in monovariant and as part of oil and complex masks.
Lavender hydrolate.
These are water-soluble aromatic components of lavender. It is very convenient to use: it does not require special preparation, does not increase the fat content of the hair, low concentration makes the application safe. Simply apply to the scalp and hair lengthwise after washing. Dry it in the usual way.
Rinsing the hair.
Essential oils do not dissolve in water. Therefore, lavender hydrolate is preferable. If you still want to do something with essential oil, then mix 2 drops with 6 drops of polysorbate beforehand, then add 2 cups of water. Shake and rinse clean hair after washing.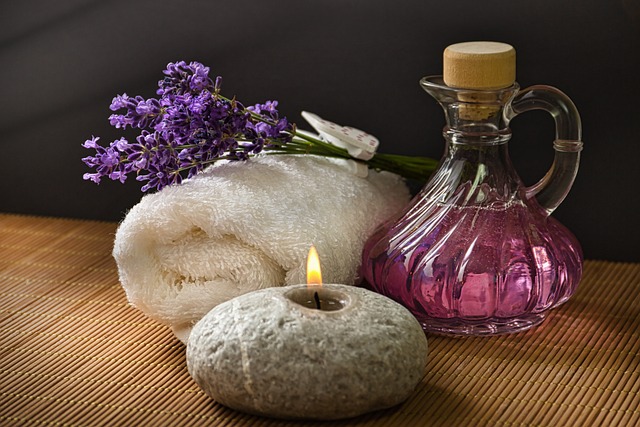 Aroma combing.
Drop 1-2 drops of ether on a wooden comb. Comb through your hair, avoiding the scalp. The procedure gives shine and a pleasant aroma to the hair. Do not use constantly, so it is contact with pure essential oil.
Oil masks and serums.
These are products for additional hair care. They are designed for curly, oily hair, split ends, etc.
How to use lavender oil for hair?
Lavender oil for hair and scalp.
Just mix a few active oils to soften, grow, strengthen hair, eliminate dandruff and other tasks.
Lavender is injected into the base oil at the rate of 2-3 drops per 1 teaspoon.
You can dilute lavender essential oil with a carrier oil such as jojoba oil, argan oil or coconut oil in a ratio of 1 to 10.
Leave on for 5-10 minutes and then rinse off. You can leave it overnight (then reduce the concentration) by wrapping your hair in a towel if you want to get the maximum benefit. You will feel the soothing and pleasant aroma of lavender, which will relieve stress and help you fall asleep soundly.
For better penetration, it is worth heating the oil mixtures a little in a water bath before applying to the skin and hair.
Application to the ends of the hair
Rub a small amount of the oil mixture (from the recipes below) in the palms of your hands, gently blot the dry tips. Excess can give an untidy appearance. Suitable for very dry hair.
Then comb with a wooden comb or brush with natural bristles.
Mirror shine, sealing of the tips in combination with an incredible relaxing aroma will give not only aesthetic pleasure, but also meditative relaxation.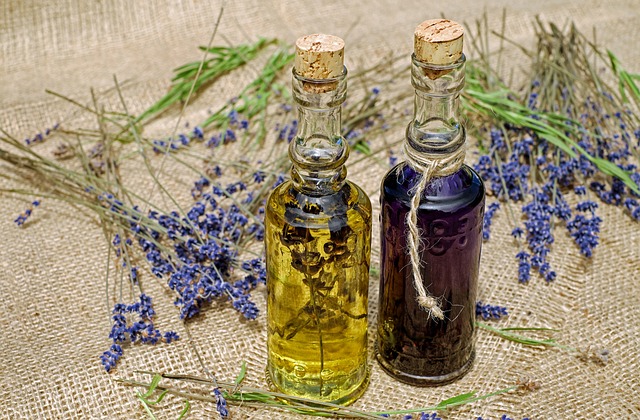 Lavender oil in shampoo
To enhance the effect, hair growth, relieve tension or headache, drip lavender oil into ready-made hair products: shampoo, conditioner or mask to enrich their composition.
Add about five drops to a tablespoon of the product. Then use the hair product according to the instructions.
Another option: add two drops of essential oil directly into a spoonful of hair products on the palm of your hand before applying. Use the resulting product as often as necessary.
Important! All products used should have a natural composition, ideally marked "organic". Otherwise, harmful components can penetrate deeper into the skin and have a stronger irritating potential.
Finished products with lavender ether
When you buy hair care products, look at the ingredients. Look for lavender ether or hydrolate among them. The more natural ingredients and active ingredients in the composition, the better. It is important not only the presence of oils in the composition, but also their quality.
The best recipes for hair masks
We bring to your attention several recipes with lavender essential oil. Do not be afraid to experiment – with experience comes an understanding of what is the best remedy for hair. And the effect will be higher than that of the finished cosmetics.
Mask for stimulating hair growth
Helps strengthen hair roots, replenish lipids, strengthen hair growth.
Ingredients:
Avocado oil 2 tablespoons
Castor oil 1 teaspoon
Lavender essential oil 2 drops
Himalayan cedar essential oil 2 drops
Instruction:
Mix lavender and cedar essential oil, castor and avocado base oils.
Apply the mixture to the scalp with massage movements. Soak the mask for at least 30 minutes. Rinse off the hair mask with water and shampoo.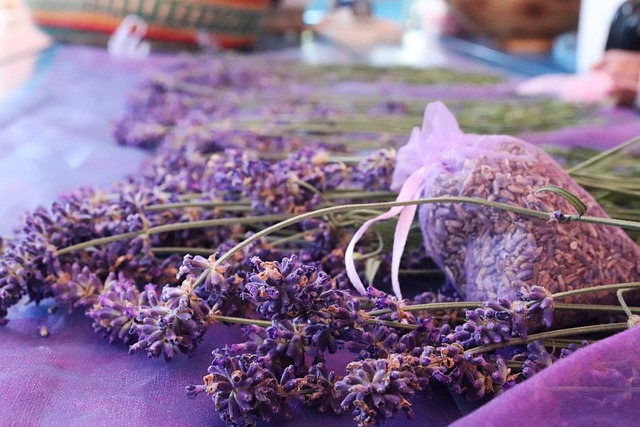 Elixir mask for hair
To eliminate irritation on the skin, give shine to the hair.
Ingredients:
Argan oil 1 tablespoon
Rosemary essential oils 2 drops
Lavender 2 drops
Kopaiby 2 drops
Instruction:
Mix and rub into the areas of the scalp that need it most, especially dry and irritated areas.
Leave it for an hour under the shower cap.
Rinse with warm water and shampoo. You may need two rinses with shampoo, make sure that the mask is completely washed off.
Hair gloss mask
This nourishing hair mask with lavender oil can give a beautiful shine to your curls.
Ingredients:
Rosemary essential oil 2 drops
Basil 2 drops
Lavender 2 drops
Jojoba 1 teaspoon
Coconut 1 tablespoon
Instruction:
Apply the mixture of the above ingredients to the scalp and hair along the entire length. Leave on for an hour, and then rinse with warm water with a mild shampoo.
Oil serum with lavender ether
Grape seed and jojoba oils are the basic ingredients for strengthening hair.
Essential oils of lavender, rosemary, cedar and thyme stimulate hair follicles, increase blood circulation in the scalp and promote the growth of new hair.
Ingredients:
Grape seed oil 1 tablespoon
Jojoba oil 1 tablespoon
Castor oil 1 teaspoon
Essential oils of lavender, rosemary, thyme, Himalayan cedar, 5 drops of each
CO2 extract of rosemary 1/2 teaspoon
Vitamin E 6 drops
Instruction:
Pour all the ingredients into a dark glass container and shake well to mix. Store in a cool, dry place away from sunlight.
You can rub this hair serum into your scalp 1 hour before taking a shower. Use natural shampoo and conditioner to wash off the mask to gently cleanse and shine the hair.
As you can see, lavender can be used not only in facial and body skin care products, but also for hair. Pleasant aroma, ease of use and versatility give your imagination unlimited scope for creativity at home.